Representative Bachus Touts Keystone Pipeline
By Brandon Moseley
Alabama Political Reporter
United States Representative Spencer Bachus (R) is calling on President Barack Obama. to approve the construction of the Keystone Pipeline. Bachus says the pipeline will create 20,000 construction jobs without costing the taxpayers anything. Bachus released his comments to the American public and the people of the sixth district in a U-Tube press release Bachus is urging President Obama to sign the permits to allow pipeline construction to begin. "For anyone following events in the Middle East, our country simply can not afford to turn down a million barrels of oil a day from Canada, our faithful friend from the north. And to do so would be a terrible grave mistake," said Bachus.
Bachus said that building the pipeline from Canada's new oil fields to American oil refineries would provide the American refineries with "a secure supply of oil to really fuel our economy. Energy is the primary cost in manufacturing. The pipeline is something…we desperately need. It is a national security issue." Bachus said that In the event of a war or a disruption in foreign supply the Canadian oil would allow American refineries to continue producing fuel.
Bachus also compared Keystone to the Solyndra scandal. "The Obama Administration has spent $535 million to promote a green company out in California (Solyndra) that was not ready for primetime and went bankrupt. That is taxpayer money trying to create jobs. On the other hand, the Keystone pipeline will create 20,000 construction jobs. That is ten times what Solyndra ever would and it doesn't cost us a dime. It makes perfect sense."
The Obama administration postponed making any decision until 2013, after the November 2012 presidential election. Republicans members of Congress have demanded that President Obama decide whether or not to allow the construction of the Keystone crude oil pipeline now and have tied their demands for a pipeline decision to the extension of the temporary reduction in the payroll tax and the extension of unemployment benefits for the long term unemployed whose benefits are set to expire.
The proposed 1600-mile Keystone Oil Pipeline would take oil from Alberta Canada to refineries in Illinois and Oklahoma. From Oklahoma the pipeline would tie in to existing oil pipelines that would carry it to oil refineries in Texas and the Gulf coast.
Construction of the oil pipeline is opposed by the Sierra Club and other environmental groups whose position is that the nation should leave the oil sands in the ground and the nation should instead adopt alternative energy sources.
Construction of the oil pipeline is supported by the U.S. Chamber of Commerce and its' affiliate the Partnership to Fuel America.
Representative Spencer Bachus (R-Vestavia) represents the Sixth Congressional District in Alabama consisting of parts of Blount, Jefferson, Shelby, Chilton, and Coosa Counties. Rep. Bachus faces opposition in the Republican Primary on Tuesday March 13, 2012.
Print this piece
Jones criticized for voting to limit Trump's war powers authority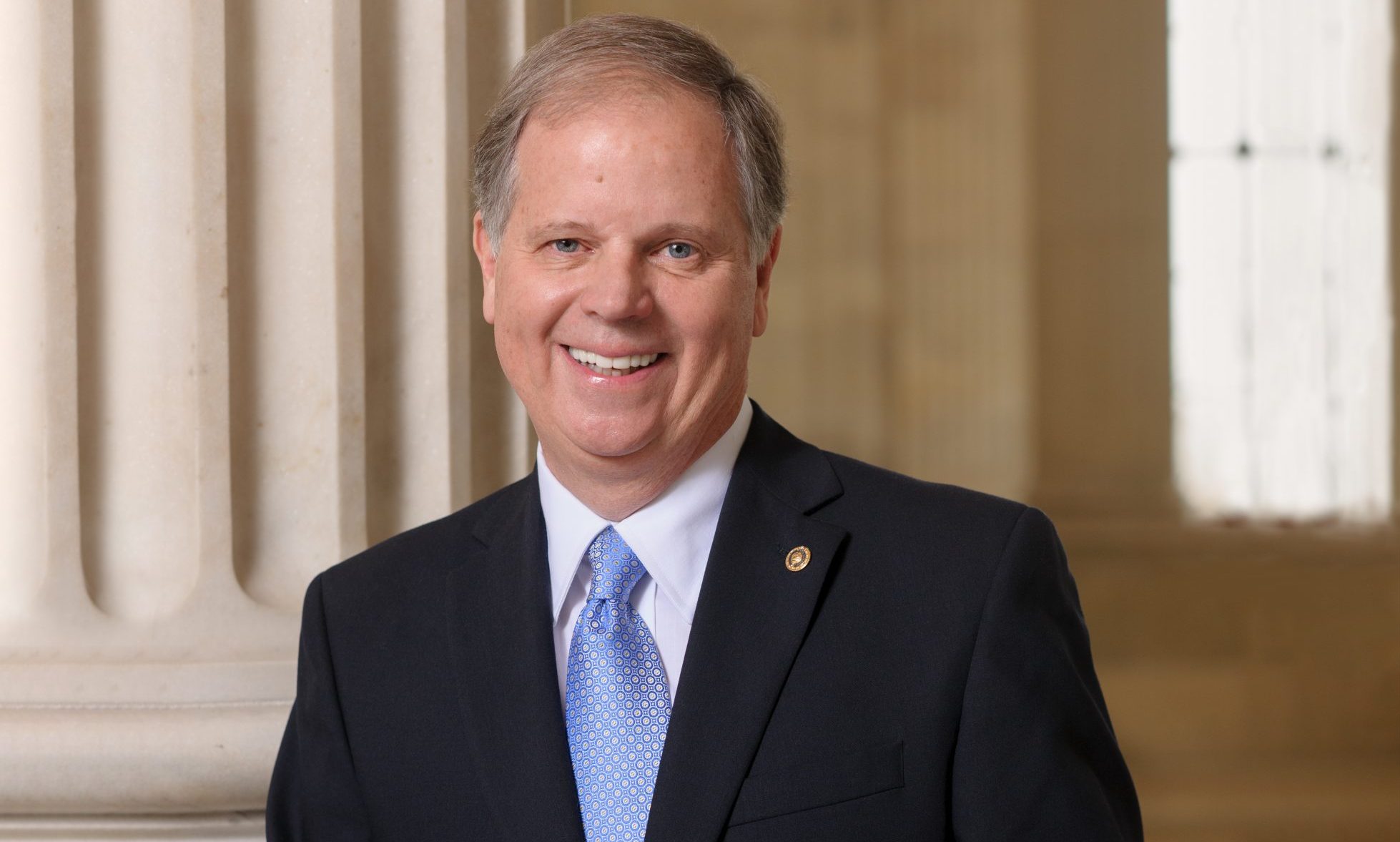 Thursday, U.S. Senator Doug Jones (D-Alabama) voted in favor of S.J.Res.68, a resolution which directs the removal of United States military from hostilities against the Islamic Republic of Iran that have not been authorized by Congress. Jones has been criticized by Republicans for voting to limit President Donald J. Trump's war powers on Iran.
"Before a President can lead us into war, he or she must first earn the support of the American people and also fulfill their solemn constitutional obligation to seek approval from Congress," Sen. Jones said in a statement. "While the President has the power to protect Americans in the case of an imminent attack, that authority does not extend to committing our service members to long-term hostilities unilaterally. This resolution sends a strong message that we will follow the Constitution and we will not send our troops into harm's way without the serious consideration and consent of the Congress."
Trump Victory National Finance Committee member Perry O. Hooper Jr. released a statement in response.
"Senator Jones once again turned his back on Alabama and voted as the leftwing Democrats commanded. He has no regard for the values, opinions or views of Alabamians," Hooper said. "He sees us as deplorables just like the elites of the Democratic party who have funded 80 percent of his doomed campaign for re-election.:
Hooper stated, "I whole heartily support the President who stated 'We are doing very well with Iran and this is not the time to show weakness… If my hands were tied, Iran would have a field day. Sends a very bad signal. The Democrats are only doing this as an attempt to embarrass the Republican Party.'"
"The Commander-in-chief must be free to work with his staff and his military leaders to conduct covert operations like the one that eliminated Iran's terrorist-in-chief General Soleimani," Hooper added. "You can't micromanage the war on terrorism. The Democrats in Congress are so filled with Trump Derangement Syndrome that no matter how much it would benefit our country and the world; they would never give Trump a "victory". If it came down to it, they would leak everything to the media no matter what the consequences."
Senator Jones is a cosponsor of the legislation and a member of the Senate Armed Services Committee. Eight moderate Republicans voted with the Democrats on the resolution.
Senator Jones has also been criticized by Republicans for his comments that he was "appalled" by Pres. Trump's actions following his acquittal on both Articles of Impeachment.
"Newsflash for Senator Doug Jones: Most Alabamians have been appalled by his actions his entire time in office," former Attorney General Jeff Sessions said. "It's about time we send Doug home, and replace him with someone who understands our values. Alabamians deserve a Senator they can be proud of again."
Sessions is a candidate for the Republican nomination for Jones' Senate seat.
The Republican primary will be on March 3.
Print this piece