Congresswoman Roby's CRP Bill Would Increase Food Production and Save Taxpayers Billions
By Brandon Moseley
Alabama Political Reporter 
Congresswoman Martha Roby's H.B. 3454 'Preserving Marginal Lands and Protecting Farming Act of 2011 would decrease the amount of total acreage idled under the Conservation Reserve Program (CRP) and reserve the program for marginal and erodible land. This would have the double benefit of saving the government money and increasing the amount of land that is available for food production.
Congresswoman Roby in her press release said, "Applying smart conservation techniques on marginal or eroded land makes good sense, but the federal government's use of taxpayer dollars to encourage landowners to remove acres of quality cropland from agricultural production defies logic," Roby said. "This is especially true in a time of serious budget problems and growing demand for food at home and abroad. This legislation would help restore commonsense to our conservation policy, return CRP to its original purpose, and save taxpayer money."
Currently 34.5 million acres are enrolled in the CRP Program. For comparison purposes the state of Alabama in total is only 33.5 million acres.  Congresswoman Roby's bill would gradually draw down the program. In 2012 Rep. Roby's bill would limit the program to just 30 million acres (a 13 percent reduction from current levels).  In 2013 the maximum would drop to 26 million acres (a 24.6 percent reduction) and in 2014 the total acreage would drop to just 24 million acres (a 30.4 percent reduction).
Additionally Rep. Roby's bill would remove the most fertile American cropland from the program.  The USDA has eight soil classifications land based on its crop production potential with I being the most productive and class VIII being the least suited for growing crops.  Under Rep. Roby's plan class I and class II lands would become ineligible for idling under the CRP program.  This would reserve the program for more marginal lands that need the most protection.
Rep. Roby said, "The goal is to strike the right balance between conservation and production. As with most government programs, CRP has grown and expanded over time," Roby said. "Our ability to produce food and fiber is a national security concern, and we're only hurting our ability to do this by encouraging the removal of productive land. This bill restores balance to the program."
"One of the things I hear repeatedly from our farmers is that the federal bureaucracy needs to get out of the way and let farmers do what they do best," Roby said. "The government shouldn't compete with our farmers or the free market to determine how private land in Alabama or any other state is used."
Alabama Agriculture Commissioner John McMillan supports the legislation. "Thanks to the leadership of Alabama's two new members in the U.S. House – Martha Roby and Terry Sewell – we have common sense legislation that will help our farmers meet a rapidly growing demand for food and fiber," McMillan said.
"Federal agriculture policy under the Conservation Reserve Program (CRP) has seen its better days," McMillan explained. "We must adjust to an era of growing demand for American agricultural commodities by releasing croplands from restrictions established in 1985, which are outmoded and counter-productive."
"Somewhere along the way, the law's intent went awry and requirements for program eligibility loosened to allow payments for conservation on some high quality cropland," McMillan added. "It's bad policy for the government to encourage landowners to remove fertile soil from production."
The CRP was established in 1985 to promote conservation by paying landowners to convert cropland to grass or timber production. CRP lands can not normally be grazed on by domesticated animals and typically grass on CRP land can only be cut for hay during emergency drought conditions declared by the government. In the early 1980s, when the program was started, an overproduction of grain led to a collapse in grain prices, so CRP then helped decrease the 'grain glut' the economy had at the time. Now, 27 years later grain prices have increased substantially as demand has increased due to a growing global population, grains being turned into ethanol for fuel, and as incomes have increased in the developing world more people tend to eat a better diet with more chicken, pork, and beef products.  Since most food animals are raised or finished with grains the demand for feed grains has increased. It is hoped that putting more land into production will grow Alabama's rural economy and produce more agricultural jobs.
The bill has been cosponsored by Rep. Terri Sewell (D-Selma), Rep. Mo Brooks (R-Huntsville), Rep Spencer Bachus (R-Vestavia), Jo Bonnor (R-Mobile), Robert Aderholt (R-Haleyville), and Vicky Hartzler (R) from Missouri's 4th District.
Read Rep. Roby's press release
Read Commissioner McMillan's comments
Trump Truck and boat parades this weekend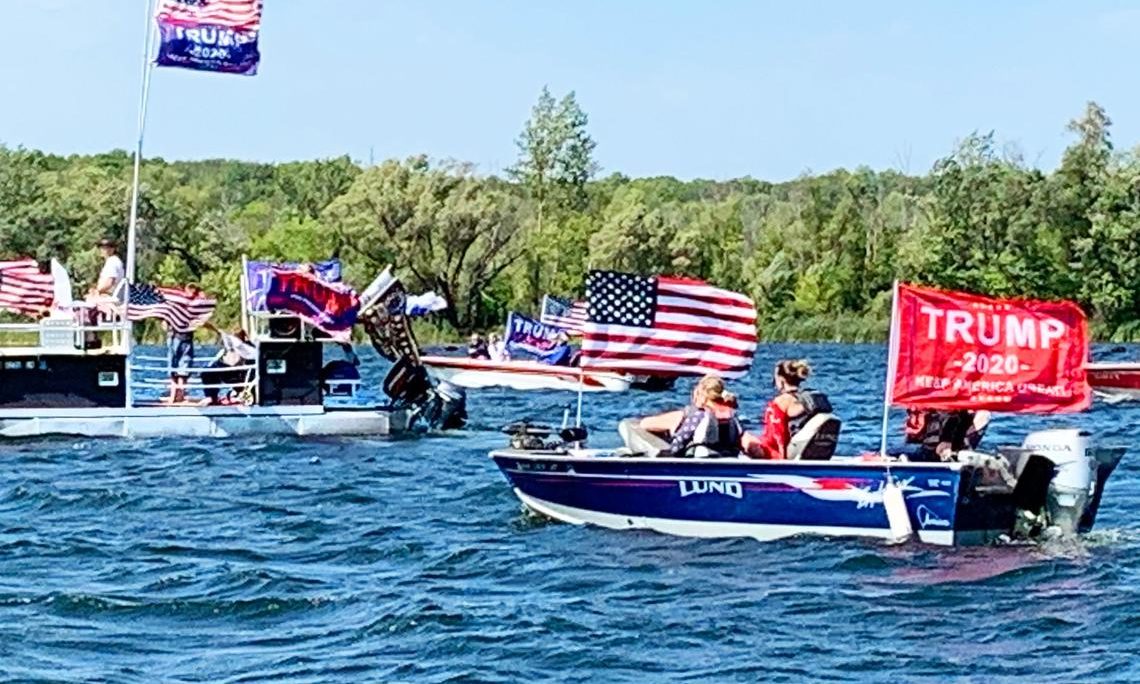 As Election Day draws near, Alabama Republicans are excited about promoting the re-election of Donald J. Trump as President and the election of Tommy Tuberville for U.S. Senate. This weekend two pro-President Trump events are happening in the state. There will be a truck parade from Ashland to Phenix City on Saturday sponsored by the Clay County Republican Party, while there will also be a boat parade on Wilson Lake in the Shoals sponsored by the Colbert County Republican Party on Sunday.
The pickup trucks will assemble at the Ashland Industrial Park in Clay County, 8240 Hwy 9, Ashland. There is a pre-departure rally at 10:00 a.m. central standard time. The trucks will depart at 11:00 a.m. and then proceed on a parade route that will take them into the bitterly contested swing state of Georgia. The Trump Pickup Parade will wind through east Alabama and West Georgia traveling through LaGrange and Columbus before concluding near the Alabama/Georgia line in Phenix City, 332 Woodland Drive, Phenix City at approximately 2:00 p.m. central time. Speakers will begin at 3:00. Trump flags will be on sale at the event.
The Phenix Motorsports Park will be hosting what sponsor hope could possibly the world's largest Pickup Tuck parade in U.S. history that is routing over 50 mile through Georgia in effort to "pickup" President Trump's numbers in GA.
A number dignitaries have been invited to address the Phenix City rally, including Coach Tuberville. Former State Sen. Shadrack McGill, Trump Victory Finance Committee member former State Rep. Perry O. Hooper Jr., and Paul Wellborn, the President and CEO of the largest Family owned Kitchen Cabinet manufacture in the USA are among the featured speakers who have committed to speak at the event.
Entertainment will be provided by: Charity Bowden, an up and coming country music singer who was the runner up on "The Voice". Charity will sing 'I am Proud to be an American' as well as songs from her Voice performances. The McGill Girls will also perform. The three beautiful and talented sisters will be singing patriotic songs in three part harmony. Geoff Carlisle, a professional DJ will be keeping the crowd pumped with music and entertainment.
Following the speakers and the entertainment there will Trump truck-vs- Joe Bidden truck races down the drag strip for the finale.
The Northwest Alabama boat parade will be on Sunday. The boats will gather at 2:00 p.m. near Turtle Point and then the flotilla will parade around the open waters of Wilson Lake til 3_00 p.m.. There will be a contest for best decorated Trump boats.
Trump supporters have held a number of large boat parades across the state to show their support for the re-election of Pres. Trump.
Boat parade sponsors say that this parade will be: pro-American, pro-law enforcement, pro-military.