Obama: The Hyper-Partisan President
Staff Report
Toward the end of his State of the Union speech, President Barack Obama observed that Washington politicians should learn from the example of the U.S. military: "When you're marching into battle, you look out for the person next to you, or the mission fails."
Obama recalled the successful Navy SEAL mission that, under his watch, took out Obama bin Laden and observed, "The mission only succeeded because every member of that unit trusted each other — because you can't charge up those stairs, into darkness and danger, unless you know that there's someone behind you, watching your back."
At first blush, it seemed like a stirring call to action. But when you look at the speech as a whole — and in context — it was a sad admission. Obama constantly carps about his lack of support from the Republican-led House. I think the president has decided that he cannot succeed in the face of political opposition. So he is not charging up those stairs.
Unless Washington walks in lock step behind Obama, he's not going to try to get anything done.
Consider the White House decision on the Keystone XL pipeline. Last week, the administration announced that the president denied the project because of "a rushed and arbitrary deadline" of Feb. 21 embedded in a two-month extension of the 2011 payroll tax holiday. "I'm disappointed that Republicans in Congress forced this decision," the president lamented.
Obama also lauded the military toward the beginning of his address. "They focus on the mission at hand. They work together," he noted. "Imagine what we could accomplish if we followed their example."
COVID-19 hospitalizations in Alabama continue surge
On Monday, 1,335 patients with COVID-19 were being cared for in hospitals statewide, the most to date.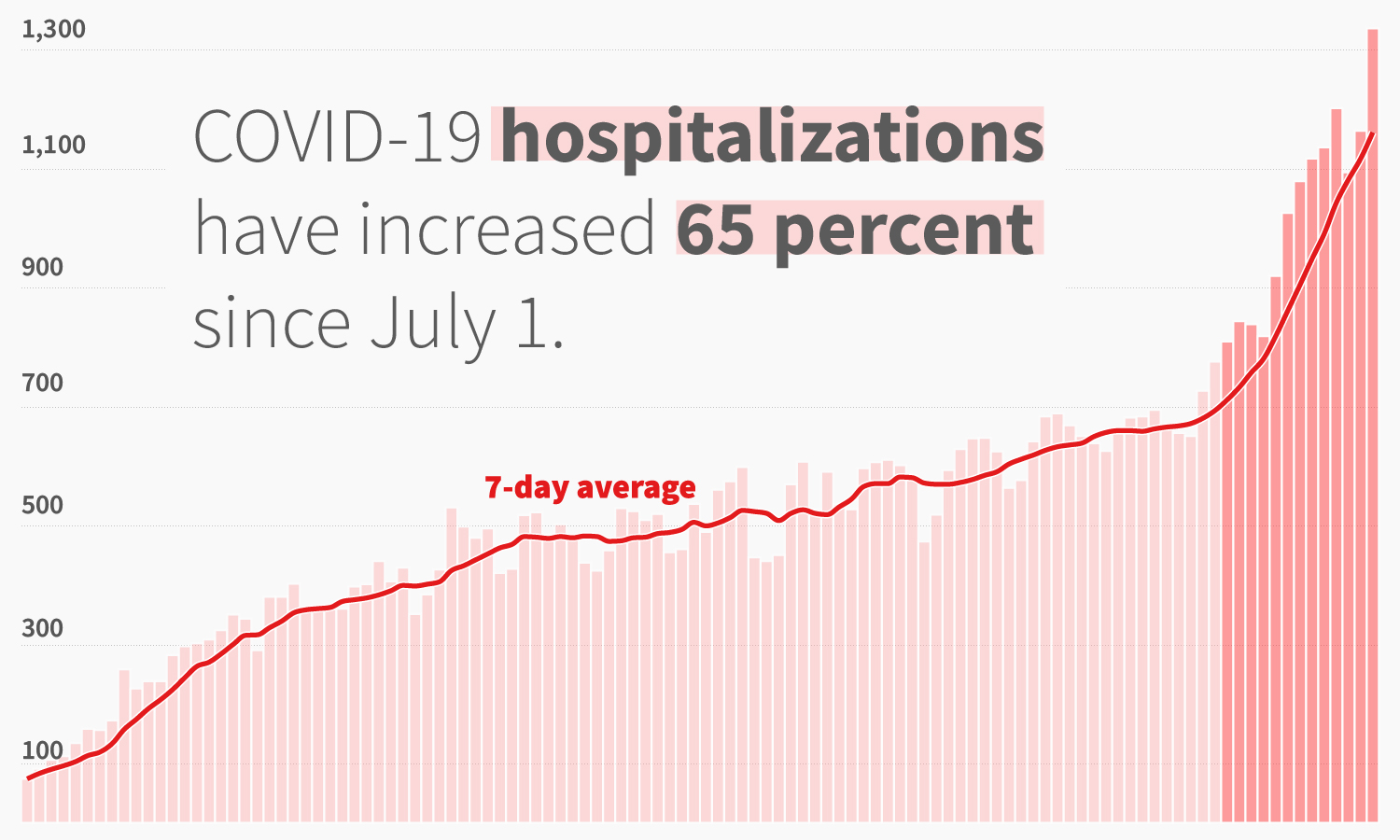 Alabama on Monday saw the highest number yet of COVID-19 patients in hospitals since the start of the pandemic, and the second-highest single-day increase in coronavirus cases on record. 
On Monday, 1,335 patients with COVID-19 were being cared for in hospitals statewide. That was 172 more COVID-19 patients than were hospitalized the previous day — and the largest single-day increase in hospitalization numbers reported by the Alabama Department of Public Health.

The last record number of hospitalized COVID-19 patients in Alabama was on Friday, when 1,201 people were being treated statewide. The increase Monday is also 134 more patients than were being care for on Friday.
Friday was the sixth straight day of record-breaking COVID-19 hospitalizations in Alabama. Friday also saw the second-highest number of deaths in a single day in the state, when ADPH confirmed 35 new deaths as a result of COVID-19, nearly breaking the previous record of 37 set on May 12.
On Monday, the state also added 1,860 to Alabama's total case count, bringing the cumulative total now to 54,768 confirmed cases. That's the second-highest single-day increase in cases since the start of the pandemic. With 25,783 people presumed to have recovered from the virus, and at least 1,096 dead, more than half of the state's cases, or 27,889, are presumed to be active.

Testing has ticked up slightly in the last few weeks — Alabama's seven-day average of tests conducted was 9,176 on Monday, 93 more than the previous high set on July 5 — but the percentage of tests that are positive continues to increase as well, a sign that new cases aren't just due to more testing. 
The seven-day average positivity rate Monday was 16.18 percent, which was almost 30 percent higher than it was a week ago. Taking into account the Alabama Department of Public Health's incomplete testing data on July 9 and in early April, which threw off the positivity rate, Monday's seven-day average was the highest on record for Alabama. 
Public health officials say that the percent of tests that are positive should be at or below 5 percent or there's not enough testing being done and cases are going undetected. 
Madison County continues to see a surge in new cases. The county added 267 new coronavirus cases on Monday, and over the last week added 1,044 new cases, which was 70 percent more than were added the week before. Madison County's positivity rate this week has been roughly 16 percent. 
Jefferson County followed closely behind Madison County, adding 266 new cases Monday and 1,602 cases within the last week, which was a 30 percent increase from the week before. 
In Mobile County, there were 157 new cases Monday.
Mobile County's weekly total of new cases for the last week was 23 percent higher than the previous week.