Congresswoman Roby Supports Department of the Interior Decision to Opens 38 Million Acres of the Gulf to Oil Exploration
By Brandon Moseley
Alabama Political Reporter
In a speech at a UPS facility in Nevada, President Obama said, "Right now, American oil production is the highest that it's been in eight years.  Eight years.  Last year, we relied less on foreign oil than in any of last 16 years.  That hasn't gotten a lot of attention, but that's important.  We're moving in the right direction when it comes to oil and gas production.
Pres. Obama continued, "And today, I'm announcing that my administration will soon open up around 38 million acres in the Gulf of Mexico for additional exploration and development, which could result in a lot more production of domestic energy." 
In a statement released to Facebook, Congresswoman Martha Roby (R) from Montgomery responded to today's announcement, "The executive branch has moved too slowly in recent years to allow new energy exploration in the Gulf of Mexico, but today's announcement by the Interior Department is a much-needed step in the right direction. Experts estimate that these 38 million acres in the central Gulf of Mexico are home to one billion barrels of oil and four trillion cubic feet of natural gas. In addition to helping stabilize gas prices for working families and small businesses, environmentally safe production of these resources will create new American jobs on the energy coast."
The Bush Administration had previously set plans to lease the same area for oil and gas exploration during the summers of 2011 and 2012.  Those plans were suspended indefinitely by the Obama Administration after the BP Deepwater Horizens accident while the Obama administration studied the safety of offshore oil drilling.
Roby said, "Gulf states, in particular, could benefit from this lease sale. Under a law passed in 2006, Alabama, Mississippi, Louisiana, and Texas are eligible to receive 37.5 percent of the initial payment and royalties resulting from many nearby leases in the Gulf. The state of Alabama, for example, can then reinvest those funds into costal restoration and onshore infrastructure projects."
President Obama also encouraged more use of natural gas as well as alternative forms of energy.  "We need an all-out, all-in, all-of-the-above strategy that develops every source of American energy — a strategy that's cleaner and cheaper and full of new jobs," Obama said.
Rep. Roby called on the President to reconsider his decision to block construction of the Keystone Pipeline.  Rep. Roby said, "Today's announcement is consistent with an '"all of the above" approach to our nation's energy problem. I hope that President Obama will build on this news by reconsidering his recent rejection of the Keystone XL Pipeline, an important infrastructure project that would have increased energy supplies in America and created tens-of-thousands of American jobs."
The administration has raised the minimum lease price from $37.50 an acre to a $100 an acre to encourage oil companies to develop their leases.
Governor declares state of emergency ahead of Tropical Storm Zeta
Zeta is currently a tropical storm over the Gulf of Mexico, but it is predicted to make landfall as a category one hurricane.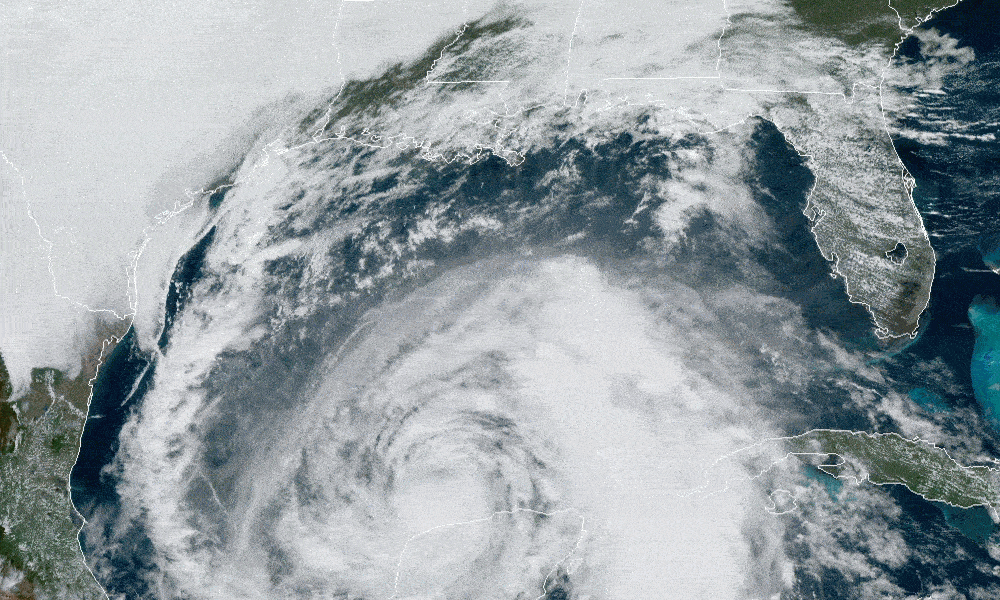 Alabama Gov. Kay Ivey on Tuesday issued a state of emergency as Tropical Storm Zeta approaches the Gulf Coast.
"Ahead of Tropical Storm Zeta's anticipated landfall Wednesday evening as a Category 1 hurricane, I am issuing a state of emergency effective today at 4:00 p.m.," Ivey said. "While this storm is not expected to have an impact as large as storms we've seen move through the Gulf earlier this year, we want to be in the best place possible to respond to anticipated rain, storm surge and mass power outage. I encourage everyone to remain weather aware and tuned in to their trusted news source as this storm could shift direction or change intensity. We continue to track the path of this storm and will stay in touch with the people of Alabama with any updates."
Zeta is currently a tropical storm over the Gulf of Mexico, but it is predicted to make landfall as a category one hurricane. The National Hurricane Center is predicting Zeta to make landfall in Mississippi on Wednesday and then proceed toward Alabama, but these storms can and do move.
A more easterly track could prove devastating to the Alabama Gulf Coast as was the case with Hurricane Sally, which shifted course in September, hitting Alabama, though Zeta is expected to be weaker than Sally at landfall.
The storm surge from the Mississippi-Alabama border to Dauphin Island is forecast to be 5 to 8 feet. Mobile Bay to the Alabama-Florida border is expected to have 3 to 5 feet of storm surge and from the border to Navarre, Florida, could experience 2 to 4 feet of storm surge.
Hurricane force winds are a possibility with this storm. Tropical force winds are expected to be an issue for Southern Mississippi and Alabama well inland. There is expected to be heavy rainfall across the state Wednesday night into Thursday morning.
The Baldwin County Emergency Management Agency announced that sandbags are available inside the county commission office at Robertsdale Central Annex (22251 Palmer Street) until 4:30 p.m. Tuesday and from 8 a.m. until 4:30 p.m. Wednesday or while they last.
Bring any help and shovels you will need. There is a limit of just 25 bags per person. Alabama's coastal counties are currently under a Tropical Storm Warning, a Storm Surge Warning for Mobile County and a High Rip Current and High Surf Warning.
Congressman Bradley Byrne said, "I just finished up briefings from Alabama EMA, FEMA, and the National Hurricane Center regarding #Zeta. We should not take this storm lightly and should start making preparations right away. After sundown Wednesday, I'd encourage everyone in Southwest Alabama to stay home and off the roads until sunrise Thursday. This storm will have impacts as far north as Montgomery, so those in Washington, Clarke, and Monroe counties will see tropical storm force winds and heavy rain. I'd encourage everyone to charge their phones and other necessary electronics. If you have an emergency during the storm, call 911 and do not try to drive."
Coastal Alabama is still in the process of recovering from Hurricane Sally which hit the state on Sept. 15.