Governor Bentley's Road to the Alabama Healthcare Exchange
By Bill Britt
Alabama Political Reporter
MONTGOMERY–No one should be startled that the Alabama Healthcare Exchange exists. But many see the news that Governor Robert Bentley is building a healthcare exchange system for the state as a new revelation.
This can only be a shock to those who have not been paying attention for the last two-plus years. On then candidate Bentley's website it plainly states, " I have real-world solutions that will result in affordable and accessible health care for all without bankrupting our nation or pushing us closer toward a government-controlled, single-payer system," [Source: Campaign website, robertbentley2010.com].
But what is "affordable and accessible health care for all," but a state-run Affordable Healthcare Act for Alabama?
Again then candidate Bentley, speaking to Rose Ann Haven of WKRG in October 2010 about Obama's health care plan said, "Don't start by taking over total healthcare in this country. Don't do it that way. Let's find out if it works on a smaller population and then you can expand it", says Bentley.
He goes further by saying according to the report, "Dr. Bentley admits there are a few issues of the government takeover of healthcare that are probably good such as allowing people to get insurance if they have pre-existing conditions. "But, the way you do that in the state is you have an insurance exchange", says Bentley."
In running for governor Bentley made it clear that he had an idea and a plan for an Alabama healthcare exchange. As governor he has reiterated this idea and plan many times. In a question posed by Publisher and Editor Steve Spencer of the Birmingham Medical News in May 2011 about the way to reduce health care costs in Alabama, Bentley said, "There are a lot of things we can do. For example, before the Affordable Healthcare bill was even considered, I talked about creating an insurance exchange for the state of Alabama. And we're looking at that now. We're trying to set up the framework, crafting it a way that it would fit the Affordable Healthcare Act if it's implemented. But our exchange will include so many other things, like health savings accounts.
We've got to work with the insurance companies. We have to decide whether or not all insurance will have to come under this exchange, or whether insurance companies can come under this, and have a plan outside of the exchange. Personally, I think that for an exchange to work, everything has to come under it."
In May 2011 the Governor was saying "everything," has to come under his idea of a statewide plan. Lawmakers did not question the governor who according to his staff is always prone to speak exactly what is on his mind.
In June 2011, in the Left-leaning news site Politico, Sarah Kliff reported, "Alabama is a deep red, Deep South state with a health policy that is taking on a decidedly blue tinge these days. Last week alone, Republican Gov. Robert Bentley issued an executive order to move forward on an Alabama health insurance exchange and lashed out at the state's Republican-controlled Legislature for attempting to scale back his proposed $247 million increase in Medicaid funding by a mere $7 million."
On June 2, 2011, Governor Bentley signed Executive Order 17, creating the Alabama Healthcare Insurance Exchange. It reads: "WHEREAS, creation of a Health Insurance Exchange (the "Exchange") for Alabama citizens is a paramount priority of this administration; WHEREAS, upon its creation, the Exchange will facilitate the purchase and sale of health plans in the individual markets and the small employer market; and, WHEREAS, the Exchange will present consumers with broader choices and more individualized options for fulfilling their health care needs by fostering a consumer-centric health insurance market in the State of Alabama."
Tricia Brooks, a senior fellow at the Georgetown University Health Policy Institute who was in Alabama in 2011 said to Politico, "'The state "is interested in moving forward on health reform [and was] interested in the exchange concept before the law was passed," said Tricia Brooks. "In so many ways, they [Alabama] get lumped in with the other Southern states. But I think they appreciate when they are recognized for taking the lead and really doing the right thing on getting kids enrolled.'"
The Governor has made it plain that "..Creation of a Health Insurance Exchange for Alabama citizens is a paramount priority of this administration." Why have the words of the Governor been ignored by the state's lawmakers?
On September 16, 2011Governor Bentley said, "Every Alabamian deserves access to affordable health insurance. My vision for the Alabama Exchange is to improve the health of our citizens by providing them with a gateway to purchase health insurance that best fits their needs while also promoting competition among health insurers," said Governor Robert Bentley. "This insurance exchange will enable us to better manage the cost of health care while also providing Alabamians with more affordable choices for health insurance coverage."
Bentley's point man for the Exchange is Richard Fiore, at the first meeting of the Alabama Health Insurance Exchange Study Commission, he said, "Governor Bentley has worked hard to make his vision of a health insurance exchange a reality. I am privileged to join with him and the commission members to recommend ways to create a health insurance exchange that will be beneficial to the citizens of this state."
In Executive order 17 it also says
BE IT FURTHER ORDERED that the commission shall study the establishment of the Alabama Health Benefits Exchange and shall make recommendations to the Governor and Legislature by December 1, 2011. The recommendations shall address, at a minimum, the following: (i) whether to create the Alabama Exchange within an existing governmental agency, as a new governmental agency, or as a not-for-profit private entity; (ii) the make-up of a governing board for the Alabama Exchange; (iii) an analysis of resource needs for operating and sustaining the Alabama Exchange; (iv) a delineation of specific functions to be conducted by the Alabama Exchange; and (v) an analysis of the potential effects of the interactions between the Alabama Exchange and relevant insurance markets or existing health programs and agencies including Medicaid and Public Health. These recommendations shall be presented to the Governor and to the Alabama Legislature by December 1, 2011, in order that any required legislation is prepared for consideration during the 2012 Regular Session of the Alabama Legislature as to the creation, governance and implementation of an Alabama Exchange.
Rejected the plan offered, fought legislation and has continued to build the exchange.
A House Bill introduced by Representative Greg Wren (R-Montgomery) that would have established a joint committee on a healthcare exchange. Wren's bill had a provision that would have killed the ability to create an exchange if the Affordable Healthcare Act was not upheld by the court.
The bill sponsored by Wren and a companion bill by Senator Greg Reed (R-Jasper) was defeated in the state legislature by the governor's efforts leaving a clear path to mold his own Alabama Healthcare Exchange.
Gubernatorial spokesperson Jennifer Ardis told 'The Alabama Political Reporter' that all this work was being done in preparation for the implementation of Obamacare. But the Supreme Court could rule on the Constitutionality of Obamacare as early as Today. If the U.S. Supreme Court declares the Patient Protection and Affordable Care Act unconstitutional (as Alabama and the other plaintiffs contend) then there is no pressing need for the state to set up any kind of healthcare exchange and up to $15 million has been wasted on a website and consultants for a project that was never authorized by the state legislature. If the Supreme Court leaves Obamacare intact, Republican candidate for President Mitt Romney has vowed to repeal President Obama's healthcare Act if he is elected. A Romney win undoes Obamacare Most Republicans running for the U.S. Congress have similarly pledged to undo Obama's takeover of the American healthcare industry. If Obama is reelected; but the Republicans control both Houses of Congress, they likely will kill Obamacare one piece of legislation at a time. Since the fate of Obamacare is going to be decided by either the Supreme Court or by the voters, why did the Governor feel the need to rush in and create a state healthcare exchange when he easily could have implemented the exchange after the November election–if that is even necessary by then?
Robert Bentley as a candidate and as Governor has expressed the desire to give Alabama a Healthcare exchange. He has said that he opposes the one planned by President Obama but it appears he has his own exchange in mind for the people of the state.
Three mental health crisis centers coming to Mobile, Montgomery and Huntsville
"Today marks a culture change in Alabama for treatment of individuals with mental illness and substance use disorders," Mental Health Commissioner Lynn Beshear said.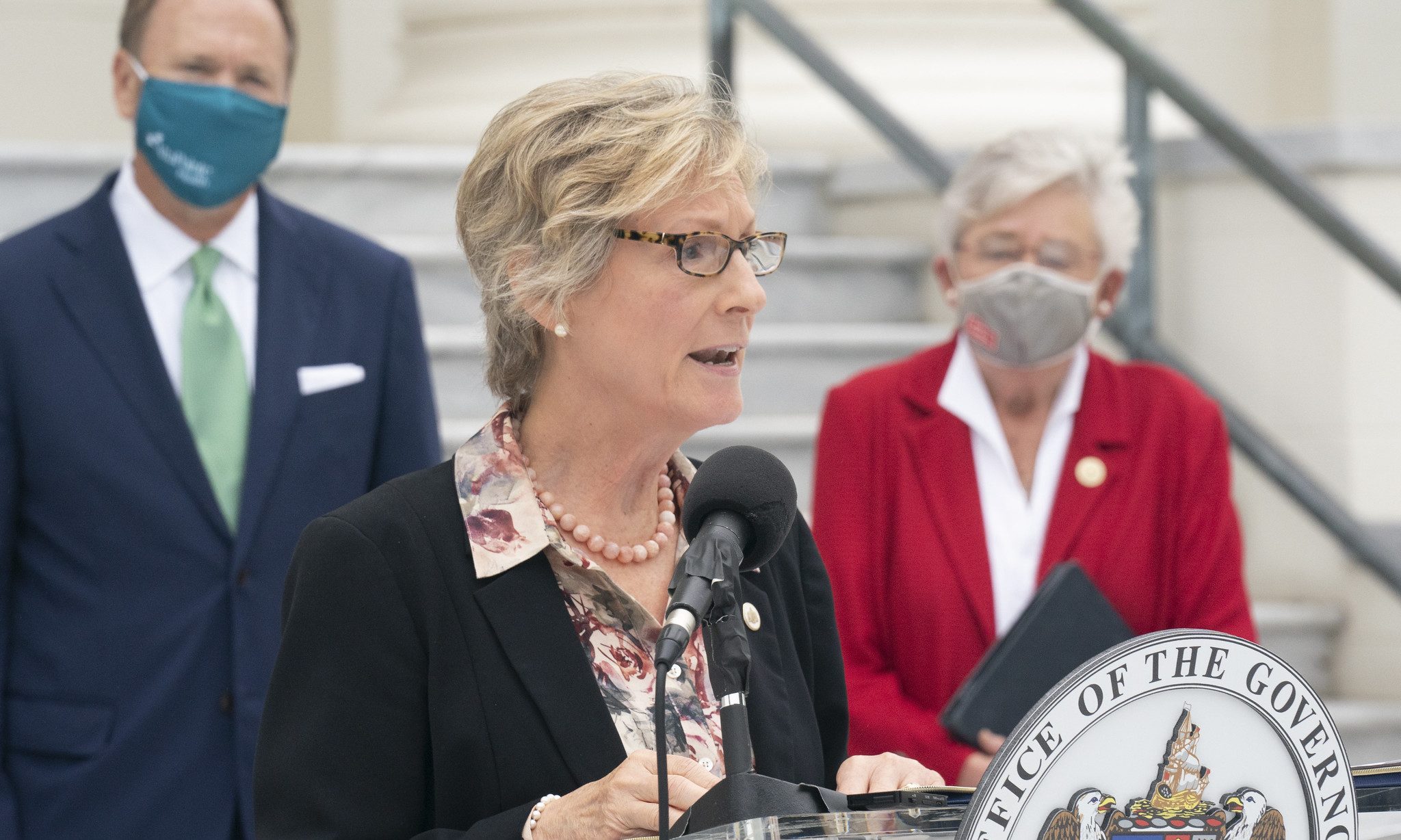 Gov. Kay Ivey on Wednesday announced an $18 million project to create three new mental health crisis centers to be located in Mobile, Montgomery and Huntsville. 
These centers, once in operation, will reduce the number of people suffering from mental health crises who are hospitalized or jailed, Ivey said during a press briefing in front of the Capitol Building in Montgomery. 
"When these facilities are open and fully staffed, these centers will become a safe haven for people facing mental health challenges," Ivey said. 
Lynn Beshear, commissioner of the Alabama Department of Mental Health, said during the briefing that the centers will provide "recovery based" care with "short term stays of a few hours, or up to a few days, to provide treatment, support, and connection to care in the community." 
"Today marks a culture change in Alabama for treatment of individuals with mental illness and substance use disorders," Beshear said. 
Beshear said AltaPointe Health in Mobile will operate one of the three facilities, and once built it is to serve Mobile, Baldwin, Clarke, Conecuh, Escambia, Monroe and Washington counties with 21 new beds, including 15 temporary observation beds. Altapointe will begin with a temporary space while constructing the new facilities, she said. 
Beshear said the Montgomery Area Mental Health Authority is partnering with the East Alabama Mental Health Authority and the Central Alabama Mental Health Authority to serve the 11 counties in Region 3 with 21 new beds, including 10 temporary observation and respite beds. 
"The regional crisis center will be located in Montgomery, and will be open to walk-ins and for drop off by law enforcement, first responders and referrals from emergency rooms," Beshear said. 
Wellstone Behavioral Health in Huntsville was selected to open the third center, and will do so at a temporary site while a new facility is being built, with the help of an additional $2.1 million from local governments, Beshear said. That facility will eventually have 39 beds, including 15 for temporary observation and 24 for extended observation.
"There's not a day that goes by that after-hours care is not an issue in our state," said Jeremy Blair, CEO of Wellstone Behavioral Health, speaking at the press conference. "And so I applaud the Department of Mental Health and the leaders for their efforts in recognizing that and taking it a step further and funding our efforts here." 
Asked by a reporter why a center wasn't located in Jefferson County, one of the most populous counties with a great need for such a center, Ivey said those residents will be served in one of the other regions. 
"Plans are underway to continue this effort. Today's beginning, with these three crisis centers, is just the beginning," Ivey said. 
Ivey added that request for proposals were sent out for these three centers and "it was a strong competition for the location of these three crisis centers." 
Alabama House Majority Leader Nathaniel Ledbetter, R-Rainsville, said during the briefing that more than a year ago, Ivey asked him what the state should be looking at, and that he replied "we're failing miserably in mental health."
Ledbetter said Ivey asked him to take on the challenge of correcting the state's response to mental health, and a team was created to do just that. 
"Working together, today's announcement will not only change Alabamians lives, but will help to save lives," Ledbetter said.