Widening gap in Alabama pension fund, Prompts Lawmaker to Call for New Strategy
By Bill Britt
Alabama Political Reporter
MONTGOMERY—According to a recent report by the Pew Center on States, Alabama's state retirement fund is on a downward trend. The report gave the pension fund a "Serious Concern," rating and the retiree healthcare fund a "Needs Improvement," rating. These warning are not new but they bring about calls for improved performance.
"We have known there have been problems but now we are learning that it is a little bigger problem than we thought it was," said Senator Cam Ward (R-Alabaster).
In an effort to reform Alabama's pension system, the state legislature recently increased the retirement age from 62 to 65 in 2011, along with increased employee contributions. Although it paid 100 percent of Pew's recommended contribution in 2010, Alabama remains one of 34 states that were less than 80 percent funded.
"Where this really affects us is that whenever we do not have our liabilities funded the legislature has to come up with the money to cover it," Ward said. "Now, that worked for a number of years but with a tough budget crisis we just don't have that kind of money anymore."
This year around one billion dollars of state taxpayers' money will go to shore up the troubled fund. The Retirement Systems, (RSA) has repeatedly come under fire over the last year. Meanwhile the Governor and the Legislature have been working together with RSA CEO Dr. David Bronner to fix the problems at the pension fund.
Ward says that while the fixes were necessary he believes the fundamental way the fund is working needs to be addressed.
"I think they [RSA] needs to change their investment strategy because they are getting toward the bottom of the states in return on investment," says Ward. "I hear what they say about, 'We are promoting tourism,' and that is nice, but we already have a tourism department and that's what they do." Ward says the job of the RSA is to "manage and adequately uphold the promises in the retirement pension plan."
Ward continues, "I hear them talk about 'We do economic development,' that is nice too, but that is not their mission."
There has been talk about the state legislature taking over the trouble plan but Ward thinks that would be a mistake.
"There are other states that have done that and I would be highly opposed to ever doing something like that," Ward said. "The last thing we need is the state legislature micro managing the state retirement system."
Ward admits that what the Alabama Legislature passed in hopes of reigning in the losses in the RSA fund fell short of what other states have done, he says he feels a "philosophical changes to the investment strategy is what is most needed."
Ward also said, "We can tinker with the program itself but if how the money is being handled on the investment side is not correct all the laws in the world are not going to change anything."
Over the past year or so there have been calls for a leadership change at RSA but Ward says he thinks that is not necessary.
"The changes that need to be made can be made by the Broad of Directors calling for a change in investment strategy, not by Dr. Bronner asking to step down," Ward said.
Ward believes the light that has been shed on the pension plan not only here in Alabama but across the country demands that there be a "rethinking and asking how can we do this better and reap a better return on investment."
He further states, "There needs to be a good strong board in place but we don't want the Legislature trying to run things. We don't want the legislature making political appointments to the RSA board period."
Over the last few years the money to shore up the fund has been coming out of the Education Trust Fund.
Ward agrees that most Alabamians would be shocked to know that over a billion dollars that was suppose to be going to education is and has actually been spent on funding the state worker retirement fund.
Ward says, "We can't keep going down a road of maintaining such a high unfunded liability level." But Ward says he wants to be cautious about any further reforms on the legislative side, "I am a firm believer in reform be slow and well thought out."
He reintegrates that it is a new approach to investment not new laws that will bring about a positive long-term solution.
EDA announces federal investment award to dredge the Port of Epes Industrial Park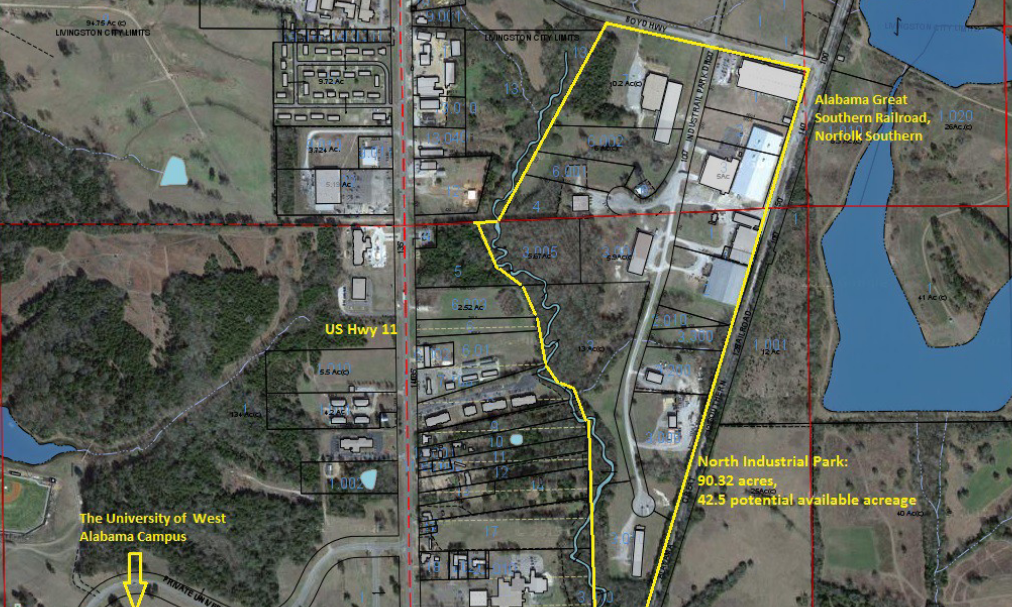 Tuesday, U.S. Secretary of Commerce Wilbur Ross announced that the Department's Economic Development Administration (EDA) is awarding a $1.7 million grant to the University of West Alabama, in Livingston, Alabama, to improve barge access at the Port of Epes Industrial Park. The EDA grant will be located in a Opportunity Zone, made possible by the Tax Cuts and Jobs Act of 2018. The grant will be matched with $540,000 in local funds and is expected to create 85 jobs and generate $175 million in private investment.
"Already, the Opportunity Zones across our state are helping boost the chance for economic prosperity, and this $1.7 million investment in Livingston, Alabama certainly adds to that effort," said Alabama Governor Kay Ivey (R). "I am proud that the Trump Administration continues following through on their commitment to grow opportunities across our state and the nation. This is a welcome investment, and I am grateful to President Trump and Secretary Ross for their constant support for Alabama."
"This $1.7 million EDA grant for the Port of Epes infrastructure project will improve barge access and increase the capacity of the industrial park," said U.S. Senator Richard Shelby (R-Alabama). "The funding will help create jobs and fuel the local economy, encouraging and enabling long-term economic benefits to West Alabama. I am pleased to have worked with the Administration to support this project and look forward to its completion."
Congresswoman Terri Sewell (D-Selma) has worked for several years with local officials and the University of West Alabama in their efforts to boost industrial transportation access to promote export development, attract additional investments, support business resilience, and strengthen the economy of the Black Belt.
"I am so excited that the Port of Epes in Livingston has been granted the funding necessary to promote economic opportunity for our workers and families in the Black Belt," said Rep. Sewell. "There is nothing more important to me than increasing opportunity in my district. That is why I have fought so hard to make Alabama's Opportunity Zone program work for areas like the Black Belt, where communities will most benefit from investments and job development."
"The Trump Administration is committed to helping communities in Alabama and across the nation grow through strategic investment," said Secretary of Commerce Wilbur Ross. "This project will fund improvements to transportation infrastructure at the Port of Epes Industrial Park to help a major wood pellet company increase their operational capacity, attract new businesses, and advance efforts to capitalize on the project's Opportunity Zone designation."
Dana Gartzke is Performing the Delegated Duties of the Assistant Secretary of Commerce for Economic Development.
"EDA is pleased to support local strategies to spur additional development at the Port of Epes Industrial Park," said Gartzke. "This project will provide Sumter County with expanded industrial transportation infrastructure to support businesses and drive development. The project's location in an Opportunity Zone will further transform the community."
John Clyde Riggs is the Executive Director of the Alabama-Tombigbee Regional Commission.
"We at the Alabama-Tombigbee Regional Commission are excited to learn today that the Economic Development Administration has awarded $1.7 million dollars to the University of West Alabama to improve barge access to the Port of Epes in Sumter County Alabama," said Director Riggs. "This grant which is located in an Opportunity Zone will help create 85 jobs with a $175 million dollar private investment. Thanks go out to Congresswoman Terri Sewell for her assistance in securing this much needed grant."
Ken Tucker is the President of the University of West Alabama (UWA).
"We are immensely appreciative of this grant award from the U.S. Department of Commerce that will allow UWA the opportunity to expand our economic and workforce development efforts for a 10-county rural area that we serve," said President Tucker. "In 2018, UWA shifted its outreach focus to economic and workforce development, and in a very short time, this division has helped secure nearly $5 million in external funding for the Port of Epes, plus nearly $5 million for other economic and workforce development initiatives in our region."
Dr. Tina N. Jones is the Vice President of UWA's Division of Economic and Workforce Development.
"As a regional university whose mission includes improving the quality of life for the region, UWA has long seen education as an engine that drives economic and workforce development, and this $1.7 million will have a transformative influence on the people of west Alabama and beyond for many years to come," said Vice President Jones. "We are eager to continue our efforts to establish the partnerships and innovative initiatives that will strengthen the impact of this generous investment for our region and rural Alabama."
Allison T. Brantley is the director of economic development at UWA.
"It is critical that we continue to work together with organizations and agencies at every level to provide a foundation for the Black Belt by showcasing all that it has to offer to the rest of the world," said Director Brantley. "We want to do far more than merely sustain our economy. We want to match assets, resources, and opportunities in such a way that says to industries and developers not only are we a viable option, but we are the best option."
The University of West Alabama applied for the EDA investment grant with the Industrial Development Authority of Sumter County.
The funding announced on Tuesday goes to one of Alabama's 158 Opportunity Zones. The Opportunity Zones were created by President Donald J. Trump's Tax Cuts and Jobs Act of 2017. The goal of the Opportunity Zones is to spur economic development in economically-distressed communities nationwide. In June 2019, EDA added Opportunity Zones as an Investment Priority, which increases the number of catalytic Opportunity Zone-related projects that EDA can fund to fuel greater public investment in these areas.
The mission of the U.S. Economic Development Administration (EDA) is to lead the federal economic development agenda by promoting competitiveness and preparing the nation's regions for growth and success in the worldwide economy. EDA makes investments in economically distressed communities in order to create jobs for U.S. workers, promote American innovation, and accelerate long-term sustainable economic growth.
EDA grants are awarded through a competitive process based upon the application's merit, the applicant's eligibility, and the availability of funds.