UN Report Proposes Global Taxes
By Brandon Moseley
Alabama Political Reporter
Thursday, the United Nations (UN) released a report stating that they need more of the world's money to fund their activities and they have proposed a series of new UN taxes to get the money that they claim they need.
The U.N. World Economic Social Survey (WESS) is released every year by the U.N.'s Department of Economic and Social Affairs.  This year's report claims that the UN needs vast sums of new revenues to deal with 'Global Challenges' including climate change.
The WESS report is calling for a currency transaction tax on four major world currencies: the American dollar, Europe's embattled Euro, the yen, and the pound sterling.  Many people have nicknamed this a "Robin Hood Tax."  The UN would collect a tax of 0.005% on all financial transactions involving these four currencies.  The UN estimates that they would make $40 billion a year from this proposal.
The WESS report also calls for a carbon tax of $25 a ton of carbon dioxide (CO2) emitted in developed countries.  The UN estimates that they would raise $25 billion a year. The liberal Labor Party government in Australia has recently implemented a carbon tax of its own.  The UN claims that CO2 is responsible for "climate change" though it is unclear exactly how giving the UN $25 every time a factory, power plant, or automobile in a developed nation emits a ton of CO2 accomplishes anything to do with "climate change."
Perhaps the most controversial proposal in this year's report is the UN's proposed seizing of 1% of the wealth of the world's billionaires.  This is not an income tax, but is instead a yearly seizure of accumulated assets.  The report estimates that this would generate $40 to $50 billion a year for the UN.  While the U.S. Constitution allows the government to tax income, a tax on someone solely because a government thinks they have accumulated too much raises constitutional and legal questions.  While it would comparatively few persons there is always the possibility that future inflation could lead to many more billionaires.
The WESS report also looked at imposing an airline ticket tax.  They estimate that that could generate $one to $ten billion a year for UN coffers.  The report also floats the idea of a much wider financial transaction tax which could generate $75 billion a year.
The Committee also looked at the creation of new international liquidity through issuance of special drawing rights (SDRs) by the International Monetary Fund IMF).  They estimated that this had the potential of generating another $275 billion for the UN.
Survey author Roby Voss said that international taxes to support the UN had become necessary because, "Donor countries have fallen well short of their aid commitments and development assistance declined last year because of budget cuts, increasing the shortfall to $167 billion." "Although donors must meet their commitments, it is time to look for other ways to find resources to finance development needs and address growing global challenges, such as combating climate change."
The report does acknowledge that there could be resistance to some of these proposals.  The report said, "These proposals are subject to political controversy. For instance many countries are not willing to support international forms of taxation, as these are said to undermine national sovereignty."
To read the 2012 WESS report in its entirety:
http://www.un.org/en/development/desa/policy/wess/wess_current/2012wess.pd
UAB expert: We can't wait until it's too late to act on surging cases
"We still are at a time point when we have an ability to intervene, and do something to reduce that case count, to reduce the eventual mortality," UAB specialist Dr. Jodie Dionne-Odom said.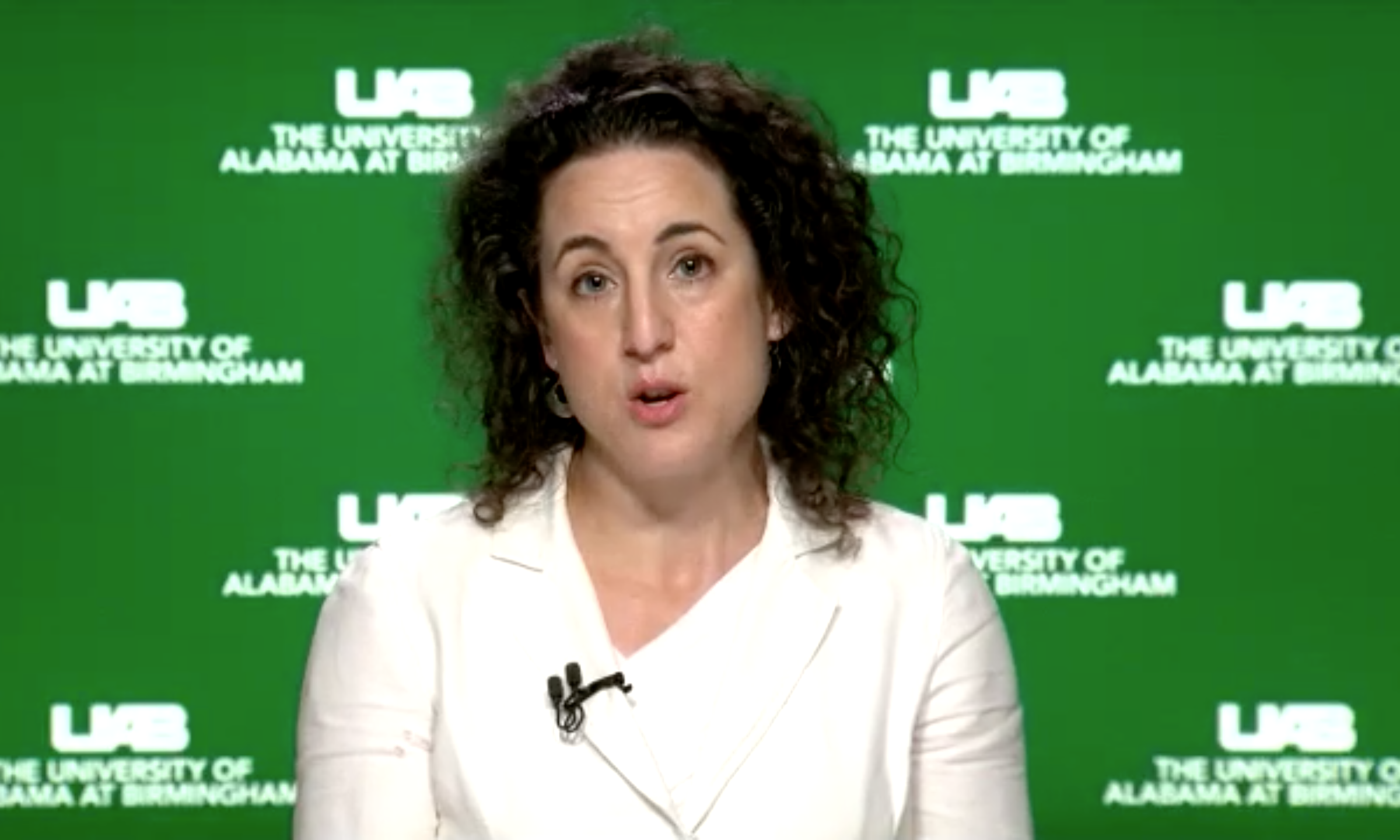 Alabama continues to see record numbers of new COVID-19 cases and hospitalizations, and the best way to turn the trend around is to wear face masks and practice social distancing, a UAB doctor says. 
Dr. Jodie Dionne-Odom, an infectious disease specialist at UAB, told reporters in a press conference Wednesday that the seven-day average of new daily coronavirus cases in Alabama has increased fourfold over the past several weeks. 
"We still are at a time point when we have an ability to intervene, and do something to reduce that case count, to reduce the eventual mortality," she said. "You don't want to wait until things are so bad that it's difficult for us to reverse the trend at all."
Dionne-Odom said she's concerned that the window of time to turn the trend of increasing cases, hospitalizations and the impending deaths that will surely come is limited. Wearing masks in public and practicing social distancing are some of the best tools we have to do so, she said.
On Wednesday, the state added 1,161 new COVID-19 cases and 25 deaths from the virus. It's killed 1,032 people in Alabama, the UAB physician said. At least 1,110 people were being treated in hospitals in the state Wednesday, according to the Alabama Department of Public Health, the most since the pandemic began.
The 14-day average of new daily cases was 1,057 — the highest it's been since the start of the pandemic. 
"The fact that we're seeing these sharp increases and hospitalization in cases over the past week or two is really concerning," Dionne-Odom said. "And we expect, given the lag that we know there is between cases and hospitalization — about a two-week lag, and a three-week lag between cases and deaths — that we're on a part of the curve that we just don't want to be on in our state."
UAB Hospital's COVID-19 intensive care and acute care units were approaching their existing capacity Tuesday, when the hospital was caring for 92 coronavirus patients. The hospital had 91 inpatients who had been diagnosed with COVID-19 on Wednesday.
Of those being treated in UAB's COVID-19 ICU unit Tuesday, less than half were on ventilators, a UAB spokesperson, Bob Shepard, said in a message to APR on Tuesday. Ventilator usage is actually dropping, he said, a positive sign. The hospital has both a COVID ICU and a COVID acute care unit designated to keep patients separated from those who don't have the virus, but it has more space in other non-COVID units.
"If we reach a point where we have more patients needing space in either unit, we will create more space in other areas of the hospital and designate additional beds for COVID patients," Shepard said.
"The issue is that designating more beds for COVID care reduces the number of beds we have for patients with non-COVID illnesses, which can have a profound effect on the overall health of our community," he said.
That flexibility was echoed by Dionne-Odom, who said that it is the type of system where they can create capacity as it's needed. 
"And we have units that we can open and close and take care of patients with COVID and staff who are familiar with the procedures of wearing PPE and gowning and keeping healthcare workers safe," Dionne-Odom said. "So we've used everything that we've learned since March, working really hard to be able to take care of more patients. That said, you have to remember that every bed that we're using today for someone with COVID can potentially be a bed that someone else would need, who's having a stroke or having a heart attack." 
"These problems are continuing to happen, and they need ICU-level care too," she continued. "So we don't want to continue to see an increase in the COVID cases because that has the indirect effect of affecting how we care for all the other patients with serious diseases." 
Dionne-Odom said that they know from experience that some of those being hospitalized for the virus will die in the coming weeks, "so we're all watching the next several weeks very cautiously." 
Testing across the state has increased in recent weeks, but so has the percentage of tests that are positive, a sign that not enough testing is being done, and cases are going undetected. 
Dionne-Odom said many cities across the southeast have high testing positivity rates of between five percent and 15 percent, and in some cases as high as 20 percent.

"And what that number means is when you're getting one of five tests back positive, is that there's a lot of spreading infection in the community that you are not detecting," Dionne-Odom said. 
Alabama's seven-day percent positivity rate was 14.69 on Wednesday. Public health experts say it should be at or below five percent or cases are going undetected. 
In Jefferson County, as of Wednesday, the percentage was roughly 14 percent.
While the majority of hospitalized patients are older, UAB does have COVID-19 patients in their 30s who are very ill and in ICU units, Dionne-Odom said.
"So the message is still true that this disease tends to impact older adults more than younger adults, but if you're 20, 30, 40, especially if you have an underlying condition, but even if you don't, you're not immune from this disease. You're still at risk of having severe outcomes," Dionne-Odom said.