Attorney General seize machines at illegal gambling facility
By Bill Britt
Alabama Political Reporter
MONTGOMERY—On Wednesday, Attorney General Luther Strange with the cooperations of Houston County District Attorney Doug Valeska and Houston County Sheriff Andy Hughes seized several hundred machines gaming and an undisclosed amount of cash from Center Stage.
Center Stage, located inn Cottonwood, AL, is the former Country Crossings Casino once owned by convicted felony Ronnie Giiley.
The search warrant was served early Wednesday morning after the operators of Center Stage refused to voluntarily turn over the gambling devices.
"Today's actions are the culmination of an investigative process over the last several months," said Attorney General Strange.at the announcement of the warrants, "From my first day in office, I have worked to ensure that illegal gambling laws are enforced consistently across the state."
As a result of the Attorney General's efforts, the country's largest gambling machine manufacturers removed their machines from Alabama last year, including the removal of all gambling machines at the shuttered Country Crossing casino. The casino, however, changed its name to Center Stage and reopened with new machines that state law enforcement agents determined were illegal.
"My office, along with Houston County District Attorney Doug Valeska, worked to try to resolve this matter with minimal controversy," said Attorney General Strange. "We offered Center Stage an opportunity to resolve this matter by surrendering its machines to the State and to allow a court to determine the legality of the machines. After Center Stage simply refused to compromise or discuss this matter in good faith, we sent the casino a written order to cease and desist its illegal operations. Unfortunately, the casino continued to operate in open defiance of the rule of law and we have been left with no alternative but to treat this as we would any other law enforcement matter."
The machine seized at Center Stage, along with the cash, will be held as evidence and will be subject to a forfeiture procedure in the Circuit Court of Houston County.
"Going forward, the Legislature can put an end to this type of illegal activity by simply increasing the penalty for the existing crime of operating an illegal slot machine from a misdemeanor to a felony. Until then, these individuals stand to make millions of dollars in illegal gambling profits while risking only a slap-on-the-wrist misdemeanor charge and law enforcement will continue to be forced to expend valuable resources to deal with the growing problem," said Attorney General Strange.
Governor declares state of emergency ahead of Tropical Storm Zeta
Zeta is currently a tropical storm over the Gulf of Mexico, but it is predicted to make landfall as a category one hurricane.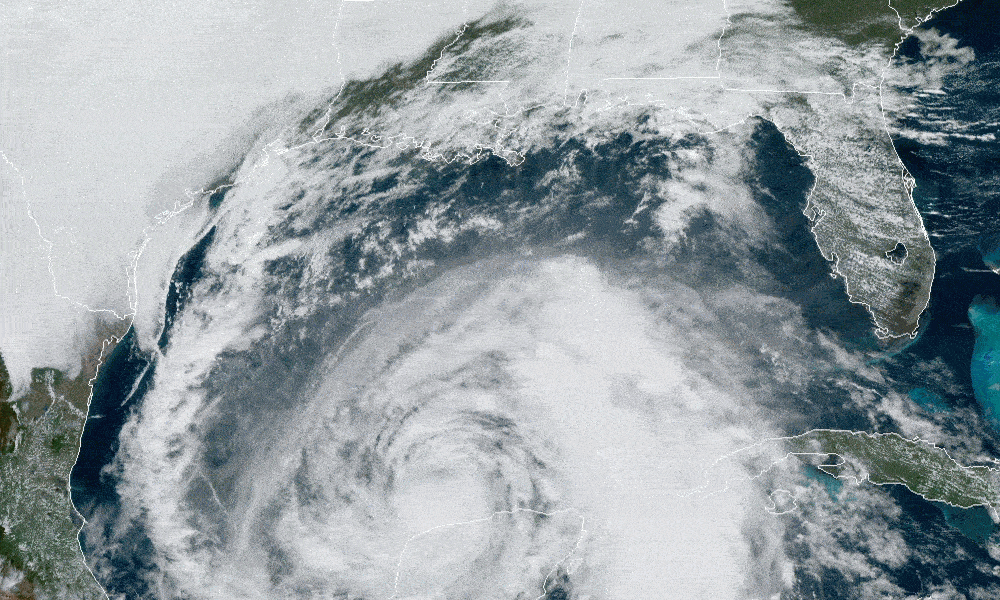 Alabama Gov. Kay Ivey on Tuesday issued a state of emergency as Tropical Storm Zeta approaches the Gulf Coast.
"Ahead of Tropical Storm Zeta's anticipated landfall Wednesday evening as a Category 1 hurricane, I am issuing a state of emergency effective today at 4:00 p.m.," Ivey said. "While this storm is not expected to have an impact as large as storms we've seen move through the Gulf earlier this year, we want to be in the best place possible to respond to anticipated rain, storm surge and mass power outage. I encourage everyone to remain weather aware and tuned in to their trusted news source as this storm could shift direction or change intensity. We continue to track the path of this storm and will stay in touch with the people of Alabama with any updates."
Zeta is currently a tropical storm over the Gulf of Mexico, but it is predicted to make landfall as a category one hurricane. The National Hurricane Center is predicting Zeta to make landfall in Mississippi on Wednesday and then proceed toward Alabama, but these storms can and do move.
A more easterly track could prove devastating to the Alabama Gulf Coast as was the case with Hurricane Sally, which shifted course in September, hitting Alabama, though Zeta is expected to be weaker than Sally at landfall.
The storm surge from the Mississippi-Alabama border to Dauphin Island is forecast to be 5 to 8 feet. Mobile Bay to the Alabama-Florida border is expected to have 3 to 5 feet of storm surge and from the border to Navarre, Florida, could experience 2 to 4 feet of storm surge.
Hurricane force winds are a possibility with this storm. Tropical force winds are expected to be an issue for Southern Mississippi and Alabama well inland. There is expected to be heavy rainfall across the state Wednesday night into Thursday morning.
The Baldwin County Emergency Management Agency announced that sandbags are available inside the county commission office at Robertsdale Central Annex (22251 Palmer Street) until 4:30 p.m. Tuesday and from 8 a.m. until 4:30 p.m. Wednesday or while they last.
Bring any help and shovels you will need. There is a limit of just 25 bags per person. Alabama's coastal counties are currently under a Tropical Storm Warning, a Storm Surge Warning for Mobile County and a High Rip Current and High Surf Warning.
Congressman Bradley Byrne said, "I just finished up briefings from Alabama EMA, FEMA, and the National Hurricane Center regarding #Zeta. We should not take this storm lightly and should start making preparations right away. After sundown Wednesday, I'd encourage everyone in Southwest Alabama to stay home and off the roads until sunrise Thursday. This storm will have impacts as far north as Montgomery, so those in Washington, Clarke, and Monroe counties will see tropical storm force winds and heavy rain. I'd encourage everyone to charge their phones and other necessary electronics. If you have an emergency during the storm, call 911 and do not try to drive."
Coastal Alabama is still in the process of recovering from Hurricane Sally which hit the state on Sept. 15.