Jim Barton Named 2013 AACD Legislative Leader
Staff Report
From the Office of Representative Jim Barton
Orange Beach, Ala. – State Representative Jim Barton, R-Mobile, has been named the 2012 Legislative Leader of the Year by the Alabama Association of Conservation Districts (AACD) at its Soil and Water Conservation District (SWCD) Area Six meeting at the Hampton Inn.
Rep. Barton received the award for providing leadership and advocacy on the importance of water conservation and land management practices.
Rep. Barton, as Chairman of the Finance and Taxation, General Fund (F&TGF) Committee, managed the most difficult financial period in Alabama history since the Great Depression and was influential in continuing funding to the Soil and Water Quality Program for FY2013.
Rep. Barton believes that agriculture is still a top industry for the State of Alabama and that investing in agriculture related programs will benefit Alabamians and the economy.
-more-
"Growing food for our State and selling goods is an extremely difficult process for farmers and they are so important to our economy and our survival," said Barton, "I believe we must participate in the conservation of working farms to protect land for future generations and to retain agriculture related jobs in Alabama as well."
AACD President Dr. Carol Knight thanked Rep. Barton for his work in dealing with Alabama's financial crisis the past few years and thanked him for stepping up to assist in solving the problem.
"We all know how rough the past few years have been and I am not sure if our program would be able to continue without Rep. Barton's support," said Knight, "We are grateful for Rep. Barton's stance on conservation and agriculture production."
The Alabama Association of Conservation Districts (AACD) was organized in August, 1943 and is a nonprofit, nongovernmental organization of the 67 Soil and Water Conservation Districts (SWCD) in Alabama. SWCD's are independent subdivisions of state government, just as counties and school districts.
The AACD's mission is to provide aid and guidance in programs for water quality, the prevention and control of soil erosion and conservation of soil and water resources. The Association serves as a vehicle for unified action by SWCD's, exchange of information, and discussion.
-more-
In 2012, the SWCD's have successfully administered and provided almost $83,000,000 into the Alabama economy, which includes Natural Resource Conservation Service (NRCS) program funding, technical assistance and landowner private match for the benefit of citizens across the State of Alabama.
Conservation districts are local governments at work and their specific responsibility is management of soil and water resources. The idea behind their formation is to keep decision-making on soil and water conservation matters at the local level.
To learn more about AACD and its programs please visit us at www.swcc.state.al.us.
Trump Truck and boat parades this weekend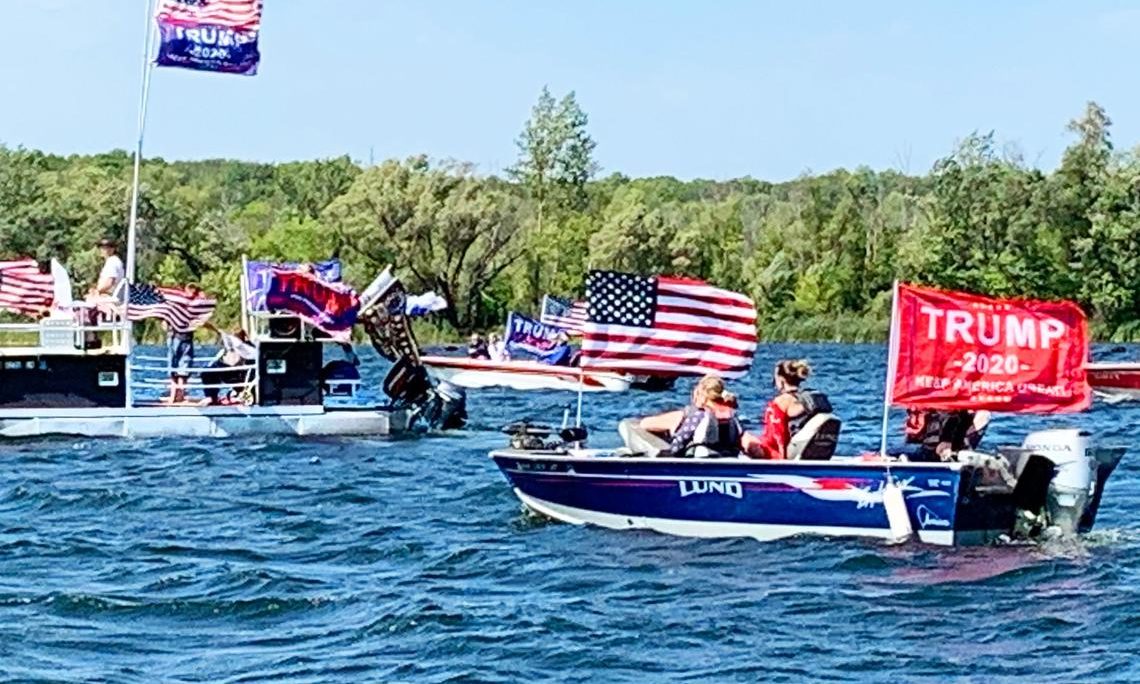 As Election Day draws near, Alabama Republicans are excited about promoting the re-election of Donald J. Trump as President and the election of Tommy Tuberville for U.S. Senate. This weekend two pro-President Trump events are happening in the state. There will be a truck parade from Ashland to Phenix City on Saturday sponsored by the Clay County Republican Party, while there will also be a boat parade on Wilson Lake in the Shoals sponsored by the Colbert County Republican Party on Sunday.
The pickup trucks will assemble at the Ashland Industrial Park in Clay County, 8240 Hwy 9, Ashland. There is a pre-departure rally at 10:00 a.m. central standard time. The trucks will depart at 11:00 a.m. and then proceed on a parade route that will take them into the bitterly contested swing state of Georgia. The Trump Pickup Parade will wind through east Alabama and West Georgia traveling through LaGrange and Columbus before concluding near the Alabama/Georgia line in Phenix City, 332 Woodland Drive, Phenix City at approximately 2:00 p.m. central time. Speakers will begin at 3:00. Trump flags will be on sale at the event.
The Phenix Motorsports Park will be hosting what sponsor hope could possibly the world's largest Pickup Tuck parade in U.S. history that is routing over 50 mile through Georgia in effort to "pickup" President Trump's numbers in GA.
A number dignitaries have been invited to address the Phenix City rally, including Coach Tuberville. Former State Sen. Shadrack McGill, Trump Victory Finance Committee member former State Rep. Perry O. Hooper Jr., and Paul Wellborn, the President and CEO of the largest Family owned Kitchen Cabinet manufacture in the USA are among the featured speakers who have committed to speak at the event.
Entertainment will be provided by: Charity Bowden, an up and coming country music singer who was the runner up on "The Voice". Charity will sing 'I am Proud to be an American' as well as songs from her Voice performances. The McGill Girls will also perform. The three beautiful and talented sisters will be singing patriotic songs in three part harmony. Geoff Carlisle, a professional DJ will be keeping the crowd pumped with music and entertainment.
Following the speakers and the entertainment there will Trump truck-vs- Joe Bidden truck races down the drag strip for the finale.
The Northwest Alabama boat parade will be on Sunday. The boats will gather at 2:00 p.m. near Turtle Point and then the flotilla will parade around the open waters of Wilson Lake til 3_00 p.m.. There will be a contest for best decorated Trump boats.
Trump supporters have held a number of large boat parades across the state to show their support for the re-election of Pres. Trump.
Boat parade sponsors say that this parade will be: pro-American, pro-law enforcement, pro-military.