DA Ellen Brooks, Crime fighting through early prevention: Part One
By Bill Britt
Alabama Political Reporter
Few may know it, but the county district attorney's of office is responsible to make sure school-age children attend school.
"According to Alabama law, the district attorney must vigorously enforce, the law that says, children must be enrolled in school, attend school regularly and behave in school," says Montgomery DA Ellen Brooks. "This is the only law I have found that says it must be 'vigorously' enforced."
Brooks, inspired by her fellow district attorneys in Mobile, has work hard to vigorously uphold her obligation.
This has come about through the Helping Montgomery Families Initiative.
According to the program's materials, "The Helping Montgomery Families Initiative (HMFI) provides intervention/prevention services for suspended (but not charged) school children and their families."
"When we first looked at the situation, it was clear to me that this law was not being 'vigorously' enforced, as stated by the statute," said Brooks.
When she asked for the statistics on how many cases were on hand, Brooks was told, "We had next to none."
"I was shocked because," said Brooks. "I could drive down the streets of Montgomery and find kids who were obviously not in school and obviously not sick."
Brooks agreed to head the program that became HMFI on the condition that there would be a commitment to back the program and that the resources would be made available. Brooks said she received the commitment and began the process of building the program.
"We hired a small staff mostly with social workers, people with that mind set," said Brooks. "I wanted to keep this separate from prosecution because it gets into the family's home and they must trust you. I didn't want them to feel like we were there to put them in jail."
Brooks recounts that the first hire was the key, "Andrea Edwards was the first hire, she has been the key to success," said Brooks.  According to Brooks, Edwards' extensive background in social services, coordinating  programs, planning budgets and work with people was the "right combination."
Having buy-in from all the stakeholders Brooks believed was the only way to have a successful program.
In 2007, Brooks "established a partnership with the Montgomery Public Schools (MPS) Superintendent to create HMFI with the support of government officials and community leaders. Others involved in the program are "local law enforcement, healthcare professionals, mental health, social services, faith-based organizations, juvenile justice agencies and other organizations."
Funding came from the city of Montgomery, "a little from the county and some from the school system." Brooks says they also received a federal grant.
The primary focus of the program is intervention in the lives of school children who have been, "suspended from school but not charged with a criminal offense," according to the DA's website.
The basic premiss is that some children within the county face overwhelming odds in their daily lives that will keep them from succeeding in school.
Among them are domestic violence, drugs, gangs, homelessness, sexual abuse, poverty, and lack of basic necessities.
These obstacles many times manifest in a child missing school, behaving badly in class and other problems.
Many studies conclude that this is the beginnings of the "school pipeline to prison."
HMFI, according to Brooks, is to identify the root of the problem that prevents a child from behaving in an appropriate manner in school.
It is also there to offer a comprehensive assessment process and a multi-disciplinary approach to assist children and their families. Then families are linked to services within the community to address their specific needs with a goal toward strengthen the family unit as a whole.
Within the program the kids who are most at risk are identified using data from school records, engaging the student and his or her family with the problems being exhibited, then referring to the family and child to appropriate agency or organization for help. The family and the student are closely followed until completion of the program.
Brooks says that 85 percent of those students that are a part of the program do not have a second suspension.
A year before the program began, there were 33,000-plus suspensions and that number has been reduced by 21 percent.
Governor declares state of emergency ahead of Tropical Storm Zeta
Zeta is currently a tropical storm over the Gulf of Mexico, but it is predicted to make landfall as a category one hurricane.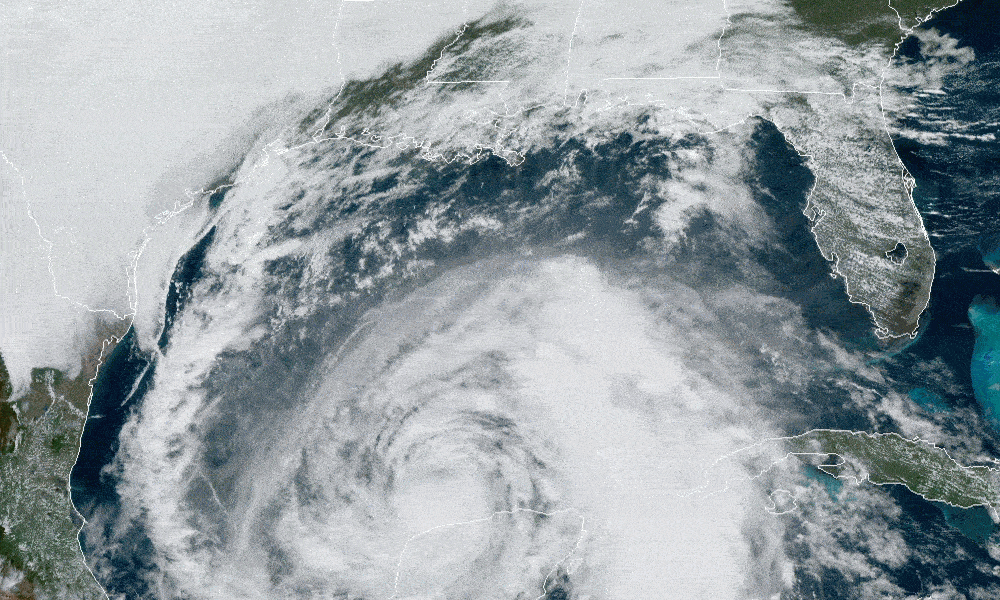 Alabama Gov. Kay Ivey on Tuesday issued a state of emergency as Tropical Storm Zeta approaches the Gulf Coast.
"Ahead of Tropical Storm Zeta's anticipated landfall Wednesday evening as a Category 1 hurricane, I am issuing a state of emergency effective today at 4:00 p.m.," Ivey said. "While this storm is not expected to have an impact as large as storms we've seen move through the Gulf earlier this year, we want to be in the best place possible to respond to anticipated rain, storm surge and mass power outage. I encourage everyone to remain weather aware and tuned in to their trusted news source as this storm could shift direction or change intensity. We continue to track the path of this storm and will stay in touch with the people of Alabama with any updates."
Zeta is currently a tropical storm over the Gulf of Mexico, but it is predicted to make landfall as a category one hurricane. The National Hurricane Center is predicting Zeta to make landfall in Mississippi on Wednesday and then proceed toward Alabama, but these storms can and do move.
A more easterly track could prove devastating to the Alabama Gulf Coast as was the case with Hurricane Sally, which shifted course in September, hitting Alabama, though Zeta is expected to be weaker than Sally at landfall.
The storm surge from the Mississippi-Alabama border to Dauphin Island is forecast to be 5 to 8 feet. Mobile Bay to the Alabama-Florida border is expected to have 3 to 5 feet of storm surge and from the border to Navarre, Florida, could experience 2 to 4 feet of storm surge.
Hurricane force winds are a possibility with this storm. Tropical force winds are expected to be an issue for Southern Mississippi and Alabama well inland. There is expected to be heavy rainfall across the state Wednesday night into Thursday morning.
The Baldwin County Emergency Management Agency announced that sandbags are available inside the county commission office at Robertsdale Central Annex (22251 Palmer Street) until 4:30 p.m. Tuesday and from 8 a.m. until 4:30 p.m. Wednesday or while they last.
Bring any help and shovels you will need. There is a limit of just 25 bags per person. Alabama's coastal counties are currently under a Tropical Storm Warning, a Storm Surge Warning for Mobile County and a High Rip Current and High Surf Warning.
Congressman Bradley Byrne said, "I just finished up briefings from Alabama EMA, FEMA, and the National Hurricane Center regarding #Zeta. We should not take this storm lightly and should start making preparations right away. After sundown Wednesday, I'd encourage everyone in Southwest Alabama to stay home and off the roads until sunrise Thursday. This storm will have impacts as far north as Montgomery, so those in Washington, Clarke, and Monroe counties will see tropical storm force winds and heavy rain. I'd encourage everyone to charge their phones and other necessary electronics. If you have an emergency during the storm, call 911 and do not try to drive."
Coastal Alabama is still in the process of recovering from Hurricane Sally which hit the state on Sept. 15.