Alabama AARP Director Salinas is driven by his goals
By Bill Britt
Alabama Political Reporter
MONTGOMERY— "Helping people help themselves." This is the goal of the Director of Alabama's AARP.
This is a big goal, but Jesse Salinas is a man that is accustom to taking a big idea and making it a reality. Salinas took the helm at AARP as State Director in Alabama last January. He is not new to Alabama nor to big challenges.
Prior to coming to AARP, Salinas was the vice president of Strategic Partnerships and Network Development at the Points of Light Institute. The Points of Light Foundation was created in 1990 in response to President Bush's call to action as an independent, nonpartisan, nonprofit organization to encourage and empower the spirit of service.
The goals of the Points of Light Foundation is it "seeks to inspire, equip and mobilize people to take action to improve their communities and society at large by using their time, talent, voice and money to create meaningful change," according to the organization's website.
This type of unifying effort was a part of Salinas' earlier career, "I was struck by this woman I met in Atlanta. She was the daughter of Georgia Senator Sam Nunn, who was organizing Hands On Atlanta, from there I was hooked," says, Salinas.
Michelle Nunn started Hands On Atlanta, a group that "meets critical needs through volunteer service and civic engagement. Since its founding in 1989, Hands On Atlanta has grown to become one of the largest community-based volunteer service organization in the United States and a model studied and replicated across dozens of other communities."
"It was an amazing time to be involved and to watch the group grow from a couple of organizations to over 400," Salinas says.
Not satisfied to just take on the South's biggest city, Nunn and Salinas took on the nation and the world with Points of Light. Salinas was a big part of that organizations growth. Over the years, Salinas wore many management hats for the group, even developing the first of its kind web-based application to allow local groups manage to volunteerism. This allowed nonprofit organizations to post their need for volunteers and for those individuals wanting to be volunteers to match with a particular group.
Salinas says he loved being a part of the worldwide organization's success, "When I had the opportunity to work with AARP in Alabama I jumped at the chance."
Salinas, who had earned his master's degree in Nonprofit Management from the University of Alabama, said he loved Alabama and wanted to return to the state.
He says his life and career have been about "helping people be their own change" and that coming to Alabama was the right place and right time for him to continue that work.
"Here in Alabama we have 440 thousand members, and here in Alabama we have a rapidly aging populations," said Salinas. "So, we are looking for all the ways we can support our members, and the things that are important to them."
Among those things are issues confronting the state legislature. Last year AARP we instrumental in the passage of the Elder abuse law in Alabama.
"We have a strong staff, we did a good job last year. This year we are going to do more," Salinas says. "This year we looking at how we can use all our resources to their maximum benefit."
He says that AARP in Alabama will be, "focused on heath, how you get the healthcare benefits you need as you age."
Salinas believes that Medicaid reform a big issue for AARP members, as well as the Affordable Care Act, and how it is implemented. He also sees livable communities as a focus for his staff and members. "We will be spending a great deal of time and focused on community organizing around these issues," he said.
AARP is current working on a project in Fairfield, Alabama, "We are trying to see if a concerted effort in that community can bring about positive change," said Salinas. "Fairfield is an area that has really struggled, so, we are trying to do some grassroots organizing there, to help people help themselves."
Salinas says that at AARP, "we are also looking at how to address the needs of the 50 plus population who are always on the go. A lot of people are still living very active lives, but we are faced with the fact that everyday 10,000 people are turning 65 years old."
He says that part of what AARP does is offer a wealth of information that help those 50-plus live a better life now and also, prepare for a better life in the future.
"We are here to help people think about, even little things that become magnified as they age," says Salinas. "What happens if a person can no longer drive, how do they get to their doctor or buy groceries? What if you are a caregiver of aging parents, how do you allocate time and so forth."
These are some of the things that AARP can help people understand and be proactive about says Salinas. "It is important that as people age they have the knowledge and tools to take care of themselves, and to feel safe and happy."
He even offers a story from his own life. "My mother who is 65 and very healthy and active became concerned about her bath tub and what would happen if she could no longer use the one she had," Salinas said.
Using information provided by AARP Salinas says, "We found the appropriate shower with a bench, if and when she ever needs it we had it installed. These are some of the small things that AARP makes best practice recommendations on."
Salinas says he is happy to be back in Alabama and excited about the future. He says that he an his staff want to "help Alabamians be the best they can be."
I am sure we all will join together to wish them all the best with their efforts.
Print this piece
Alabama House Minority Leader Anthony Daniels endorses Mike Bloomberg for president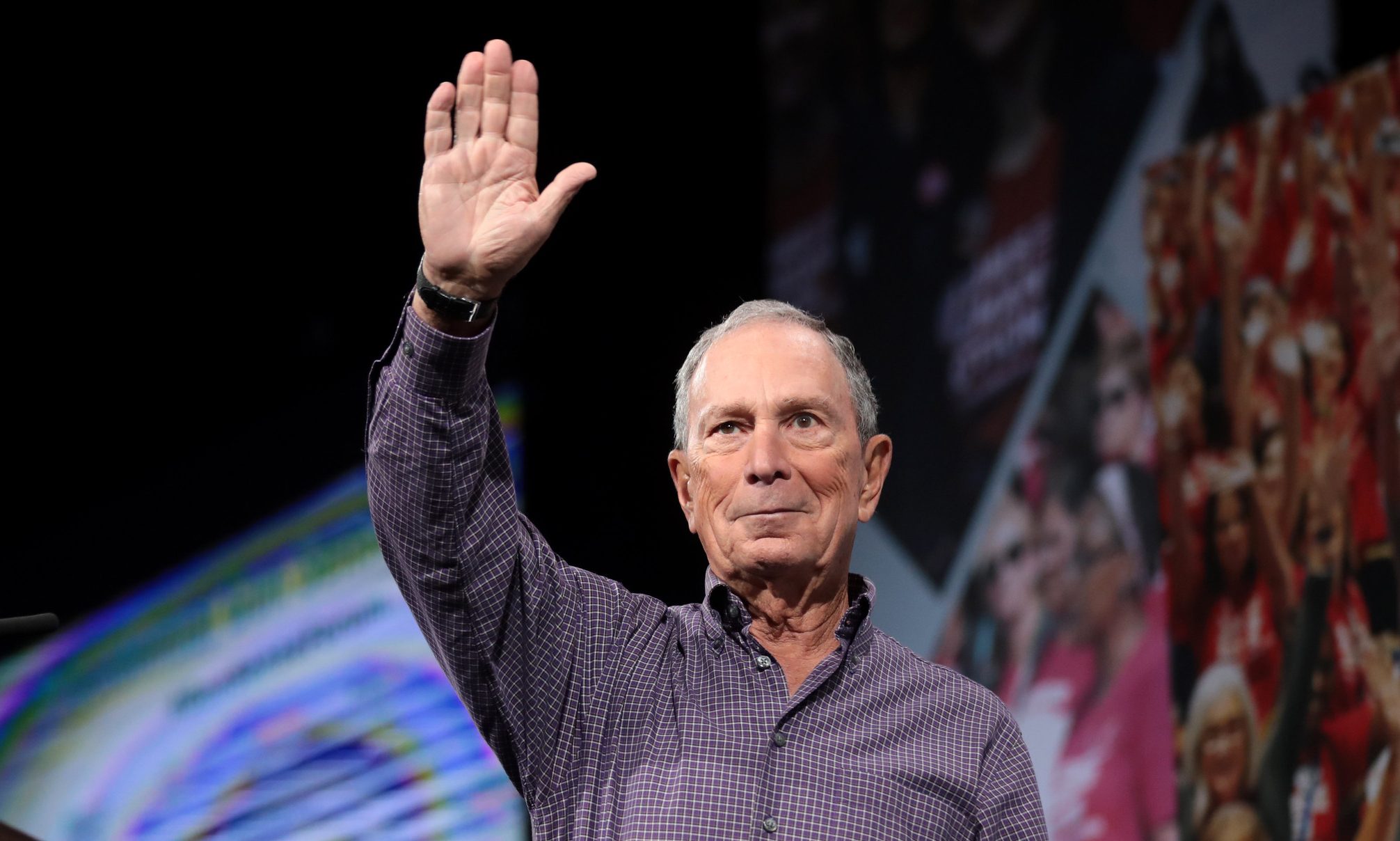 Alabama House Minority Leader Anthony Daniels announced his endorsement of Democratic presidential candidate Mike Bloomberg today, 4 days ahead of Alabama's primary election on Super Tuesday. Daniels joins State Senate Minority Leader Bobby Singleton and Black Caucus Chair Representative A.J. McCampbell in support of Mike. In his endorsement, Rep. Daniels cited Mike's work taking on tough fights on health care, public education, and supporting small businesses.
"We need a president who has a proven record of bringing people together to tackle the tough challenges we face in this country, and I can't think of anyone better to do that than Mike Bloomberg," said Rep. Daniels. "Not only is Mike the best positioned to take on Trump, but he has also proven he can deliver on his promises to make this country better for all. Alabamians should know that when I head to the polls this Tuesday, I'll be proudly casting my vote for Mike Bloomberg."
Rep. Anthony Daniels represents the 53rd District in the Alabama State House of Representatives, where, since 2017, he has served as minority leader. Rep. Daniels received his Bachelor's and Master's degree from Alabama A&M University. A former public school teacher and small business owner, Daniels is known for championing innovative education programs, like the Alabama School of Cyber Technology and Engineering, that prepare young people for promising careers, cultivate homegrown talent, and drive economic growth. Under his leadership, the House Democratic Caucus has made significant strides in addressing key issues like support for cradle-to-Pre-K programs, proven workforce development, and job readiness initiatives, and bringing broadband access to rural areas. They have also succeeded in preventing the passage of partisan legislation that hurts working families.
"Alabamians know how important this election is for the future of our country, and that's why they're supporting Mike Bloomberg, a doer and not a talker with a record of not shying away from tough fights," said Bradley Davidson, Mike Bloomberg 2020 Alabama State Advisor. "We're honored to have the support of Rep. Daniels, a respected leader in Alabama and beyond, and we look forward to working together with him to get Mike elected."
Mike Bloomberg will return to Alabama on Sunday, March 1 to participate in the 55th annual Selma bridge crossing to commemorate Bloody Sunday. Additionally, Bloomberg visited Montgomery earlier this month for an organizing event and to speak at the 60th annual Alabama Democratic Conference (ADC) Convention, the Alabama Democratic Party's largest Black caucus. He later received the endorsement of the group.
Print this piece