New Senate Minority Leader will Make History
By Cassandra Burns
Alabama Political Reporter
When the Alabama State Senate is gaveled into session in 2013 it will be a historic event for women.
For the first time in Alabama history a female of African-American decent will be the minority leader of the State Senate. That woman will be Senator Vivian Davis Figures (D-Mobile).
Figures says as minority leader one of the things she wants to do is to travel the state talking to other women about the problems and opportunities facing Alabamians.
"I thinks it will take women to turn things around in our state," said Figures. "We have to be inclusive in our work, because it will take all of us working together to meet the demands of the future."
Figures says she never envisioned herself in politics until she decided to run for city council is Mobile.
However, it was the untimely death of her husband Senator Michael A. Figures that catapulted her career in state government.
In 1978, her husband was the first African-American from Mobile County to be elected to the Senate, he was later to serve as Senate President Pro Tem in 1995.
After the death of her husband, Figures said, "Many people were encouraging me to run for his seat, but I didn't feel qualified."
In what was to be a turning point in her life her then 7-year-old son looked at her one day and said, "Mommy you are the only one who can take Daddy's place," At that moment she said she felt she had to do it, "I am a vessel. I felt it was what God was calling me to do, to serve people."
She was elected to the Alabama State Senate in 1997 with an 87 precent victory. This made Figures the first African-American woman to be elected to the Senate from Mobile County and the second African-American female to be elected in the state of Alabama.
In 2008, she became Alabama's first African American woman to be the Democratic nominee for the U.S. Senate. Although this was her first statewide run for public office, she garnered 37 percent of the vote while President Barack Obama had 39 percent in Alabama.
The Senator recently returned from Ohio where she visited her son. She said she and her son watched the election returns together some friends, "When the President was reelected, it was pure excitement, everyone was thanking God and toasting the President."
Figures, says she has great respect for the President and the First Lady, "They both have a heart for people, they have a heart for all the people."
While she admits that she has not always agreed with everything the President has said and done she does believe, "He is the leader America needs right now."
Figures, says she has been discouraged by the rancor of partisan politics that has so stymied Washington,
"I just pray that Congress, members of Congress, can put aside partisan politics and work together and make America the powerful nation it once was."
Figures continues by saying, "America is a melting pot, so we should be working together, for each other."
Figures, is currently one of three Democrats serving on the Joint Legislative Committee on Medicaid. She says she is deeply disappointed that the committee has so little input from women and Democrats. She has also been disturbed that the Governor's Commission on Medicaid is not "fully represented" by woman, minorities and members of her party. But she hopes things will change and that the state will embrace, the future with the Affordable Care Act.
Figures somewhat bristles at the term "Obamacare" saying, "The President has accepted that term even though it was meant to be disparaging, but if they mean Obama cares, then I am okay with that."
Figures says that "service to others and love," are what motivates her and she is looking forward to serving as Minorty Leader with all Alabamians in mind.
Governor declares state of emergency ahead of Tropical Storm Zeta
Zeta is currently a tropical storm over the Gulf of Mexico, but it is predicted to make landfall as a category one hurricane.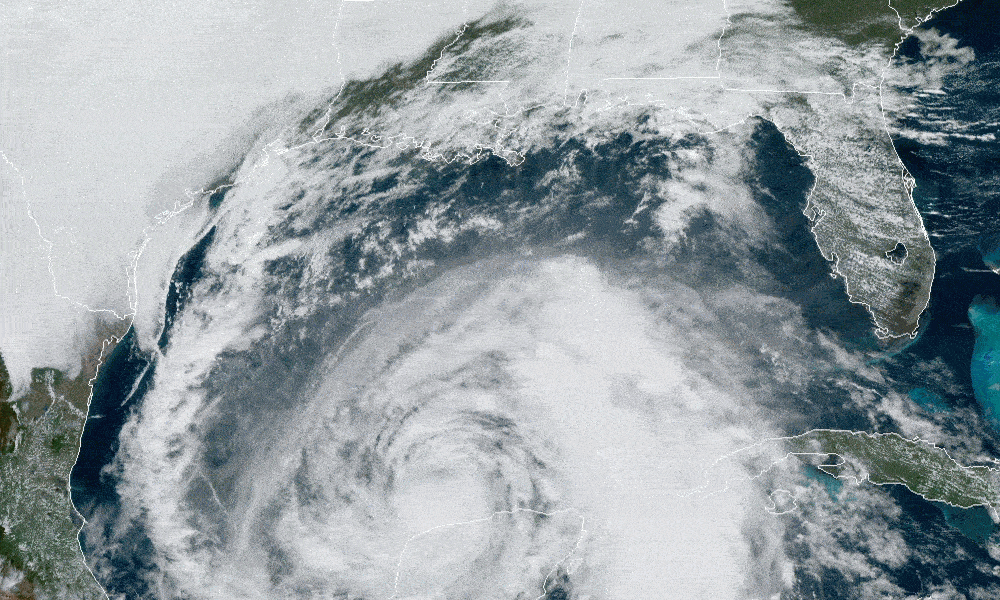 Alabama Gov. Kay Ivey on Tuesday issued a state of emergency as Tropical Storm Zeta approaches the Gulf Coast.
"Ahead of Tropical Storm Zeta's anticipated landfall Wednesday evening as a Category 1 hurricane, I am issuing a state of emergency effective today at 4:00 p.m.," Ivey said. "While this storm is not expected to have an impact as large as storms we've seen move through the Gulf earlier this year, we want to be in the best place possible to respond to anticipated rain, storm surge and mass power outage. I encourage everyone to remain weather aware and tuned in to their trusted news source as this storm could shift direction or change intensity. We continue to track the path of this storm and will stay in touch with the people of Alabama with any updates."
Zeta is currently a tropical storm over the Gulf of Mexico, but it is predicted to make landfall as a category one hurricane. The National Hurricane Center is predicting Zeta to make landfall in Mississippi on Wednesday and then proceed toward Alabama, but these storms can and do move.
A more easterly track could prove devastating to the Alabama Gulf Coast as was the case with Hurricane Sally, which shifted course in September, hitting Alabama, though Zeta is expected to be weaker than Sally at landfall.
The storm surge from the Mississippi-Alabama border to Dauphin Island is forecast to be 5 to 8 feet. Mobile Bay to the Alabama-Florida border is expected to have 3 to 5 feet of storm surge and from the border to Navarre, Florida, could experience 2 to 4 feet of storm surge.
Hurricane force winds are a possibility with this storm. Tropical force winds are expected to be an issue for Southern Mississippi and Alabama well inland. There is expected to be heavy rainfall across the state Wednesday night into Thursday morning.
The Baldwin County Emergency Management Agency announced that sandbags are available inside the county commission office at Robertsdale Central Annex (22251 Palmer Street) until 4:30 p.m. Tuesday and from 8 a.m. until 4:30 p.m. Wednesday or while they last.
Bring any help and shovels you will need. There is a limit of just 25 bags per person. Alabama's coastal counties are currently under a Tropical Storm Warning, a Storm Surge Warning for Mobile County and a High Rip Current and High Surf Warning.
Congressman Bradley Byrne said, "I just finished up briefings from Alabama EMA, FEMA, and the National Hurricane Center regarding #Zeta. We should not take this storm lightly and should start making preparations right away. After sundown Wednesday, I'd encourage everyone in Southwest Alabama to stay home and off the roads until sunrise Thursday. This storm will have impacts as far north as Montgomery, so those in Washington, Clarke, and Monroe counties will see tropical storm force winds and heavy rain. I'd encourage everyone to charge their phones and other necessary electronics. If you have an emergency during the storm, call 911 and do not try to drive."
Coastal Alabama is still in the process of recovering from Hurricane Sally which hit the state on Sept. 15.