Hubbard Reveals in Storm PAC: Fundraiser or Pay-to-Play?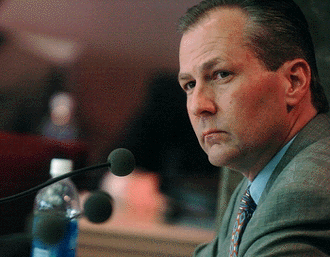 By Bill Britt
Alabama Political Reporter
MONTGOMERY—The self-described architect of the 2010 GOP takeover of the Alabama Legislature has a new Political Action Committee. 
Storming the Statehouse PAC, or "Storm PAC," is the latest of the numerous political fundraising operations of current Speaker of the Alabama House of Representative Mike Hubbard (R-Auburn). 
The new PAC was filed with the Alabama Secretary of State on October 12, 2012 listing Hubbard as Chairman, and Charles Hines as treasurer. Perhaps, coincidentally the formation of Storm PAC coincides with the timing of various news reports questioning campaign activities by Hubbard during the 2010 election cycle. 
In a written statement, Hubbard said the new PAC was formed "in order to protect the incumbents in our Republican majority in their re-election efforts."
Speaking on conditions of anonymity for fear of reprisal, a republican insider with knowledge of Hubbard's tactics said, "Mike is going to try and control all the money to insure loyalty, to himself, well, maybe not loyalty but obedience for sure." 
Even in his book "Storming the Statehouse," Hubbard emphasized that those who did not tow the line for him would be "punished."
A growing number of republicans sight Hubbard's heavy handed enforcement as a key factor in tearing the ALGOP apart. Currently, a battle is being waged for the Chairmanship of the Alabama Sate Republican Party. Matt Fridy, who is running to unseat Bill Armistead, has dropped Hubbard from his list of formal endorsements. 
Hubbard, along with former Governor Bob Riley, is now being seen as a troubling faction of the ALGOP that is seeking to divide and control the party. The Riley-Hubbard PAC, 2014 PAC, has been in constant competition with the ALGOP for fundraising dollars. 
This in itself has divided the ALGOP, while not threatening the parties statewide political dominance it has certainly strained the very fabric of the ALGOP. 
Hubbard's new PAC will serve as one more device to bring money into the lone control of the Hubbard machine. 
During the 2010 campaign season, Hubbard used PACs under his control to feed millions of dollars into campaigns and also into his own businesses. 
A study of campaign finance records for the 2010 election cycle shows that Hubbard's business interests were paid over $1,000,000 in campaign expenditures from at least 18 GOP candidates and at least 4 Political Action Committees (PAC).
This does not include the almost $800,000 spent with Majority Strategies for GOP printing that was sub-contracted to Hubbard's Craftmasters as reported by AL.com.
PACs under Hubbard's control included 136 Years PAC, NETPAC, Alabama Republican Party and Alabama Republican Party (Federal PAC).
Hubbard said that Storm PAC was created because, "Fighting for conservative reforms, standing up for dramatic change and combating entrenched liberal special interests can often lead to some tough political battles…."
What liberal special interest could Mr. Hubbard be referring to since the republican party controls every aspect of state government in Alabama? Again, an insider gives his answer, "Anytime anyone challenges Mike, he whines about 'liberal special interests,' the only special interest to him is the one that keeps him in power, period." 
Hubbard, also said that Storm PAC would raise money to let "our members… know that I'm firmly in their corner, watching out for them and committed to protecting them." 
It seems that according to Hubbard, transparency, voting records and legislative accomplishment are not the items candidates need worry about, rather they only need to know that Hubbard is in their corner. 
Hubbard has said in the past that he wanted to protect incumbents from faux republicans, to which the question should be raised as to who decides who is a real republican, Mr. Hubbard or the voters?
According to a report by George Talbot, Storm PAC "will get a high-profile kickoff later this month at the Auburn home of Tim Hudson, a star pitcher for the Atlanta Braves."
Talbot reports that, "Invitations to the Jan. 24 reception were distributed in December by Kate Anderson, a GOP fundraising consultant who formerly worked for Hubbard during his tenure as chairman of the Alabama Republican Party." 
He also reports that, "Recipients were invited to be a host sponsor for $7,500; a platinum sponsor for $5,000; a gold sponsor for $2,500 or a silver sponsor for $1,000."
No one doubts that the Hubbard machine is a money raising juggernaut. During the last year, lobbyist have constantly complaint of Hubbard's insistence on pay-to-play fundraising.
It has also been widely circulated to high profile donors that campaign contributions be directly given to Hubbard for distribution and not given to individual candidates. One North Alabama business person complained about a legislator from the Huntsville area who delivered that message only to be reminded that they would need the legislature in the future and that they had better follow the new rules. The legislator said, "There are consequences for making Mike unhappy."
Many legislators and public officials are left scratching their heads as to why Hubbard needs a new PAC, this like other activities of Mr. Hubbard leave the real answer unclear for the moment. 
Jones says Senate race a choice between "substance and leadership, and nothing"
"One of the great disappointments in this campaign is that Alabama is not really getting choices between substance and substance," Jones said.
Speaking outside the Calhoun County Democratic Party headquarters in Anniston on Friday, Sen. Doug Jones, D-Alabama, told a group of supporters that Alabamians haven't gotten a look at what his Republican opponent might do if he wins the Nov. 3 election. 
"One of the great disappointments in this campaign is that Alabama is not really getting choices between substance and substance," Jones said. "They're getting a choice between substance and leadership, and nothing — nothing. We have not heard anything from Tommy Tuberville about what he really wants to do." 
While Jones has held numerous interviews with the media, and regular web briefings over the summer and in recent weeks, Tuberville's campaign seems to prefer the safety of keeping Tuberville from making possible gaffs or damaging statements in interviews. 
Tuberville hasn't agreed to interviews with traditional media outlets, or to debate Jones, and instead has focused on conservative talk radio spots, speaking to smaller Republican groups and at private parties.
Tuberville's campaign has ignored or denied our numerous attempts to interview Tuberville, including another request on Friday. He also declined to attend a student forum held at Auburn University on Wednesday, which Jones attended. The forum was sponsored by the Auburn College Republicans and College Democrats.
"If you ever hear something Tommy Tuberville says, it is just simply this: 'Build a wall. No amnesty. Drain the swamp.' That ain't him. That's Donald Trump," Jones said. "He cannot think for himself. He doesn't think for himself." 
Jones spoke of his record of working to help veterans through legislation. And he referred to Tuberville's nonprofit for veterans and reporting that indicates, through tax records, that less than a third of the money raised for Tuberville's charity went to help veterans. 
"I don't just create charities and send only pennies on the dollar. I do things for the veterans of this state and this country," Jones said. 
Jones also made a case for Alabamians to remember the contributions past Democrats made in the state. Jones said it was Democratic Sen. John Sparkman who helped build Alabama's Redstone Arsenal. 
"It was a Democrat, Lester Hill, who built the rural hospitals around here that Donald Trump and Mitch McConnell and Tommy Tuberville are trying to destroy," Jones said. "It was Howell Heflin who built up agriculture in this state. Those are the Democrats. It was Franklin Rosevelt that put electricity in this state. We're going to do the same thing for broadband. People forget those things. They forget those things because we've let other people define us with lies."
Jones plans to visit Jefferson County on Saturday, then on to the Black Belt and Mobile on Sunday with another stop in Birmingham on Monday afternoon. 
"The goal is to get everybody out. That's the thing if we want to continue to ensure Alabama moves forward — moves forward and not backwards, to continue to have somebody, if I do say so myself, somebody that's just not going to damn embarrass us," Jones said.
"We've had too much of that in Alabama," Jones said, "and I bet you it won't be a year that Tommy Tuberville would be an embarrassment to this state because he doesn't know the issues. He doesn't know what to do, and he's dang sure not going to know what to do when Donald Trump is not president of the United States." 
Jones encouraged supporters to be skeptical of recent polling. One such recent poll, by Auburn University at Montgomery, puts Tuberville ahead of Jones by 12 percentage points, 54 to 42.1. An internal poll by Tuberville's campaign puts Tuberville ahead by 15 percentage points, while an internal poll from the Jones camp put Jones ahead by one percentage point. 
"Don't listen to these polling folks that come in, and they don't know Alabama, and they don't know what they're doing. We're tracking this race, and I can tell you, everything has been moving in our direction the last two months," Jones said. 
People standing along roadsides holding his signs and showing support, Jones said, is "the energy we've got out there. That's what you can't poll."
Ellen Bass of Anniston, standing outside the Calhoun County Democratic Party headquarters just after Jones spoke, told APR that she has numerous Republican friends who are voting for Jones.
"My hat's off to them because they're coming out," Bass said. "They recognize that he is a better candidate."
Ciara Smith, 21, newly elected to the Anniston City Council, told APR outside the headquarters building that Jones is the better candidate.
"I think that he's educated. I think that he speaks with passion and heart," Smith said. "And he knows what he's talking about, which is important, and which is more than we can say about the other candidate."
Speaking to APR after his speech to supporters, Jones said that he feels very good about the state of his campaign.
"Everything we're seeing is moving in our direction," Jones said. "And the more he stays hidden, the better it is for us."