Hubbard Unveils Ambitious Agenda for Alabama House
By Brandon Moseley
Alabama Political Reporter
Since 1923 the motto of the state of Alabama has been "We Dare Defend Our Rights" and Republicans in the Alabama House of Representatives have embraced that mentality to the fullest when they set their 2013 legislative agenda.
Speaker of the Alabama House Mike Hubbard (R) from Auburn said in a written statement, "It is no secret that President Obama, who will be sworn in for a second term next week, and his liberal cronies in the Democrat-controlled U.S. Senate are pushing a left-leaning agenda that the 2012 election results indicate a vast majority of Alabamians abhor."
The 2013 legislative agenda is designed to challenge President Obama's authority and limit the damage that his administration inflicts on the people of Alabama.   The Caucus addressed a wide range of issues from abortion to guns to Obamacare to Medicaid reform to downsizing state government.
The Alabama House GOP Caucus wrote, "Questionable Supreme Court rulings have eliminated the state's ability to prohibit abortions altogether.  However, states may enact meaningful abortion-related reforms."   While the Republicans very reluctantly admit they can't allow abortion they want to make it as difficult as legally possible to operate an abortion clinic in the state of Alabama and make the procedure as safe as it can possibly be and the Women's Health and Safety Act is designed to do that.
Speaker Hubbard wrote, "Republicans in the Alabama House of Representatives understand that the rights of Alabamians are under constant threat from Obama's ever-expanding and encroaching federal government, and we are ready to repel these attacks on our fundamental liberties.  For that reason, House Republicans today proposed the "We Dare Defend Our Rights" agenda for the 2013 legislative session, and will prioritize our work to ensure that each of these items become law. "
President Barack H. Obama has declared war on American gun owners and the House GOP wants to push back.  The Alabama Firearms Protection Amendment would protect the right of every Alabamian to keep and bear arms.  The House GOP says that, "With this amendment, Alabama's 1901 Constitution will contain the strongest gun protection provisions in the country."  If ratified it is very questionable whether this amendment would be sufficient to protect Alabamians gun rights from federal gun grabbers given recent court rulings affirming the supremacy of federal law over state law.  The amendment would limit the ability of future state and local governments to infringe on Alabama citizens gun rights.
Speaker Hubbard said, "Skyrocketing taxes, out-of-control federal spending, unconstitutional gun control and the stifling mandates of Obamacare are already being forced upon us, and with the president unfettered from the worries of reelection, I fear what liberal policies he will attempt to bludgeon us with next."
The Obama Administration has attempted to limit the religious freedoms guaranteed to employers by the U.S. and Alabama Constitutions.  The House Agenda says, "House Republicans will not stand idly by and watch this President trample on provisions that our founding fathers viewed as sacred.  The Religious Liberty Act would allow certain employers to opt out of specific overreaching ObamaCare mandates requiring employers to provide insurance coverage for contraceptives and abortion-inducing agents."  Currently the State of Alabama and Hanceville based Catholic broadcasting network EWTN are suing the administration for the freedom not to provide contraceptives and abortificients to its employees.  If that lawsuit fails, it is questionable if this act would trump the supremacy of federal law.
The Local Control School Flexibility Act is designed to provide local school systems the ability to request more flexibility from certain state statutes, policies and regulations in order to make decisions that improve education within their districts.  The GOP Caucus wrote, "The rules and regulations passed down by the State Department of Education come in a one-size-fits-all, cookie cutter form.  Yet, since school officials in the urban centers, suburbs, and Black Belt region of Alabama face different issues, schools should have the freedom to address them in a manner that makes sense for their unique situation."  How exactly would this work and would it take authority from the state school board and the state superintendent is unclear as of press time.
Medicaid has been a fiscal disaster for the budget of the state of Alabama and the House Republican Caucus addresses that in their agenda.   They wrote, "Expenses for Alabama's Medicaid program choke up almost 35% of our State General Fund.  Even though the Legislature appropriates money to the program, the state has little influence in who qualifies for Medicaid or what benefits they are provided.  What's worse, ObamaCare regulations stand to make Medicaid even more unaffordable for our state."  The GOP Caucus proposes to solve this ongoing dilemma with a Medicaid Block Grant Compact that places the authority and responsibility for healthcare regulation to the states.  They hope that somehow they can cut a deal with President Obama and the Congress for the feds to give Alabama the money and the freedom to run Medicaid like the Alabama Legislature wants to run it.
In the 2012 legislative session the state legislature voted to raid the Alabama Trust Fund of $437 million to prop up the state's battered general fund.  In 2013 the People's Trust Act promises to pay the money back…….by the end of fiscal year 2026.  The House Republican Caucus is vowing not to let any other bill to come to the floor of the House.
The Government Reduction and Taxpayer Savings focuses on streamlining initiatives in the areas of law enforcement, information technology, and legislative services. By merging and downsizing state government agencies they hope to save Alabama taxpayers money and show that House Republicans are serious about cutting spending.
The Red Tape Reduction Act would require each state agency to prepare an economic impact analysis before adopting any new proposed regulation which might have an adverse impact on small businesses.
The Medicaid Fraud Reduction is designed to improve the ability of the Attorney General's Office and the Alabama Medicaid Agency to pinpoint, investigate, and prosecute instances of Medicaid fraud and abuse.
Opinion | Electing Tuberville could cost Alabama billions
If your conscience or decency isn't enough, vote your wallets.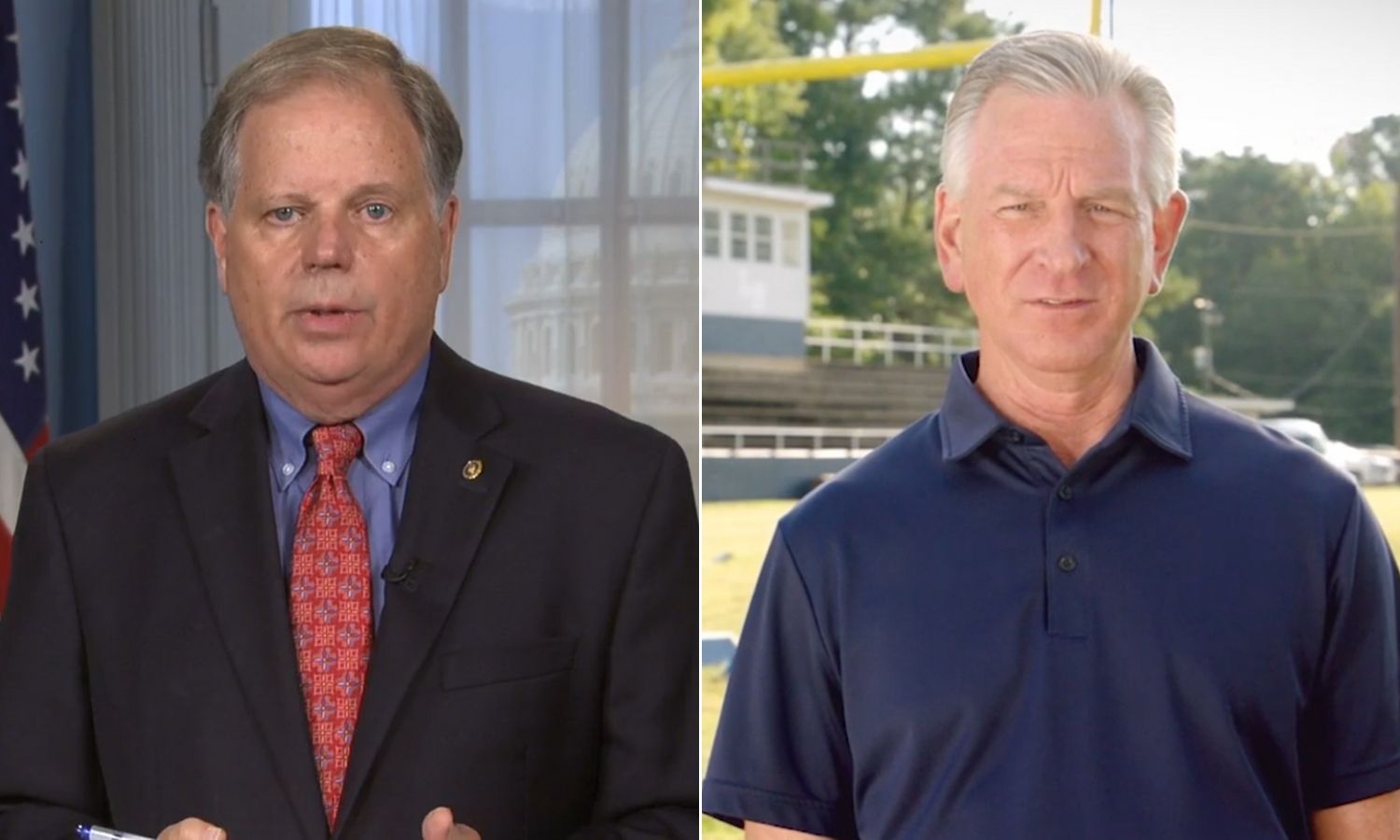 Money matters in Alabama. Oh, I know that we're not supposed to say that out loud. That we're supposed to promote our image of southern grace and hospitality, of churchiness and care, of rich people never getting into heaven. 
But the truth is greed is our biggest character flaw in this state. 
Every problem we have can be traced back to our unending thirst for dollars. Our ancestors didn't keep slaves because they hated black people. They did it because they loved money and the difference in skin color gave them an excuse — a really, really stupid excuse — to mistreat other humans to take advantage of the free labor. 
Our rivers and lakes and dirt aren't filled with poisons from factories because we're too dumb to understand how this works. They're that way because our politicians are paid off to turn a blind eye to the dumping of toxic waste. 
Our schools aren't terrible because we have dumb kids or bad teachers. It's because we're too cheap to pay for them. 
You see what I mean? It's our lust for the almighty dollar. Every time. 
We love money. 
Which makes me seriously wonder why so many people in this state are going to vote for a man who will cost us all — and especially our biggest businesses — so much of it. 
Tommy Tuberville will be like a money vacuum for Alabama. Billions of dollars will vanish for this welfare state that relies so much on federal contracts, federal programs and federal dollars. 
If you doubt this, don't simply take my word for it. Just Google up the press releases from Sen. Richard Shelby's office from the last, say, six years — the most recent span in which Republicans have controlled the Senate. 
Almost every single release is about Shelby securing millions or billions of dollars in federal funding for this project or that project, getting the state's share of dollars from a variety of different programs and initiatives implemented by Congress. 
Shelby and I obviously have different political viewpoints, but it's hard to argue that the man has been successful in securing money for Alabama. Lots and lots of money. 
Money for airports and roads. Money for defense contractors in Huntsville. Money for the port in Mobile. Money for car manufacturers. Money for farmers. 
Money. Money. Money. 
Shelby can do that because of three things: He's on the right committees, he's a member of the party in power and he's liked by the right people.
Tuberville will be none of those things. 
Most pundits are predicting that Democrats will take over the Senate, tipping the balance of power and giving the party control of both houses and the White House. 
That automatically means that a first-time senator in the opposition party will have little to no say in any decisions. 
But what's worse for Tuberville, and for Alabama, is that other Republicans don't like him either. 
Establishment Republicans essentially openly campaigned against Tuberville in the primary, tossing tens of millions of dollars behind his opponent, Jeff Sessions. They even favored third-place finisher Bradley Byrne over Tuberville. 
It's not hard to understand why — he's clueless. 
I know that's a Doug Jones talking point, but this one happens to be true. Let me give you an example: On Thursday, Tuberville tweeted out what was meant to be a shot at Jones, claiming that Alabama's current senator wouldn't meet with Trump's Supreme Court nominee because Jones knows "he won't have much time in the Senate to work with her."
If you're unaware, the Senate doesn't "work with" the Supreme Court. They're separate entities. 
Combine that with his other nonsensical answers on COVID relief, school reopenings, the Voting Rights Act, senate committee assignments, education, foreign affairs — really, the list is almost endless — and it shows how little work he's put in over the last two years to understand this job he's applying for. 
Now, that might be just fine with Alabama voters who care more about the party affiliation and owning the libs, but it's not OK with grownups who take the job of running the country seriously. 
And those people — both Rs and Ds — don't like Tuberville or his here-for-an-easy-check-like-always approach to one of the most serious jobs in the world. 
He will be frozen out of the most sought after committee assignments. His voice will carry zero weight. His presence will be all but forgotten. 
And in the process, so will Alabama. Especially in two years, when Shelby retires and his senior status is lost. 
In the meantime, Jones is highly respected by senators on both sides of the aisle. He already has a presence on top committees, and is so well liked within the Democratic Party that he's on the short list to be Joe Biden's AG, should he not be re-elected. 
The choice seems pretty simple. On the one hand is a competent, prepared and serious statesman who knows how to maneuver his colleagues to get the most for the state. On the other hand is an unprepared, uncaring, lazy carpetbagger who doesn't understand any process. 
If your conscience or decency isn't enough, vote your wallets.