Governor Bentley Details Law Enforcement Efficiency Plans, Upcoming Legislation
MONTGOMERY – Governor Robert Bentley on Tuesday announced comprehensive plans to further streamline and better coordinate state-level law enforcement services, a move that will lead to stronger public safety and greater government efficiency. 
Currently, more than 20 state-level agencies and departments have various law enforcement functions.  By improving coordination between those agencies, the Governor's plans will help minimize redundancies in administrative functions and focus more resources on strengthening the law enforcement services delivered to the public.
"The end result will be improved public safety," Governor Bentley said.  "By reducing duplications in administrative functions, we can save taxpayer dollars while putting more law enforcement on the road.  In outlining these plans, I have worked closely with law enforcement officials over a period of several months.  It's important that we continue to rely on the expertise of these law enforcement professionals who understand the needs of each agency." 
A large portion of the Governor's plans can move forward immediately by executive order.  Governor Bentley also plans to further his efficiency efforts through upcoming legislation that is currently being finalized. 
Executive Order:
Governor Bentley's executive order, signed Tuesday and effective immediately, will allow state-level law enforcement agencies to build upon recent efforts to improve coordination.  Specifically, the executive order creates the position of Senior Law Enforcement Advisor.  Alabama Department of Homeland Security Director Spencer Collier will serve in this position.
Responsibilities of the Senior Law Enforcement Advisor will include:
Emphasizing the placement of more law enforcement officers in the field while minimizing administrative redundancies within each agency
Providing efficiencies through common purchasing, consolidation of law enforcement fleet maintenance and a unified communication infrastructure
Establishing and maintaining a database of available state law enforcement resources and services in a manner that will minimize duplications of activities and better coordinate training
Serving as the primary point of contact for the Governor regarding state law enforcement issues
The Senior Law Enforcement Advisor will ensure greater coordination by working closely with the leadership of all state agencies providing law enforcement or public safety functions, including but not limited to: 
The Alabama Department of Public Safety
The Alabama Alcoholic Beverage Control Board
The Alabama Department of Conservation and Natural Resources
The Alabama Department of Homeland Security
The Alabama Department of Insurance / State Fire Marshal
"We want to make law enforcement even more effective for the citizens.  One directive I'm giving Spencer Collier is this:  Every law enforcement officer, no matter what agency, when that officer encounters a problem, the officer will own that problem until the issue is resolved," Governor Bentley said.  "Even if it's just to stay with someone on the side of the road until further help arrives, I want to make sure all officers from all agencies increase their coordination in serving the public together."
Upcoming Legislation:
Governor Bentley also announced Tuesday that legislation aimed at further streamlining state-level law enforcement is currently being finalized and will be submitted to the Alabama Legislature during the 2013 Regular Session.
The legislation will call for absorbing the law enforcement functions of the Alabama Public Service Commission, the Uniformed Division of the Alabama Department of Revenue and certain functions of the Law Enforcement Unit of the Alabama Department of Transportation into the Highway Patrol Division of the Department of Public Safety.
Legislation will also call for absorbing the Investigative and Enforcement Unit of the Alabama Department of Agriculture and Industries and the Enforcement Division of the Alabama Forestry Commission into the Alabama Department of Conservation and Natural Resources.  This will help farmers and landowners by further protecting land and resources.  Upcoming legislation will also call for absorbing the Alabama Criminal Justice Information Center into the Alabama Department of Public Safety.
In Summary:
"These plans represent the best approach to improving efficiency in public safety," Governor Bentley said.  "We are taking a rational and reasonable approach that will provide significant savings while increasing and supporting law enforcement officers in the field."
In the months since Governor Bentley established the Integrated State Law Enforcement Task Force, state agencies have already coordinated services in new and beneficial ways. For example, the Department of Public Safety worked with Alcoholic Beverage Control Board Enforcement Agents in a Labor Day Traffic Blitz that resulted in a much more visible law enforcement presence.  This serves as a strong example of how agencies can efficiently coordinate their efforts in a way that improves public safety.
"Under the direction of Governor Bentley, state law enforcement agencies have already made great strides in streamlining and coordinating operations, and the plans announced today will ensure that continues," said Spencer Collier, Director of the Alabama Department of Homeland Security and Senior Law Enforcement Advisor.  "I am committed to the Governor's mission of increasing efficiency, and I look forward to serving Governor Bentley as Senior Law Enforcement Advisor."
"I applaud Governor Bentley for bringing together people with a wealth of experience in law enforcement to enact these plans for greater efficiency," said Colonel Hugh McCall, director of the Alabama Department of Public Safety.  "We stand united with our state-level law enforcement partners.  By building upon our cooperation with each agency, we will strengthen the services we provide to the public."
"I appreciate how Governor Bentley has listened to the input of law enforcement and has considered the individual needs of each agency, and the public we serve, in developing his plans," said Gunter Guy, Commissioner of the Alabama Department of Conservation and Natural Resources.  "We share Governor Bentley's vision for improved coordination and improved public safety in Alabama."
Trump Truck and boat parades this weekend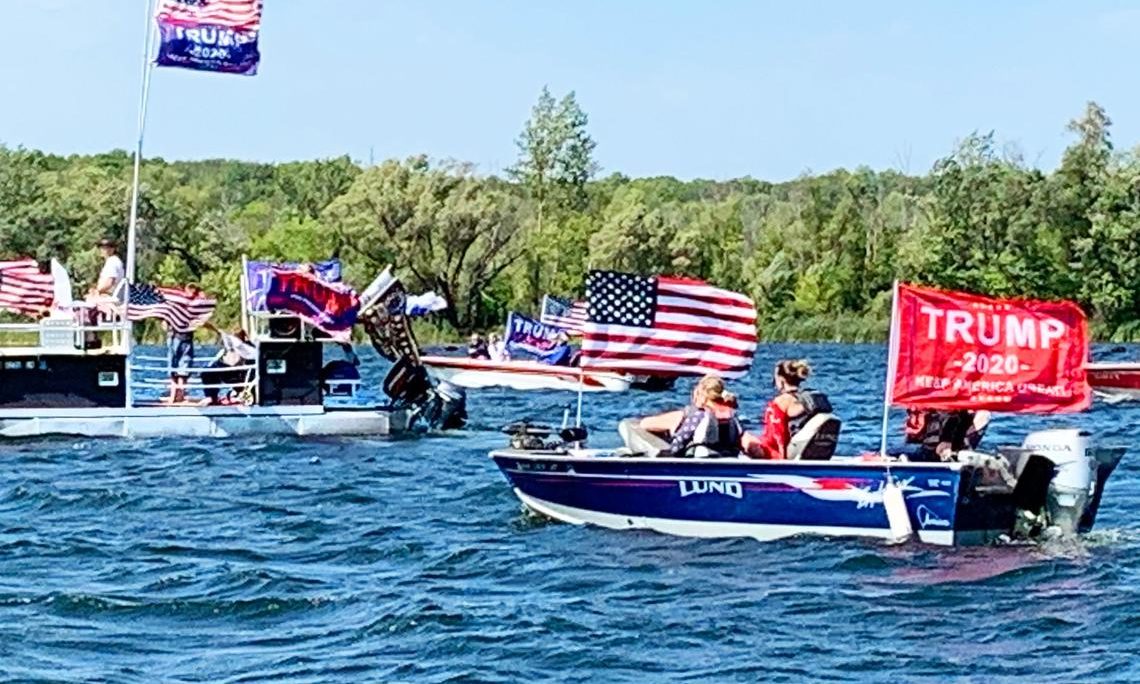 As Election Day draws near, Alabama Republicans are excited about promoting the re-election of Donald J. Trump as President and the election of Tommy Tuberville for U.S. Senate. This weekend two pro-President Trump events are happening in the state. There will be a truck parade from Ashland to Phenix City on Saturday sponsored by the Clay County Republican Party, while there will also be a boat parade on Wilson Lake in the Shoals sponsored by the Colbert County Republican Party on Sunday.
The pickup trucks will assemble at the Ashland Industrial Park in Clay County, 8240 Hwy 9, Ashland. There is a pre-departure rally at 10:00 a.m. central standard time. The trucks will depart at 11:00 a.m. and then proceed on a parade route that will take them into the bitterly contested swing state of Georgia. The Trump Pickup Parade will wind through east Alabama and West Georgia traveling through LaGrange and Columbus before concluding near the Alabama/Georgia line in Phenix City, 332 Woodland Drive, Phenix City at approximately 2:00 p.m. central time. Speakers will begin at 3:00. Trump flags will be on sale at the event.
The Phenix Motorsports Park will be hosting what sponsor hope could possibly the world's largest Pickup Tuck parade in U.S. history that is routing over 50 mile through Georgia in effort to "pickup" President Trump's numbers in GA.
A number dignitaries have been invited to address the Phenix City rally, including Coach Tuberville. Former State Sen. Shadrack McGill, Trump Victory Finance Committee member former State Rep. Perry O. Hooper Jr., and Paul Wellborn, the President and CEO of the largest Family owned Kitchen Cabinet manufacture in the USA are among the featured speakers who have committed to speak at the event.
Entertainment will be provided by: Charity Bowden, an up and coming country music singer who was the runner up on "The Voice". Charity will sing 'I am Proud to be an American' as well as songs from her Voice performances. The McGill Girls will also perform. The three beautiful and talented sisters will be singing patriotic songs in three part harmony. Geoff Carlisle, a professional DJ will be keeping the crowd pumped with music and entertainment.
Following the speakers and the entertainment there will Trump truck-vs- Joe Bidden truck races down the drag strip for the finale.
The Northwest Alabama boat parade will be on Sunday. The boats will gather at 2:00 p.m. near Turtle Point and then the flotilla will parade around the open waters of Wilson Lake til 3_00 p.m.. There will be a contest for best decorated Trump boats.
Trump supporters have held a number of large boat parades across the state to show their support for the re-election of Pres. Trump.
Boat parade sponsors say that this parade will be: pro-American, pro-law enforcement, pro-military.