Legislature Holds Public Hearing on Future of Medicaid
By Brandon Moseley
Alabama Political Reporter
On Tuesday the Alabama Legislature held a public hearing to explain the Medicaid reform package introduced by Sen. Greg Reed (R) from Jasper.  The Chairman of the Alabama House Health Committee, Rep. Jim McClendon (R) from Springville presided over the meeting to explain the legislation drafted by he and Sen. Reed and endorsed by Governor Robert Bentley (R).
The new legislation is based on recommendations by the Alabama Medicaid Advisory Commission which was chaired by Alabama Health Officer and interim Alabama Medicaid Director Dr. Donald E. Williamson Dr. Williamson explained that the new law would divide Alabama into between six to eight Regional Care Organizations (RCOs).  The RCOs would be given the responsibility for administering the Medicaid program in their areas.  They would not be state agencies, but rather would be for profit or non-profit corporations which would administer the Medicaid program and would bear the risk for the program.
Currently Medicaid is set up on a Provider Fee For Service (PFFS) model where Medicaid beneficiaries purchase care from healthcare providers (doctors, hospitals, pharmacies, nursing homes, etc.) and they then bill the state.  With a PFFS model the state is at risk for whatever services the clients charge and there is very little coordination of care between providers for a Medicaid beneficiary.  The state can allocate money for Medicaid; but it has little real control on costs.
Dr. Williamson said, "We envision these being risk bearing entities. So must have capital."  The capital providers would control 60% of the board of the RCO.  Dr. Williamson said, "We chose 60% because the people putting up the money should have control of the board."  The Citizens advisory board has to be at least 20% Medicaid enrollees.
Much of the language comes from the Oregon Medicaid reform statute.  Medicaid spends about $2.5 billion in health care benefits.  That translates into about $300 to $500 million of business in each RCO.  The legislation protect the legislature from an RCO failing and the state having no way to pay providers.  Dr. Williamson said that the state has to be prepared in case an RCO fails.  The state will have to commit to implementing this by October 2016.  Dr. Williamson said the state will only proceed if this is cheaper than what we are doing now.  Alabama Medicaid is projecting that the RCOs would save the state $20 to $70 million a year and have better outcomes.
Williamson said that the RCOs may bleed into more than one region.  "What we envision is probationary licenses."  The RCOs will have just over three years to go from probationary to full capitation.  The state must audit the RCOs to make sure they have solvency.   The proposed contract length is three years with two one year renewable options.
Medicaid providers must be willing to accept the payment and services set by the RCO.  Dr. Williamson said the state's timeline is aggressive because it needed to be aggressive.  "By sept 30th we will have divided Medicaid into no more than 8 regions."  The RCOs will be in place in one year.  By 2016 the RCOs must meet solvency standards must achieve capitation (i.e. the RCO has to have enough money in the bank to meet all the potential obligations.)  Not meeting the timeline is grounds for termination.
Williamson said that everyone acknowledges that we have to do something about long term care; but this plan does not specifically address the details of long term care reform.  The RCOs would handle the other Medicaid programs including, Medicaid services to poor families, Medicaid for poor children, and Medicaid benefits for poor seniors and the disabled.
Dr. Williamson said that the Alabama Attorney General's office is involved in crafting the legislation to make sure that the state doesn't violate any federal anti-trust statutes.
Sen. Greg Reed is the sponsor of SB 340. Sen. Reed said, "The goal of this meeting is to learn what issues that you have with my bill.  None of us feel that we have a Medicaid system that can't be improved."  Reed said that the goal is to wind up with a better system.
Rep. McClendon said that in order for an RCO to assume the risk they have to have money in the bank.  "Right now the taxpayers are at risk." We need to move that risk for those claims to the RCOs.
One hospital administrator for a chain of three hospitals in northwest Alabama employing 1500 people thought that 180 miles is too large a diameter for some regions of Alabama.  Specifically he felt that Northwest Alabama deserves its own RCO.  He commended Gov. Bentley, the Alabama legislature and the Medicaid commission for the work that they did.
The Executive Director of the Alabama Dental association, Dr. Zack Studstill said that RCOs was not the ideal way to handle Medicaid dentistry and said that Florida had attempted the same thing and it did not work real well.  Utilization decreased, quality decreased, and the cost was the same.  He said that Dentistry is unlike medicine.  The possible unintended consequence is less Dentists participating in the Medicaid program.
This plan calls for a study of long term care services.  The spokesman for the Alabama Nursing Home association said, "We look forward to working with you."
The Commissioner of the Alabama Department of Senior Services Neal Morrison said that he was supportive of the effort.  "We are here to help you."
The Director of Business Development and State Relations with Centene Corporation (a managed Medicaid Corporation) Ryan Sadler said that this was a positive step forward but that the legislature should address the risk timeline.  "The focus must remain on the patient, but if we do not achieve budget savings what have we accomplished?"  Sadler said that the state should require that entities operate at full risk since day one instead of starting the RCOs with probationary licenses.  He also felt that the state should move much quicker and that are "very sophisticated players" who are eager to come run managed Medicaid services in Alabama. He also favored allowing competition.
The spokesman for Alabama Appleseed said that they have been working on making Alabama Medicaid stronger for several years.  He said they favored longer license renewal times and greater consumer involvement on the boards of the Regional Care Organizations.
Dr. Hammock with the University of South Alabama said that the Alabama Hospital Association is in support of this bill.  "We can't do it (Medicaid) the way we have been doing it.
Kimble Forester with Alabama Arise said that they support the intent of the legislation but still have some concerns.  Their chief concerns is if one person on the board can properly represent consumers interests.
Lynn Williams with Melina Healthcare said that her company has successfully implemented Managed Medicaid in other states.  The traditional HMO model was not the best model in their experience.  "We believe that Alabama is not ready at this point for a full capitation model."   She said that the Governor's committee produced a very balanced study that took advantage of the lessons learned in other states and that this legislation meets Alabama's needs.   "Melina strongly supports this legislation.  We believe this is a major first step."
Dr. Jack Bradford representing the AARP said that his group represents a half a million Alabamians.  He said, "This is a wonderful first step."
Rep. Laura Hall (D) from Huntsville and a House Health Committee member said that she didn't see any African Americans or Hispanics testifying before the committee.  Hall said that the RCOs needs to have inclusive and diverse venders and boards.
Rep. Joe Hubbard (D) from Montgomery and a member of the House Health Committee said, "This piece of legislation appears to be an important first step to address the Medicaid crisis in this state."  "I am proud of this body for bringing this forward."
Senator Reed said that he was appreciative of everybody who spoke and who contributed to the debate.  Areas that they needed to look at going forward are the positives of the current Medicaid dental providers, incorporating Patient Care Networks (PCNs), and how to reform long term care.  "We are interested in this process.  Reed said they are still working on how the states can we offload that risk so that the state has budget clarity.  "How or are RCOs going to compete?"   Reed said that the legislature and the Governor have been working on this issue for 14 months.
Chairman McClendon said that the health committees will be meeting the week after Spring Break.  He encouraged that everyone with an interest in this to submit their comments and ideas in writing to the House and Senate Health Committees.
Three mental health crisis centers coming to Mobile, Montgomery and Huntsville
"Today marks a culture change in Alabama for treatment of individuals with mental illness and substance use disorders," Mental Health Commissioner Lynn Beshear said.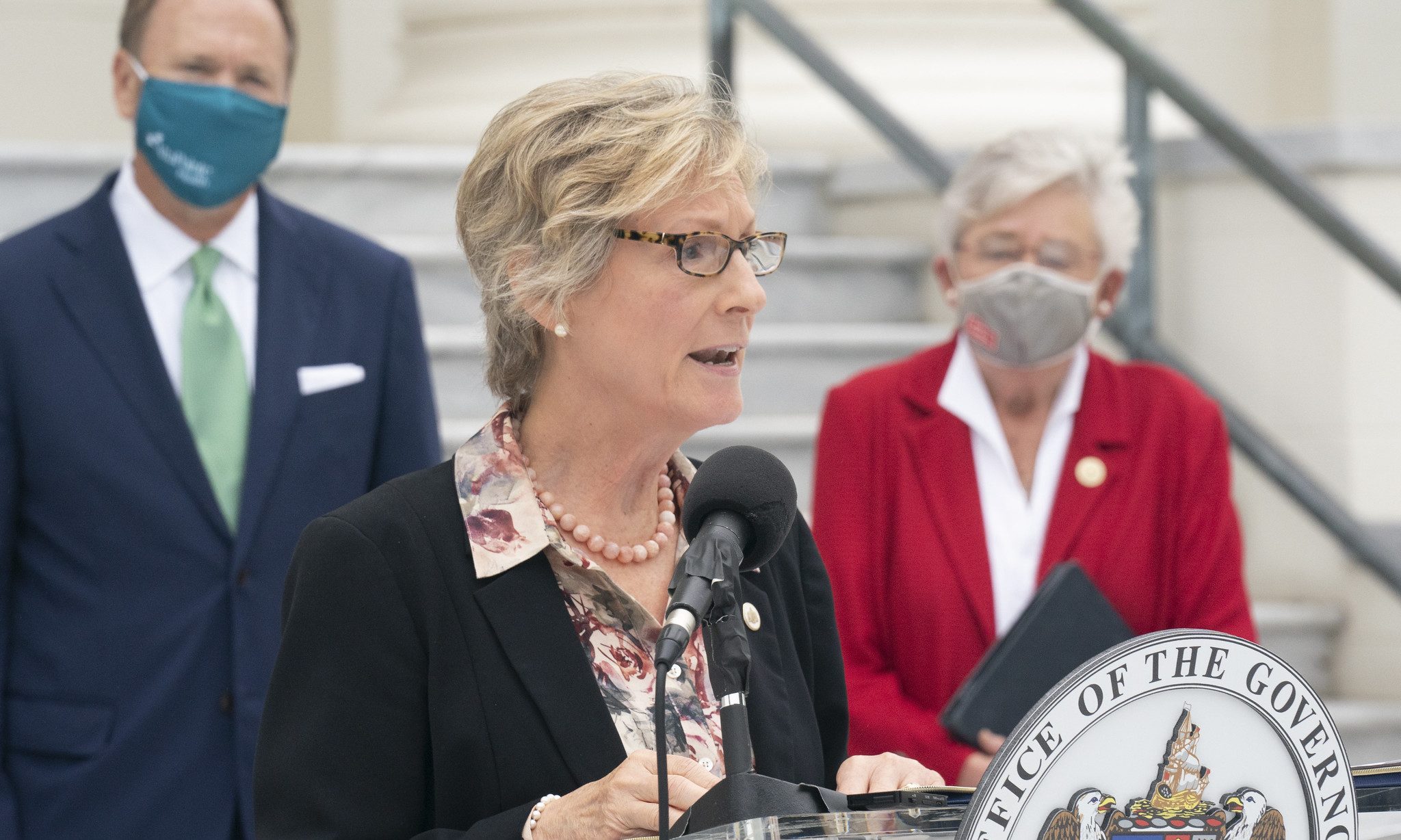 Gov. Kay Ivey on Wednesday announced an $18 million project to create three new mental health crisis centers to be located in Mobile, Montgomery and Huntsville. 
These centers, once in operation, will reduce the number of people suffering from mental health crises who are hospitalized or jailed, Ivey said during a press briefing in front of the Capitol Building in Montgomery. 
"When these facilities are open and fully staffed, these centers will become a safe haven for people facing mental health challenges," Ivey said. 
Lynn Beshear, commissioner of the Alabama Department of Mental Health, said during the briefing that the centers will provide "recovery based" care with "short term stays of a few hours, or up to a few days, to provide treatment, support, and connection to care in the community." 
"Today marks a culture change in Alabama for treatment of individuals with mental illness and substance use disorders," Beshear said. 
Beshear said AltaPointe Health in Mobile will operate one of the three facilities, and once built it is to serve Mobile, Baldwin, Clarke, Conecuh, Escambia, Monroe and Washington counties with 21 new beds, including 15 temporary observation beds. Altapointe will begin with a temporary space while constructing the new facilities, she said. 
Beshear said the Montgomery Area Mental Health Authority is partnering with the East Alabama Mental Health Authority and the Central Alabama Mental Health Authority to serve the 11 counties in Region 3 with 21 new beds, including 10 temporary observation and respite beds. 
"The regional crisis center will be located in Montgomery, and will be open to walk-ins and for drop off by law enforcement, first responders and referrals from emergency rooms," Beshear said. 
Wellstone Behavioral Health in Huntsville was selected to open the third center, and will do so at a temporary site while a new facility is being built, with the help of an additional $2.1 million from local governments, Beshear said. That facility will eventually have 39 beds, including 15 for temporary observation and 24 for extended observation.
"There's not a day that goes by that after-hours care is not an issue in our state," said Jeremy Blair, CEO of Wellstone Behavioral Health, speaking at the press conference. "And so I applaud the Department of Mental Health and the leaders for their efforts in recognizing that and taking it a step further and funding our efforts here." 
Asked by a reporter why a center wasn't located in Jefferson County, one of the most populous counties with a great need for such a center, Ivey said those residents will be served in one of the other regions. 
"Plans are underway to continue this effort. Today's beginning, with these three crisis centers, is just the beginning," Ivey said. 
Ivey added that request for proposals were sent out for these three centers and "it was a strong competition for the location of these three crisis centers." 
Alabama House Majority Leader Nathaniel Ledbetter, R-Rainsville, said during the briefing that more than a year ago, Ivey asked him what the state should be looking at, and that he replied "we're failing miserably in mental health."
Ledbetter said Ivey asked him to take on the challenge of correcting the state's response to mental health, and a team was created to do just that. 
"Working together, today's announcement will not only change Alabamians lives, but will help to save lives," Ledbetter said.