Title Loan Bill Goes Down Legislative Rabbit Hole
By Bill Britt
Alabama Political Reporter
MONTGOMERY—Last week, a packed public hearing poured out into the halls of the fourth floor of the State House. Some had come to try and change the laws concerning title loan lending; most were there to make sure it died.
Representative Rod Scott (D-Fairfield) was joined by a bi-partisan coalition who had hoped to place limits on the amount of interest that could be charged by title lenders.
Currently, the APR for title loans is around 300 percent. The industry calls them fees and as such should not be viewed as an interest rate. But those who have found themselves trapped in the churn of title lending spoke of the real cost.
A lengthy and respectful hearing was conducted by Financial Services, Co-Chair, Representative Lesley Vance (R-Phenix City) but in the end Vance doomed the bill by passing it down to the sub-committee.
"This is a pretty clear cut issue it is the industry verses the citizens," said Patricia Todd (D-Birmingham). "As you know the hired guns, the paid lobbyist, usually get their way. For now they have won." But Todd pledges to continue the fight to reign in the fees on title and payday loans.
Todd pointed out that at the hearing an unprecedented number of lobbyist were present. "When I look around at all the lobbyist they have hired at around 40K a session it should tell you something," said Todd.
House Speaker Mike Hubbard's confidant and favored lobbyist Dax Swatek sat immediately behind Co-Chair Vance as if to watch his every move. Vance did not disappoint. In fact, one of the first donors to MIke Hubbard's new PAC, "Storm PAC," was Select Resource Management, a major player in the title lending business.
When the Speaker of the House is taking money from the title loan industry it might be difficult to see how those who oppose the industry's high interest rates can expect a fair hearing. But, this bi-partisan coalition has some new advocates. These are pastors, ministers and others of the faith community including Brother Dan Ireland, a stalwart of the faith community at the State House. At the hearing, Amanda Vaughn, a former pastor, used scripture to point to the Biblical exclusion of usury. Vaughn read passionately from the Old Testament reciting the laws against such practices. In the end she begging that the committee, not put the legislation "in a shoebox, please." But that is exactly what Vance and company did.
There are few statistics concerning title lending in Alabama but a survey conducted in Texas showed that title and payday loans are generally not the "emergency" loans the industry advertises.
According to texasfaithforfairlending.org, "The majority of survey respondents who needed short-term credit used it, not for isolated, one time emergencies, but to pay for recurring basic expenses such as utilities, food and housing."
While this could be considered reckless behavior on the part of the borrower, many argue that the title lenders prey on such individuals.
Lobbyists who did not want to be identified for this report conceded that the industry will be forced to change it ways now that the faith community is involved.
The idea of lending money for a fixed return as been a vexing question for centuries. The term "usury" originally implied any type of interest on a loan.
However, the notion of usury has changed over the years as well as its meaning.
Today, when we refer to usury we mean an exorbitant rate of return and not simply any interest on a loan. According to Economic History Association or eh.net:
"The Greeks argued about usury, the Hebrews denounced it, Roman law controlled it, and Christians began pondering it in the late Roman Empire." The Catholic Encyclopedia at www.newadvent.org, says that, "…It is contrary to mercy and humanity to demand interest from a poor and needy man."
So, when it comes to the moral argument on usury, the question of justice must be addressed according to the letters of faith.
For now, the title lenders will continue to charge their fees and opponents will continue to fight for lower interest rates. But, there is a growing trend in the country that may see a time when title and payday lenders no longer operate.
For now the words of William Blackstone can be heard, "When money is lent on a contract to receive not only the principal sum again, but also an increase by way of compensation for the use, the increase is called interest by those who think it lawful, and usury by those who do not."
Three mental health crisis centers coming to Mobile, Montgomery and Huntsville
"Today marks a culture change in Alabama for treatment of individuals with mental illness and substance use disorders," Mental Health Commissioner Lynn Beshear said.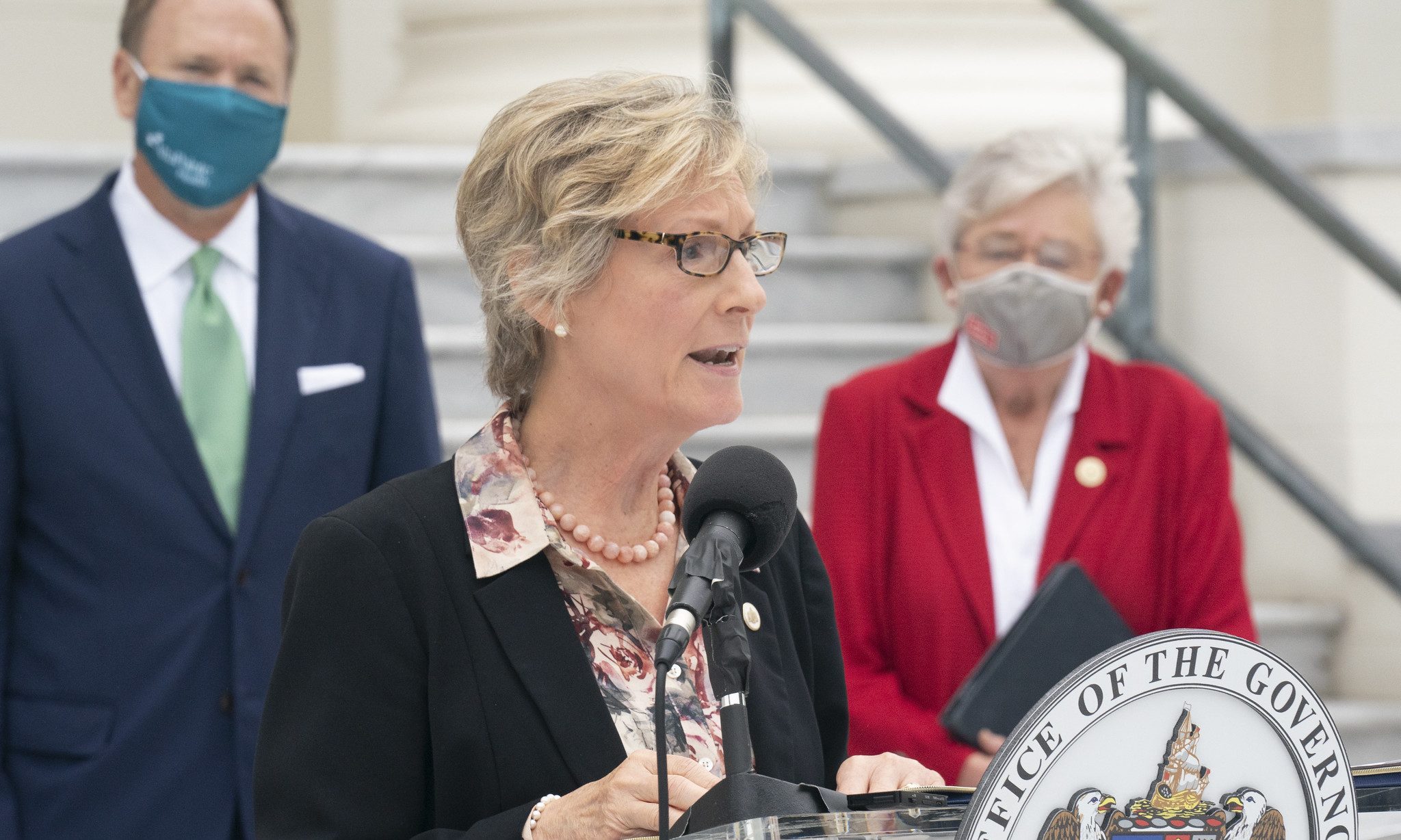 Gov. Kay Ivey on Wednesday announced an $18 million project to create three new mental health crisis centers to be located in Mobile, Montgomery and Huntsville. 
These centers, once in operation, will reduce the number of people suffering from mental health crises who are hospitalized or jailed, Ivey said during a press briefing in front of the Capitol Building in Montgomery. 
"When these facilities are open and fully staffed, these centers will become a safe haven for people facing mental health challenges," Ivey said. 
Lynn Beshear, commissioner of the Alabama Department of Mental Health, said during the briefing that the centers will provide "recovery based" care with "short term stays of a few hours, or up to a few days, to provide treatment, support, and connection to care in the community." 
"Today marks a culture change in Alabama for treatment of individuals with mental illness and substance use disorders," Beshear said. 
Beshear said AltaPointe Health in Mobile will operate one of the three facilities, and once built it is to serve Mobile, Baldwin, Clarke, Conecuh, Escambia, Monroe and Washington counties with 21 new beds, including 15 temporary observation beds. Altapointe will begin with a temporary space while constructing the new facilities, she said. 
Beshear said the Montgomery Area Mental Health Authority is partnering with the East Alabama Mental Health Authority and the Central Alabama Mental Health Authority to serve the 11 counties in Region 3 with 21 new beds, including 10 temporary observation and respite beds. 
"The regional crisis center will be located in Montgomery, and will be open to walk-ins and for drop off by law enforcement, first responders and referrals from emergency rooms," Beshear said. 
Wellstone Behavioral Health in Huntsville was selected to open the third center, and will do so at a temporary site while a new facility is being built, with the help of an additional $2.1 million from local governments, Beshear said. That facility will eventually have 39 beds, including 15 for temporary observation and 24 for extended observation.
"There's not a day that goes by that after-hours care is not an issue in our state," said Jeremy Blair, CEO of Wellstone Behavioral Health, speaking at the press conference. "And so I applaud the Department of Mental Health and the leaders for their efforts in recognizing that and taking it a step further and funding our efforts here." 
Asked by a reporter why a center wasn't located in Jefferson County, one of the most populous counties with a great need for such a center, Ivey said those residents will be served in one of the other regions. 
"Plans are underway to continue this effort. Today's beginning, with these three crisis centers, is just the beginning," Ivey said. 
Ivey added that request for proposals were sent out for these three centers and "it was a strong competition for the location of these three crisis centers." 
Alabama House Majority Leader Nathaniel Ledbetter, R-Rainsville, said during the briefing that more than a year ago, Ivey asked him what the state should be looking at, and that he replied "we're failing miserably in mental health."
Ledbetter said Ivey asked him to take on the challenge of correcting the state's response to mental health, and a team was created to do just that. 
"Working together, today's announcement will not only change Alabamians lives, but will help to save lives," Ledbetter said.