Legislators Comment on Hectic Last Day of Session
By Brandon Moseley
Alabama Political Reporter
Monday was the hectic last day of the 2013 Alabama Legislative Session and a lot of legislation was passed during that 15 hour day. Many state legislators commented on Facebook about that last hectic day.
Senator Bryan Taylor (R) from Prattville said, "I had a pretty good finish to the 2013 legislative session tonight. I passed HB1 — Caylee's Law — to make it a crime for a parent to fail to report a missing child; HB14, the Joel Willmore Act, to require public notice whenever an inmate escapes prison; and SB445 to close loopholes in campaign finance laws, increase disclosure, and strengthen enforceability of those laws. I also passed important local bills for Prattville, Pike County, Crenshaw County, and Butler County. I passed a local bill for Wetumpka, but the House failed to give it final passage and send it to the governor."
Rep. Paul Beckman (R) from Prattville said on Facebook, "The last day of the session is over. HB 14 passed after 3 years of work. This bill cleared the Senate a few seconds before midnight. This was the Joey Wilmore bill which sent notice to the surrounding area of an escape convict. Senator Taylor pulled a rabbit out of his hat at the last second. There was help from a lot of unsung heroes that made this bill possible. Thanks to everyone who helped. This bill will save lives. SINE DIE."
Senator Harri Anne Smith (I) from Slocumb said, "LAST DAY OF THE REGULAR SESSION. IT IS 11:30 AND ALL lOCAL BILLS THAT WERE OUT OF COMMITTEE HAVE BEEN PASSED FOR OUR AREA. YEA! Thanks to all the local leaders for working with us this session."
Rep. Dickie Drake (R) from Leeds said, "9:30 pm Passed SB260 out of the House. Will go to a vote of the people to authorize a 50 Million dollar bond issue to plan, renovate, and construct National Guard Armories across the State. Alabama National Guard annual payroll is 327 million dollars and Guard employees paid 16 million dollars in State income taxes in 2012. For the record, 51% of Alabama National Guard Armories are over 30 years old. Inadequate Armory revitalization negatively impacts recruiting, retention, and readiness. Thank you to Senator Whatley for bringing the bill and Representative Mark Tuggle for moving the bill through the house."
Rep. Paul John DeMarco (R) from Homewood said, "Legislation that will allow for the approval of distinctive license plates for out-of-state colleges and universities has passed the Alabama Legislature and now goes to the governor for his signature."
Alabama Commissioner of Agriculture and Industries John McMillan (R) said, "Many thanks to Alabama legislators for passage of SB247, the Farmers Market Authority Consolidation bill that now awaits the Governor's signature. Special thanks to bill sponsors Sen. Bobby Singleton of Greensboro and Rep. Chad Fincher of Semmes. FMA will join the Dept. of Ag & Industries."
On the Alabama Accountability Act Rep. Jay Love (R) from Montgomery wrote, "I have no doubt after months of hearing the naysayers of the Accountability Act you will begin hearing more of the stories from the parents and children's lives that will be changed and the hope it gives," referring to a story about a family who hope that the Alabama Accountability Act frees from their failing local school.
Sen. Phil Williams (R) from Rainbow City said, "As the Legislative Session wound down I was proud that one of the Bill's that I sponsored for Veterans reached final passage! This Bill will allow a veteran to received credit for military training and skills toward a civilian equivalent certification. This creates job opportunities for vets, reduces the need for redundant training, and signals Alabama's commitment to honor veterans during and after their service years!"
Print this piece
Jones criticized for voting to limit Trump's war powers authority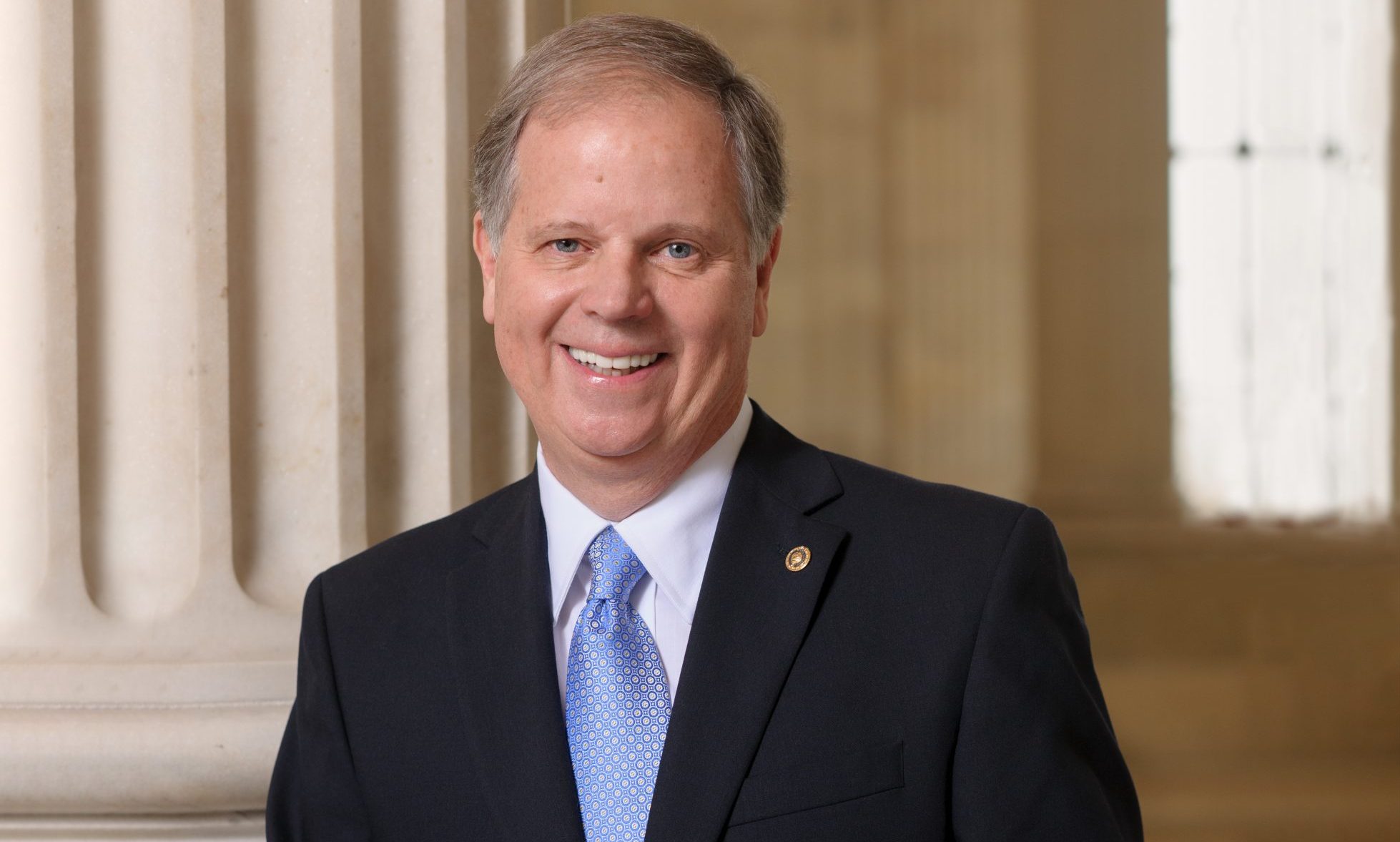 Thursday, U.S. Senator Doug Jones (D-Alabama) voted in favor of S.J.Res.68, a resolution which directs the removal of United States military from hostilities against the Islamic Republic of Iran that have not been authorized by Congress. Jones has been criticized by Republicans for voting to limit President Donald J. Trump's war powers on Iran.
"Before a President can lead us into war, he or she must first earn the support of the American people and also fulfill their solemn constitutional obligation to seek approval from Congress," Sen. Jones said in a statement. "While the President has the power to protect Americans in the case of an imminent attack, that authority does not extend to committing our service members to long-term hostilities unilaterally. This resolution sends a strong message that we will follow the Constitution and we will not send our troops into harm's way without the serious consideration and consent of the Congress."
Trump Victory National Finance Committee member Perry O. Hooper Jr. released a statement in response.
"Senator Jones once again turned his back on Alabama and voted as the leftwing Democrats commanded. He has no regard for the values, opinions or views of Alabamians," Hooper said. "He sees us as deplorables just like the elites of the Democratic party who have funded 80 percent of his doomed campaign for re-election.:
Hooper stated, "I whole heartily support the President who stated 'We are doing very well with Iran and this is not the time to show weakness… If my hands were tied, Iran would have a field day. Sends a very bad signal. The Democrats are only doing this as an attempt to embarrass the Republican Party.'"
"The Commander-in-chief must be free to work with his staff and his military leaders to conduct covert operations like the one that eliminated Iran's terrorist-in-chief General Soleimani," Hooper added. "You can't micromanage the war on terrorism. The Democrats in Congress are so filled with Trump Derangement Syndrome that no matter how much it would benefit our country and the world; they would never give Trump a "victory". If it came down to it, they would leak everything to the media no matter what the consequences."
Senator Jones is a cosponsor of the legislation and a member of the Senate Armed Services Committee. Eight moderate Republicans voted with the Democrats on the resolution.
Senator Jones has also been criticized by Republicans for his comments that he was "appalled" by Pres. Trump's actions following his acquittal on both Articles of Impeachment.
"Newsflash for Senator Doug Jones: Most Alabamians have been appalled by his actions his entire time in office," former Attorney General Jeff Sessions said. "It's about time we send Doug home, and replace him with someone who understands our values. Alabamians deserve a Senator they can be proud of again."
Sessions is a candidate for the Republican nomination for Jones' Senate seat.
The Republican primary will be on March 3.
Print this piece