Cigarettes, Booze and Drugs Fuel Incumbent Campaigns
By Bill Britt
Alabama Political Reporter
MONTGOMERY—The Political Action Committee controlled by former Gov. Bob Riley, House Speaker Mike Hubbard and Senate Pro Tem Del Marsh, spent almost three times as much money as it took in during the month of October.
Alabama 2014 PAC spent $150,000 last month while raising only $55,000—and of the money it raised over $50,000 came from three sources: tobacco, drugs and alcohol.
The bulk of the money spent went to nine candidates, one Senator and eight House members, all proudly wearing the mantle of Conservative Christian. So, how is it, that those who run as so-call religious Conservatives can easily turn a blind eye to booze and tobacco?
These drugs maybe legal, but how some of these companies use their money is most certainly suspect.
The growing success of the vice-Lobby, under the Republican Super-Majority, has not been lost on Conservative Christian organizations.
Dr. Joe Godfrey, Executive Director of the Alabama Citizens Action Program (ALCAP) said,"[The alcohol lobby] keeps flexing their muscles in the state…I keep telling legislators that we are talking about a mind altering, addictive drug. It needs to be controlled. It needs to be limited…taking away the limits, taking away the restrictions and keep liberalizing the laws, is not in the best interest of the State."
However, under the ALGOP, Sunday sales of booze has been expanded, as well as the size of alcohol containers and local bills allowing draft beer and keg beer sales. The legalization of "Home Brew," was a hard fought battle lost by the Christian Right to the pro-business Republicans.
Dr. Godfrey said that, "…apparently Conservative Republicans like to drink liquor as much as Liberal Democrats, because they have been passing oodles of liquor bills over these last few years." Godfrey added, that he hopes that in the final legislative session of the quadrennium, the legislature will push back against the alcohol lobby.
Alabama 2014, is a PAC that was designed by Riley, Hubbard and Marsh, to make sure incumbents remained firmly in their seats and as some have said, "…firmly under the control of the troika." Along with alcohol, the makers of tobacco products are filling the campaign coffers of Republicans as well.
Last year saw the Republican's take $20,000,000 in tobacco funds from children's programs, to shore up the State's failing general fund budget.
The funds where designated by law to go to children's programs, such as therapeutic services for abused children, juvenile probation services, foster care, tobacco use prevention and others. The legislature chose to raid the Children's Trust Fund, rather than approve a modest tobacco tax increase proposed by the Democrats.
By giving incumbents hundreds of thousands of dollars in big tobacco money, Riley, Hubbard and Marsh guarantee that tobacco will stay cheap and plentiful in the Alabama.
It might appear shocking to some that retired ministers Rep. Ken Johnson and Mac Buttram received large sums of money from the booze- and cigarette-fueled PAC. Johnson, a Republican from Moulton received $22501.20 and Republican Buttram from Cullman was given $3490.00.
But, if the money from alcohol and tobacco isn't enough to alarm Conservative Christians, the pro-business community should be up-in-arms over the $20,000 given to Alabama 2014 PAC by the Bessemer-based Pharma distributor American Pharmacy Cooperative Inc. Not only is Speaker of the House Hubbard the company's lobbyist, they and the Speaker are reportedly under investigation for 23 words added to the general fund budget, that would have given the company sole rights to act as the pharmaceutical benefit provider in Alabama.
Others who received the booze, tobacco and drug money:
Sen. Gerald Dial (R-Linevile) $1,500
Rep. Wayne Johnson (R- Ryland)  $21,583.35
Rep. Jim Patterson (R-Merdianville) $23,884.40
Rep. Becky Nordgren (R-Gadsden) $11,003.65
Rep. Alan Harper (R-Northport) $4,815.00
Rep. Wes Long (R-Gubtersville) $15,000. Rep. Long announced that he would not seek re-election just days after receiving this money from the PAC.
Alabama 2014 PAC also paid for poling in HD 14 for Richard Baughn (R-Lynn) and in HD 30 for Rep. Mack Butler (R-Rainbow City).
Media campaigns were conducted by G2 Productions, Inc. on behalf of Rep. Ken Johnson, Rep. Jim Patterson, and Rep. Wayne Johnson.
Trump Truck and boat parades this weekend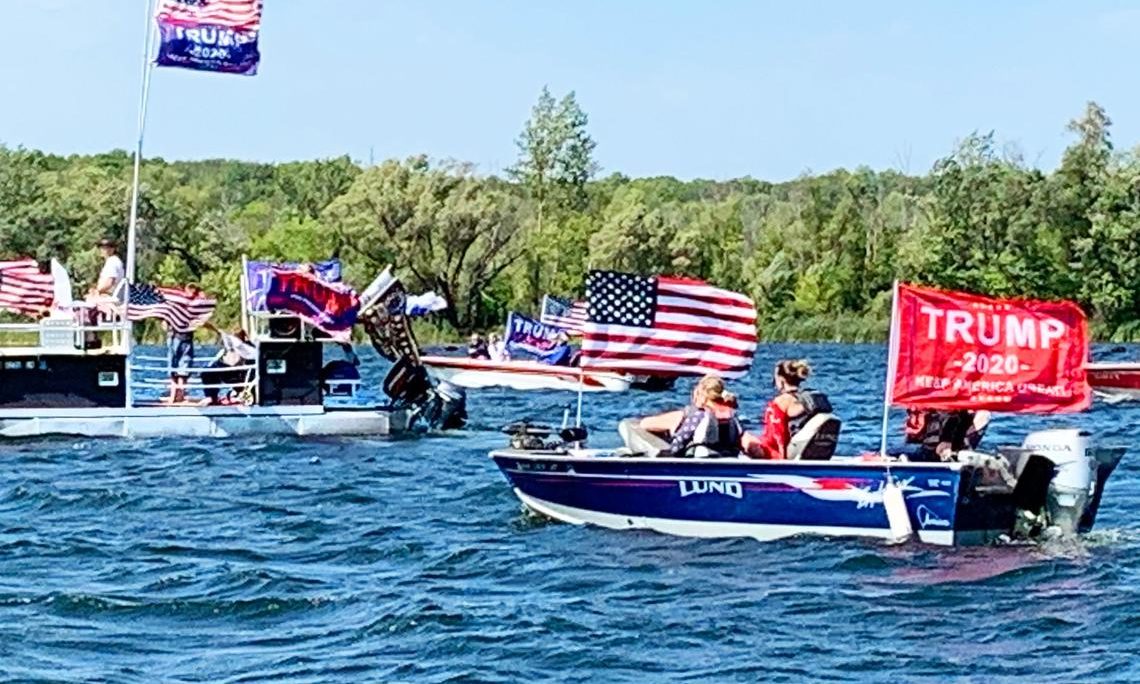 As Election Day draws near, Alabama Republicans are excited about promoting the re-election of Donald J. Trump as President and the election of Tommy Tuberville for U.S. Senate. This weekend two pro-President Trump events are happening in the state. There will be a truck parade from Ashland to Phenix City on Saturday sponsored by the Clay County Republican Party, while there will also be a boat parade on Wilson Lake in the Shoals sponsored by the Colbert County Republican Party on Sunday.
The pickup trucks will assemble at the Ashland Industrial Park in Clay County, 8240 Hwy 9, Ashland. There is a pre-departure rally at 10:00 a.m. central standard time. The trucks will depart at 11:00 a.m. and then proceed on a parade route that will take them into the bitterly contested swing state of Georgia. The Trump Pickup Parade will wind through east Alabama and West Georgia traveling through LaGrange and Columbus before concluding near the Alabama/Georgia line in Phenix City, 332 Woodland Drive, Phenix City at approximately 2:00 p.m. central time. Speakers will begin at 3:00. Trump flags will be on sale at the event.
The Phenix Motorsports Park will be hosting what sponsor hope could possibly the world's largest Pickup Tuck parade in U.S. history that is routing over 50 mile through Georgia in effort to "pickup" President Trump's numbers in GA.
A number dignitaries have been invited to address the Phenix City rally, including Coach Tuberville. Former State Sen. Shadrack McGill, Trump Victory Finance Committee member former State Rep. Perry O. Hooper Jr., and Paul Wellborn, the President and CEO of the largest Family owned Kitchen Cabinet manufacture in the USA are among the featured speakers who have committed to speak at the event.
Entertainment will be provided by: Charity Bowden, an up and coming country music singer who was the runner up on "The Voice". Charity will sing 'I am Proud to be an American' as well as songs from her Voice performances. The McGill Girls will also perform. The three beautiful and talented sisters will be singing patriotic songs in three part harmony. Geoff Carlisle, a professional DJ will be keeping the crowd pumped with music and entertainment.
Following the speakers and the entertainment there will Trump truck-vs- Joe Bidden truck races down the drag strip for the finale.
The Northwest Alabama boat parade will be on Sunday. The boats will gather at 2:00 p.m. near Turtle Point and then the flotilla will parade around the open waters of Wilson Lake til 3_00 p.m.. There will be a contest for best decorated Trump boats.
Trump supporters have held a number of large boat parades across the state to show their support for the re-election of Pres. Trump.
Boat parade sponsors say that this parade will be: pro-American, pro-law enforcement, pro-military.