Alabama's Top Political Stories of 2013: Winners, Notables and More…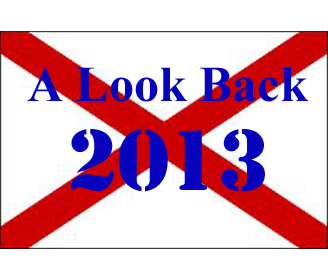 By Bill and Susan Britt
Alabama Political Reporter
As we usher in a New Year, it is appropriate that we look back on the stories that shaped the year past.
This year, Pope Francis asked, "How can it be that it is not a news item when an elderly homeless person dies of exposure, but it is news when the stock market loses two points?"
To this I have no answer, other than to admit that our priorities have fallen far from peace on earth, good will toward man.
In the rough world of politics, it is easier to find those stories in which our political class sold the rest of us down the river than it is to find examples of government doing good. If politics is about who gets what, then the politicians had a very good year. If politics were about serving the citizens of our state, then the people had a lousy year.
As Thrasymachus said, the powerful in Montgomery, "declare what they have made – what is to their own advantage – to be just."
Still, there are those of us who hope that the day will rise when true justice will bring "friendship and a sense of common purpose"
The following are Alabama's top political stories of 2013, in no particular order.
Alabama Accountability Act
The AAA has been a Pandora's box of legislation passed under the heading of education reform. The final legacy of the law is far from certain but what we have seen from the beginning has been troubling. Passed under a cloak of deception, the bill's advocates admitted that the AAA would not have passed into law had they not have used the "switch-a-roo" to bring it before the legislature. Even if one sets aside the unethical manner in which it was passed, the mechanism for its implementation has been ad hoc and extremely flawed. Now, there are growing concerns as political operatives like former Gov. Bob Riley and others position themselves to make millions off the program's Scholarship Granting Organizations.
ALGOP Resignations
After only three years in power, Republicans in State government began to resign office in droves. Both House budget chairmen Jay Love and Jim Barton left to lobby, Love for the newly created Business Education Alliance an extension on the Business Council of Alabama and Barton to head a new lobbying group with Phillip and Allison Kenny, whose biggest client is the Poarch Creek Band of Indians. Rep. Barry Mask traded in his House seat for the lucrative job of CEO for the State's Realtors' Association. Sec. of State Beth Chapman resigned her office to become a lobbyist for ALFA. Chapman was candid about her resignation citing money as the primary motive.
In the ever-growing political swamp that is created by the confluence of lobbying and public office Love, Barton, Mask and Chapman served as prime examples of a system gone array.
Republicans Will Not Seek Re-election
For the last three years, the Republican Supermajority has been enjoying unchecked power in the State House. However, some of the major players and raising stars have decided to not seek re-election. Speculation as to why runs the gambit from bad polling number to the rumor that many have been spending too much time in front of an Attorney General's Special Grand Jury.
Those who have confirmed they will not run in 2014 are:
Sen. Bryan Taylor (R-Prattville)
Sen. Shadrack McGILL (R-Scottsboro)
Rep. Mary Sue McClurkin (R-Indian Springs)
Rep. Jamie Ison (R-Mobile)
Rep. Wes Long (R-Guntersville)
Democrat Party Split
The demise of the Alabama State Democratic Party has not been over exaggerated. After a stunning defeat in 2010, the ALDEM has been struggling to find its voice in state politics. With the split between party factions in 2013 it is unclear how the party will put together a winning agenda for the foreseeable future.
Byrne Returns
Many had written the political obituary for Bradley Byrne after his lost of the Governor's race to Robert Bentley in 2010. But, Byrne was down but not out and came back to win the special election for US Congress in AL District One.
Henry Mabry/AEA Comeback
The 2013 legislative session saw the Republican Supermajority take aim at not only the Alabama Education Association (AEA) but also its Executive Secretary Dr. Henry Mabry. Punitive measures to target the group and its leadership reach it zenith with the removal of Mabry from the TSA board. Since then, Mabry and the AEA have focused on winning special elections throughout the state. In each race, AEA-backed republican candidates have defeated the ALGOP establishment's handpicked contenders. Backed by a political warchest unparalleled by another group, and a motivated membership, Mabry and the teacher's organization have made a stunning comeback.
2013 Biggest Loser: Speaker of the House Mike Hubbard
Over the last year and a half the Alabama Political Reporter has chronicled, in detail, the ethical, moral and perhaps criminal failing of Republican Speaker of the House Mike Hubbard. We have stood almost completely alone in our coverage of Hubbard's misdealing, not just because we were willing to do the hard research connecting Hubbard and his misdeeds but because we were unbowed by Hubbard's threats and attacks. If there is a legacy to 2013 it will be known as the year that politicians and the media turned a blind eye to the orgy of corruption that has been the Hubbard administration.
2013 Biggest Winner: Governor Robert Bentley
Governor Robert Bentley, is without a doubt the biggest political winner of 2013. Bentley's good heart and good nature has continued to dominate the state's political landscape. With a favorable approval rating hovering around 70 percent and with money in the bank and no credible challenger Bentley should coast to a second term as governor.
2013 Notables
Our list of notables is a short list of individuals who made major contributions to the political process by word and deed.
Rep. Dr. Jim McClendon, (R-Springville) Outstanding Ethical Leadership
McClendon has led many efforts over the last several years to reform government including stabilizing Medicaid. He has shown outstanding ethical leadership within the political process. A man for whom the word honesty is not just a slogan but a way of leading.
Senator Cam Ward, (R-Alabaster) Outstanding Legislative Leadership
Ward has demonstrated outstanding legislative leadership in his efforts to offer judicial reform and prison oversight. He has shown that patient guidance and intellectual honesty are key ingredients for leadership within the legislative body.
Minority Leader Craig Ford, (D-Gadsden) Outstanding Statesmanship
Ford has displayed deft leadership in the face of a hostile Supermajority. Ford has relentlessly voiced a vision for the opposition to the Republican Supermajority. Ford has offered alternatives and plans to counter those of the GOP. He has become the defining voice of the loyal-opposition.
Senate Minority Leader Senator Vivian Davis Figures, (D-Mobile) Outstanding Moral Leadership
Senator Figures is a trail-blazer who has opened many doors once closed to women and minorities. Service to others is the soul of her moral authority. As the current Senate Minority leader, she is the first female minority leader in either chamber of the Alabama State Legislature's history. She has shown strong leadership while exemplifying grace under pressure. Her elegant demeanor and steely resolve is a true example of an iron hand in a velvet glove.
Twitter Warriors of the year
@JuntoGunto and @MaximusShelby
This year we recognize those who substantially added to the political debate 140 characters at a time.
In 2013, two tweet-masters kept readers informed and politicos on their toes we are proud to recognized @JuntoGunto and @MaximusShelby as Twitter Warriors of the year.
In welcoming in the New Year, let us leave you with the words of Pope Francis in his first Apostolic Exhortation, Evangelii Gaudium (The Joy of the Gospel.)
"The great danger in today's world, pervaded as it is by consumerism, is the desolation and anguish born of a complacent, yet covetous heart, the feverish pursuit of frivolous pleasures, and a blunted conscience. Whenever our interior life becomes caught up in its own interests and concerns, there is no longer room for others, no place for the poor. God's voice is no longer heard, the quiet joy of His love is no longer felt, and the desire to do good fades."
CDC confirmed expanded "close contact" definition to Alabama officials in August
It is unclear why the CDC waited until late October to update or clarify its public-facing guidance on its website.
New federal guidance on how a person is determined to have been in close contact with someone infected by COVID-19 won't impact how Alabama works to mitigate the disease, said the state's top health official. That's because the state was already aware of the expanded definition in August before the change was made public last week.
It is unclear why the CDC waited until late October to update or clarify its public-facing guidance on its website when it was giving more precise definitions to at least one state health department and receiving questions from public health officials about the definition.
The delay in announcing the change is raising questions about how state health officials nationwide have been determining the public's possible exposure to the deadly disease and if contact tracing and mitigation efforts will be made more time- and resource-intensive with the more inclusive definition in place.
The CDC on Wednesday expanded the definition of "close contact" to mean a person can be at risk of contracting COVID-19 if that person is within six feet of an infected person for a period of at least 15 minutes over a 24-hour period.
The previous definition stated a person should quarantine if they were within six feet of an infected person for at least 15 minutes. Alternately, in other areas of the CDC's website, the language stated "a total of 15 minutes" in the definition of close contact.
"What they changed their definition to is something they had verbally confirmed to us months ago, and we have always been using that definition," said Alabama State Health Officer Dr. Scott Harris, speaking to APR on Friday.
Harris said a support team from the CDC was in Alabama in July as the Alabama Department of Public Health was preparing plans to reopen schools. Harris said the question was asked of CDC staff because his department was getting questions on the definition of close contact from school officials.
APDH staff took the definition then of "a total of 15 minutes" to mean that there could be several exposures over a period of time equaling that 15 minute threshold, so they asked CDC to clarify that assertion.
"When those folks were here we asked the CDC people directly. Can you confirm for us what that means, and they said, it adds up to a total of 15 minutes in a 24-hour period," Harris said. "And we even got somebody to commit to that in an email somewhere."
Melissa Morrison, CDC's career epidemiology field officer working at the ADPH in Montgomery, in an Aug. 13 email to ADPH's director of the office of governmental affairs, quotes a statement Morrison attributes to her CDC colleague, CDC public health advisor Kelly Bishop. Harris shared the email with APR.
"Yes, I did get a response from the contact tracing team. The 15 minutes for a close contact is cumulative, and they said 'The time period for the cumulative exposure should start from 2 days before the cases' illness onset (or, for asymptomatic patients, 2 days prior to positive specimen collection date) until the time the patient is isolated," Morrison quotes Bishop in the email.
In the August email, Bishop goes on to say, as attributed by Morrison, that "as of now there is no established upper limit on the time period (i.e. 48, 72 hours etc)."
The CDC's expanded definition was reflected in an Aug. 20 statement from the Alabama Department of Public Health.
"The 15-minute time is a cumulative period of time. For example, a close contact might be within 6 feet of a COVID-19 positive person for 5 minutes each at 8 a.m., noon and 5 p.m. This is a standard based on guidance from the CDC," the statement reads.
In an email to APR on Friday, Harris said he'd discussed the matter with Morrison on Friday who "emphasized that the guidance this week from CDC was NOT a change but rather a clarification. They simply used the MMWR corrections story as a convenient time to make the point."
Harris was referring to a CDC's Morbidity and Mortality Weekly Report released Wednesday that detailed findings by Vermont health officials showing that a prison worker contracted COVID-19 during an eight-hour shift in which the worker had 22 close contacts with an infected inmate totaling 17 minutes.
The CDC in statements to numerous news outlets, and to APR, cite that Vermont study in connection to Wednesday's definition change.
"That's kind of why they said it out loud," Harris said of the study and the Wednesday announcement. "But I have to say, when I saw that updated guidance I thought, 'I can't believe anybody ever thought otherwise.'"
Different pages on the CDC's website on Saturday defined close contact as both being "a total of 15 minutes or more" and "a total of 15 minutes or more over a 24-hour period," confusing the matter further, and numerous other state health departments had not yet updated their websites Saturday to reflect the CDC's expanded definition.
A CDC spokesman in an email to APR on Wednesday noted the Vermont study on the prison worker and said "CDC clarified the amount of time it would take for someone to be considered a close contact exposed to a person with COVID-19."
"The CDC website now defines a close contact as someone who was within 6 feet of an infected person for a total of 15 minutes or more over a 24-hour period. Previous language defined a close contact as someone who spent at least 15 minutes within 6 feet of a confirmed case," CDC spokesman Scott Pauley told APR by email Wednesday.
Pauley didn't respond to APR's question on Friday asking why the CDC waited until Wednesday to update its guidance online, given that ADPH had confirmed the definition of close contact in August. He also didn't respond to a request to verify the statement Morrison attributed to her CDC colleague in the August email.
"To us, we thought if it says a total, that means you must be adding up smaller amounts to get to 15 minutes, or you wouldn't use the word total," Harris said. "When they changed it this week, I don't know the details of why that happened, but I think, obviously, everybody didn't have the same message everywhere."
Dr. Bertha Hidalgo, an epidemiologist and assistant professor at UAB's Department of Epidemiology, told APR on Friday that her understanding prior to Wednesday's expanded definition was that a contact was defined as someone who was exposed to the COVID-19 positive individual for at least 15 min or more at a time and explained that the updated guidance complicates how public health officials will engage in contact tracing.
"This means significant efforts for contact tracing moving forward, in effect needing to identify every person that person came into contact with during the possible exposure timeframe," she said.
It was unclear Monday how the definition change impacts Alabama's Guidesafe COVID-19 exposure notification app, which notifies a user if they come into close contact with an infected person. The app was developed by ADPH and University of Alabama at Birmingham, thanks to a partnership between Apple and Google's combined development of the technology, and alerts users to possible exposure while keeping all users' identities anonymous.
Sue Feldman, professor of health informatics, UAB School of Health Professions, in a message to APR on Friday said that due to the anonymity of the app, it would be difficult, but not impossible, to update the app to take into consideration the CDC's expanded guidance.
"We are taking this into consideration for our next update," Feldman said in the message.
Also unclear is how many other states that have similar exposure notification apps, also using Google and Apple's technology, aren't yet using the expanded definition of a "close contact." Colorado is to roll out that state's app on Sunday, and according to Colorado Public Radio News the app will notify a user that they've been exposed if they come "within six feet of the phone of someone who tested positive for at least ten minutes."
New York's exposure notification app also appears to use the old CDC guidance, and will alert users if they come "within 6 feet of your phone for longer than 10 minutes," according to the state's website.
The updated definition, which health departments refer to when conducting contact tracing, is likely to have a serious impact on schools, workplaces and other group settings where personal contact may stretch over longer periods of time including multiple interactions.
It greatly expands the pool of people considered at risk of transmission. "It's easy to accumulate 15 minutes in small increments when you spend all day together — a few minutes at the water cooler, a few minutes in the elevator, and so on," Johns Hopkins Center for Health Security epidemiologist Caitlin Rivers told The Washington Post. "I expect this will result in many more people being identified as close contacts."
The clarification comes as cases and hospitalizations are rising both in Alabama and nationwide. Alabama's 14-day average of cases has increased 41.2 percent over the past two weeks. The percentage of tests that are positive has increased from roughly 13 percent to more than 20 percent over the past 14 days. The U.S. average of new daily infections is now at its highest point of the pandemic, with 481,372 cases reported in a week, according to CNN and Johns Hopkins University.