Alabama Civil Justice Reform Committee Supports Luther Strange for Attorney General
By Brandon Moseley
Alabama Political Reporter
On Friday, January 24, 2014, the Alabama Civil Justice Reform Committee announced that it was supporting Alabama Attorney General Luther Strange in his bid for re-election.
The Chairman of the Alabama Civil Justice Reform Committee Tom Dart said, "Attorney General Luther Strange has maintained the respect and integrity of the Office of Attorney General.  He has been a strong voice for fairness and properly recognizes the constitutional separation of powers.  We wholeheartedly support his reelection."
Attorney General Strange said, "As Attorney General, I've worked with groups like ACJRC to make Alabama a welcoming place to do business.  They have been a strong leader in the push for fairness in Alabama's civil justice system, and I am grateful for their support."
ACJRC is an association of Alabama's leading businesses and corporations that are working toward civil justice and legal reform. Organized in 1985, they have consistently advocated for tort reform in the Alabama legislature and an advocate for an open and transparent legal system.
Attorney General Strange (R) talked with The Alabama Political Reporter recently.  We asked the Attorney General if marijuana legalization would help the prison overcrowding situation that faces state government.
AG Strange said that he did not think that would help the state's situation.  Strange said that marijuana and other drug legalization would only lead to more problems.  "The Colorado experiment will ultimately backfire," the Attorney General said.
The Alabama Political Reporter asked if the State Law Enforcement streamlining legislation that decreased the number of state law enforcement agencies from 22 to just 5 would help the Attorney General's office do its job.
Strange said that ultimately it would.  Strange said that Alabama Senate Pro Tem Del Marsh and the other leaders in the state house had promised him that they would plow the savings back into salaries and benefits for the state troopers and other law enforcement officers.
The Alabama Political Reporter asked Strange what solution he favored to decrease prison overcrowding.  Strange said that he planned to talk with the district attorneys to get their advice on the best solution to the prison crowding issue before making a recommendation. Strange said that his focus is on keeping the public safe and that he favored allowing judges to continue to have discretion in whether to imprison a felon or to send him or her to other programs.
On his expediting the death penalty proposal AG Strange said, "The last thing I want is innocent people on death row," but that justice should be done in a more timely manner.  Luther said there are too many cases where there is no doubt about guilt, but the punishment is delayed by ten and sometimes over twenty years. Strange said that he, "Is all about the victims and making sure that justice is done."
Strange said that if he is reelected his goals would be to keep the people safe and to hold Washington accountable.  Strange said that here in Alabama our focus is on protecting the Constitution, but that that was not a priority to many people in Washington.  Strange said that when the federal government exceeded its bounds under the U.S. Constitution he would hold the federal government accountable.
AG Strange said in a written statement, "Our most basic freedoms are currently under attack from a federal government that has gotten out of control, and as Attorney General I've fought back against these assaults on our liberty."
Strange said, "I work for the people of Alabama and it is my job to make sure laws are being followed by the citizens and those they elect to serve."
The Alabama Political Reporter is not currently aware of any announced candidate from either party that has qualified to challenge the popular Alabama Attorney General.'
Trump Truck and boat parades this weekend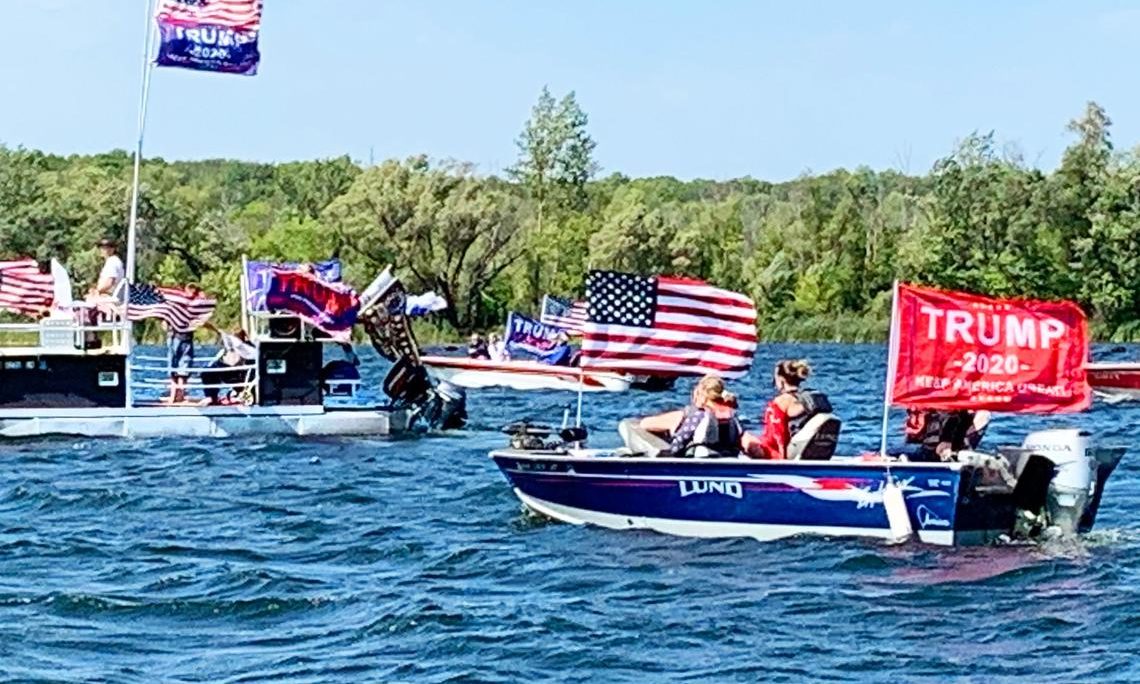 As Election Day draws near, Alabama Republicans are excited about promoting the re-election of Donald J. Trump as President and the election of Tommy Tuberville for U.S. Senate. This weekend two pro-President Trump events are happening in the state. There will be a truck parade from Ashland to Phenix City on Saturday sponsored by the Clay County Republican Party, while there will also be a boat parade on Wilson Lake in the Shoals sponsored by the Colbert County Republican Party on Sunday.
The pickup trucks will assemble at the Ashland Industrial Park in Clay County, 8240 Hwy 9, Ashland. There is a pre-departure rally at 10:00 a.m. central standard time. The trucks will depart at 11:00 a.m. and then proceed on a parade route that will take them into the bitterly contested swing state of Georgia. The Trump Pickup Parade will wind through east Alabama and West Georgia traveling through LaGrange and Columbus before concluding near the Alabama/Georgia line in Phenix City, 332 Woodland Drive, Phenix City at approximately 2:00 p.m. central time. Speakers will begin at 3:00. Trump flags will be on sale at the event.
The Phenix Motorsports Park will be hosting what sponsor hope could possibly the world's largest Pickup Tuck parade in U.S. history that is routing over 50 mile through Georgia in effort to "pickup" President Trump's numbers in GA.
A number dignitaries have been invited to address the Phenix City rally, including Coach Tuberville. Former State Sen. Shadrack McGill, Trump Victory Finance Committee member former State Rep. Perry O. Hooper Jr., and Paul Wellborn, the President and CEO of the largest Family owned Kitchen Cabinet manufacture in the USA are among the featured speakers who have committed to speak at the event.
Entertainment will be provided by: Charity Bowden, an up and coming country music singer who was the runner up on "The Voice". Charity will sing 'I am Proud to be an American' as well as songs from her Voice performances. The McGill Girls will also perform. The three beautiful and talented sisters will be singing patriotic songs in three part harmony. Geoff Carlisle, a professional DJ will be keeping the crowd pumped with music and entertainment.
Following the speakers and the entertainment there will Trump truck-vs- Joe Bidden truck races down the drag strip for the finale.
The Northwest Alabama boat parade will be on Sunday. The boats will gather at 2:00 p.m. near Turtle Point and then the flotilla will parade around the open waters of Wilson Lake til 3_00 p.m.. There will be a contest for best decorated Trump boats.
Trump supporters have held a number of large boat parades across the state to show their support for the re-election of Pres. Trump.
Boat parade sponsors say that this parade will be: pro-American, pro-law enforcement, pro-military.