Wren Loses Nonprofit Presidential Position, Maybe More
By Lee Hedgepeth
Alabama Political Reporter
It appears that his seat in the House of Representatives is not the only thing Greg Wren has lost because of his misdemeanor conviction on charges of using his position for personal gain. Effective with his resignation from the House, former Representative Wren lost his position as president of the National Conference of Insurance Legislators. An insurance group Wren works for is also reviewing their financial relationship with him, and Wren's license to insure, which is necessary to work in the industry, may also be in danger.
Wren became president of the National Conference of Insurance Legislators last December, and since then – by all accounts – he had been an active executive, aggressively pushing for a greater role for the organization. The nonprofit, also known as NCOIL, focuses on public policy in the area of insurance legislation.
One of Wren's final acts as president had been to write to the Federal Advisory Committee on Insurance as an effort to gain a position for NCOIL on the committee, which is part of the Federal Insurance Office.
"We strongly believe that a state lawmaker, a proven national leader on insurance public policy, would provide diversity sought for membership," Wren said, "while showing lawmakers—at the state and federal level—that policymaker input is important to the FIO mission."
According to several niche sources, Wren had attended a National Association of Insurance Commissioners conference in Orlando, Florida, at the beginning of this month, but did not in anyway indicate what was to come.
As soon as Wren resigned from his legislative office, he automatically lost his position as NCOIL president. Wren was immediately succeeded by a New York State Senate Democrat, Neil Breslin.
In addition to his presidential problem, Wren may also have more fundamental issues.
Outside of his former legislative position, Wren privately works as an insurance agent and financial adviser for Northwestern Mutual Insurance Company. That company has announced in a statement this week, though, that they are putting their financial relationship with the convicted former Representative on halt for the time being.
"Mr. Wren's status with our company is under review," a statement from Northwestern said.
Wren's attorney, James Anderson, who is a former member of the Alabama Ethics Commission, has said that he believes the move to be based on a misunderstanding of the plea agreement, emphasizing that Wren pleaded guilty only to a misdemeanor.
Finally, according to Alabama Department of Insurance rules, Wren's license to practice may even be in jeopardy. Though only felony convictions virtually automatically result in license revocation, a misdemeanor conviction may be enough to bar Wren from practice under the Commissioner's discretion, if a challenge of his license arises.
Wren was arrested and convicted on April 1, 2014, of illegally providing confidential medicaid documents to a private pharmaceutical company for which he worked as a consultant.
Wren faces a 12 month suspended sentence, probation, and $24,000 in restitution to be paid to Alabama's General Fund.
Trump Truck and boat parades this weekend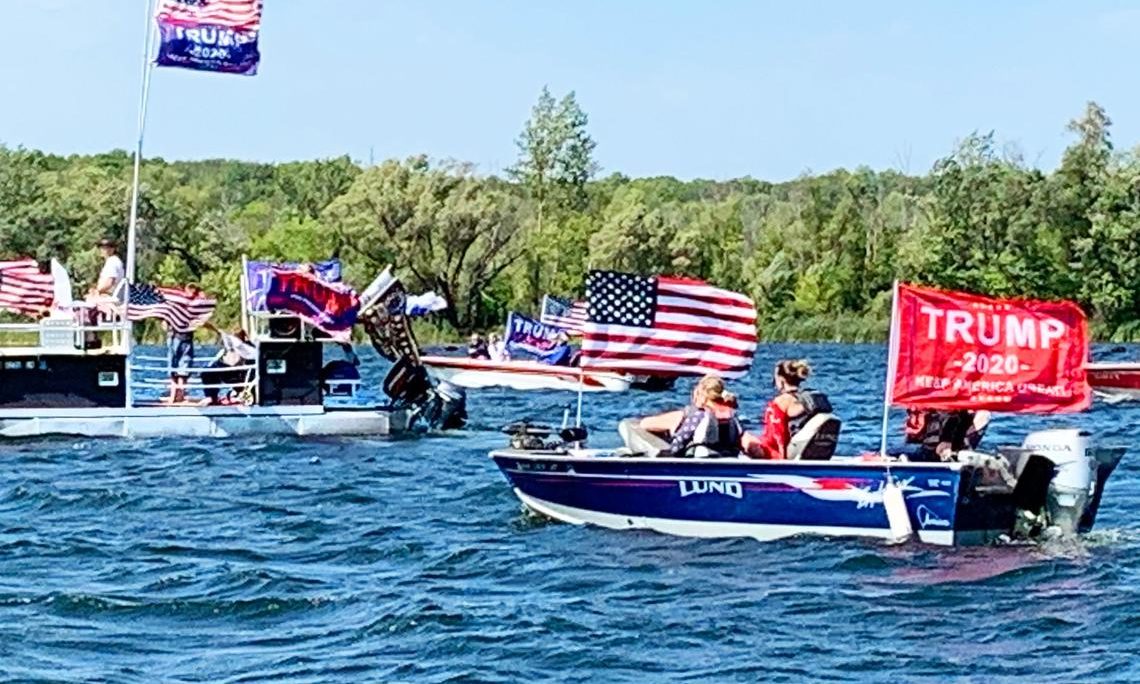 As Election Day draws near, Alabama Republicans are excited about promoting the re-election of Donald J. Trump as President and the election of Tommy Tuberville for U.S. Senate. This weekend two pro-President Trump events are happening in the state. There will be a truck parade from Ashland to Phenix City on Saturday sponsored by the Clay County Republican Party, while there will also be a boat parade on Wilson Lake in the Shoals sponsored by the Colbert County Republican Party on Sunday.
The pickup trucks will assemble at the Ashland Industrial Park in Clay County, 8240 Hwy 9, Ashland. There is a pre-departure rally at 10:00 a.m. central standard time. The trucks will depart at 11:00 a.m. and then proceed on a parade route that will take them into the bitterly contested swing state of Georgia. The Trump Pickup Parade will wind through east Alabama and West Georgia traveling through LaGrange and Columbus before concluding near the Alabama/Georgia line in Phenix City, 332 Woodland Drive, Phenix City at approximately 2:00 p.m. central time. Speakers will begin at 3:00. Trump flags will be on sale at the event.
The Phenix Motorsports Park will be hosting what sponsor hope could possibly the world's largest Pickup Tuck parade in U.S. history that is routing over 50 mile through Georgia in effort to "pickup" President Trump's numbers in GA.
A number dignitaries have been invited to address the Phenix City rally, including Coach Tuberville. Former State Sen. Shadrack McGill, Trump Victory Finance Committee member former State Rep. Perry O. Hooper Jr., and Paul Wellborn, the President and CEO of the largest Family owned Kitchen Cabinet manufacture in the USA are among the featured speakers who have committed to speak at the event.
Entertainment will be provided by: Charity Bowden, an up and coming country music singer who was the runner up on "The Voice". Charity will sing 'I am Proud to be an American' as well as songs from her Voice performances. The McGill Girls will also perform. The three beautiful and talented sisters will be singing patriotic songs in three part harmony. Geoff Carlisle, a professional DJ will be keeping the crowd pumped with music and entertainment.
Following the speakers and the entertainment there will Trump truck-vs- Joe Bidden truck races down the drag strip for the finale.
The Northwest Alabama boat parade will be on Sunday. The boats will gather at 2:00 p.m. near Turtle Point and then the flotilla will parade around the open waters of Wilson Lake til 3_00 p.m.. There will be a contest for best decorated Trump boats.
Trump supporters have held a number of large boat parades across the state to show their support for the re-election of Pres. Trump.
Boat parade sponsors say that this parade will be: pro-American, pro-law enforcement, pro-military.