Chambliss Cries Fraud in District 30 Primary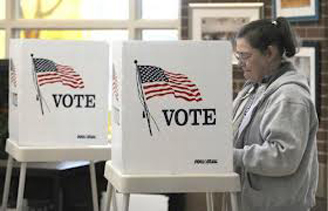 By Bill Britt
Alabama Political Reporter
MONTGOMERY—Secretary of State Jim Bennett said that there were no documented cases of fraud during Tuesday's primary election. However, Clyde Chambliss, who is running for Senate District 30, cried fraud in the middle of the hotly contested Republican primary on Tuesday.
Tuesday, on his Facebook page, Chambliss' campaign posted in all caps,
"******ELECTION FRAUD IN PROGRESS*******
ONE OF OUR POLL WATCHERS HAS VIDEO AND PHOTOS OF MARKED SAMPLE BALLOTS BEING PASSED OUT INSIDE A POLLING PLACE AND PEOPLE BEING BUSSED IN TO VOTE USING THOSE BALLOTS. WE HAVE AN ATTORNEY ON THE WAY AND THE PROBATE JUDGE HAS BEEN NOTIFIED. PLEASE BE AWARE AND LET US KNOW IF YOU SEE ANYTHING LIKE THIS. HONEST GOVERNMENT BEGINS WITH HONEST ELECTIONS."
The Chambliss page also shows pictures of individuals exiting cars in the parking lots of the precincts, a picture of a sample ballot and a picture of a man entering the voting area.
Chambliss also posted, "This is the ballot that is being distributed, and this Hyundai is carting people to the polls, and coordinating with someone inside the polling place. They are trying to steal this election – it is up to you to make sure they do not. If you voted, ask your husband, wife, parents and neighbors if they did as well? Every. Single. Vote. Counts."
What was it about the sample ballot and the individuals voting that caused Chambliss to say that "Election fraud in progress?"
According to State law, it is legal to hand out sample ballots as long as it is done 30 feet away from a polling place. Many groups hand out sample ballots, both Republican and Democrat. Groups, such as the Farmers Federation, Business Council of Alabama and the Alabama Education Association are known to supply voters with sample ballots.
State law also provides that any citizen who is a registered voter may participate in the Republican or Democrat primary. There is no such thing as a card carrying Republican or Democrat in Alabama.
Chambliss who is backed by Speaker of the House Mike Hubbard, Senate Pro Tem Del Marsh and former Gov. Bob Riley did not return request for comment.
The pictures that Chambliss offered as proof of voter fraud show three Black individuals in the parking lot, and two Black individuals walking into the polling place.
Does Chambliss believe that Black Alabamians voting constitutes fraud? Does he believe that Black citizens should not vote? Or should they not be allowed to vote in a Republican primary?
The sample ballot Chambliss posted on Facebook, shows it is marked for one of his opponents, Harris Garner. Does Chambliss and his supporters believe that a vote for Garner is a fraudulent vote?
Chambliss and Garner at this time look to be headed for a runoff, for the right to serve District 30.
After Tuesday's primary, ALGOP Chairman Bill Armistead called for closed primary elections.
Does Armistead believe that Black Alabamians should not be allowed to vote in the Republican primaries?
Many examples of racist rhetoric and campaign advertisements were used by Republican candidates in Tuesday's primary.
It would appear that, "The Southern Strategy," appealing to racism against African Americans, is still alive for some.
Do Hubbard, Marsh and Riley believe, like Chambliss, that Alabamians of color voting in an open primary constitutes voter fraud?
Perhaps, these individual were given sample ballots and encouraged to vote for those candidates.
This happens all the time, without cries of election stealing.
But in the "Solid South," it seems racism is as imperishable as a Zombie.
If there is a runoff in District 30, perhaps more Alabamians of color will decide to participate in the election process.
USDA is seeking rural energy grant applications
The deadlines to apply for grants is Feb. 1, 2021, and March 31, 2021. Applications for loan guarantees are accepted year-round.
United States Department of Agriculture Deputy Under Secretary for Rural Development Bette Brand on Wednesday invited applications for loan guarantees and grants for renewable energy systems, and to make energy efficiency improvements, conduct energy audits and provide development assistance.
The funding is being provided through the USDA's Rural Energy for America Program, which was created under the 2008 Farm Bill and reauthorized under the 2018 Farm Bill. This notice seeks applications for Fiscal Year 2021 funding.
The deadlines to apply for grants is Feb. 1, 2021, and March 31, 2021. Applications for loan guarantees are accepted year-round.
REAP helps agricultural producers and rural small businesses reduce energy costs and consumption by purchasing and installing renewable energy systems and making energy efficiency improvements in their operations.
Eligible systems may derive energy from wind, solar, hydroelectric, ocean, hydrogen, geothermal or renewable biomass (including anaerobic digesters).
USDA encourages applications that will support recommendations made in the Report to the President of the United States from the Task Force on Agriculture and Rural Prosperity to help improve life in rural America.
Applicants are encouraged to consider projects that provide measurable results in helping rural communities build robust and sustainable economies through strategic investments.
Key strategies include achieving e-Connectivity for rural America, developing the rural economy, harnessing technological innovation, supporting a rural workforce and improving quality of life. For additional information, see the notice in the Federal Register.