Palmer Speaks to Birmingham Young Republicans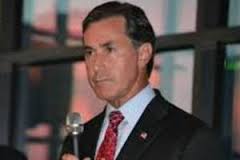 By Brandon Moseley
Alabama Political Reporter
This has been a huge week for Gary Palmer.  On Tuesday, July 15 the longtime Alabama Policy Institute President was chosen by his fellow Republicans as their nominee for Alabama's Sixth Congressional District seat.  On Thursday, July 17 he was the speaker at the Greater Birmingham Young Republicans meeting in Birmingham.
Greater Birmingham Young Republican (GBYR) Chair Jackie Curtiss thanked the large crowd of enthusiastic young Republicans for their attendance in spite of the many summer activities we enjoy here in Alabama.  Curtiss thanked Palmer for coming and congratulated him on the huge victory Tuesday night.
Palmer said it was a tough campaign, but an interesting campaign.  "There was a lot I learned that will serve me well."
Palmer said Republicans, as a party, we have got to start talking about getting our country on track.  "As conservatives we have become expert at depressing people."  Palmer said that Republicans need to stop blaming Obama, Pelosi, and Reid and start proposing solutions.
Palmer said that he has just talked with Senator Jeff Sessions (R) from Alabama and even the normally reserved Sen. Sessions thinks the Republicans are going to take the Senate.
Palmer said that the November election is an opportunity coming up to rein in the Obama administration. "There is a potential for a landmark election.  There is a tide building against the Democrats.  Once we take the Senate we are going to do something that hasn't happened in five or six years: we are going to prepare a budget.  Currently the nation has been working off of a string of continuing resolutions.  Right now Obama has got money to spend.  A budget will change that and will force the Democrat to fight on our grounds."
Palmer said that he had also talked with Louisiana Governor Bobby Jindal and other governors about the possibility of the states suing the Obama administration.  Palmer said that the governors can tie up policies with litigation and run the time out on his administration.
Gary said that there is already a case against Obamacare that is working its way through the appeals courts. Their argument is that the Patient Protection and Affordable Care Act of 2010 that created Obamacare said that only the states can set up the exchanges.  That was included in the deal made to get Nebraska Senator Ben Nelson to support the legislation.  However, only 16 of the states ever did that.  The other 34 (including Alabama) all have exchanges run by the federal government through the IRS.  If the federal appeals judges go our way on this the case will go to the Supreme Court.  We have an opportunity to have it overturned, before we even get there.
Palmer said that increasing our oil and gas exploration at home presents opportunities for a major economic expansion.  There is an estimated 7.5 billion barrels of oil in oil sands in North and Western Alabama.  It will take time to begin extracting it.  Oil sands are extracted with methods similar to strip mining; not pumped out of the ground like in fracking.  There will be disputes over who has the mineral rights.  It will be a while before it is opened up; but we have a lot to look forward too.
Palmer said that there are a lot of great opportunities for young Republicans moving forward.  He wants to help create a farm team for future area city councilmen, mayors, and Congress members.  Palmer praised Chris Reid for his work in organizing something like this before at Samford.  "We need to be thinking generationally."  Palmer said that the Alabama GOP needs to be developing a corps of leaders for the future.
Jackie Curtiss asked how the party could deal with fringe people who cost Republicans election, like Akin (Missouri).
Palmer said that Todd Akin cost us two Senate seats last time.  The Tea Party didn't even support him.  It was democrats that elected him.  Akin was the guy that Sen. McCaskill (D) wanted to run against.  Then Murdock repeated the same mistake.  Palmer said that this was not the first time Akin said something like that.
Palmer said that the Committees he would like to serve on include: Energy, Commerce, Education workforce, and Financial services that is a possibility.  "I want to be on committees that make sense for the district but also have a national impact as well."
Palmer said that the ability of the national network of conservative policy study groups he helped create is being underestimated as a tool for implementing conservative change.
Palmer said API is part of those 65 groups in every state with a combined budgets of over $100 million.  Palmer said we will not change the country from the top down.  True change comes from the bottom up.
Palmer said, "Again I was supportive of what Ted Cruz did but it was equivalent of a bridge too far."  Palmer said that he opposes shutting down the government because we get run over by the national media.  Gary said that instead we should break the budget up into seven or so parts bring the debate back here.
Palmer said that 80% of the people disapprove of Congress yet 85% of incumbents are going to get re-elected.  Palmer said that this is indicative of the lack of information that is flowing from the Congress to the people in the district.
Palmer said I will be happy to help with the young Republicans any way we can.
Gary Palmer was the longtime President of the Alabama Policy Institute.  Gary gave up a safe job he built up from scratch over the course of three decades to pursue the Sixth
Congressional District seat being vacated by the retirement of Rep. Spencer Bachus (R) from Vestavia.
On Tuesday, July 15 Gary Palmer won a powerful mandate from Republican Party voters in the Sixth Congressional District. Gary Palmer defeated State Representative Paul DeMarco by 28 percentage points in the Tuesday runoff, 47,491 votes for Palmer to DeMarco's 27,295.
On Tuesday, Alabama Republican Party Chairman Bill Armistead said, "With Gary Palmer's election to Congress, I am confident that we will be sending a constitutional conservative to Washington to help our Republican majority in the House put the brakes on the runaway spending of Barack Obama, Harry Reid and Nancy Pelosi."
Chairman Armistead said, "I have known Gary for many years in his role as founder and head of the Alabama Policy Institute. He is the kind of conservative congressman that will go to Washington and make a difference. Above all, Gary believes in the constitution, unlike the current occupant of the White House, and will fight every attempt by Barack Obama to undermine the principles that our founding fathers fought and died for."
Palmer's campaign focused on his humble beginnings in Hackleburgh, his playing career at the University of Alabama, and solutions to the problems affecting America and the Sixth Congressional District.
Palmer still faces Democrat Avery Vise and Libertarian Aimee Love on the November General Election in the heavily Republican leaning Sixth Congressional District.
The Sixth Congressional District includes all or parts of Blount, Jefferson, Shelby, Chilton, Bibb, and Coosa Counties.  The Sixth District is currently represented by Congressman Spencer Bachus (R) from Vestavia who is retiring after this term, his eleventh.
Print this piece
Five patients with COVID-19 have died at EAMC hospital in Opelika
UPDATE: East Alabama Medical Center said Sunday that its death toll has increased to six.
Death toll at East Alabama Medical Center increases to 6
The number of patients who have died from COVID-19 at East Alabama Medical Center in Opelika since Friday has increased to six, the hospital said in a statement Sunday.
---
Five patients who were being treated for COVID-19 at East Alabama Medical Center in Opelika, Alabama, have died since Friday, the hospital said in a statement Saturday.
"Our hospital family expresses its collective condolences to the families of these five patients," said Laura Grill, EAMC President and CEO.  "As everyone knows, this virus has taken a toll on our nation and world, and our community is not exempt from that. Our hearts and prayers are with these families at this very difficult time."
Three of the patients were from Chambers County and two were from Lee County. The Alabama Department of Public Health is still investigating the deaths and has not updated their website to reflect them.
Hospital officials and ADPH are working through the process for official state determination before adding them to the COVID-19 death count.
"The ICU staff, respiratory therapists and physicians who worked most closely with these patients are especially struggling and we ask that the community lift them up today just as they have been lifting up our whole organization the past two weeks," Grill said.
EAMC is currently treating 19 patients hospitalized with a confirmed COVID-19 diagnosis. Five patients who were previously hospitalized with COVID-19 have been discharged. There are 22 patients who are currently hospitalized at EAMC with suspected COVID-19.
The number of hospitalized patients has more than doubled from seven on Tuesday. It anticipates more.
The county had at least 56 confirmed cases of COVID-19 by Saturday afternoon, more per capita than Jefferson County, Shelby County and Madison County. That number has also continued to grow. To the north, Chambers County, which falls under EAMC's service area, has the most cases per capita in the state, meaning there are more confirmed cases per person than any other county. That county's total stands at 17.
Many of the patients who have tested positive, according to EAMC, had a common "last public setting" in church services.
"While there are no absolute patterns among the confirmed cases in Lee County, one nugget of information does stand out a little—the last public setting for a sizable number of them was at church," East Alabama Medical Center said in a statement Friday night.  "Not at one church, or churches in one town, but at church in general."
The hospital has urged churches to move online and cancel in-person services. Some churches have continued to meet, as recently as last Sunday, despite "social distancing" directives from the Alabama Department of Public Health that prohibited non-work gatherings of 25 or more people.
EAMC is urging the public to act as if they are under a "shelter-in-place" at home order, as the state has so far refused to issue such a directive.
"EAMC is asking everyone to shelter in place at home," the hospital said in a statement Friday night. "Sheltering in place means you stay at home with immediate family members only and should not leave your home except for essential activities such as food, medical care, or work. You should not host gatherings of people outside of your immediate family. You should also maintain a 6-foot distance from other people as much as possible, wash your hands frequently for at least 20 seconds each time, and frequently disinfect high-touch surfaces."
It's also asking businesses that have access to personal protective equipment like gowns, masks, latex gloves and hand sanitizer to bring those items to a collection site outside of EAMC's main lobby. The site is open from 9 a.m. to 4 p.m. on weekdays.
This story is developing and will be updated.
Print this piece