Coach Jones Says He Can Win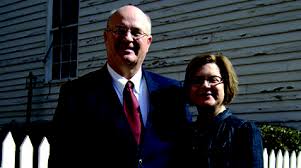 By Bill Britt and Brandon Moseley
Alabama Political Reporter
MONTGOMERY—Coach Terry Jones from Hazel Green is running for the Alabama Legislature in House District 21. As a Democrat, he hopes to replace incumbent Republican, Rep. Jim Patterson, R-Meridianville.
Jones said he first considered a run to represent District 21 after the legislature passed the Alabama Accountability Act.
"Our representatives in Montgomery voted to take a million dollars out of our public schools and use that money to send kids in South Alabama to private school. That's just not right," said Jones.
Jones says as a legislator, he will work to promote job growth, education and break the culture of corruption in Montgomery.
Having been an educator in Madison County for 30 years, Jones believes he is well suited to represents the people.
Jones has been named "Coach of the Year" three times for baseball, girls' basketball and fast-pitch softball. He currently teaches history, but will be forced to forego his teaching career if elected to the House, because of the State's double-dipping law.
"I am willing to do this for the good of our community…we need a legislator who will put the needs of Madison County ahead of partisan politics," said Jones.
Even though in recent years the State has voted a solid republican ticket, Jones believes that the individual matters more to voters than a party label.
"I am a conservative and I think people will vote for the person not the party," said Jones.
He points to the recent defeat of incumbent Rep. Wayne Johnson as an example of how voters are fed-up with the Montgomery elite and are now favoring pro-education, fiscally responsible candidates.
Jones says that he will first target tax incentives to recruit and keep or expand business. The second is investing in local infrastructure to grow the economy and create jobs in the short-term. Finally Jones favors increasing funding and support for public education and vocational training to improve the work force and grow the economy over the long-term.
Coach Jones is a deacon at Locust Grove Baptist Church and a member of the Fellowship of Christian Athletes.
Coach Jones is married to Jennifer, the school nurse at Hazel Green High School. They have two children: Matt, who graduated from the University of Alabama and is currently a graduate student at the University of Alabama in Huntsville, and Rachael, who has also graduated from the University of Alabama and is currently working public relations for a law firm in Richmond, Virginia.
House District 21 runs from Huntsville to the Tennessee State line. Rep. Jim Patterson was elected in 2010 with the Republican wave.
USDA is seeking rural energy grant applications
The deadlines to apply for grants is Feb. 1, 2021, and March 31, 2021. Applications for loan guarantees are accepted year-round.
United States Department of Agriculture Deputy Under Secretary for Rural Development Bette Brand on Wednesday invited applications for loan guarantees and grants for renewable energy systems, and to make energy efficiency improvements, conduct energy audits and provide development assistance.
The funding is being provided through the USDA's Rural Energy for America Program, which was created under the 2008 Farm Bill and reauthorized under the 2018 Farm Bill. This notice seeks applications for Fiscal Year 2021 funding.
The deadlines to apply for grants is Feb. 1, 2021, and March 31, 2021. Applications for loan guarantees are accepted year-round.
REAP helps agricultural producers and rural small businesses reduce energy costs and consumption by purchasing and installing renewable energy systems and making energy efficiency improvements in their operations.
Eligible systems may derive energy from wind, solar, hydroelectric, ocean, hydrogen, geothermal or renewable biomass (including anaerobic digesters).
USDA encourages applications that will support recommendations made in the Report to the President of the United States from the Task Force on Agriculture and Rural Prosperity to help improve life in rural America.
Applicants are encouraged to consider projects that provide measurable results in helping rural communities build robust and sustainable economies through strategic investments.
Key strategies include achieving e-Connectivity for rural America, developing the rural economy, harnessing technological innovation, supporting a rural workforce and improving quality of life. For additional information, see the notice in the Federal Register.