Moore Trial Day One: Defense Attorney In 1913 Or 1920?
By Bill Britt
Alabama Political Reporter
The first day of Republican Rep. Barry Moore's trial was sad; even pathetic.
There was Moore, with his hound dog good looks, dressed in a beige, summer-weight sport coat, looking worn and thrift-store chic. His wife, dutifully sitting behind her man, visibly worried.
Defense attorney, Bill Baxley, gave a rambling and incoherent opening statement that seemed designed to paint Barry as just a good, old boy who had fallen victim to a merciless plot, hatched by Josh Pipkin and Jonathan Tullos, who were working in collusion with the Attorney General's Office to frame his client.
Baxley defense of Moore, was off the chain, and clearly absurd, Imagine a murder case where the defendant is caught on taping shooting the victim at point blank range, with a pair of eyewitnesses confirming what the tape clearly showed.  Consider the bind the defense lawyer is in if the prosecutors refuse to offer any deal and insisted on the death penalty.  The lawyer has no choice but to try the case, as there is nothing to lose.  If the defendant pleads guilty, he gets the death penalty.
In such a case, where the facts and the law are squarely against the defendant and the lawyer must try the case anyway, the only hope the lawyer has is to mislead and confuse the jury with wild conspiracy theories and subtle hints of cloak and dagger tactics.  
The classic defenses are worthless.  "You have the wrong guy!"  No they don't.  "I didn't shoot anyone!"  Yes you did.  "He didn't die!"  Tell that to his grieving widow and children.  "Sure I may have told a few other people I planned to kill the guy, but they tape recorded the conversations and talked about it amongst themselves before I did it., so surely it isn't a crime."  Wait.  What?
As absurd as it is, that's where Moore finds himself.  On the wrong side of the facts.  On the wrong side of the law.  Instead, he's left with Baxley's attempts to mislead and confuse the jurors, hoping somehow that they disregard the facts, the tapes, the eyewitnesses, the law, and their combined centuries of common sense.
Moore is charged with two counts of perjury and two counts of making false statements during the Lee County Grand Jury's investigation into Speaker of the House Mike Hubbard.
The charges came from answers given regarding conversations between Moore and then-candidate for HD91, Josh Pipkin. The conversations were in relation to Hubbard's threats to withhold 100 jobs from Enterprise, if Pipkin did not exit the race. In these statements, Moore alleged that Hubbard said he (Hubbard) would "rain holy hell" down on Pipkin if he did not withdraw.
Tullos is the Executive Director of the Wiregrass Economic Development Corp. and was the first witness called by the prosecution. He testified to the facts that Moore had made threats on behalf of Hubbard, in order to stop Pipkin from mounting a challenge against Moore in the Republican primary.
The prosecution, led by W. Van Davis, laid out a clear bullet-point presentation of exactly what Moore had done and the charges against him. It's very simple: did Moore lie to the Grand Jury and did he make false statements to the State's prosecutors?
However, Baxley argued before the jury that Moore supported the economic development project that Hubbard threatened to derail, he did not threaten the project and therefore had done nothing wrong. This we have to assume is the case Baxley wished he had been given.
Tullos, a West Point grad, was rudely cross-examined by Baxley, in a style more Tomás de Torquemada, than Matlock, which Tullos took in stride. At one point Baxley asked Tullos if he had sent a text message from his computer to Pipkin on June 20, 1913, at which point, the witness and the jury seemed to cross their eyes in disbelief. On an other occasion, Baxley was in 1920, so as the trial proceeded he did get a little closer to the current century.
Of course, Hubbard's criminal defense attorney J. Mark White was on hand, along with his law partner, Augusta Dowd. Both scribbled furiously on legal pads, perhaps hoping to find away to dig Baxley out of the hole he dug himself into all afternoon.
Davis was clam and relaxed as he queried Tullos, who seemed well prepared to tell his side of the incident surrounding Moore and the Hubbard threats.
Baxley asked Tullos why he called Moore only twice, while he had phoned Pipkin some 70 times—as if this was proof of a sister plot. Tullos responded by saying, "we were trying to decide if we should call law enforcement and tell them that we believed Moore and Hubbard were engaged in an extortion scheme."
So much for an attorney knowing the answer to the question they are going it's ask.
At this point, it would be difficult to say how the trial was going, other than to really hope that Mrs. Moore can get some of her money back from Baxley if her husband goes to jail.
Opinion | Let's hope for Reed's success
Reed's temperament and style appear right for this moment in Alabama's history.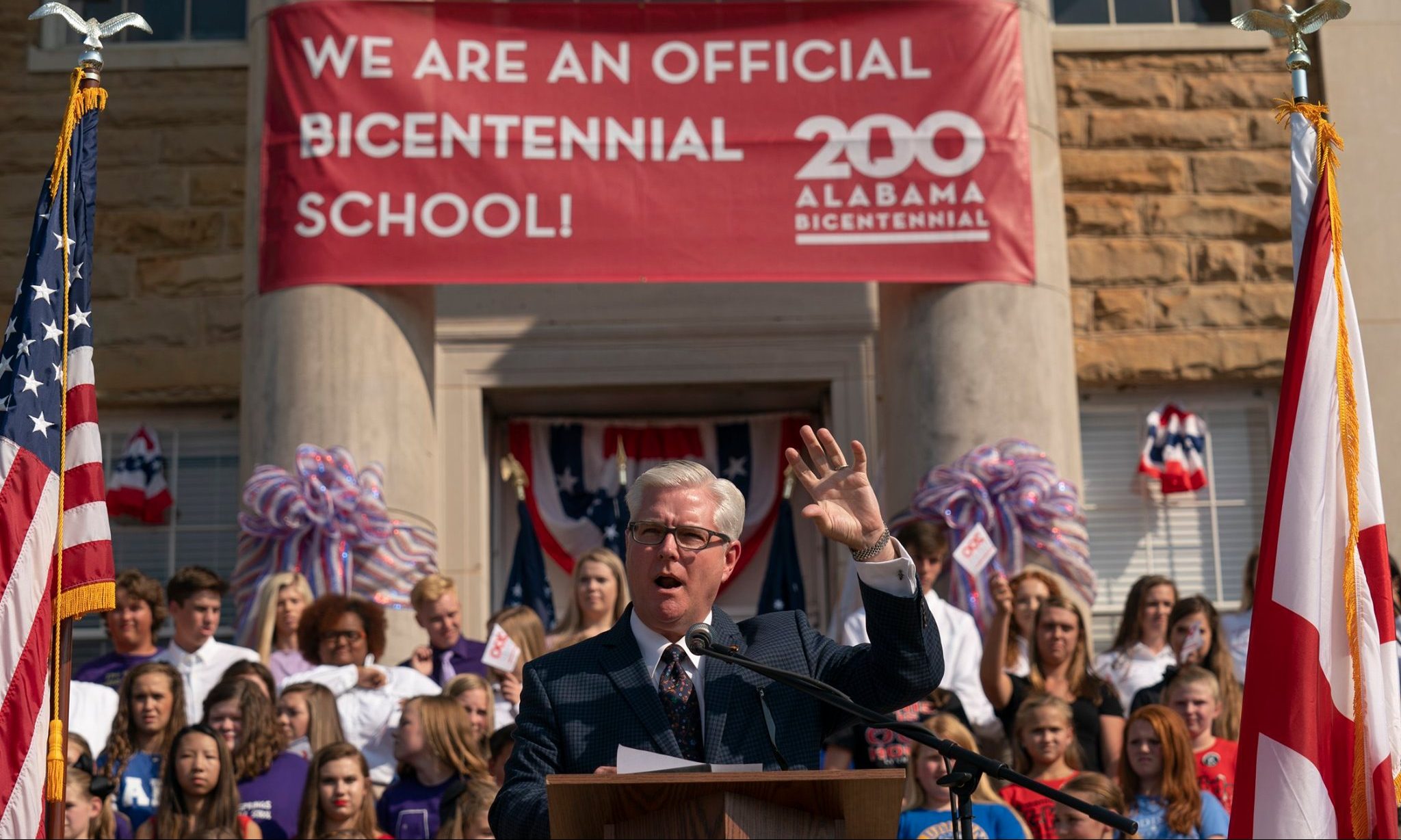 State Sen. Greg Reed, R-Jasper, will lead the Alabama Senate as president pro tem during the upcoming 2021 legislative session. What changes will Reed bring to the upper chamber, and how will his leadership differ from his predecessor? No one knows for sure.
Reed succeeds Sen. Del Marsh, who has served as president pro tem since Republicans took control of the Statehouse in 2010. Marsh, along with then-Gov. Bob Riley, current felon Mike Hubbard and ousted BCA Chair Billy Canary orchestrated the 2010 takeover that saw the Republican rise to dominance.
Reed, who won his Senate seat the same year, was not a charter member of the Republican ruling class, but he benefited from the power sift.
Mild-mannered and studious with a quiet charm, Reed has steadily ascended the ranks of Senate leadership. His silver hair and calm determination have served him well. Reed is a senatorial figure straight out of Hollywood's central casting.
In all, Reed is nearly universally liked and respected, which in the near term is a hopeful sign of potential success. But political leadership always comes with a warning: "Friends come and go, enemies accumulate."
Reed's relationship with Gov. Kay Ivey is certainly less contentious than Marsh's and gives rise to the belief that there will be greater cooperation between the executive and the Senate.
With the economy and public health under dire stress due to the ravages of COVID-19, legislative priorities are fixed: get people back to work and eradicate the coronavirus.
However, one of Reed's first tests will be whether he can cool the smoldering anger of those senators who still feel the sting of Ivey's rebuke over the allocation of CARES Act funds. He will also need to resist those who want to punish the administration over its use of public health statutes to implement mask mandates and other safety measures to prevent the deadly coronavirus spread.
Despite outward declarations of a unified body, the State Senate is a small, insular and unwieldy beast where egos loom large and consensus on policies is often tricky to achieve except on "red meat issues."
Building a coalition on policy in the Senate is often a combination of horse-trading, cajoling and carefully applied pressure. The way forward in the near term is exact: pass legislation that spurs economic recovery and mitigates the health crisis at hand.
But Reed will also simultaneously need to recognize what comes next for justice reform, prison construction, gambling and a myriad of other pressing issues. His job will be to understand the prevailing winds, which are evolutionary, not revolutionary.
As author Doris Kearns Goodwin noted in Lyndon Johnson and the American Dream: "For political leaders in a democracy are not revolutionaries or leaders of creative thought. The best of them are those who respond wisely to changes and movements already underway. The worst, the least successful, are those who respond badly or not at all, and those who misunderstand the direction of already visible change."
Reed's temperament and style appear right for this moment in Alabama's history.
As President Abraham Lincoln said, "If you want to test a man's character, give him power."
Let's all hope that Reed passes the test.