Brewbaker Says Passing Budget Should Be Priority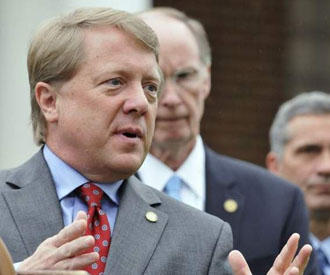 By Bill Britt
Alabama Political Reporter
MONTGOMERY—"It is time we put everything aside and do our constitutional job and, that is, pass a budget," said Sen. Dick Brewbaker (R-Montgomery) in a recent interview with the Alabama Political Reporter.
Brewbaker says he believes senators should refuse to vote on a BIR for any bill until they first pass a budget. A Budget Isolation Resolution (BIR) allows consideration and passage of a non- budget bills in the legislature.
For a history of Alabama's BIR click here.
Without criticism, Brewbaker acknowledges that this is a not a likely scenario, because individual senators have favored local bills they hope the pass before time runs out. And time is running out, as the legislature enters the home stretch of the 2015 session.
Over the last 10 days, the future of gaming in Alabama has become the hot topic, as a means to bolster the State's flagging General Fund Budget.
"The gaming issue, which is taking up all of the attention right now, is very important, and it matters a lot, but everybody agrees, it's not going to help us with this year's budget," said Brewbaker, "So, before we go into meltdown over gaming and lottery, we need to….pass a budget. After that, if there's enough time to hash-out Class III gaming and lotteries, we'll talk about it then."
From a governing position, Brewbaker's idea is a smart, conservative approach. But, this is politics and where the smart conservative must sometimes bow to the prevailing political winds. And right now, the wind is blowing from the Blackjack table.
At least two competing ideas are being bantered about:
The first would give the Poarch Creek Indians (PCI) a monopoly over Class III, Las Vegas style gaming, and perhaps a lottery. This idea is being put forward by the Tribe, with the backing of Speaker of the House Mike Hubbard (R-Auburn), who spends much of his day trying to defend himself against 23 felony counts of public corruption.
The second is a plan devised by Senate President Pro Tem Del Marsh (R- Anniston), which would expand Class III gaming for the PCI, plus non-tribal owned facilities at Birmingham Race Course, VictoryLand, Greenetrack and Mobile Greyhound, which is 75 percent owned by the PCI.
Brewbaker says the gaming issue will not be settled quickly because of the many competing interests. He says that Marsh's plan is a starting place in the Senate, but, "We're gonna go through several substitutes, and there are gonna be filibusters every step of the way. So, there's no way in Hell they know how much time it will take to get it through the Senate."
Brewbaker says that many senators are concerned about giving a gaming monopoly to anyone. He agrees that a one-time windfall for the State of $250 million as proposed by PCI  sounds appealing, but it does not address the long-term budget enhancements found in Marsh's comprehensive plan:
"Politically, obviously, if you treat Indian and non-Indian gaming differently, you'll have a lot harder time getting it through the legislature" said Brewbaker. "That may be the driving force behind the way Sen. Marsh's bill was written, because he probably thinks his approach is the only approach that has a prayer of getting through both Houses."
The draft bill Marsh gave lawmakers to review would need work, according to Brewbaker. He is especially concerned about the make-up and authority of the Gaming Commission:
"The commission, as it's formed in that particular piece of legislation, does not have nearly enough power."Brewbaker said. "They don't have their own enforcement people, they don't have subpoena power…" which is a grave concern. "If we're gonna open up Class III casinos all over the State, we need to have a real gaming commission, with its own enforcement, with a lot of teeth, or we're gonna really wish we'd never heard of this thing."
The Montgomery Senator concludes that lawmakers should first address the budget and then look at alternative State revenue in the form of gaming. That, he feels, is the right approach.
Alabama hospitals nearing COVID-19 summer surge levels
Wednesday was the 18th straight day with more than 1,000 people in hospitals in Alabama with COVID-19. 
Alabama hospitals reported caring for 1,483 people infected with COVID-19 on Wednesday, the highest number of patients since Aug. 11, when the state was enduring its summer surge. Wednesday was also the 18th straight day with more than 1,000 people in hospitals in Alabama with COVID-19. 
The seven-day average of hospitalizations was 1,370 on Wednesday, the 36th straight day of that average rising. The Alabama Department of Public Health reported 2,453 new cases Wednesday. The 14-day average of new cases was — for the eighth day in a row — at a record high of 2,192. 
Across the country, more than 80,000 people were hospitalized for COVID-19 on Tuesday, a record high and the 15th straight day of record hospitalizations nationwide, according to the COVID Tracking Project, a coronavirus tracking website.
The CDC this week recommended people not travel for Thanksgiving to help prevent the spread of coronavirus. 
"The only way for us to successfully get through this pandemic is if we work together," said Dr. Kierstin Kennedy, UAB's chief of hospital medicine, in a message Tuesday. "There's no one subset of the community that's going to be able to carry the weight of this pandemic and so we all have to take part in wearing our masks, keeping our distance, making sure that we're washing our hands." 
Kennedy said the best way she can describe the current situation is "Russian Roulette." 
"Not only in the form of, maybe you get it and you don't get sick or maybe you get it and you end up in the ICU," Kennedy said, "but if you do end up sick, are you going to get to the hospital at a time when we've got capacity, and we've got enough people to take care of you? And that is a scary thought." 
The Alabama Department of Public Health on Wednesday reported an increase of 60 confirmed and probable COVID-19 deaths. Deaths take time to confirm and the date a death is reported does not necessarily reflect the date on which the individual died. At least 23 of those deaths occurred in November, and 30 occurred in other months. Seven were undated. Data for the last two to three weeks are incomplete.
As of Wednesday, at least 3,532 Alabamians have died of COVID-19, according to the Department of Public Health. During November, at least 195 people have died in Alabama from COVID-19. But ADPH is sure to add more to the month's tally in the weeks to come as data becomes more complete.
ADPH on Wednesday announced a change that nearly doubled the department's estimate of people who have recovered from COVID-19, bringing that figure up to 161,946. That change also alters APR's estimates of how many cases are considered active.
ADPH's Infectious Disease and Outbreak team "updated some parameters" in the department's Alabama NEDSS Base Surveillance System, which resulted in the increase, the department said.