The Voices of Faux Outrage Increase Their Volume
By Bill Britt
Alabama Political Reporter
As anticipated, the scandalmongers, and political bloodsuckers have opened their first volley against Gov. Robert Bentley. 
On cue, the talk radio parasites began to feed rumors without facts, surrounding Gov. Bentley's impending divorce. And, just as rapidly, self-serving politicos feigned outrage over allegations with evidence, most notably, State Rep. Allen Farley (R-McCalla), who rushed to any media outlet that would listen, calling for Attorney General Luther Strange to investigate Bentley.
Farley is one of a handful of lawmakers, who stood on stage with Speaker Mike Hubbard the day after his indictment, accusing the Attorney General of engaging in "Chicago-style gutter politics." 
Farley, a former law enforcement officer, has been a staunch defender of Hubbard, who was arrested on 23 felony counts of public corruption. But, seeing as Bentley has refused to answer questions about his divorce, Farley wants a criminal investigation by the same AG who he and other republicans accused of carrying out "a political which hunt against Hubbard."
So, Farley, it seems, thinks making millions off of your public offices through alleged illegal means, requires he stand by his man. But, when it comes to divorce, and rumors of an affair, he must stand resolutely outraged at Gov. Bentley. The former lawman turned lawmaker wears his religion on his sleeve, like many in Montgomery, and it would appear he, like too many others, is selective in what he finds as a moral failing. Farley, like far too many, seems to assign degrees to what he perceives as sin.
"So if you are looking at somebody from our eyes, from our Christian perspective this was bigger than a bombshell. It was Hiroshima," Farley told WFSA TV, comparing Bentley's impending divorce to the uranium atomic bomb (Little Boy) which killed around 80,000 people.
When Farley came to Montgomery, he was not one of Hubbard's boys, but that changed once he began receiving plum assignments from the Speaker.  Hubbard appointed Farley vice chairman of the Legislature's prison oversight committee, and since then he has been squarely in Hubbard's corner. 
As committee vice chair, Farley was first to call on Bentley to replace Prison Commissioner Kim Thomas. At the time, sources inside the State House said, Farley was pushing the Governor to appoint him as Thomas' replacement. That didn't happen, as those within the administration felt Farley was not up to the task.
Now, he is the first lawmaker to call out Bentley. 
While most believe that the Governor should publicly dismiss the rumors spinning around his divorce, few would find Farley a credible representative of righteous anger, given his support of Hubbard.
Comparing Farley's comments with the quiet admonition of Rev. John Killian, noted republican minister and former two-time president of the Alabama Baptist State Convention, one sees a marked difference in Christian belief. "With the state all abuzz about Governor Bentley's impending divorce, please consider: 1) This man has had a clean reputation for 73 years and deserves any benefit of the doubt. The same goes for Dianne Bentley
2) Rumors are just that–rumors. Would you want every rumor told on you to be believed?
3) This is a time to pray for Robert and Dianne Bentley. Let them tell what they wish. Otherwise, let's keep out noses out of their business," wrote Rev. Killian on his Facebook page.
Farley, is hardly a prominent figure in state government or even in the Jefferson County metro area. He previously worked as an assistant to Jefferson Country Sheriff Mike Hale, who has as council, Rob Riley, son of former Gov. Bob Riley, who invited many of the lawmakers that attended Hubbard pep rally after his arrest.
And so it is with a media culture desperate to dig dirt, and the governor's stubborn silence, that vapid indignation from Farley and others is to be expected.
Sens. Doug Jones, Cory Gardner introduce the American Dream Down Payment Act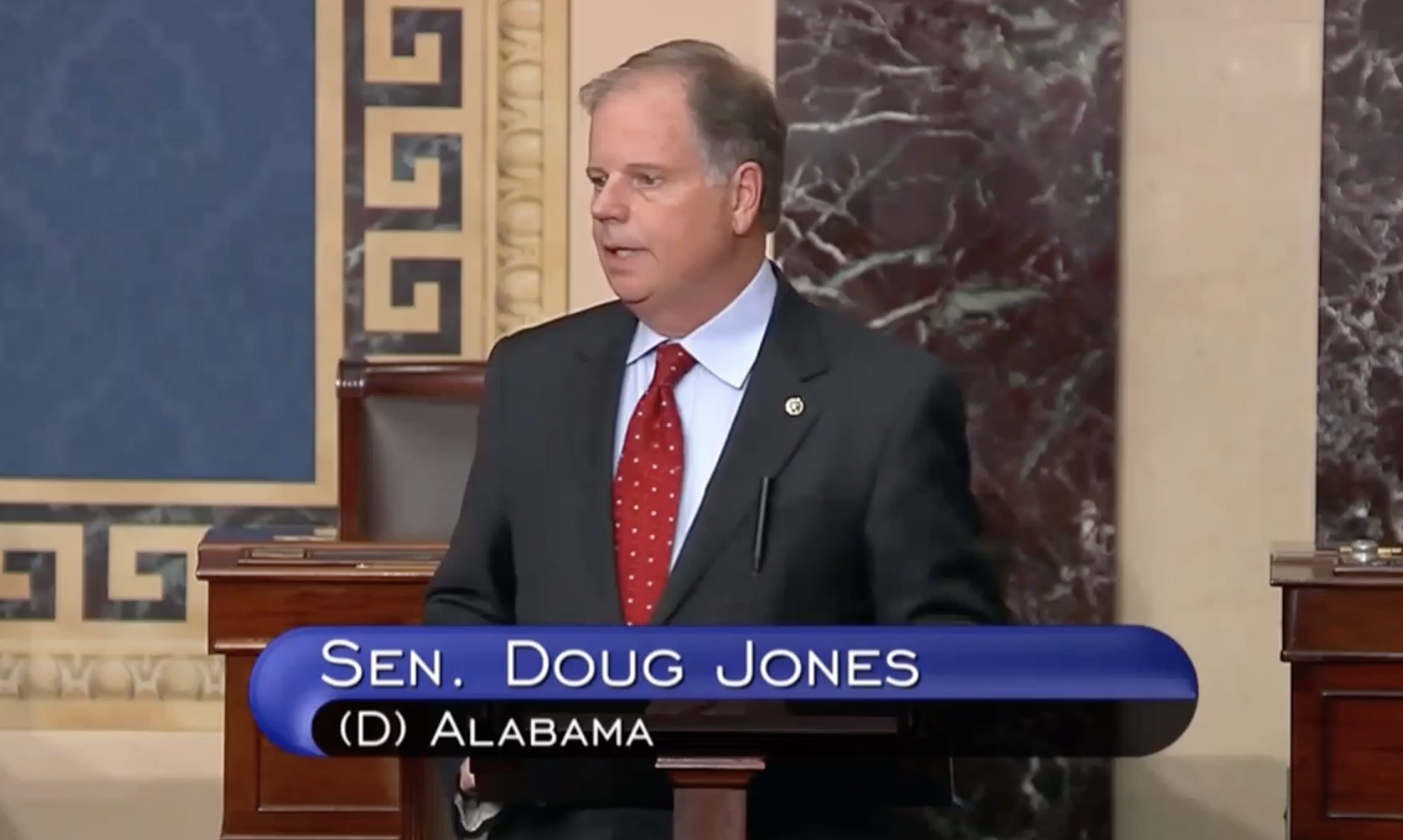 Democratic Alabama Sen. Doug Jones and Republican Colorado Sen. Cory Gardner have introduced the American Dream Down Payment Act of 2020, a bipartisan piece of legislation that would help prospective homeowners save for a traditional 20 percent down payment by creating special tax-advantaged savings accounts for eligible housing costs.
"As the coronavirus pandemic continues to devastate our nation's economy, it is getting even harder for many folks in Alabama and across the country to put money away in savings and to work toward the American dream of owning a home," Jones said. "Down payments are the biggest barrier to homeownership for first-time homebuyers, especially among low-income and minority Americans, and make it harder to build generational wealth that is often tied to home-ownership. Our legislation would provide a new path to help make the dream of buying a home a reality by making it easier to save money for down payments and other housing-related costs."
"A down payment on a home can be a significant barrier to becoming a homeowner," Gardner said. "Inspired by the popular 529 education savings accounts, this bipartisan bill will make it easier for people to save for a down payment, which will aid both our unique housing challenges in Colorado and our economic recovery from the COVID-19 pandemic. I'm proud to work with Senators Jones and Brown to help more families achieve the American Dream and own a home."
These accounts would be similar to the popular 529 Plan accounts that encourage people to save pre-tax money to pay for future education expenses. Sen. Sherrod Brown, D-Ohio, is the ranking member of the Senate Banking and Housing Committee and an original co-sponsor of the legislation.
The sponsors cite a recent survey by the Urban Institute that found that more than two-thirds of renters view down payments as a barrier to owning a home. As rents and student loan debt rise, it can be harder for prospective homeowners to save for a down payment, especially if they are a first-time homebuyer or aren't able to receive help from family members.
"Borrowers of color have been locked out of affordable homeownership for decades," Brown said. "The gap in Black and white homeownership rates remain as large now as it was before the Fair Housing Act was signed into law. These troubling and persistent inequities in homeownership rates have prevented generations of Black and brown families from obtaining the American dream of owning a home. The American Dream Down Payment Act is a new tool to help make homeownership a reality."
Even though the nationwide homeownership rate is relatively stable, there are significant disparities in homeownership by age, race and ethnicity. The Black homeownership rate, which peaked just prior to the Great Recession, has fallen to a 50-year low in 2016, at just 41.7 percent. That remains nearly 30 points below the white homeownership rate. This is before the recent COVID-19 economic panic. Millennials are less likely to own a home by age 34 than their parents or grandparents were. If these trends continue, a growing number of Americans will be locked out of homeownership.
"The introduction of the American Dream Down Payment Act offers Black American families and individuals the opportunity to build legacy wealth through homeownership," Brown added. "The ability to accumulate tax-free savings funds breaks down/eliminates one of the most prominent barriers to achieving homeownership, the down payment. This Act serves as a tangible springboard to increase Black homeownership and real wealth-building prospects which the National Association of Real Estate Brokers (NAREB) includes in the meaning of its time-honored slogan, Democracy in Housing," said Donnell Williams, National President, National Association of Real Estate Brokers."
The American Dream Down Payment Act would let states establish American Dream Down Payment Accounts, which they would manage in the same way they manage 529 Plan accounts today. It would also allow prospective homeowners to save up as much as 20 percent of today's housing cost, indexed for inflation, to use for an eligible down payment and other housing costs. It would facilitate long-term savings for a down payment and allow contributions from family and friends and allow homebuyers using their American Dream Down Payment Account savings and earnings to use those funds tax-free at withdrawal for eligible expenses.
To protect American Dream Down Payment Account holders, the Securities and Exchange Commission would be required to set standards for the investments of eligible accounts and allowable fees.
This legislation is supported by the National Association of Realtors, Habitat for Humanity and the National Association of Real Estate Brokers.
Jones is a member of the Senate Banking and Housing Committee. Both Jones and Gardner face tough re-election battles this year.