Staff
BIRMINGHAM– Representatives from the Alabama Clean Fuels Coalition will join clean transportation leaders from across the nation next week in Washington, D.C., to educate federal policymakers about the need to expand America's uses of alternative fuels, including biofuels, electricity, natural gas, and propane autogas.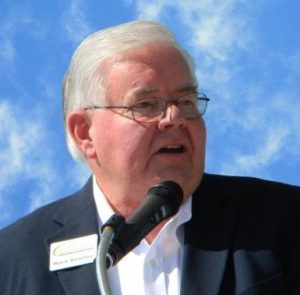 Energy Independence Summit 2017, the nation's premier clean transportation policy event, will take place Feb. 12-14. Representing the ACFC at the summit will be Executive Director Mark Bentley and President and Board Chairman Phillip Wiedmeyer.
"Despite the recent drop in gasoline prices, gas prices remain extremely volatile and we continue to send more than $150 billion per year to OPEC and other nations for oil," Bentley said. "We are going to Washington to be sure our representatives understand that the United States must continue to aggressively expand the use of domestically produced alternatives to petroleum-based fuel if we are going to stabilize gas prices, decrease our reliance on foreign oil, and maintain and create domestic jobs in the energy industry."
According to the US Department of Energy, there are now almost 1.2 million alternative vehicles on the road in the United States and almost 50,000 alternative fueling stations.
The Alabama Clean Fuels Coalition continues to support a number of private businesses, municipalities, and State government agencies as they incorporate alternative fuels in their fleets. To cite just three examples, the Alabama Department of Corrections uses propane autogas in more than 60 work-release transport vans, saving Alabama taxpayers more than $6,600 yearly per van in fuel costs. The City of Trussville uses compressed natural gas in its police and public works vehicles, dispensed at the public Happy Hollow Chevron station – the infrastructure is the result of a public-private partnership between the City, Trussville Utilities, and McCullough Oil Company. The Alabama Clean Fuels Coalition has also partnered with the public and private sector to promote the development of infrastructure for alternative fuels, such as the Cynergy-Gain Clean Fuels CNG station in Dothan – the state's largest public-access CNG station.
Transportation Energy Partners, the summit organizer, reports that summit participants will have the opportunity to interact with top administration officials, including leaders from the Departments of Energy, Transportation, and Defense, and the US Environmental Protection Agency. In addition, summit participants will take their message about the need for ongoing federal support for alternatives to petroleum-based fuels to more than 200 Congressional offices.
"American industry has demonstrated the ability to produce high performing technology to meet the demand for alternatives to petroleum fuel," said Sam Spofforth, President of Transportation Energy Partners. "However, insufficient and inconsistent governmental incentives and support hinder companies' ability to make the long-term investments required to sustain these clean transportation solutions. We need stable and predictable federal investments to enable fleets and technology developers to make sound long-term planning and investment decisions."
About the Alabama Clean Fuels Coalition: Alabama Clean Fuels Coalition, a nonprofit membership-based organization, is the State's principal coordinating point for alternative fuels and a member of the US Department of Energy's Clean Cities program. The promotion of clean, renewable, domestic energy sources helps reduce our dependence on foreign oil, improves local air quality and increases economic development opportunities in our local communities. For more information, please visit www.AlabamaCleanFuels.org or call 205-402-2755.
About the Transportation Energy Partners: Transportation Energy Partners (TEP) is a national nonprofit organization that brings Clean Cities coalition leaders together with the clean transportation industry to advance policies that will reduce American dependence on petroleum-based fuels. TEP works closely with and provides policy support to the nearly 100 Clean Cities coalitions and their 15,000 stakeholders in 45 states. Since 1993, the Clean Cities coalitions have played a leading role in implementing local programs and projects to deploy alternative fuels, vehicles, and infrastructure. The Clean Cities coalitions and their stakeholders have displaced more than 8.5 billion gallons of petroleum through the use of alternative fuels and vehicles, hybrid-electric vehicles, idle reduction technologies, fuel economy, and low-level fuel blends.