Gun permits are a small, but necessary, restriction

By Joey Kennedy
Alabama Political Reporter
Many innocent (and otherwise) people are killed by gun violence in this state and nation every year. Mass shootings are commonplace. I guess that's why I continue to be baffled by proposals that make firearms even easier to acquire and to conceal than ever before.
We don't learn. We don't even try to.
Just after the new year, the U.S. Congress repealed an Obama administration regulation that made it more difficult for people with mental health issues to obtain guns. Why would Congress do anything that makes it easier for the mentally ill to obtain guns?
Because guns are part of the American culture. For eight years, opponents of President Obama hollered that the federal government was going after their guns. That never happened. The Second Amendment is safe. Safer than it ought to be.
But people who argue we need fewer restrictions on gun ownership, or where guns can be carried, or how they are carried, are misguided.
Last year in this space, I was arguing against a terrible proposal from state Rep. Mack Butler (R-Rainbow City) to allow folks with conceal carry pistol permits to take them to state college campuses.
As an English instructor at UAB, this was scary to me.
"I don't want my students (or any students, or teachers, or anybody except the UAB police department) to carry weapons to class," I wrote for APR about this time last year. "I give F's every now and then. I certainly don't want a student who can't write a simple college essay to bring a pistol to class. Especially on those days I return graded papers."
Fortunately, Butler's proposed constitutional amendment failed. Still, it wouldn't surprise me if it didn't somehow resurface.
One bill that is out there this year is from Sen. Gerald Allen (R-Tuscaloosa). His bill, sitting in the Senate Judiciary Committee right now, would allow gun owners to conceal carry without a required permit and background check.
Just stuff your Glock in your pocket and take off.
The bill (SB24) also would allow people to pack even when attending high-tension public protests or other functions. How can officers properly police an event when guns not only are permitted, but also hidden as well?
I wholeheartedly agree with Madison County Sheriff Blake Dorning, who strongly opposes Allen's bill.
It is true that sheriff's offices in the state make money by issuing pistol permits. That could be one factor in a sheriff's opposition to a bill that would do away with what some see as a cash cow (gun owners still would need a conceal carry permit to take their weapons out of state). Even so, at least the sheriff's offices are backgrounding those who apply for conceal carry permits. Remove the permit requirement, and the background check also is removed.
There's a common-sense component working here, too.
Writes Dorning in a message on the Madison County Sheriff's' Office website to residents of his county: "The repeal of the current statute will allow everyone who was previously denied a lawful permit to now be able to conceal a handgun in their vehicle to drive or walk freely to attend church services, enter a movie theatre, football stadium, business or other gatherings in our communities."
Dorning continues: "A law enforcement officer cannot stop a person from having a handgun and committing a crime, but every precaution available, to include a background check by your local Sheriff's Office, should be taken to prevent a person convicted of a crime of violence from hiding a gun on his person and walk freely in our neighborhoods and communities."
Again, both Dorning (and I) support the Second Amendment. But the Second Amendment does not prohibit reasonable restrictions on gun ownership or possession.
Imagine what may be going through a law enforcement officer's mind when approaching, say, the driver of a car just pulled over for speeding. Sure, officers use plenty of caution anyway, but without a permit requirement, the pressure on officers will increase. Officers could be even more aggressive, risking deadly mistakes. Or such a situation could lead to less enforcement of traffic and other laws.
After all, why take a chance?
Writes Dorning: "I fully support and defend our right to keep and bear arms as written by our Founding Fathers of the Constitution reinforced in the Second Amendment. This proposed legislation of SB24 is an attack on the safety of law enforcement. Let our Police Officers and Deputy Sheriff's properly do their jobs to keep concealed handguns from persons whose backgrounds include court convictions of previous violent actions where a victim has been assaulted and/or attacked."
Other law enforcement leaders — and not only sheriffs, either – agree with Dorning (he's just the latest), because requiring a permit and background check before a person is granted the privilege of concealing his weapon just makes sense.
What we need is more common sense in our gun laws, not less.
Joey Kennedy, a Pulitzer Prize winner, writes a column every week for Alabama Political Reporter. Email: [email protected]
Print this piece
Opinion | Alabama close to allowing hot dogs to be rescued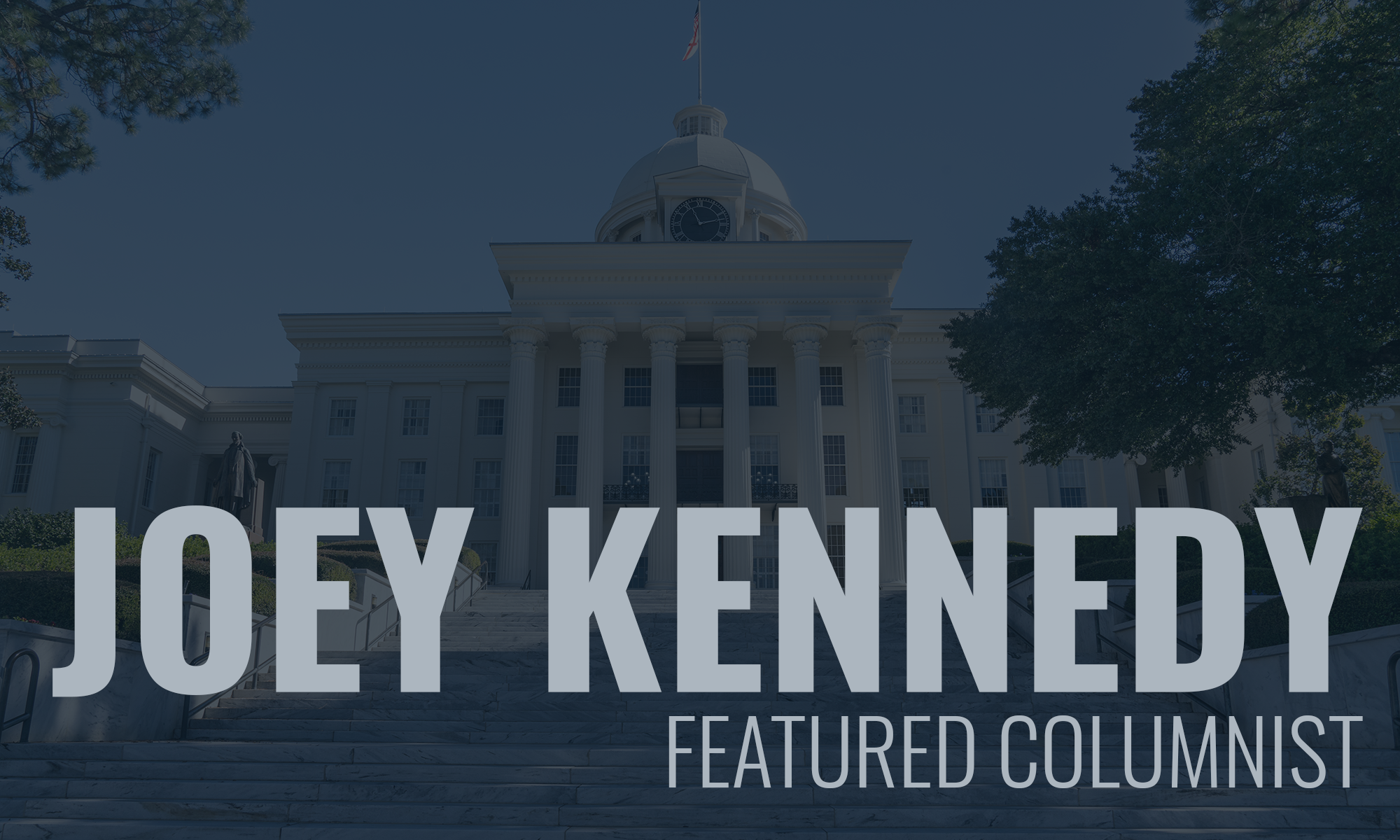 Most readers know that we've had a grumble of pugs for years. We lost four in the grumble last year. All of our dogs are rescues, and most of them have some disability: unable to walk well, blindness, incontinence, a perpetually crooked head.
And most of the pugs are elderly, so we expect to lose a few this year. Our youngest is Nellie Bly, at about 2 years old. We have a group of older pugs that are around 10-11 years old. Several came from puppy mills. One was surrendered to a vet tech when his owners took him to be put down because the owner's granddaughter wanted a different dog (I know!). The veterinarian naturally was not going to euthanize a healthy animal, and about a week later, Peerey came to us.
Pugs are bred to do one thing: Sit with their humans, mostly on their laps or next to them on the bed. All of ours are bed pugs.They snore; we adore.
I say all of this to underscore that Veronica and I know not everto leave one of our dogs in a locked car, especially during the summer. But every year, we hear stories of the careless owners who leave their dog (or dogs) in the backseat of a vehicle while they run an errand. The errand takes longer than the owner thought, and heat builds in the car. Too often, that kills the pet, just like it does children, and that happens all too often as well.
As of 2019, 31 states had laws that either prohibit leaving an animal confined in a vehicle under dangerous conditions or provide civil immunity (protection from being sued) for a person who rescues a distressed animal from a vehicle.
Alabama – finally – is on the cusp of joining that group.
A bill (SB 67) sponsored by Sen. Jimmy Holley (R-Elba) will allow good Samaritans to rescue pets left in a car if they are clearly in danger from either the heat or cold. The bill provides criminal immunity to civilians and grants civil and criminal immunity to law enforcement officers who rescue an animal.
Important, too, is that bill prevents owners from leaving their animals in a vehicle in a manner that creates an unreasonable risk of harm. If they do, they can be charged with second-degree animal abuse.
It doesn't take long for the situation in a vehicle to deteriorate, either. 
Even on a mild day, the heat inside a car can go off the rails. According to reports, if the outside temperature is 70 degrees (f), the interior of a vehicle can heat up to 89 degrees in 10 minutes. After a half-hour, the interior temp can be 104 degrees. Of course, it's much worse on hotter days.
At 80 degrees, a vehicle's inside temperature is at 99 degrees; after a half-hour, the animal is trying to survive in a 114-degree oven. And at 95 degrees, not an unusual June, July, or August temperature in Alabama, the inside temp of a vehicle is about 130 degrees.
Humans can't even survive long at those temperatures.
There are conditions before a good Samaritan can step up, but they're not unusual in states that already have similar laws: Among them:
■
The person has a good faith belief that the confined domestic animal is in imminent danger of suffering physical injury or death unless the domestic animal is removed from the motor vehicle;
■
T
he person determines that the motor vehicle is locked or there is no reasonable manner in which the person can remove the domestic animal from the vehicle;
■
B
efore entering the motor vehicle, the person notifies a peace officer, emergency medical service provider or first responder or an animal control enforcement agency or deputy of the confined domestic animal;
■
T
he person does not use more force than is necessary under the circumstances to enter the motor vehicle and remove the domestic animal from the vehicle.
■
Remains with the animal in a safe location in reasonable proximity to the motor vehicle until law enforcement or other first responders arrive.
■
Maintains control of the animal at all times to prevent harm to the animal or others.
There are other conditions that make less sense, however. The bill as passed 33-0 by the state Senate requires the ambient temperature in the vehicle be 99 degrees or higher before a citizen or first-responder can intervene.
I can tell you that a half-hour in a car at 95 degrees will kill a pug; a Lab or Golden might survive that temperature for awhile, but remember, every minute the car's interior is getting hotter. Pugs are brachycephalic – short nosed – and have trouble breathing outside at 80 or 85 degrees.
Other short-nosed breeds like English Bulldogs, French Bulldogs, and Boston Terriers, have the same issue. It's one reason why they snort and snore, even in the winter.
Generally, we can tell when a dog locked in a car is distressed, and few good Samaritans are going to be carrying a temperature gauge with them.
Still, the House needs to pass this bill as soon as possible. Spring and summer aren't that far off, and, no doubt, there will be animals to rescue.
Joey Kennedy, a Pulitzer Prize winner, writes a column every week for Alabama Political Reporter. Email: [email protected]
Print this piece