By Brandon Moseley
Alabama Political Reporter
Monday, May 8, 2017, State Representative Craig Ford (D-Gadsden) announced that he will not be among the candidates running in the Special Election for the US Senate seat that was vacated when Jeff Sessions (R-Alabama) resigned to assume a post as US Attorney General for the Trump Administration.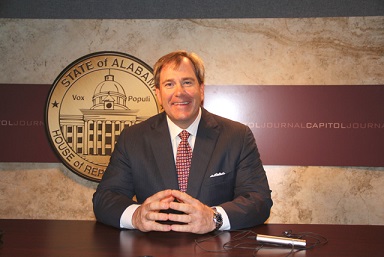 Representative Ford said in a statement, "I am deeply grateful for, and humbled by, the support I have received from people all over this state who have asked me to run for the US Senate. I prayed and thought long and hard about this decision. But my passion has always been state politics over national politics, and I feel that I would be able to do more good for the people of our state by serving – in whatever capacity – in Montgomery instead of Washington."
Rep. Ford has been contemplating a run for statewide office for some time; but has been critical of the leadership within the Alabama Democratic Party. Ford has publicly called for Democratic Party Chairwoman Nancy Worley to resign. He has also called for Alabama Democratic Conference Chairman Joe Reed to resign. Reed is considered by many to be the most powerful voice within the Alabama Democratic Party.
After Sessions stepped down as Senator, then Alabama Governor Robert Bentley appointed then Alabama Attorney General Luther Strange (R) to the position. Bentley set the special election to coincide with the next regularly schedule state elections in 2018. A number of legal scholars including state Auditor Jim Zeigler (R) and state Representative Christopher John England (D from Tuscaloosa) declared that Bentley and his legal advisor(s) did not understand the definition of "forthwith" and the Special Election should be set as soon as possible.
Last month Gov. Bentley resigned and admitted guilt to two misdemeanors in exchange for an agreement not to be prosecuted over his misuse of State resources to facilitate his affair with married former staffer Rebekah Caldwell Mason. New Governor Kay Ivey (R) realized that Bentley had misinterpreted state law and reset the Special Election for December with the major party primaries in August.
Ford was chosen as House Minority Leader following the 2010 election in which Democrats lost control of the Legislature for the first time in over 130 years. Ford stepped down as Minority Leaders earlier this year to pursue a possible run for statewide office or the State Senate in 2018. He was replaced as leader by State Representative Anthony Daniels (D-Huntsville) early in the session.
Senator Luther Strange has announced that he is running for the Senate in the Special Election. Former State Supreme Court Chief Justice Roy Moore (R), former Christian Coalition President Randy Brinson, State Representative Ed Henry (R-Hartselle), and marijuana advocate Ron Crumpton (D) have also declared that they are Senate candidates.
Senate President Del Marsh (R-Anniston) has acknowledged that he is also considering running for the Senate. Donald Trump's Alabama Co-Chair former State Representative Perry O. Hooper (R-Prattville), US Representative Mo Brooks (R-Huntsville) and State Representative Christopher John England (D-Tuscaloosa) are also considering runs for the Senate.
Polling by Mo Brooks reportedly shows Chief Justice Moore with a commanding lead over Strange.
Karl Rove, the National Republican Senate Committee, and other powerful Republican Washington inside groups have threatened to blacklist any consultants or political operatives who work for any candidate running against Strange's election. They have also threatened to blacklist any candidate who runs against Strange from receiving national GOP support for life.
Polling by Mo Brooks reportedly shows Chief Justice Moore with a commanding lead over Strange (30 percent for Moore, 20 percent for Strange, and 11 percent for Brooks). Sources say that polling also shows that Alabama voters want to pick their own Senator and not the Senator chosen by disgraced Governor Bentley.