By Brandon Moseley
Alabama Political Reporter
Tuesday, June 6, 2017, the Roy Moore for US Senate Campaign announced that former State Senator and Alabama Republican Party Chairman Bill Armistead will serve as Campaign Chairman.
Former Chief Justice Moore (R) said in a statement, "I have known Bill for over 25 years and know him to be an ethical leader of our party who consistently stands up for our shared conservative values. As a former Chairman of the Alabama Republican Party, Bill will help us engage the real people of Alabama who are frustrated by establishment politics in Washington and want a Senator who will be their voice."
Former ALGOP Chairman Armistead said, "Judge Roy Moore will be the next United States Senator from Alabama, and I am proud to offer my endorsement and support."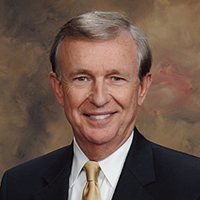 Chairman Armistead continued, "Judge Moore has stood up for conservative values his whole career, often in the face of so-called, bi-partisan adversaries, and this campaign will be no different. The Washington establishment has made it clear that they want to hand-pick the next Senator from Alabama, but I have every confidence that voters in Alabama will stand with Judge Roy Moore on August 15th and send a proven fighter and tested outsider to Washington to shake up the status quo and support President Donald Trump in draining the swamp."
Armistead is a resident of Shelby County, served in the Alabama State Senate for two terms from 1994 to 2002 and was the Republican nominee for Lt. Governor in 2002. He served as Chairman of the Alabama Republican Party from 2011 to 2015 during which time the Party won every statewide office including the election of Judge Moore as Chief Justice in 2012. Under Armistead's leadership, the Party also increased its majorities in the legislature and made record gains at the local level.
Armistead said, "I encourage all my friends across the state to join the campaign today by visiting www.judgemooreforsenate.com or on Facebook @JudgeRoyMoore."
The Moore campaign said that the appointment of Bill Armistead as Campaign Chairman is the first of several Judge Roy Moore for Senate Leadership Team announcements set for the coming days and weeks.
According to Congressman Mo Brooks (R-Huntsville), Moore has a commanding lead in the race with 32 percent support. Senator Luther Strange (R) is second with 20 percent and is followed closely by Brooks with 16 percent. The other seven Republicans are in single digits.
Ten Republicans are running for the US Senate race as Republicans. According to the Alabama Republican Party, the following individuals submitted qualifying paperwork to run for the US Senate seat: James Paul Beretta, Joseph F. Breault, Randy Brinson, Mo Brooks, Dom Gentile, Mary Maxwell, Roy Moore, Bryan Peeples, Trip Pittman, and Luther Strange.
Karen Haiden Jackson was disqualified by the Alabama Republican Party because she had run as an independent in a judicial race last year.
Eight candidates qualified with the Alabama Democratic Party to run in the US Senate Special Primary Election. Qualified candidates are Will Boyd, Vann Caldwell, Jason Fisher, Michael Hansen, Doug Jones, Robert Kennedy, Jr., Brian McGee, and Nana Tchienkou.
The special major party primaries are on August 15. The Special General Election will be on December 12, 2017.