APR stands by Rogers report

By Bill Britt
Alabama Political Reporter
An article published by The Alabama Political Reporter (APR) has drawn fire from campaign operatives for freshman Senator Luther Strange and his attorney at his old law firm, Bradley Arrant.
An email containing a letter from Bradley partner Joseph B. Mays, Jr., was received by APR on June 30, in which he demands, "…removal and retraction of false and libelous statements in an article on your website titled, 'Source: State Rep. Offered Superfund Bribe with Strange Present.'"
The story revolves around a Federal probe that ensnared former State Rep. Oliver Robinson, who earlier this month reached a plea agreement to Federal charges of fraud, bribery, corruption, and tax evasion. The agreement is related to Robinson allegedly accepting bribes from a powerful Birmingham law firm, Balch Bingham. According to the release, Robinson was paid to advocate against the expansion of a massive EPA Superfund site in Birmingham. Balch Bingham's client, Drummond Coal, and its affiliate ABC Coke would have potentially had to pay millions for the cleanup. A Balch attorney and a Drummond executive are both listed as unindicted co-conspirators in the release from the US Attorney's Office in Birmingham.
Last year, shortly after Robinson resigned from the Alabama House of Representatives, claiming a conflict of interest (because his daughter was working for then-Governor Robert Bentley), State Rep. John Rogers began telling how the same people had approached him as Robinson, but that he turned them down.
During the beginning days of the 2017 Legislative Session, Rogers approached APR with this story. But as there was no context from which to draw a conclusion or make a printable narrative, Rogers allegations stayed mostly within the halls of the State House.
However, in June, Rogers told US Senate candidate Dr. Randy Brinson, who is running against Strange, that he told Federal investigators that Drummond Coal executives offered him a similar deal to Robinson's. According to Brinson and others present, Rogers agreed to go public with his story at a press conference with Brinson.
After confirming the facts with Rogers and his close associates, APR's Josh Moon published Rogers' claims that Strange was present when Rogers received what he believed to be a bribe offer from those acting on Drummond's behalf.
An email to Strange's Senate and campaign spokesperson, Shana Teehan, by APR the evening before the Moon story, was to be published. Teehan, the former Shanna Kluck, was communications director for the Alabama Republican Party under Bill Armistead and has had APR's email and cell phone contact for years. APR has received countless emails from Teehan as Strange's Senate Communications Director and as campaign staff.
A quick check of my APR email shows 14 emails from Teehan from June 1 until June 28 with well over two dozen pages of emails from her.
In a statement, Strange's operatives said, "As Alabama's Attorney General, Sen. Strange led the National fight against the over-reaching Obama EPA in order to protect jobs in Alabama and across the country. The allegations in Josh Moon's article are simply not true and smack of the same fake news that President Trump and Jeff Sessions are dealing with. As shown by the recent Veritas videos exposing CNN, too many in the media are unaccountable and have dropped all pretense of having standards, abusing and using the First Amendment as a cover for lying about their political enemies and boosting their ratings."
Strange's office didn't send the statement to APR even though they regularly carpet bomb its email with press reports. A quick check of [email protected] finds 14 emails from Teehan from June 1 until June 28. Both she and Strange have my cell number, and I have theirs, but no calls were made to refute the story.
The day following our report on Rogers' allegation, he began to backtrack by saying Strange had not been present at the meeting in which be believed he was offered a bribe.
On June 30, just 24 hours after APR's first report, Moon revealed that Rogers had confirmed the original report but Rogers had asked that his confirmation statements not be made public until he could "tell all" on a local Birmingham radio show that Friday.
Strange's high-powered Bradley Arrant lawyer wrote APR saying, "the fact that it was published without confirmation from the key source – Rep. Rogers – suggests on its face that your actions were malicious. These facts indicate that you intentionally published these false and defamatory statements or, at the least, that you published them with a reckless disregard for their falsity."
The original report was confirmed with Rogers, before publication, it was checked with several individuals who Rogers had told the same story that he told APR during the 2017 Session.
Of course, none of this has stopped Strange from claiming "fake news" on Yellowhammer Radio.
This is the same Luther Strange who as Attorney General claimed he never "said" there was an investigation into Gov. Robert Bentley just before Bentley appointed him Senator. There was an investigation and he knew it. The same man who recused himself from the Speaker Mike Hubbard investigation because he took money from Hubbard's Political Action Committee and then within 24 spent the same amount with one of Hubbard's business interests. Hubbard, the former Speaker of the House, who was convicted of 12 counts of public corruption. However, as Attorney General, Strange allowed his Chief Deputy Kevin Turner to collude with others on his staff to derail Hubbard's prosecution. Turner now serves as Strange's chief of staff.
It is not yet clear if Rogers lied to APR and to others, or if he is lying now. Rogers claimed Strange was present when he was offered what he considered a bribe. Then he changed his story to Strange not being present. By the end of last week, Rogers was denying everything, telling WSFA News, "No, he was not there and there was no bribe. I haven't talked to Drummond Coal either. That is not true. That is not true."
Opinion | Hubbard did the crime; he should do the time
Hubbard may not be a violent offender but his actions are a danger to society and a threat to the public.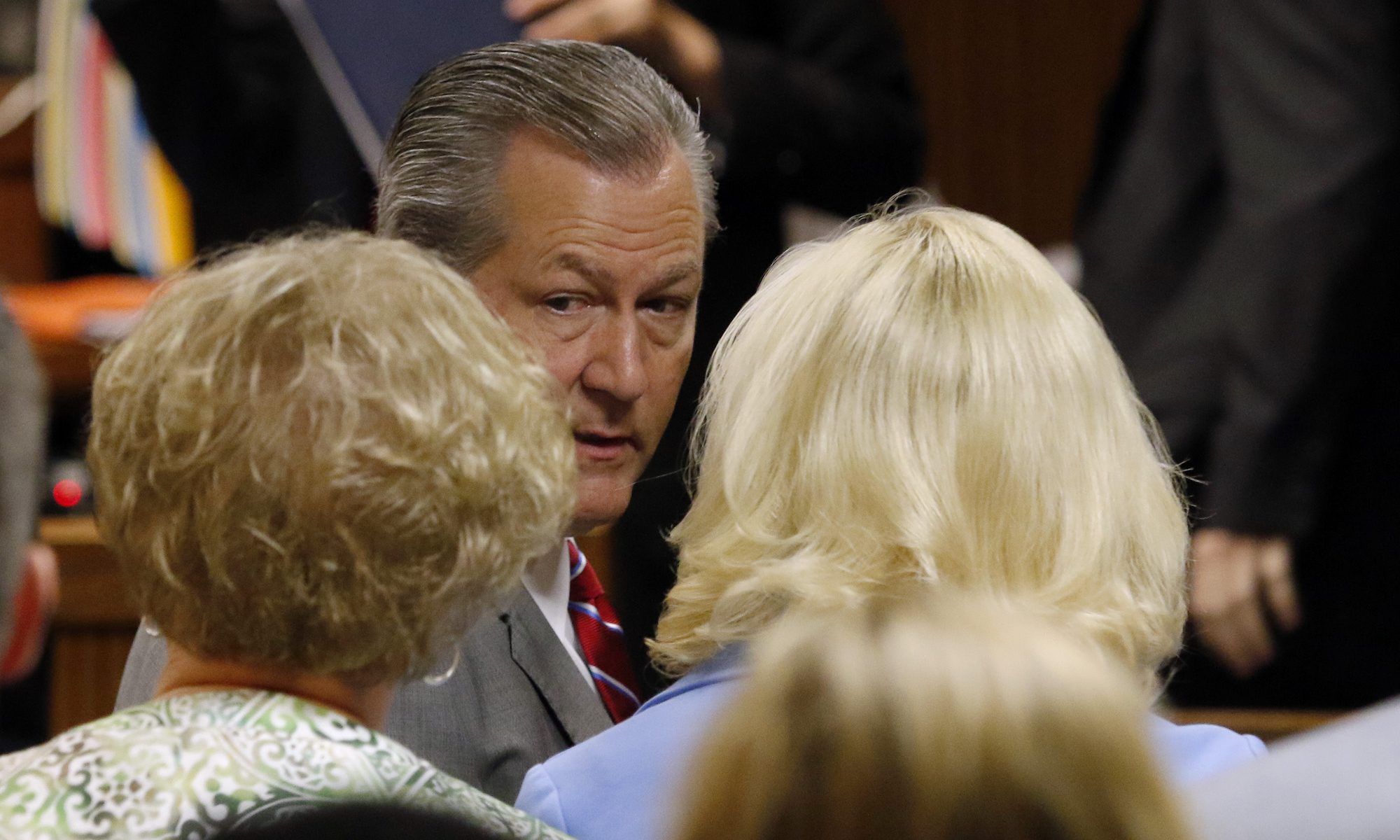 Attorneys for convicted felon, former Speaker of the House Mike Hubbard, believe he has suffered enough, and his sentence should be reduced because six of the charges against him were overturned on appeal.
The remaining six counts against Hubbard call for a prison term of four years, 16 years probation, and substantial fines independent of the charges the upper courts set aside. Therefore, there exist no reasonable grounds under which trial Judge Jacob Walker III should lessen Hubbard's sentence.
This action on Hubbard's behalf is simply another attempt to subvert justice.
A Lee County jury found Hubbard guilty of twelve counts of public corruption, most notably using his office for personal gain and using state resources and personnel to enrich himself—and those counts still stand.
The Court of Criminal Appeals rejected Count 5, and the Alabama Supreme Court struck down another five, which primarily dealt with the charges surrounding "principals."
The upper-court's finding appears more political than judicial, but most people in the state are used to jurists who bend the law for the rich and politically connected.
Of the remaining charges against Hubbard, five carry a ten-year spit sentence of two years in prison and eight years probation, and one count has a six-year split sentence with 18 months in jail with the remainder served on probation.
Why would Judge Walker reverse his judgment since the appeals process left in place the charges that carry the very sentence he imposed?
Does Judge Walker think he erred in his sentencing? Does he now, in retrospect, believe he was unfair as Hubbard's lawyers contend?
Hubbard's appeal is merely more subterfuge and trickery disguised as a legal argument.
Astonishingly, in their latest filing, lawyers, David McKnight and Joel Dillard, assert that Hubbard is not "a danger to society, nor a threat to the public" as a reason to let him out of prison.
Hubbard may not be a violent offender but his actions are a danger to society and a threat to the public.
Prison is not only for brutal inmates it is also for those who break a certain class of laws. Because a felon wears a thousand dollar suit doesn't mean they deserve less jail time.
Hubbard's crimes are some of the most heinous perpetrated against civil society.
Public corruption undermines the rule of law and the principles of good government and is an offense more potent than property theft, drug use, or other nonviolent crimes because it rips apart the very fabric of society and its trust in the foundations of the republic.
A corrupt politician's actions subvert the very meaning of representative government.
Hubbard is not now a danger to society, or a threat to the public because he is behind bars. But make no mistake he is a menace to public good. Even before his indictment, Hubbard used every scheme at his disposal to thwart justice, entice lying and manipulate public trust. And now he wants one more shot at corrupting the system.
There are only two occasions when every individual should expect equal treatment: when they stand before a court of law and when they stand before their maker. Yes, a wealthy defendant like Hubbard can afford better legal representation, but it doesn't mean he can purchase special justice.
Hubbard has been given preferential treatment by lawmakers, the media, and even some on the courts. All along the way, Hubbard was handled with kid gloves and given unwarranted privilege.
McKnight and Dillard argue with a straight face that letting Hubbard out of prison early will, "Preserve scarce prison bed-space for habitual offenders and others from whom society needs protection… [and] more likely result in the defendant's rehabilitation than incarceration."
The word rehabilitation is used several times in Hubbard's most recent court filings as if somehow allowing him to avoid prison time will serve to rehabilitate him. To this day, Hubbard doesn't believe he's committed a crime, so how is rehabilitation possible?
His attorneys lastly make the most laughable argument possible by indicating Hubbard has suffered enough.
"[The] Court should consider the punishment that Hubbard has already suffered. The convictions in this case alone have resulted in a wide range of punishments which include his removal from office, the loss of his right to vote, the divestment of his business interests, and his current incarceration."
Suffered enough?
When lawmakers break ethics laws, it upends society because it shatters trust while nullifying the social contract that binds us together in peace and safety.
State ethics laws are an attempt to force the government to rule themselves honestly.
Hubbard ignored the very ethics laws he championed and would do it all again.
He deserves punishment for his unlawful acts, and his prison sentence should stand as a reminder to others that justice doesn't play favorites.
Hubbard did the crime, and he should serve the time.