Moores' Foundation for Moral Law threatens legal action against Washington Post

By Chip Brownlee
Alabama Political Reporter
The Foundation for Moral Law — a right-leaning legal advocacy group founded by US Senate candidate Roy Moore and headed by his wife, Kayla Moore — threatened legal action against the Washington Post on Wednesday night in response to a series of articles highlighting Moore's relationship with the nonprofit organization.
Trenton Garmon, a Gadsden, Alabama, attorney representing the Foundation requested the Post cease and desist "from making false statements about the Foundation and its founder," the Foundation said in a statement.
"Garmon further advised the Post that if they do not promptly comply with the Foundation's demands, legal action will be forthcoming," the Foundation said.
The Post's investigative unit published a series of pieces in October including one that reported Moore took a $180,000-per-year salary from the Foundation even after saying publicly that he did not take a "regular salary.
From 2007 to 2012, Moore collected $1 million in compensation as president, far exceeding the total disclosed in the group's public tax filings, according to the Post's report. Part of the payments was given in the form of a promissory note for back pay worth $540,000 or an equal stake in the group's historic headquarters in downtown Montgomery.
The Post has not issued any corrections to the story, signaling that the newspaper stands by its reporting. The newspaper responded to the Foundation's criticism and criticism from Moore's campaign, saying it supported its reporters' work.
Moore's campaign chairman Bill Armistead has called the reports "hit pieces" and accused the paper and its reporters of being biased against Moore, who is facing Democrat and former U.S. Attorney Doug Jones in the December special election.
"Judge Moore is an honorable man who has served the public according to the highest of ethical standards and in accordance with the law," Armistead said in October. "The Washington Post should retract its story immediately and fire the reporters who cooked up this latest batch of fake news."
Another report from the Washington Post said Moore did not report to the Internal Revenue Service that the Foundation guaranteed him $498,000 in back pay in 2011. The promissory note would have generated a $100,000 tax bill, according to five tax experts and accountants interviewed by the Post. The note could have been cashed in on demand.
The promissory notes were later updated to the $540,000 amount in 2012.
Of a total pay of $1,050,000 from 2007 to 2012, the Foundation only disclosed $977,892 of it, according to the public tax filings and internal documents reviewed by The Post.
Moore's campaign has said he wouldn't have to pay taxes on the promissory note until he cashed it in, which his campaign said he has yet to do, citing their own tax experts.
"The Washington Post recently published a number of hit pieces on Judge Moore and how he was compensated by the Foundation for Moral Law for work performed on their behalf," Armistead said in October. "The stories have contained misrepresentations and inconsistencies designed, not to tell the truth, but to hurt Judge Moore politically."
Armistead pointed to the two different numbers in the separate reports as contradictions, though the Post was referring to the 2011 total of $498,00 in the second report and the 2012 grand total of $540,000 in the first report.
The Post based their articles off of public and internal charity documents, their review of which found that "errors and gaps" obscured the compensation to Moore. The Foundation, founded in 2002 by Moore, is a 501(c)(3) nonprofit that opposes same-sex marriage, abortion and transgender rights, supports public prayer and advocates against strict interpretation of the separation of church and state.
The attorney representing the foundation went on to demand the Washington Post "remove any and all false statements from its media sites, notify its constituents and other media that the statements were false, and advise the Foundation of the number of people who visited the sites containing the false information."
One more article from the Washington Post's investigative unit reported that the Foundation historic building is up for sale, which could allow Moore to cash in on the $540,000 in back pay because the promissory note was backed by a second mortgage on the Foundation's headquarters.
Polls currently show Moore leading Jones in the race to be Alabama's next senator.
"A tidal wave:" ICU beds scarce as Alabama breaks another hospitalization record
Infectious diseases experts worry if hospitals will have enough staff to handle "what might be a tidal wave of patients in the next month."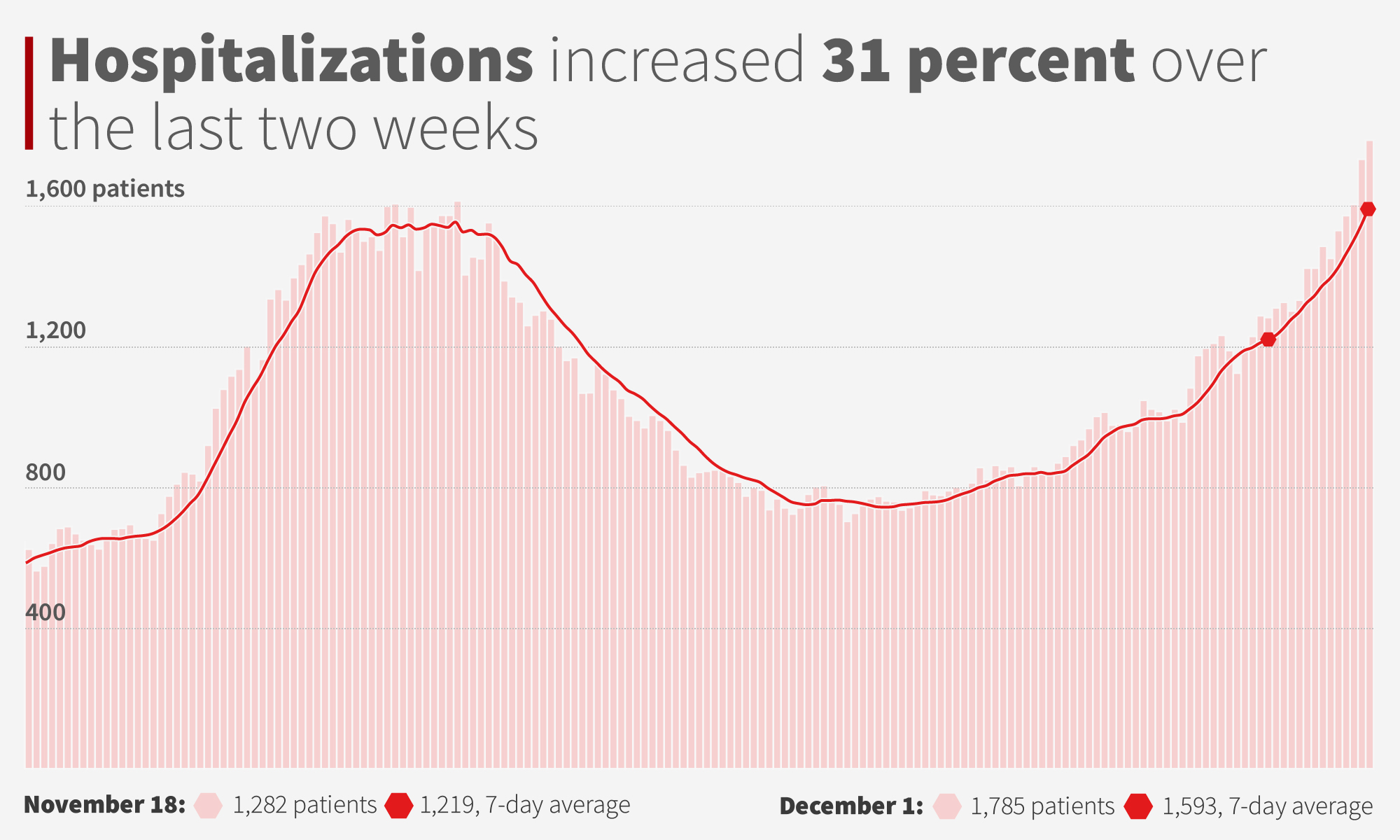 There were no intensive care beds available in Mobile County on Tuesday, the second day in a row Alabama set a record for hospitalized COVID-19 patients, and if models hold up, there could soon be the need to set up temporary medical facilities outside of hospitals, according to a UAB infectious disease expert. 
Dr. Jeanna Marrazzo, director of UAB's Division of Infectious Diseases, told reporters on Tuesday that looking at some models that forecast what might happen in the three weeks after Thanksgiving "you could conceivably see a true need for setting up ancillary care places in three weeks." 
"I hope that doesn't happen. Are we looking at the kind of situation that New York City experienced in March? A lot depends on what happened over Thanksgiving weekend," Marrazzo said, referring to the use of tent hospitals in New York City during the early spring surge there that overran hospitals. 
UAB had a record high 125 COVID-19 patients hospitalized on Monday and Tuesday, and Huntsville Hospital also set a new record Tuesday, with 317 hospitalized. There was a record high 1,785 COVID-19 hospitalizations statewide on Tuesday, and on Monday there had never been fewer intensive care beds available in the state. 
Marrazzo said the health care workforce continues to work valiantly and are "struggling very hard." What keeps her up at night, she said, is worrying if hospitals will have enough staff to handle "what might be a tidal wave of patients in the next month." 
"It may not look like we can affect what's going to happen in two to three weeks, post-Thanksgiving, but we can impact what happens around Christmas time and after that," Marrazzo said. 
The death toll from COVID-19 continues to increase across most of the country, Marrazzo said. On average, the U.S. is seeing between 1,400 and 1,600 people lose their lives to coronavirus each day, she said. In Alabama, at least 3,638 people have died from COVID-19.
Alabama reported an additional 60 deaths on Tuesday and has averaged at least 24 deaths reported each day over the last two weeks.
Each morning, Marrazzo gets a list of those admitted to UAB for COVID-19, those discharged and those coronavirus patients who have died. Not a day goes by when there isn't one name on that list of someone who didn't make it, she said. 
"And I think about that person, and I think about their family," Marrazzo said. "And unfortunately those numbers, as I mentioned before, are going up, and the balance of people being admitted is higher than the number of people who are being discharged." 
Alabama added 3,376 cases on Tuesday, which was the largest single-day case increase, excluding when on Oct. 23 ADPH added older backlogged test results. Tuesday's high number was the product of a delay in reporting to ADPH due to the holiday weekend, the department said in a data note. 
Still, Alabama's case count continues to increase alarmingly and testing is still down, Marrazzo explained. The state's 14-day average of new daily cases on Tuesday was at 2,289. That's a 28 percent increase from just two weeks ago. 
"This is a really, really scary inflection point, "Marrazzo said, "and I don't think that we are going to be able to turn it around without experiencing some more stress and some more pain." 
The positivity rate in Alabama over the last week has been an average of 32 percent, more than five times as high as public health experts say it should be to ensure there are enough tests and cases aren't going undetected. 
"If we would test more we would probably find more, so I think these numbers are an underestimate," Marrazzo said. 
Asked what has gone wrong, that even with the knowledge of how people can protect themselves — wearing masks, practicing social distancing and staying home as much as possible — we're still seeing huge spikes, Marrazzo described a complicated set of circumstances. 
"Is it because they don't believe it's going to affect them?" she asked. 
At first, COVID-19 was something happening in China, and then it moved closer to home, Marrazzo explained. Next, it became a question of "well, it's older people who are getting sick," and there was a sense of invulnerability among the young, who thought they'd be fine and that they wouldn't infect others, she said. 
"And then I think even for people who have been trying to be good there's a huge amount of fatigue," Marrazzo said. Even health care workers become worn down, and may take risks they know they shouldn't and become infected in their own communities, she said. 
"I think we've been hammering it home, but I also think in some ways, we need to do it in a way that's sympathetic and not angry," she said. "Because yeah, I'm pretty upset about what's going to happen in the next couple of weeks, but getting angry with people and shaming them is not the answer at this point, so I think all we can do is to continue to report on the facts."