Canary-Hand dumpster fire leads to emergency conference call; PAC plan revealed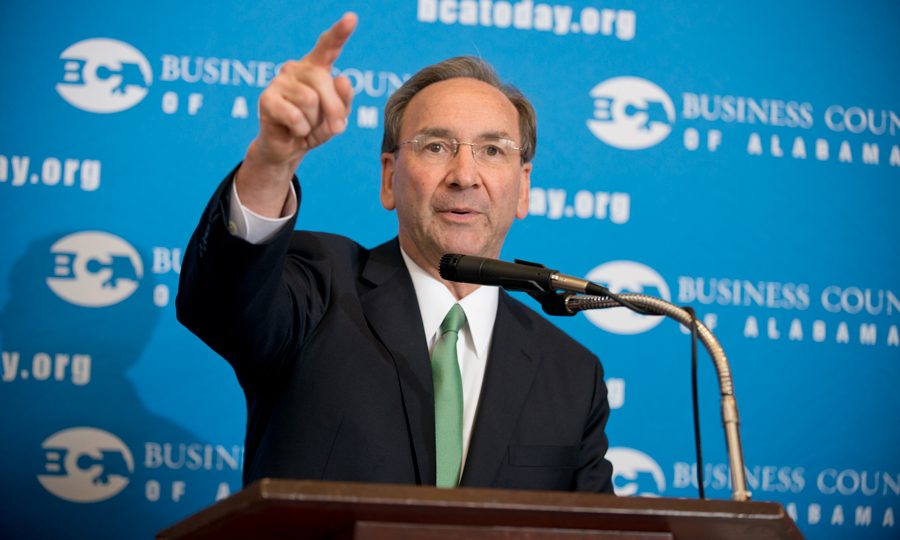 A scramble to save embattled Business Council of Alabama C.E.O. Billy Canary led to an emergency conference call with the group's executive committee early Monday morning.
Organized by Canary and current BCA Chairman Perry Hand, the call was to "dispel" inaccurate reports about Canary's status at BCA, even though it was acknowledged that Canary would be leaving his post at some point in the future.
According to sources privy to the conversation's substance, Canary read an opening statement followed by a rambling diatribe by Hand, who is unhinged because, "BCA is leaking like the Titanic," according to Alabama Political Reporter's insider.
Oddly, executive committee representatives from Alabama Power and Regions Bank were not asked to join the call, as these corporate entities are among those demanding Canary's removal.
"Canary can basically lay the foundation for a lobbying group using Progress PAC money," said an APR source. "Then Perry can ensure that Volkert enjoys the spoils along with Billy," according to APR sources.
In Canary's statement, he said that he's most proud of the fact that he created a unified organization at BCA and that the organization is financially sound.
"This is laughable," said an individual with direct knowledge of the call. "BCA is about to splinter into a thousand pieces, and the biggest contributors are threatening to pull out, and this Dodo bird says he's made it unified and financially stable. Give me a break."
According to those on the call, Hand said Canary would be leaving on his timetable and he wasn't kowtowing to anyone no matter what.
BCA rank-in-file staffers now say that Canary and Hand's plan is being talked about opening at BCA headquarters.
The plan, according to several staffers, is about infrastructure. Hand is fighting for Canary to stay through the elections so that he and Canary can use BCA's Progress PAC to fund candidates who will support a gas tax to pay for massive infrastructure projects.
"Canary can basically lay the foundation for a lobbying group using Progress PAC money," said an APR source. "Then Perry can ensure that Volkert enjoys the spoils along with Billy," according to APR sources.
Hand's firm, Volkert Inc., has made nearly $100 million off state taxpayer-funded projects since the Republican takeover, with the bulk coming after Hand took leadership roles at BCA.
Does Volkert chairman have millions of reasons to support Canary at BCA?
Several candidates have said the litmus test for receiving Progress PAC support is to affirm that the candidate will support a gas tax for infrastructure.
The idea that Canary is using Progress PAC to build a lobbying firm while guaranteeing Volkert and Hand make money, too, is not exactly in line with why people give money to the PACs, according to BCA insiders.
After last week's revelation that the state's seven largest corporations are demanding Canary's removal, he and Hand launched into crisis mode to stymie the growing clamor for Canary's ouster. Hand, chairman of Volkert Inc., a Mobile-based engineering firm, is the only man standing between corporate CEOs, lawmakers and a host of others who long ago realized Canary was dragging the once prominent business organization through the mud to save his skin. From questionable campaign donations to the heavy-handed tactics that have angered legislative leaders, Canary is on an unstoppable downward spiral.
Canary, who once bragged about his D.C. connections is now persona non grata in the office of Alabama Senior U.S. Sen. Richard Shelby.
However, according to a current board member, Canary and Hand continue to mislead other members of the executive committee, saying all is well and this is just "fake news" from the Alabama Political Reporter. Far from vain imaginings, those calling for Canary's head are prepared to cripple the BCA unless Canary is removed quickly.
Canary who once bragged about his DC connections is now persona non grata in the office of Alabama senior US Sen. Richard Shelby.
Hand is struggling to keep Canary around until after the election so they can push mutually beneficial infrastructure legislation, but as campaign filings show, BCA is betting on some long-shot races. BCA's Progress PAC donated $125,000 to Attorney General Steve Marshall and $100,000 to Supreme Court Chief Justice Lyn Stuart. Both are trailing in the polls with little chance of making up the difference with only 40-some days until the Republican primary. Marshall is third in a three-way race with former U.S. Attorney Alice Martin and former Attorney General Troy King. King, according to recent polls, is besting both Marshall and Martin by double digits. As for the chief justice contest, even BCA's polls show Associate Justice Tom Parker trampling Stuart in the Republican primary.
This is reminiscent of Canary's $125,000 bet on Matthew Brown for state school board member. Brown, like Marshall and Stuart, were appointed by disgraced Gov. Robert Bentley. (Stuart was appointed acting chief justice by Bentley and then elevated by Gov. Ivey). Canary's motivation in supporting Brown who was soundly beaten was to ensure his friend, former Gov. Bob Riley, continued to make money off his Student Scholarship Organization. Canary spent close to a million dollars on other losing races.  It now appears that, once again, Canary will use BCA's Progress PAC to help himself and his buddy, Hand.
Print this piece