Lieutenant governor candidate Will Ainsworth makes massive ad buy
In a campaign that has yet to see any massive television ad buys, Republican candidate for lieutenant governor Will Ainsworth is making the first big splash.
Ainsworth campaign on Tuesday said it had made a television, digital and social media ad buy that totals in at more than $1 million — the most of any candidate so far in the 2018 statewide elections.
The first-term House representative, who sponsored a piece of controversial legislation last session that would give public school teachers the ability to get appropriate training and carry firearms on school grounds, made the ad buy with the intention of introducing himself to voters.
The ad discusses Ainsworth's Christian faith.
"Unlike his career politician opponents, Will Ainsworth is a fresh face with new ideas, and this ad will help voters learn what guides his beliefs, thoughts, and actions," Ainsworth campaign director Lewis McDonald said. "As a former youth pastor, Will has a devout commitment to his Christian faith, and he will lead the fight to preserve the morals and values that the Bible instructs us to follow."
Ainsworth is running against GOP Public Service Commission President Twinkle Cavanaugh, who considered a run for governor before deciding to run for lieutenant governor instead. Cavanaugh is a former ALGOP chairwoman.
Ainsworth, who is from Guntersville, represents portions of Marshall, Blount, and DeKalb counties. The ad is airing on network and cable stations across the state as well as in digital and social media formats, the campaign said.
According to the most recent campaign finance filings from March available on the secretary of state's website, Ainsworth had a balance of more than $1 million in his campaign accounts. Ainsworth has yet to file his most recent report, and the ad buy had not yet posted.
So far, Ainsworth, who loaned his campaign $500,000 in August, has raised $879,000 in contributions.
Cavanaugh, has raised more than $960,000 in cash contributions and started out her campaign with a large loan she and her husband made to her campaign. She has $698,838 in cash on hand, according to campaign finance filings from Wednesday.
The GOP primaries are scheduled for June 5.
GOP candidate Tommy Tuberville leads Trump "boat parade" in Orange Beach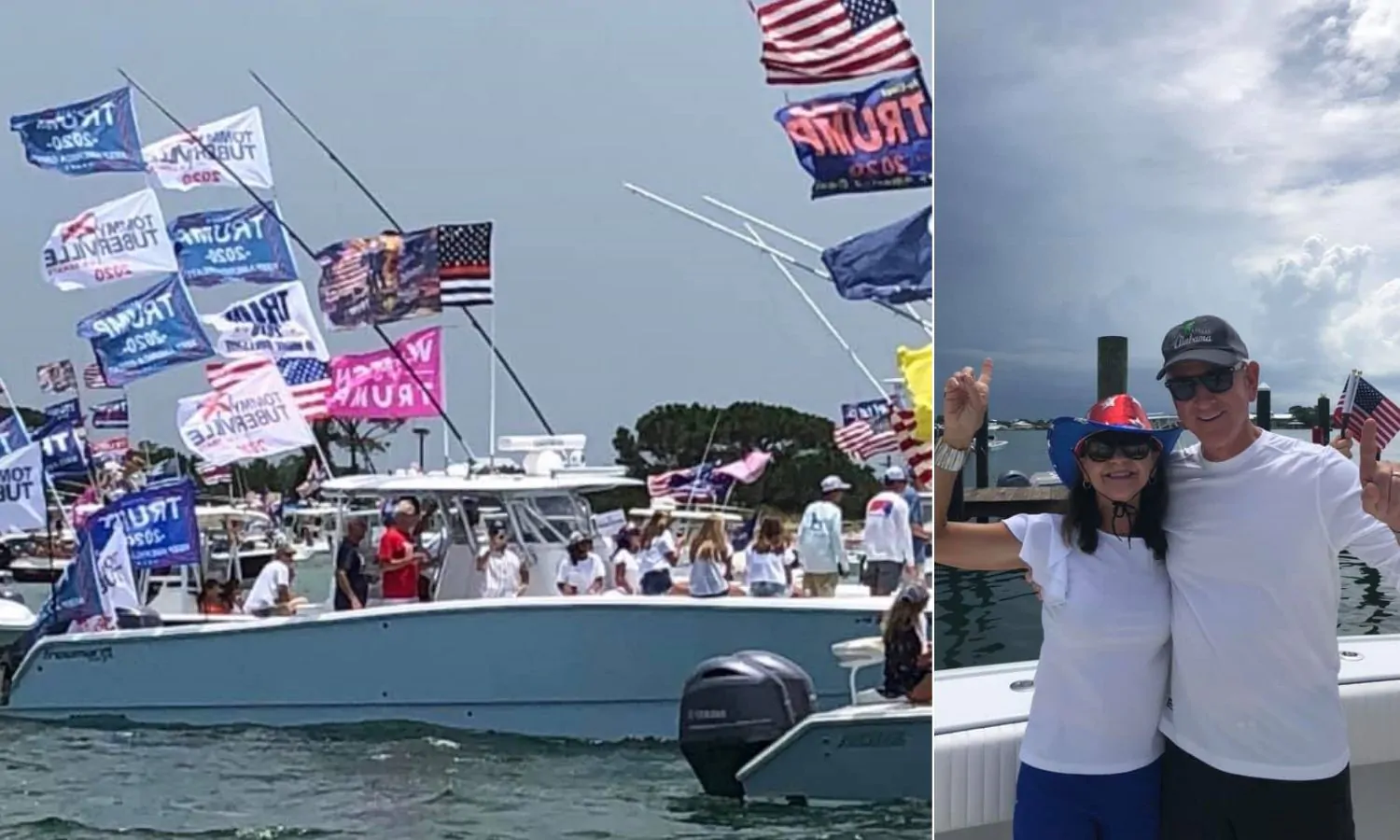 Senate candidate Tommy Tuberville rode in the lead boat in a "boat parade" on Sunday in Orange Beach, celebrating Independence Day and the launch of President Donald Trump's re-election campaign.
Hundreds of boats participated in the Trump parade in the Perdido Pass area. WKRG TV estimates that more than 8,000 people joined. Orange Beach and Gulf Shores boats joined boats from Pensacola and Dauphin Island.
Trump supporter and Alabama Republican Executive Committee member Perry Hooper Jr. was also present.
"It was Awesome having Coach Tommy Tuberville on The TRUMP Boat at Orange Beach Alabama," Hooper said. "Tommy was a Great Coach and he will be a Great US Senator. It's Great To Be A TRUMP/ TUBERVILLE AMERICAN. Everybody was so Happy cheering for The President and Tommy on! Fun Day!"
Hooper is a former state representative from Montgomery.
Tuberville is a former Auburn University head football coach. The Arkansas native lives in Auburn.
President Donald Trump spoke at Mount Rushmore in South Dakota on Friday.
"Today we pay tribute to the exceptional lives and extraordinary legacies of George Washington, Thomas Jefferson, Abraham Lincoln, and Teddy Roosevelt," Trump said. "I am here as your president to proclaim before the country and before the world, this monument will never be desecrated, these heroes will never be defamed, their legacy will never ever be destroyed, their achievements will never be forgotten, and Mount Rushmore will stand forever as an eternal tribute to our forefathers and to our freedom."
Trump accused opponents of trying to dismantle America.
"Make no mistake. This left-wing cultural revolution is designed to overthrow the American Revolution," Trump alleged. "In so doing they would destroy the very civilization that rescued billions from poverty, disease, violence, and hunger, and that lifted humanity to new heights of achievement, discovery, and progress. To make this possible, they are determined to tear down every statue, symbol, and memory of our national heritage."
"President Trump has given several good Speeches," Hooper said. "This Speech was by far his best! It was straight up AWESOME! His speech was all about the Greatness of America! President Trump loves our Country and its great History. President Reagan has given some of the best speeches ever. This speech topped Reagan's best. As for Perry O. Hooper Jr., I would get in a foxhole and fight for him to the end. God Bless President Donald J. Trump and GOD BLESS THE USA!"
Trump faces a stiff challenge from former Vice President Joe Biden, who is leading in the polling.
Tuberville has been endorsed by Trump in the July 14 Republican primary runoff for U.S. Senate. Tuberville faces former Sen. Jeff Sessions.