A case of mistaken candidate identity could embarrass the ALGOP
It's one of the oddest, and most embarrassing, cases of mistaken identity in recent Alabama political history.
According to recent polling, James Bonner is leading Jeremy Oden in a race for a seat on the Alabama Public Service Commission.
No, not that James Bonner.
It doesn't matter which James Bonner you were thinking of, it's a different guy.
This Bonner — the one who resides in Bear Creek and who has never held public office despite several attempts — is set to embarrass the ALGOP like few other candidates.
On Monday, APR editor in chief Bill Britt wrote about a number of highly offensive Facebook posts by Bonner, including posting a Valentine's Day card that read: "My love for u burns like 6,000 Jews." There are other posts about strippers and an old blog post that inexplicably uses a racist rhyme.
Yet, because voters — mainly voters in south Alabama — are confusing James Bonner with a longtime congressman, he's running neck and neck in the GOP primary.
"What makes this particular race so interesting is that Jim Bonner is benefiting greatly from having the same last name as the former Congressman Jo Bonner and his well-known sister, former Judy Bonner," noted pollster and Cygnal president Brent Buchanan told Britt. "This is borne out by the fact that in the Mobile media market Bonner leads Oden by 28 percent to 6 percent, a 4-to-1 ratio."
Should James from Bear Creek manage to pull off this "Distinguished Gentleman," it could be a disaster for the ALGOP. Because his problems go well beyond a few offensive Facebook posts.
Bonner has filed multiple bankruptcies, has been cited by the IRS for failing to pay his federal income taxes for several years and owes his ex-wife more than $40,000 in back alimony. He also claimed during his most recent bankruptcy proceedings in 2016 that he is too disabled to work, and thus avoid paying his full alimony payments, yet he's been able-bodied enough to run for public office five times over the last eight years.
And it gets worse.
Bonner entered into a bankruptcy agreement to repay his debts, which totaled into the six figures, and then he failed to pay the agreed-upon bankruptcy payments. That failure resulted in his bankruptcy agreement being dismissed — an extremely rare action by the courts and one that could see him face criminal charges over his back taxes.
And that's not the end of it.
His campaign finance reports are also a mess. Most of his forms have been filed hopelessly late and are filled with incorrect info. He also has failed to report a single donation — outside of a loan he made to his campaign fund — to any of his various campaigns.
Following APR's initial report on Monday, Bonner began scrubbing his Facebook page clean of the offensive posts. In response to the story, which he linked, he claimed his various offensive posts were made "make liberals angry." He did not deny making any of the posts.
Print this piece
Sessions attacks Tuberville's views on China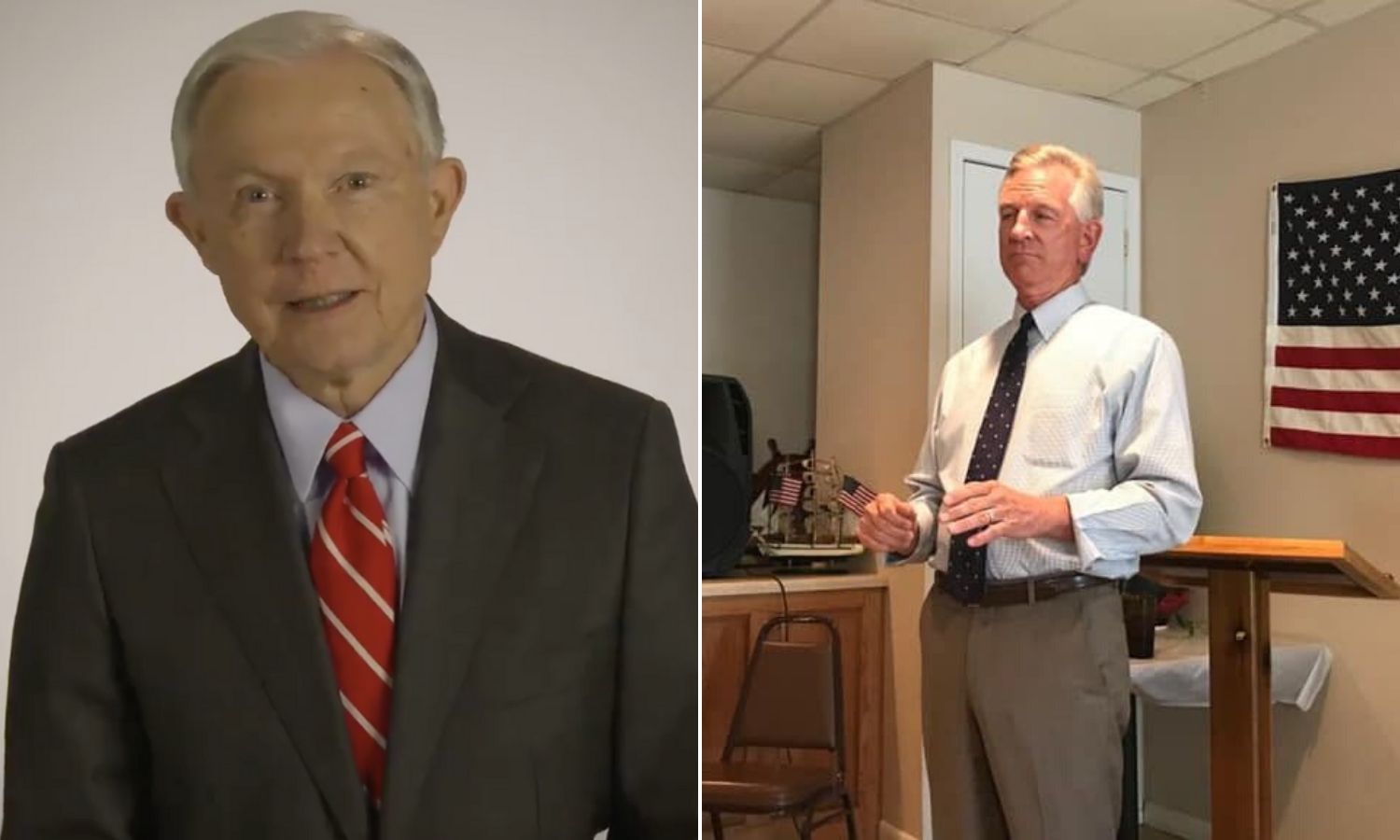 Former Sen. Jeff Sessions, R-Alabama, rolled out an ambitious, comprehensive plan to hold the Chinese government accountable for what Sessions called a cover-up of the coronavirus that has killed tens of thousands of people and devastated economies worldwide.
In an interview Thursday on the Matt & Aunie radio show on Talk 99.5 in Birmingham, for Auburn head football Coach and current GOP Senate candidate Tommy Tuberville expressed his views on China.
Matt Murphy asked: What do you see happening with China?
"Well, we can't worry about China right now…" Tuberville responded.
"You say you don't need to worry about China, but this came from China and our economy depends on China," Murphy asked on follow up. "Specifically how to overcome some of that dependence on Chinese goods and specifically in the pharmaceutical industry because right now we're dependent on the country that covered this up."
"Now we're seeing firsthand the results of letting everything go to China," Tuberville said. "The good thing about this is we'll have manufacturing come back and drugs and all those things….we're headed in that direction, just the simple fact that we can't control our own destiny. Everything's controlled by China. But that'll take care of itself."
During the show, Tuberville also characterized the Wuhan Virus, which has killed over 53,000 people and infected more than 1 million people across the globe, which then including over 1,300 people in Alabama, as "just a virus."
Jeff Sessions issued a statement critical of Tuberville on Friday in response.
"Amazingly, Tommy Tuberville said yesterday, 'We can't worry about China right now,"" Sessions quoted. "China is where the virus is from, and their deliberate lies hid the danger and resulted in a pandemic that never should have happened. We must take on China now and win, not run scared like Tommy Tuberville."
"There are over 1 million infected with the Wuhan Virus, and more than 1,300 in Alabama already," Sessions continued. "This is serious. But Tommy Tuberville said yesterday that 'this is just a virus.' What planet is he on? Tuberville is clueless. No wonder he's scared to debate me. We must stop relying on China for our critical medicines and equipment. I have a detailed plan to fix it. Amazingly, Tuberville also said yesterday, 'Everything's controlled by China, but that'll take care of itself.' Wrong! We must lead with action, this will not 'take care of itself.'"
On Thursday, a U.S. intelligence report claimed that China understated the damage that the coronavirus was doing in their country.
"Alabama's next Senator must be a leader who has the drive and determination to push a Congress that is too often unwilling to confront the critical issues of our time," Sessions continued. "I have proven my willingness and preparedness to lead from Day One. Tuberville is weak: all talk and no action."
Sessions is a former Senator, U.S. Attorney General, Alabama Attorney General, Chairman of the Alabama Republican Party, U.S. Attorney, asst. U.S. Attorney, and U.S. Army Captain.
The Republican primary runoff has been moved to July by Alabama Governor Kay Ivey (R) due to fears of the coronavirus. The virus is believed to have originated in Wuhan City, Hubei Province, China in late 2019.
As of press time, 10,943 Americans have died from COVID-19 including 53 Alabamians. 367,650 Americans have been diagnosed with COVID-19, including 2,006 Alabamians. At this point, only 240 Alabamians are confirmed hospitalized with COVID-19.
COVID-19 is the medical condition caused by a strain of coronavirus first identified late last year in Wuhan City, Hubei Province China, SARS-CoV-2. Since then it has spread across the globe infecting 1,346,566 persons that we are aware of killing 74,697 people.
The winner of the Republican primary runoff will then face Senator Doug Jones (D-Alabama) in the November election.
Print this piece