Here's what you need to know for this week in Alabama politics:
ADC endorses in key races

Throughout this week, the Alabama Democratic Conference officially weighed in on who they believe should head the Democratic ticket for high-profile races.
The endorsements are key to winning the Democratic primaries slated for less than two weeks from now. In the gubernatorial race, their endorsement could bring a decisive end to what could be a competitive race.
ADC announced last Saturday that Tuscaloosa Mayor Walt Maddox officially won their approval. Their endorsement came after Maddox won the endorsement of many key Democratic lawmakers and the New South Coalition.
The heavy-hitting endorsements put his opponent, former state Supreme Court Chief Justice Sue Bell Cobb, in a difficult position. Cobb is charging ahead without the endorsements and hopes that her adept experience in running a statewide campaign will see her to victory in June.
They also announced two endorsements in two Congressional races.
In Alabama's 2nd Congressional District, they endorsed Tabitha Isner, who has built her campaign on grassroots donations. Isner is hoping to unseat U.S. Rep. Martha Roby, who has retained control of the seat for the GOP since 2010.
Roby is facing a crowded primary with her opponents mostly her taking back her endorsement of Trump during the 2016 presidential election amid the infamous Access Hollywood tape.
ADC also announced their endorsement for Mallory Hagan in Alabama's 3rd Congressional race.
AEA settles dispute with state over running of MPS
Settling what could have been a long dispute, the Alabama Education Association announced on Wednesday a compromise between their organization and the state Department of Education.
Their dispute was over the Montgomery takeover, which has gone on now under two different superintendents and one interim superintendent.
In the final agreement, the organization agreed to the sale of Georgia Washington Middle School with certain assurances from MPS and the state government.
On the top of the list was an agreement that the legacy of the school would be preserved despite its changing hands from MPS to Pike Road Schools. It also included plans to lessen outsourcing and firings that have been a popular tactic of the Montgomery takeover under Interim Superintendent Ed Richardson.
APR investigative reporter and columnist Josh Moon gave his take in a new analytical piece published on Friday.
James Bonner's Facebook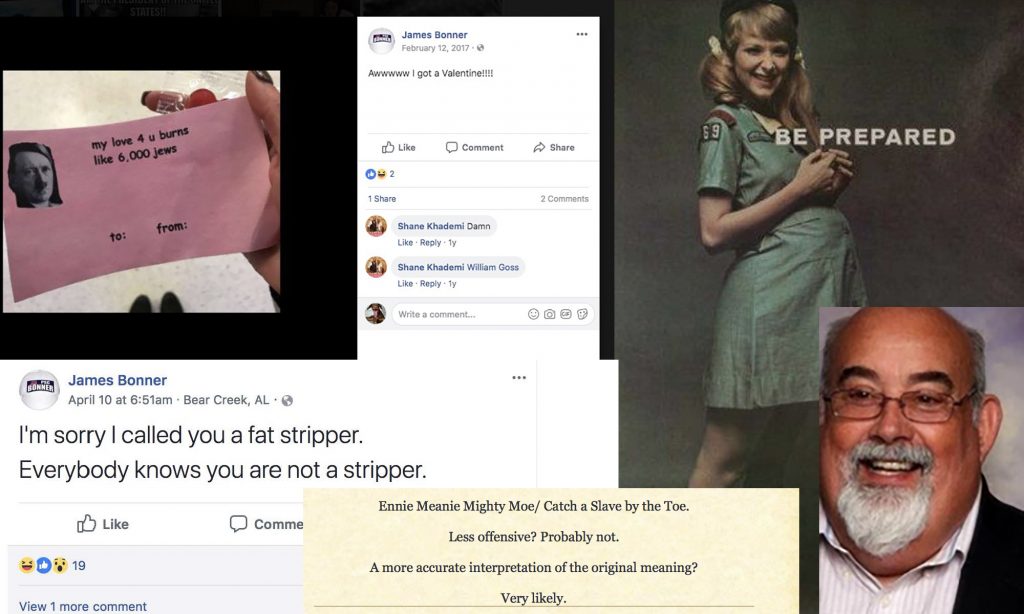 In odd news this week, James Bonner, a candidate for Public Service Commission position 1, drew attention after Facebook posts were found.
APR published a detailed story on Monday with posts on Bonner's Facebook page. Among them, were posts that referenced a Holocaust themed Valentines card, racial slurs, and fat strippers.
Brent Buchanan, a pollster and president of a polling company, said that Bonner was leading most likely due to a case of mistaken identity. Buchanan said that Bonner is probably being confused with popular Congressman Jo Bonner, who retired in 2013.
Since APR published the story on Monday, Bonner's campaign has hit back at the story and called it a "hit job." APR Columnist and Investigative Reporter Josh Moon had a strong response.
Everything Else
On Thursday, former GOP U.S. Senate candidate Roy Moore was scheduled to hold a press conference to announce a new lawsuit. That conference was postponed until lawsuits already filed make their way through the court system.
Moore is currently entangled in a legal battle with his accuser Leigh Corfman, who alleges that Moore inappropriately touched her when she was 14. Moore denied the charge, but Corfman filed a defamation lawsuit against Moore a few months back.
Moore is counter suing Corfman for political conspiracy.
U.S. Rep. Mo Brook and Attorney General Steve Marshall announced a new lawsuit against the U.S. Census Bureau over their procedures in the 2020 Census.
At the center of their argument is the concern that Alabama may lose a seat in Congress after the new census.
In a statement from Marshall, the attorney general said that the Census counting gave an unfair advantage to states that have a high number of immigrants that illegally entered the country.
That's all for this week.