Sen. Jabo Waggoner endorses Gerald Dial for agriculture and industries commissioner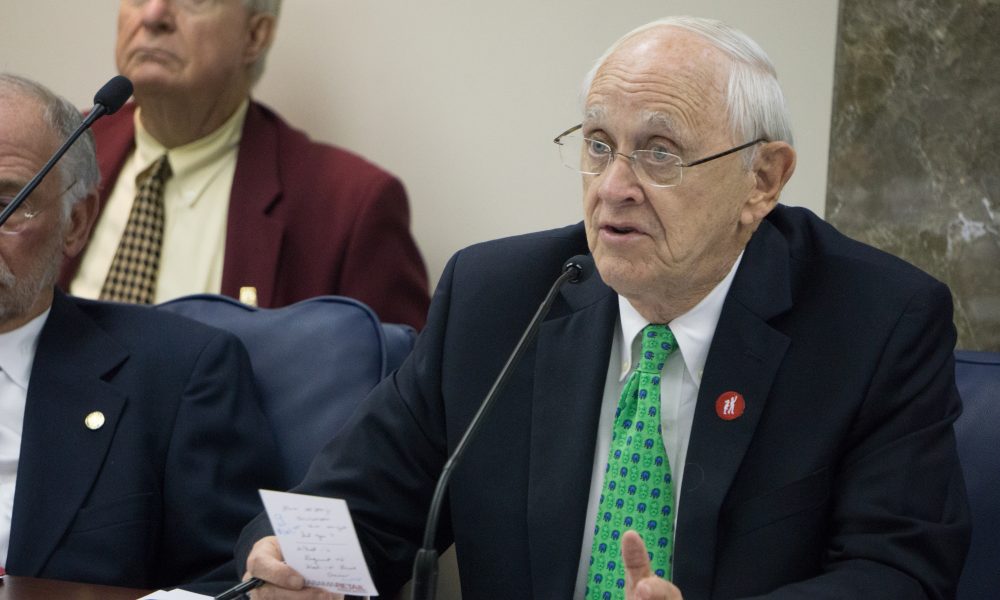 Sunday, state Senate Rules Committee Chair James Thomas "Jabo" Waggoner (R-Vestavia) endorsed fellow state Senator Gerald Dial (R-Lineville) for Commissioner of Agriculture and Industries.
"Over the years, I have been privileged to serve in the Legislature with Gerald Dial," Waggoner said. "I have observed first-hand his tireless work to pass legislation that benefits Alabama's agriculture community, food safety, our state's business growth, and our K-12 education funding. As a leader in the Senate, Gerald's vision was to ensure that Alabama was second to none when it comes to creating jobs, keeping taxes low and that our agriculture community would be one of the best in the nation. Gerald also has an eye to jobs of the future like the Alabama Space Authority – which he sponsored and passed. I trust Gerald Dial and I know he will continue his record of excellence and commitment to you as Alabama's next Commissioner of Agriculture and Industries. Gerald has dedicated his public career to a better Alabama for all. Please join me on July 17 and vote for Gerald Dial."
State Senator Gerald Dial (R-Lineville) is a native of Clay County, Alabama. Dial is a retired coach and teacher. He is also a retired Brigadier General in the Alabama National Guard. Today he is a small businessman and timber farmer. Dial has served on the Lineville City Council. He served in the Alabama House of Representatives from 1974 to 1982. Dial served in the state Senate from 1983 to 2006 and again from 2010 to the present. Dial decided not to run for re-election to the Senate and instead is running for Commissioner of Agriculture and Industries.
Waggoner has served almost fifty years in the Alabama House of Representatives and state Senate.
Dial is endorsed by the NRA, Alabama Citizens for Life, Senator Jim McClendon (R-Springville), and Dr. Stan Cooke.
Dial's opponent in the Republican primary runoff is Rick Pate. Pate is the Mayor of Lowndesboro, a timber farmer, owns a beef cattle farm that is noted for its Registered Charolais cattle, and is owner of a Montgomery landscaping company.
Current Commissioner of Agriculture and Industries John McMillan (R) is term limited from seeking a third term. McMillan is the Republican nominee for state Treasurer. McMillan has no general election opponent.
The Republican primary runoff for Commissioner of Agriculture is likely winner take all as no Democratic candidate qualified for the office.
FarmPAC endorses congressional candidate Barry Moore
"I'm pleased that FarmPAC has seen fit to endorse me in this election," Moore said.
Republican congressional candidate Barry Moore thanked the Alabama Farmers Federation political action committee, FarmPAC, for endorsing Moore in next week's 2nd Congressional District general election race.
"I've always been proud of the fact that I grew up on a farm," Moore said. "Farm life teaches you to respect God's good earth and everything in it. It taught me the value of hard work, and that not everything, like the weather, will always go the way you want it to no matter what you do or how hard you work. That's something I think a lot of people these days could do with learning."
"I'm pleased that FarmPAC has seen fit to endorse me in this election," Moore said. "I'll continue to be a strong supporter of our farmers and all the businesses that support and rely on them, just like I've always been. District 2 is an agricultural district first and foremost, and we can't forget that."
"I look forward to working in the next Congress to support Alabama's farmers and agribusiness by making it easier for them to access new markets and new technologies," Moore added. "We also need to make sure they aren't weighed down by excessive regulations and have the backing they need from Washington to compete globally. I have every confidence that, given a chance, Alabama's farmers can compete with anyone, anywhere. My job in Congress will be to make sure they have that chance."
A full list of FarmPAC's endorsements is available here. FarmPAC previously endorsed Dothan businessman Jeff Coleman in the Republican primary, but he was bested by Moore in a Republican primary runoff.
Moore faces Democratic nominee Phyllis Harvey-Hall for the open seat.
Moore is a veteran, small businessman, husband, and father of four from Enterprise. Moore and his wife, Heather, own a waste management business in Enterprise. Moore was elected to the Alabama House of Representatives in 2010 and re-elected in 2014.
Incumbent Congresswoman Martha Roby, R-Alabama, is retiring from Congress after five terms.