Pate denies domestic violence court record tell the real story

Agriculture Commissioner candidate Gerald Dial on Wednesday released documents filed in the Circuit Court in Montgomery County from his opponent Rick Pate's 1986 divorce, which prove that Pate's then-wife Carolyn Elizabeth Konrad Pate received a court issued restraining order, something very rare in that era.
Pate is denying these claims, but records tell the story of what his wife told the court in sworn testimony.
Court records show that the former Mrs. Pate "avers that the Husband has committed actual violence to her person and from his manner and conduct toward her, she is reasonably convinced that he will commit further violence upon her person, intended with danger to her life and health."
A restraining order against Pate was issued shortly after that by Circuit Judge Lynn Bright pending a final hearing before Judge James P. Woodson, III.
"Rick Pate has accused me of lies and mudslinging in this campaign, but these documents clearly show that I've told nothing but the truth," said Dial. "His former wife made serious charges against him, and the Judge obviously took them seriously enough to issue a restraining order against him."
"Rick Pate has tried to deny this ever happened, but the court records are proof. His former wife's sworn statement speaks for itself.
Mr. Pate can deny all he wants, but the facts are clear. Instead of deny, deny, deny, he needs to be honest with the people of Alabama and explain his wife's allegations and the restraining order against him."
Dial and Pate are in the Republican runoff election for Commissioner of Agriculture and Industries on July 17.
GOP candidate Tommy Tuberville leads Trump "boat parade" in Orange Beach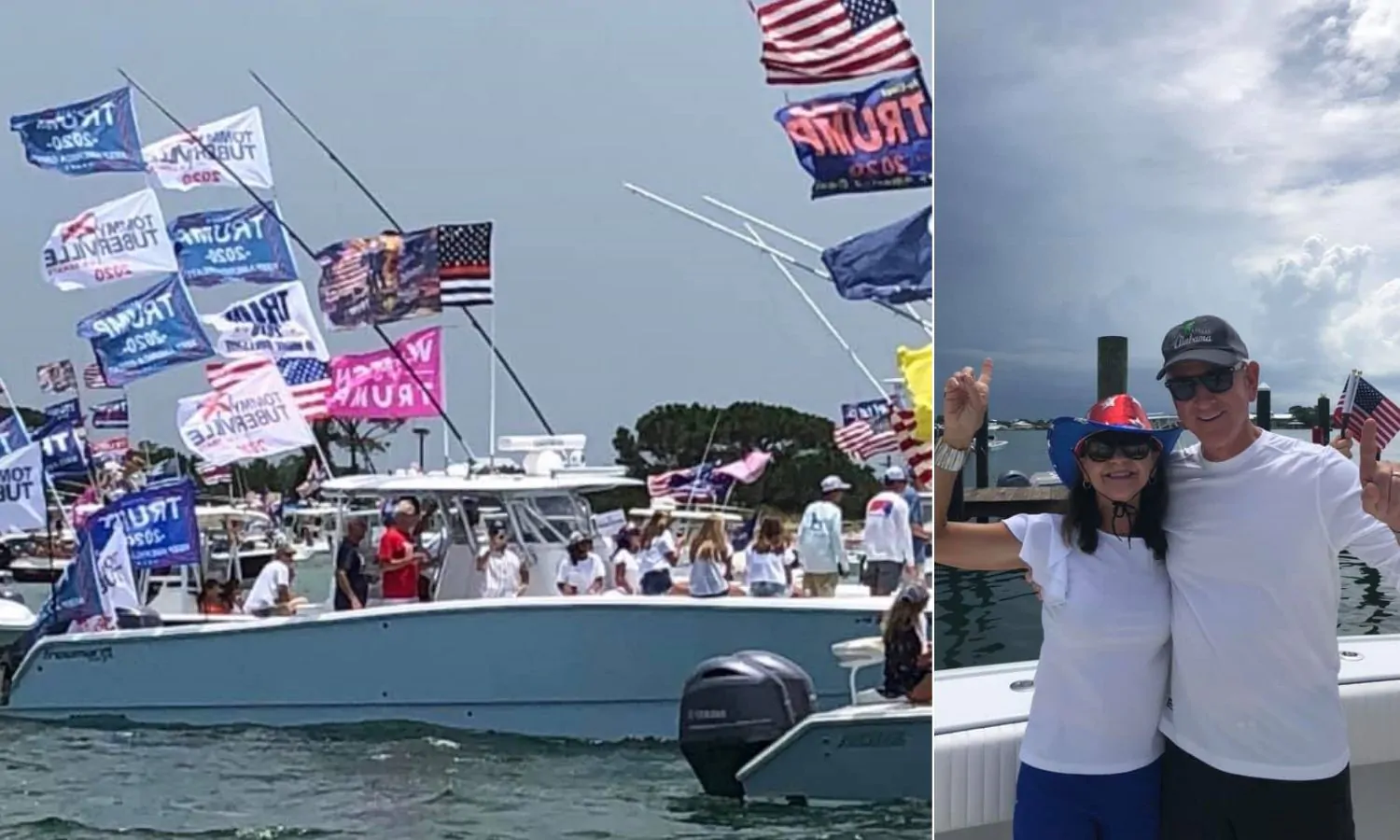 Senate candidate Tommy Tuberville rode in the lead boat in a "boat parade" on Sunday in Orange Beach, celebrating Independence Day and the launch of President Donald Trump's re-election campaign.
Hundreds of boats participated in the Trump parade in the Perdido Pass area. WKRG TV estimates that more than 8,000 people joined. Orange Beach and Gulf Shores boats joined boats from Pensacola and Dauphin Island.
Trump supporter and Alabama Republican Executive Committee member Perry Hooper Jr. was also present.
"It was Awesome having Coach Tommy Tuberville on The TRUMP Boat at Orange Beach Alabama," Hooper said. "Tommy was a Great Coach and he will be a Great US Senator. It's Great To Be A TRUMP/ TUBERVILLE AMERICAN. Everybody was so Happy cheering for The President and Tommy on! Fun Day!"
Hooper is a former state representative from Montgomery.
Tuberville is a former Auburn University head football coach. The Arkansas native lives in Auburn.
President Donald Trump spoke at Mount Rushmore in South Dakota on Friday.
"Today we pay tribute to the exceptional lives and extraordinary legacies of George Washington, Thomas Jefferson, Abraham Lincoln, and Teddy Roosevelt," Trump said. "I am here as your president to proclaim before the country and before the world, this monument will never be desecrated, these heroes will never be defamed, their legacy will never ever be destroyed, their achievements will never be forgotten, and Mount Rushmore will stand forever as an eternal tribute to our forefathers and to our freedom."
Trump accused opponents of trying to dismantle America.
"Make no mistake. This left-wing cultural revolution is designed to overthrow the American Revolution," Trump alleged. "In so doing they would destroy the very civilization that rescued billions from poverty, disease, violence, and hunger, and that lifted humanity to new heights of achievement, discovery, and progress. To make this possible, they are determined to tear down every statue, symbol, and memory of our national heritage."
"President Trump has given several good Speeches," Hooper said. "This Speech was by far his best! It was straight up AWESOME! His speech was all about the Greatness of America! President Trump loves our Country and its great History. President Reagan has given some of the best speeches ever. This speech topped Reagan's best. As for Perry O. Hooper Jr., I would get in a foxhole and fight for him to the end. God Bless President Donald J. Trump and GOD BLESS THE USA!"
Trump faces a stiff challenge from former Vice President Joe Biden, who is leading in the polling.
Tuberville has been endorsed by Trump in the July 14 Republican primary runoff for U.S. Senate. Tuberville faces former Sen. Jeff Sessions.