Roy Moore comments on his appearance on the Sacha Baron Cohen TV Show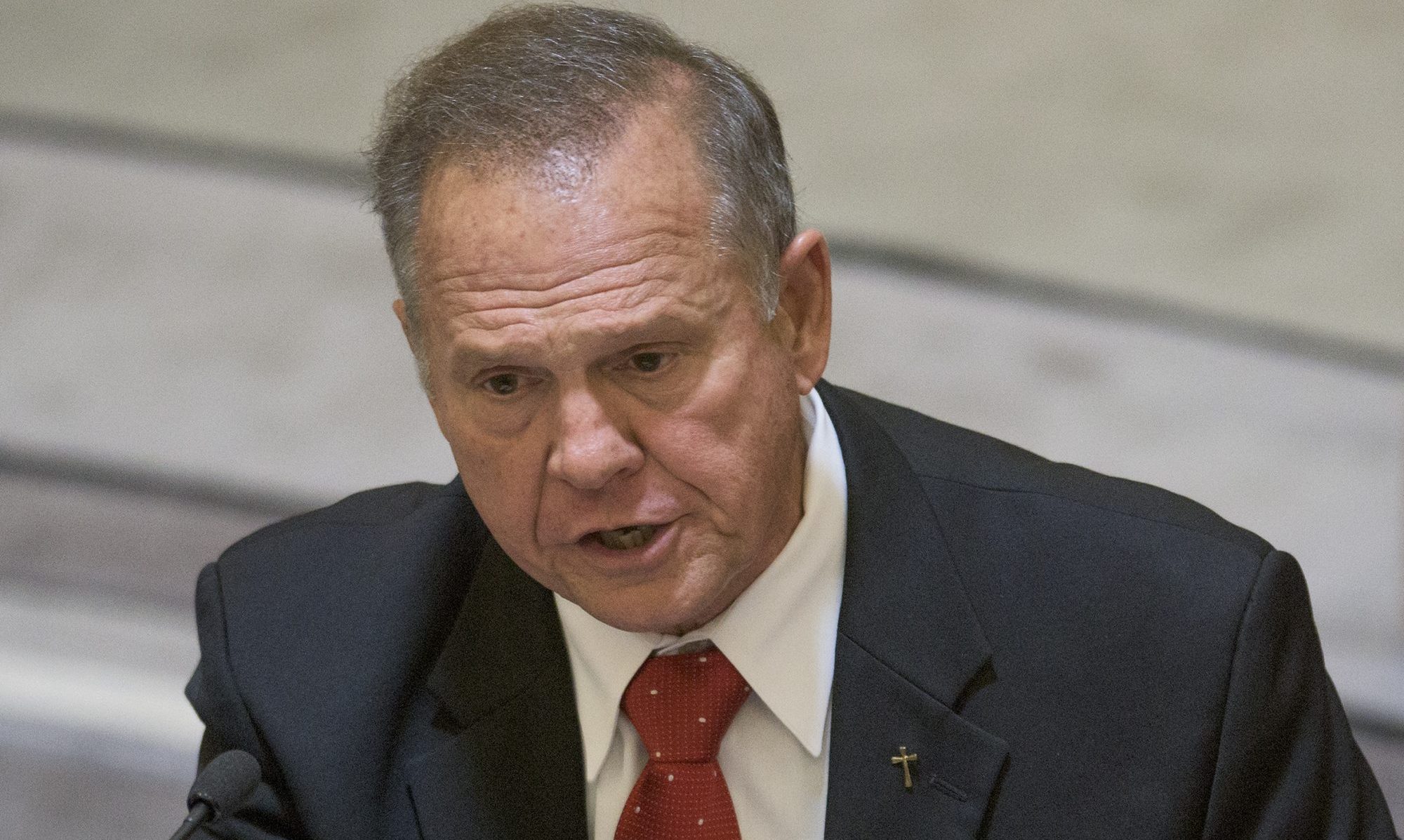 Judge Roy Moore (R) recently commented in a written statement on Sacha Baron Cohen's CBS/Showtime series, 'Who is America?' in which Moore was the subject of a practical joke by the comedian pretending to be an expert on Israeli security thanking Moore for his support for the state of Israel.
"In February 2018, I was invited to Washington D. C. to receive an award for my strong support of Israel in commemoration of her 70th anniversary as a nation," Moore said. "Because Alabama has always been at the forefront of support of Israel and because I share a strong belief in God as the Creator and Sustainer of all life, as does Israel, I eventually accepted the invitation. Expenses were paid, and I received no private remuneration for my time or participation. I did not know Sacha Cohen or that a Showtime TV series was being planned to embarrass, humiliate, and mock not only Israel, but also religious conservatives such as Sarah Palin, Joe Walsh, and Dick Cheney."
"I do not apologize for my belief in God or the common religious and cultural heritage that Israel shares with America," Moore continued. "As an Alabamian, I believe in truth and honesty, which the shadowy media groups behind this illicit scheme do not. Obviously, people like Cohen who mock not only Israel but those who support Israel and the principles upon which America is based, do not share my beliefs."
"I don't need Sacha Cohen to tell me who America is, but I can tell him that America is a proud Nation which sprang from humble beginnings and a strong belief in God, virtue, and morality," Moore continued. "As an American, I would never hide my identity and deceive others only to mock and ridicule them as this Showtime Series is designed to do. America is not only about being proud but about being brave and standing for what we believe. I am involved in several court cases presently to defend my honor and character against vicious false political attacks by liberals like Cohen. If Showtime airs a defamatory attack on my character, I may very well be involved in another. As for Mr. Cohen, whose art is trickery, deception, and dishonesty, Alabama does not respect cowards who exhibit such traits! It's been a long time since I fought for my country in Vietnam. I'm ready to defend her again!"
Sacha Noam Baron Cohen is a 46 year old British actor, comedian, screenwriter and producer. Cohen has created and portrayed fictional characters Ali G, Borat Sagdiyev, Brüno Gehard and Admiral General Aladeen. He is married to Isla Fisher. They have three children. (Wikipedia)
Roy Moore (R) was twice elected to the Alabama Supreme Court as Chief Justice. He ran unsuccessfully for the Republican nomination for Governor of Alabama in 2006 and 2010. In 2016 he was suspended from his position as Chief Justice because he failed to order Alabama probate judges to issue marriage licenses to same-sex couples, arguing instead that that was a matter for the full court to consider. He most recently narrowly lost a special election to Doug Jones (D) for U.S. Senate on December 12.
Moore is considered a polarizing figure in modern Alabama politics for his outspoken views: defending public displays of the Ten Commandments, freedom of religion, traditional marriage, and that Americans have a right to acknowledge God in the public arena. A month before the special election for U.S. Senate, Moore was accused of acting inappropriately with several young women during the mid to late 1970s before Moore was married.  One of the women claimed she was age 15 during her alleged encounter with Moore and they engaged in some inappropriate touching. Moore denied the allegations; but the media hysteria that followed resulted in the withdrawal of support from national Republican groups and likely derailed his bid for U.S. Senate. Moore has not ruled out running for office again.
First presidential debate is tonight
Tuesday's debate, set to begin at 8 p.m. CST, will be moderated by Fox News Sunday anchor Chris Wallace.
President Donald Trump and former Vice President Joseph Biden, the Democratic nominee for president, are preparing for Tuesday night's debate.
Tuesday's debate will be moderated by Fox News Sunday anchor Chris Wallace. The debate will be at 8 p.m. CST and is being hosted at Case Western Reserve University and the Cleveland Clinic in Cleveland, Ohio.
Due to COVID-19, the two candidates and the moderator will not shake hands. There will be a small number of ticketed guests inside the debate hall, along with debate officials, crews and TV network anchors including Fox News.
Trump has prepared with help from former New Jersey Governor Chris Christie and former New York City Major Rudy Giuliani but has chosen not to have traditional lengthy practice sessions.
Trump is suggesting he doesn't want to overdo it.
"Sometimes you can go too much in that stuff," Trump told reporters on Sunday.
Biden has been holding mock debate sessions with senior adviser Bob Bauer and top aides, according to CBS News.
"I'm prepared to go out and make my case as to why I think he's failed and why I think the answers I have to proceed will help the American people, the American economy and make us safer internationally," Biden said.
"The president prepares by being president," Trump campaign communications director Tim Murtaugh reportedly said. "And by regularly facing hostile news media. That's pretty good practice by any measure."
The debate as to whether Trump should have appointed Judge Amy Coney Barrett to fill the vacancy on the Supreme Court created by the death of Ruth Bader Ginsburg will almost certainly come up.
"Joe Biden spent a lot of time in his basement to study up," said Lara Trump, the president's campaign adviser and daughter-in-law. "He's been in this game for 47 years. I assume he'll do OK. Quite frankly, the bar has been lowered so much for Joe Biden that if he stays awake for the whole thing it's like maybe he won."
The two candidates are running very different campaigns.
From March until the last week in August, according to news reports, Biden made no in-person speeches or campaign appearances. Biden's events since have been rare and attended by just a few invited guests.
Trump, on the other hand, has been holding mass campaign rallies. Trump has held 14 in-person rallies in September including in swing states New Hampshire, Michigan, Wisconsin, Nevada, Florida, Virginia and Minnesota with multiple trips to Ohio, North Carolina and Pennsylvania.