Emails show Ivey, staff used private Gmail and iCloud accounts in Lieutenant Governor's Office
Emails provided to the Alabama Political Reporter show Gov. Kay Ivey and her top advisers used personal email accounts like Gmail and iCloud to conduct official business while Ivey was serving as lieutenant governor.
Dozens of emails released to APR in response to allegations made by Democratic candidate Walt Maddox this morning show Ivey and her staff, including her chief of staff, Steve Pelham, communicated via their personal Gmail and iCloud accounts with top advisers between 2011 and 2014, during Ivey's second term as lieutenant governor.
The majority of the emails released relate to the then-lieutenant governor's schedule ranging from campaign events to economic development meetings. A portion of the emails related to Ivey's campaign for lieutenant governor in 2014 and others deal with personal scheduling issues, both of which would have needed to be sent from personal accounts.
Office holders are prohibited from using state email accounts to conduct personal or campaign-related business.
But several of the emails, specifically those that are dated in 2011, 2012 and 2013, indicate Ivey and her staff were conducting state business through personal emails, including one trip to Washington that appears to have required the use of state aircraft.
Ivey appears to have used several email accounts including a Gmail account, a Charter email account and another unidentified account named "Susan Anthony." Ivey's then-chief of staff Pelham, who now serves as Ivey's chief of staff in the Governor's Office, also used two different iCloud accounts, the emails obtained show.
The emails released to APR were collected from the Alabama State Archives, where official business is cataloged and saved in accordance with state law requiring emails and other state records be preserved.
Public officials are not prohibited from using personal email accounts, although it's generally accepted that official business conducted on private emails must be retained as public record.
"Walt Maddox is so desperate, he's making accusations even he knows are not true," an Ivey spokesperson said. "As the emails show, Governor Ivey coordinated with her scheduler to ensure she didn't double book political or personal events with her official calendar. And as Walt also pointed out, this is not only permissible, it's standard practice."
"Given what a huge Hillary Clinton supporter Walt Maddox is, it's not surprising private email servers are top of mind for him," the spokesperson continued. "While Governor Ivey is focused on breaking jobs records, we'd like to challenge Walt to break one of his own records by telling the truth for an entire day."
Advocates for open government have long expressed concerns that the use of private emails by public officials can shield official business from public records requests because those emails aren't automatically or immediately captured on state servers that are often searched to fulfill those records requests.
The emails have to be voluntarily submitted to the state archives or voluntarily searched for public records requests.
Maddox said Ivey's use of a private email, while not illegal, is cause for concern.
"The discovery that Kay Ivey's staff used private email servers during a period of time when there are so many questions about what actually occurred in Colorado in 2015, is disturbing," Maddox said in a statement. "These private email servers are not available to be searched when a public records request is made, and that should be very troubling to every Alabamian who wants open, honest government."
The Democratic candidate said Ivey should release all records from the private accounts found in the archives.
"This continues an unacceptable pattern of secrecy and nondisclosure by Kay Ivey," Maddox said in a statement. "Accordingly, In addition to the questions I requested Governor Ivey answer regarding allegations of misuse of law enforcement and potential cover-up, she should immediately, in the interest of full disclosure, take immediate steps to release all email records for the following accounts."
The revelation about Ivey's purported use of private email accounts in the Lieutenant Governor's Office comes at a time when Ivey is facing questions about a hospitalization during a 2015 trip to Colorado for an aerospace conference.
As APR reported over the last week, former ALEA Secretary Spencer Collier, a former Republican state representative who was appointed to lead Alabama's unified law enforcement agency by former Gov. Robert Bentley, and his second in command  told APR that Ivey and her staff attempted to cover up the hospitalization.
According to the trooper at Ivey's bedside, doctors in Colorado said they believed she had suffered a transient ischemic attack (TIA). TIAs produce stroke-like symptoms but usually last only a few minutes causing no permanent damage.
When a member of her security detail reported the incident to superior officers after Pelham, Ivey's chief of staff, told him not to tell anyone, the officer, Thomas "Drew" Brooks, was removed from Ivey's security detail and his salary was reduced, according to personnel records obtained by APR.
Ivey has denied retaliating against the trooper assigned to her protective detail and her staff has maintained the hospitalization was the result of altitude sickness and nothing more serious.
Print this piece
Opponents accuse Tuberville of supporting amnesty for undocumented immigrants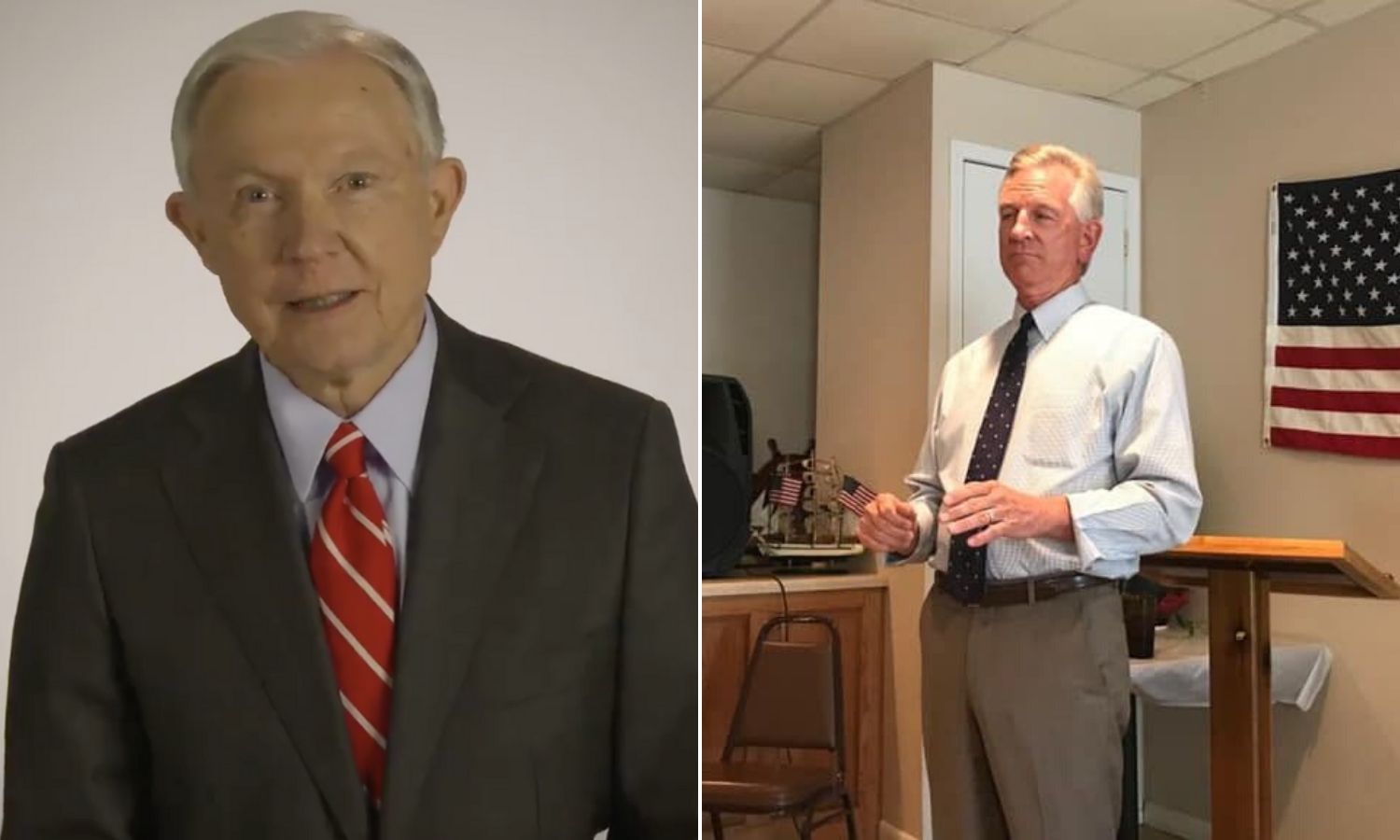 The Senate campaign is heating up as the top three candidates are all going negative. Former Auburn head football coach Tommy Tuberville has attacked Congressman Bradley Byrne (R-Montrose) and former Attorney General and Senator Jeff Sessions of being career politicians. Both Byrne and Tuberville have attacked Sessions for not having adequately served President Donald J. Trump (R) while Attorney General. Byrne has even attacked Tuberville's coaching abilities. The latest attacks on Tuberville accuse him of supporting amnesty for illegal aliens. Sessions even accused Tuberville of being a "tourist."
Wednesday, Sessions announced a new television ad called "Tuberville for Amnesty."
Byrne and Tuberville point to an August speech by Coach Tuberville when he said: "There are people coming across the border that need jobs… and we want them to come over here… Let em' come in and become citizens like we all became citizens."
The Tuberville campaign called the attack "fake news" on Twitter.
Sessions' campaign manager Jon Jones said, "Tuberville is claiming that his own words are 'fake news.' All of them? Tommy Tuberville needs to read the transcript. It is clear that Tuberville supports immigration amnesty, and he is attempting to trick Alabama voters to believe otherwise. In contrast, Jeff Sessions has done more than just say he wants to fix the border – he has already worked alongside President Trump to stop illegal immigration."
The new Sessions ad reads: "Tuberville is trying to trick you, hiding his support for immigration amnesty." Then plays an audio clip of the Tuberville comment from August
Tuesday, Byrne told reporters in Trussville: "I can tell you right now this issue about Tommy Tuberville's position on amnesty is a key issue. And so we're going to keep telling people about his position on that and let him explain why he doesn't think that's amnesty."
"Let em' come in and become citizens like we all became citizens," Tuberville is quoted in the ad.
Tuberville has denied supporting amnesty and says that he supports President Trump's immigration agenda.
The Sessions ad further charges: "And Tuberville's not even from Alabama, he's a tourist here. He lives, pays taxes and even votes in Florida."
On Tuesday, the Tuberville campaign responded with an attack ad of their own.
"The career politicians are desperate to hang on to their paychecks and power, so they have started airing negative ads full of false attacks and baseless distortions," Tuberville said. "Our new commercial allows us to respond with some hard truths about which candidate wants to drain the D.C. swamp and is tough enough to actually help President Trump get the job done."
The Tuberville ad has Byrne with former Secretary Hillary Clinton and Sessions with Congressman Adam Schiff (D-California) who led the impeachment effort against President Trump. The ad even connects Sessions and Byrne with Sen. Mitt Romney (the only Republican in either House of Congress who found that the President did anything wrong.)
State Representative Arnold Mooney, former Chief Justice Roy Moore, Ruth Page Nelson, and businessman Stanley Adair are also running for the Republican nomination for the Senate seat currently held by Doug Jones (D).
The Republican primary is March 3.
Print this piece