Second law-enforcement officer confirms Ivey's hospitalization, cover-up and trooper demotion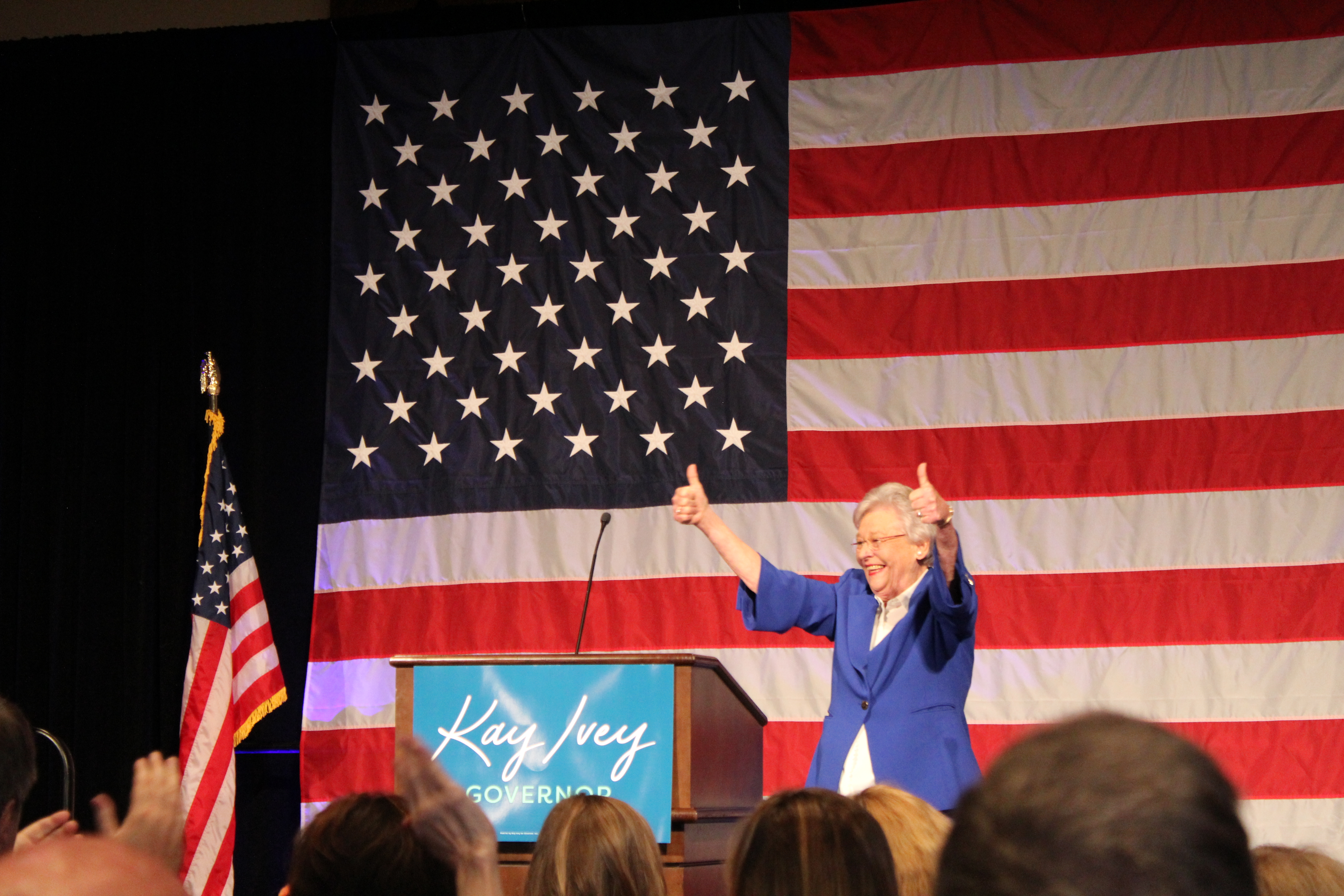 When then-Lt. Gov. Kay Ivey was rushed to a Colorado hospital in April of 2015, her security detail officer, Thomas "Drew" Brooks, followed protocol by reporting the incident to his superior officers. He also reported that Ivey's Chief of Staff Steve Pelham told him not to tell anyone. Brooks said that he was later instructed to say that Ivey was hospitalized for altitude sickness.
"I was present and informed on what was happening with the Lt. Gov. in real-time," said John Thomas "J.T." Jenkins who at the time served as Chief Administrator and running the day to day operations under then-ALEA Secretary Spencer Collier.
Former ALEA Chief confirms Ivey's emergency hospitalization and cover-up
Jenkins, a career state law enforcement officer, served as a former Alabama Marine Police Director and as Deputy Director of Homeland Security before accepting a position as Collier's number two at ALEA.
"As Chief of Staff Spencer informed me of the Colorado situation as it was happening," said Jenkins.
According to both men, Trooper Brooks was not giving his opinion of what was happening on the ground in Colorado but what the medical personnel were reporting as it was happening.
According to the trooper at Ivey's bedside, doctors in Colorado were saying they believed she had suffered a transient ischemic attack (TIA). TIAs produce stroke-like symptoms but usually last only a few minutes causing no permanent damage, according to the Mayo Clinic.
Ivey's doctor recently released a letter in which he said he examined her after her three-day stay in a Colorado hospital and found no evidence of a TIA.
According to BMJ Journal, one of the world's oldest general weekly peer-reviewed medical journals, a TIA can't be accurately diagnosed after the event.
According to a research paper published in BMJ Journal, "There is no test for TIA: the gold standard remains assessment as soon as possible by a clinical expert. The diagnosis relies heavily on the patient's account of their history and on expert interpretation of that history. Interobserver agreement for the diagnosis of TIA between different stroke-trained physicians and non-neurologists is poor."
Collier says he was receiving information about what was being determined by the medical professional treating Ivey at the time.
He has also said he doesn't question Ivey's current physical condition and can relate to the challenges of dealing with health issues.
Jenkins also confirmed to APR that Collier was summoned by Ivey to the Montgomery offices of Balch and Bingham where she asked Collier to remove Trooper Brooks from her security detail, allegedly for trying to hack her email account.
Collier said he didn't believe Ivey's allegations against Brooks because she was adamant that his alleged hacking not be investigated.
"Spencer came to me after his meeting with Gov. Ivey and said for me to reassign Drew."
Gov. Ivey's campaign spokesperson, Debbee Hancock, said in a press release that Brooks was not demoted.
However, state personnel records contradict Ivey's spokesperson's claims showing that Brooks' pay was cut when he was dismissed from Ivey's security detail and reassigned to a licensing station in Houston County.
Brook's transfer letter reads in part, "The three (3) step pay differential authorized for employees assigned to Dignitary Protection will be removed. Consequently, your semi-monthly salary will be modified from $2,038.50 (step 4 of salary range 77) to $1,895.90 (step 1 of salary range 77)."
---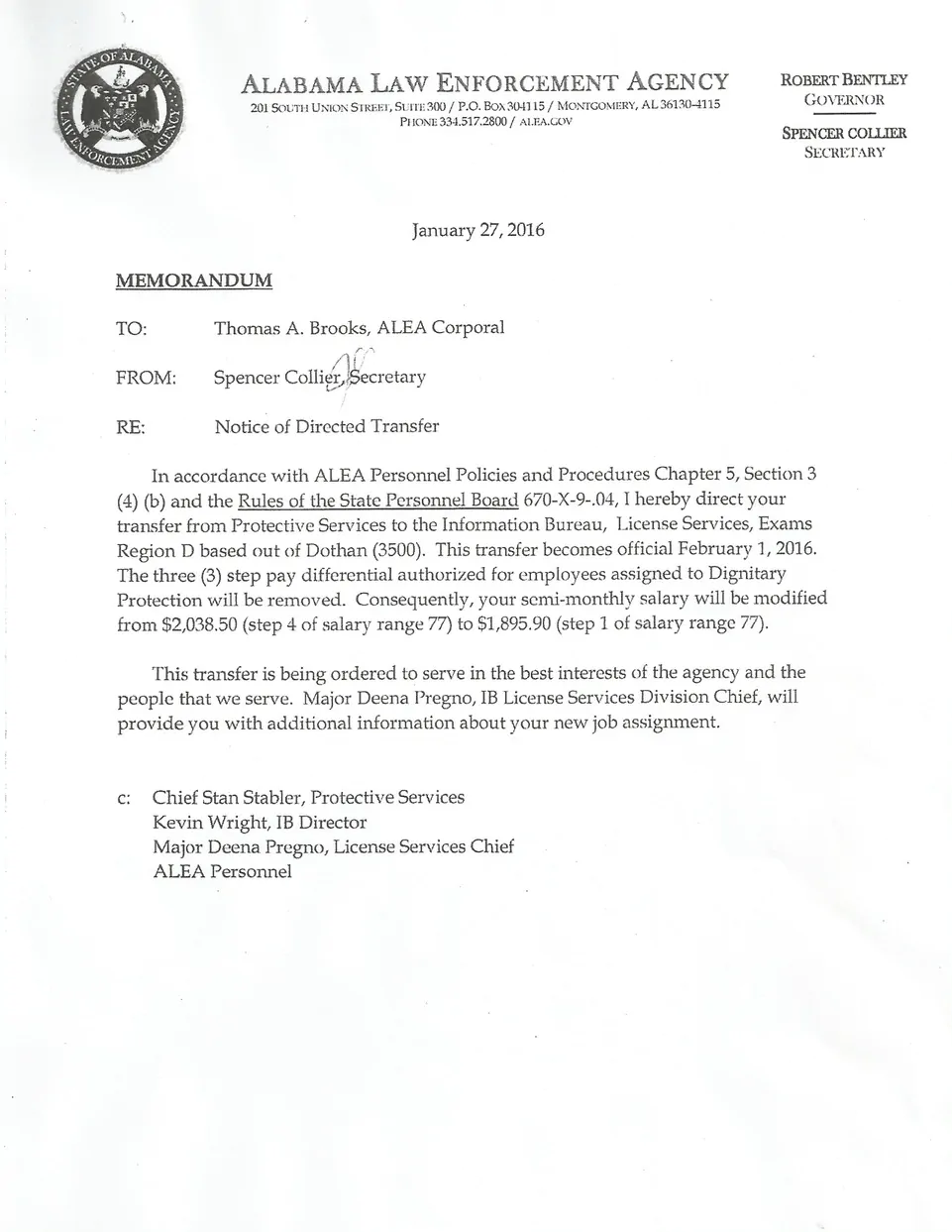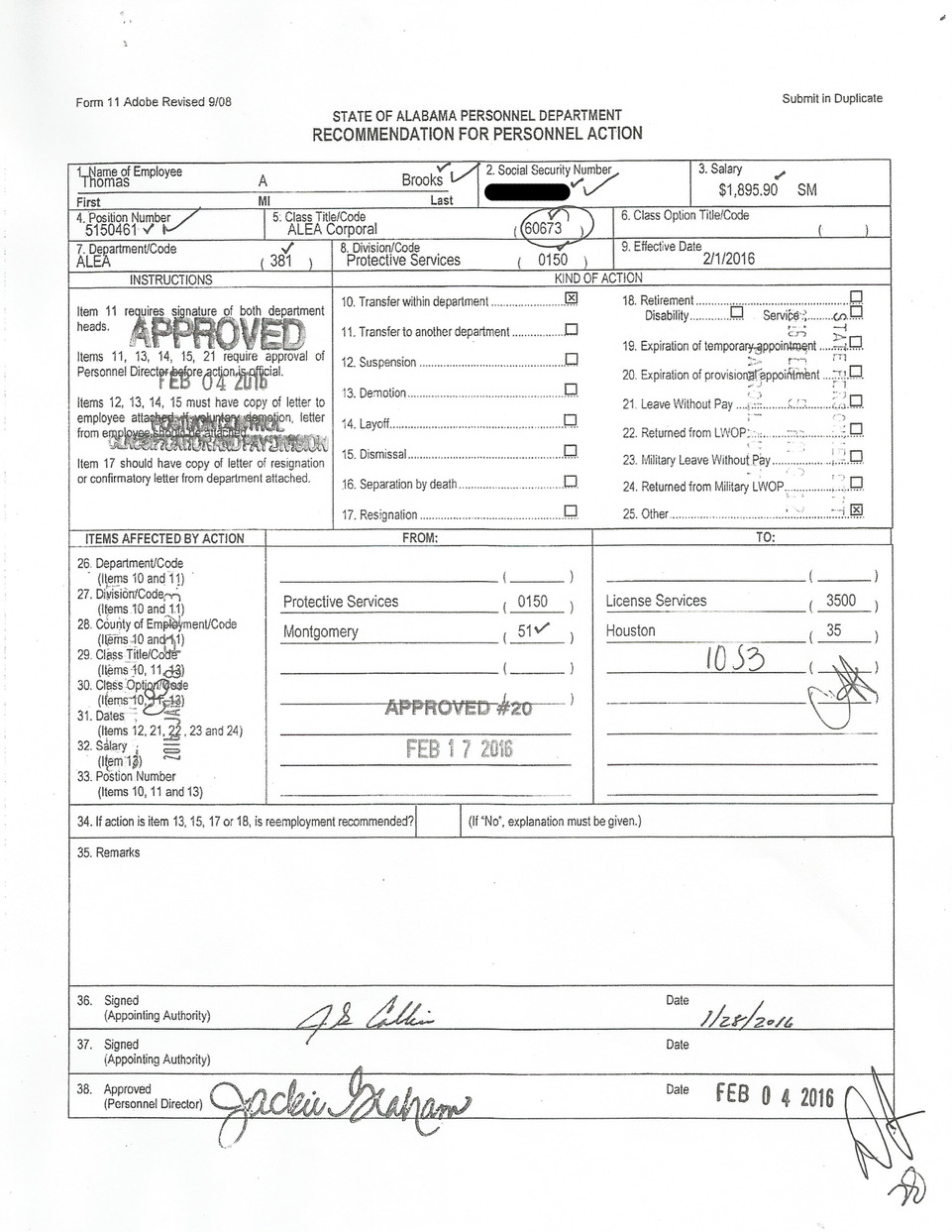 ---
Collier verifies that Jenkins was briefed during the incident in Colorado and that he handled the personnel records on Brooks' transfer.
Both men corroborate the facts as reported by APR and say that former Gov. Robert Bentley could also validate the points if he would go on the record.
Bentley has told several close confidants about Ivey's Colorado health scare but refuses to answer media requests for information.
Currently, Collier is suing Bentley for wrongful termination.
While serving as ALEA Chief, Collier was ordered by Bentley to lie to the state's attorney general's office in the lead-up to the criminal trial of Speaker of the House Mike Hubbard. Bentley fired Collier because he wouldn't lie.
"She [Ivey] instructed law enforcement to lie and then covered the issue up… sounds just like Bentley," said Collier.
The Ivey administration has paid over $300,000 to defend Bentley in his lawsuit with Collier.
"Bentley was briefed [about Colorado] and knows everything——sounds like a good reason to pay his legal bills," Collier said.
Opinion | Collier's allegations are not about Ivey's health — they're about retaliation
APR's reports have not questioned Ivey's current physical well-being. Ivey and her doctor have both said she is in good health. Ivey denies Collier's account of the Colorado hospitalization, cover-up and demotion of Trooper Brooks.
Print this piece
Moore legal team files motion for Judge Rochester to recuse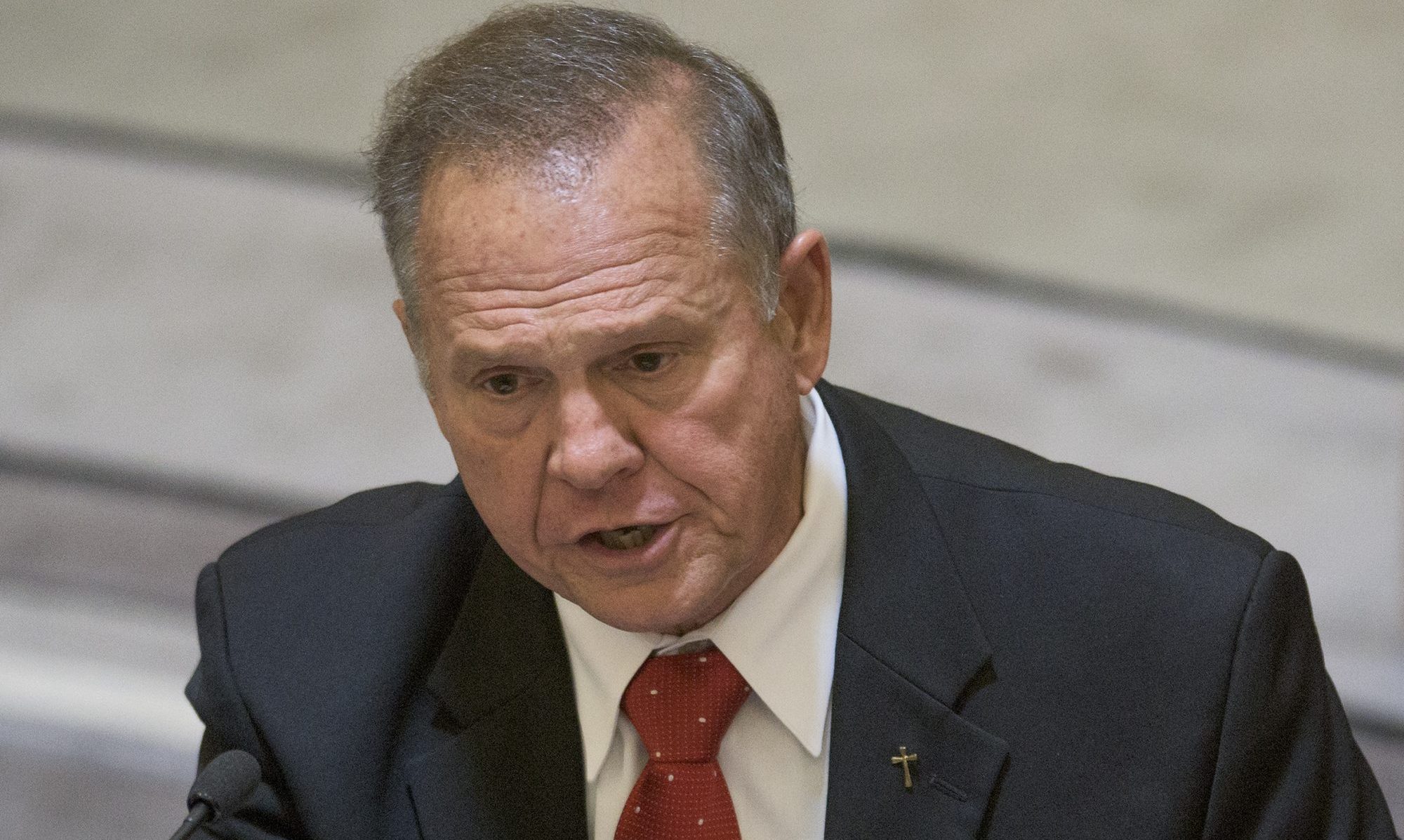 Attorney Melissa Isaak filed Thursday on behalf of her client, Judge Roy Moore, a motion to recuse Judge John Rochester from further consideration of the legal case between Moore and his accuser, Leigh Corfman.
The Moore team said that is the case due to the following reasons: "Judge Rochester's continued decision to preside over this case despite the fact that his appointment was "temporary" and expired on January 14, 2019 over a year ago, Judge Rochester's untimely delay of approximately five months in ruling on dispositive motions in this case brought only to accuse Judge Moore of defamation for merely denying false allegations against him, which is not even a valid cause of action, Judge Rochester's open friendship, support, and financial contributions for Doug Jones in his 2017 Senate campaign against Judge Moore, according to his own personal Facebook account, Open and virulent criticism of Judge Moore by Linda Rochester, wife of Judge John Rochester during the 2017 Senate campaign on her own personal Facebook page, Judge Rochester's criticism and mocking of Christianity on his Facebook page with full knowledge of Judge Moore's strong belief in God, Judge Rochester's political animus against the Republican Party and President Donald Trump who supported Judge Moore in the 2017 general election, Judge Rochester's obvious political bias in his quick response to set a trial date in this case, within two weeks of the upcoming Republican primary which will determine the opponent in the general election against Doug Jones."
Moore claims, "As stated in Attorney Isaak's motion, any individual would have a solid basis for questioning Judge John Rochester's impartiality, political motivation, and bias in presiding over this case."
Moore is claiming that Judge John Rochester's friendship, support, and financial contribution to Doug Jones in combination with his wife's open criticism of Judge Moore during the 2017 special election for US Senate in which Judge Moore was a candidate, mandates immediate recusal of Judge John Rochester in this frivolous action.
Moore has also objected in the past to this case being in Montgomery County court, when Corfman's allegations of improper sexual conduct between her and Moore in 1976 allegedly occurred in Etowah County.
Corfman claims that Moore and her engaged in inappropriate touching through their underwear in 1976 when Corfman was just 15 years old. Under Alabama law, then as now, the age of consent for sexual activity is 16, not 15. Corfman's allegation, along with allegations by women dating from decades ago were released in an article by the Washington Post after Moore had won the Republican nomination for U.S. Senate in 2017. The shocking allegations were trumpeted by the national press as well as by Democrats. Moore narrowly lost the December 2017 special election to Clinton era U.S. Attorney Doug Jones (D), the only time a Democrat has won any statewide election in Alabama since 2008.
Moore has steadfastly denied the allegations. Corfman sued Moore in Montgomery Court after the election for defamation of character. Moore has since sued Corfman, the other accusers, and the architects of the Reed Hoffman financed, illicit Russian style tactics, which Moore claims were largely responsible with depressing Republican turnout and increasing the efforts by GOP moderates to defeat Moore by writing in the name of some candidate other than Moore.
While many Republicans accepted the accusations against Moore as "credible" they rejected similar accusations against Supreme Court Brett Kavanaugh.
Moore was twice elected Chief Justice of the Alabama Supreme Court and is a current candidate for the Republican nomination for the U.S. Senate seat, currently held by Jones.
The Republican primary is on March 3.
Print this piece