Second law-enforcement officer confirms Ivey's hospitalization, cover-up and trooper demotion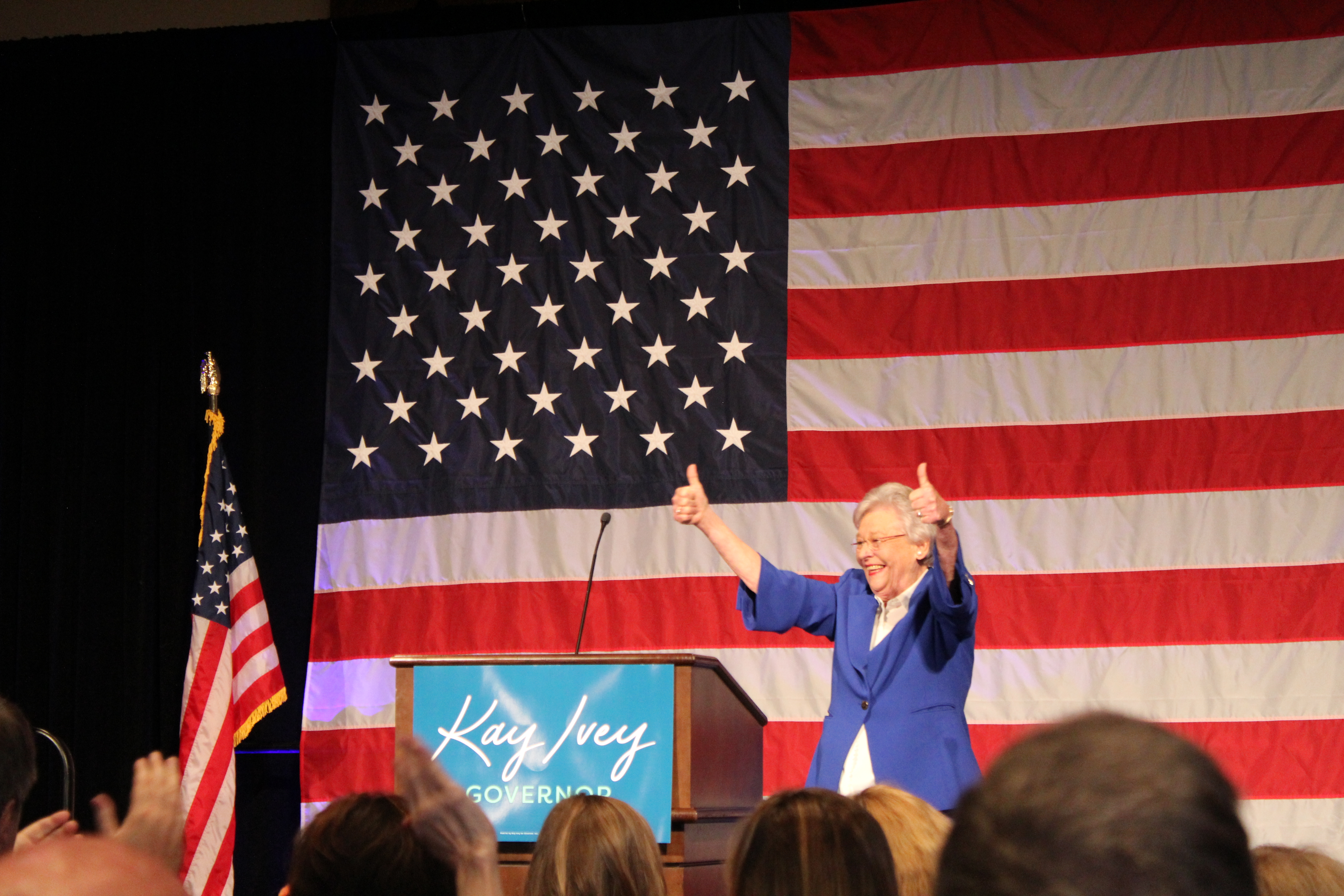 When then-Lt. Gov. Kay Ivey was rushed to a Colorado hospital in April of 2015, her security detail officer, Thomas "Drew" Brooks, followed protocol by reporting the incident to his superior officers. He also reported that Ivey's Chief of Staff Steve Pelham told him not to tell anyone. Brooks said that he was later instructed to say that Ivey was hospitalized for altitude sickness.
"I was present and informed on what was happening with the Lt. Gov. in real-time," said John Thomas "J.T." Jenkins who at the time served as Chief Administrator and running the day to day operations under then-ALEA Secretary Spencer Collier.
Former ALEA Chief confirms Ivey's emergency hospitalization and cover-up
Jenkins, a career state law enforcement officer, served as a former Alabama Marine Police Director and as Deputy Director of Homeland Security before accepting a position as Collier's number two at ALEA.
"As Chief of Staff Spencer informed me of the Colorado situation as it was happening," said Jenkins.
According to both men, Trooper Brooks was not giving his opinion of what was happening on the ground in Colorado but what the medical personnel were reporting as it was happening.
According to the trooper at Ivey's bedside, doctors in Colorado were saying they believed she had suffered a transient ischemic attack (TIA). TIAs produce stroke-like symptoms but usually last only a few minutes causing no permanent damage, according to the Mayo Clinic.
Ivey's doctor recently released a letter in which he said he examined her after her three-day stay in a Colorado hospital and found no evidence of a TIA.
According to BMJ Journal, one of the world's oldest general weekly peer-reviewed medical journals, a TIA can't be accurately diagnosed after the event.
According to a research paper published in BMJ Journal, "There is no test for TIA: the gold standard remains assessment as soon as possible by a clinical expert. The diagnosis relies heavily on the patient's account of their history and on expert interpretation of that history. Interobserver agreement for the diagnosis of TIA between different stroke-trained physicians and non-neurologists is poor."
Collier says he was receiving information about what was being determined by the medical professional treating Ivey at the time.
He has also said he doesn't question Ivey's current physical condition and can relate to the challenges of dealing with health issues.
Jenkins also confirmed to APR that Collier was summoned by Ivey to the Montgomery offices of Balch and Bingham where she asked Collier to remove Trooper Brooks from her security detail, allegedly for trying to hack her email account.
Collier said he didn't believe Ivey's allegations against Brooks because she was adamant that his alleged hacking not be investigated.
"Spencer came to me after his meeting with Gov. Ivey and said for me to reassign Drew."
Gov. Ivey's campaign spokesperson, Debbee Hancock, said in a press release that Brooks was not demoted.
However, state personnel records contradict Ivey's spokesperson's claims showing that Brooks' pay was cut when he was dismissed from Ivey's security detail and reassigned to a licensing station in Houston County.
Brook's transfer letter reads in part, "The three (3) step pay differential authorized for employees assigned to Dignitary Protection will be removed. Consequently, your semi-monthly salary will be modified from $2,038.50 (step 4 of salary range 77) to $1,895.90 (step 1 of salary range 77)."
---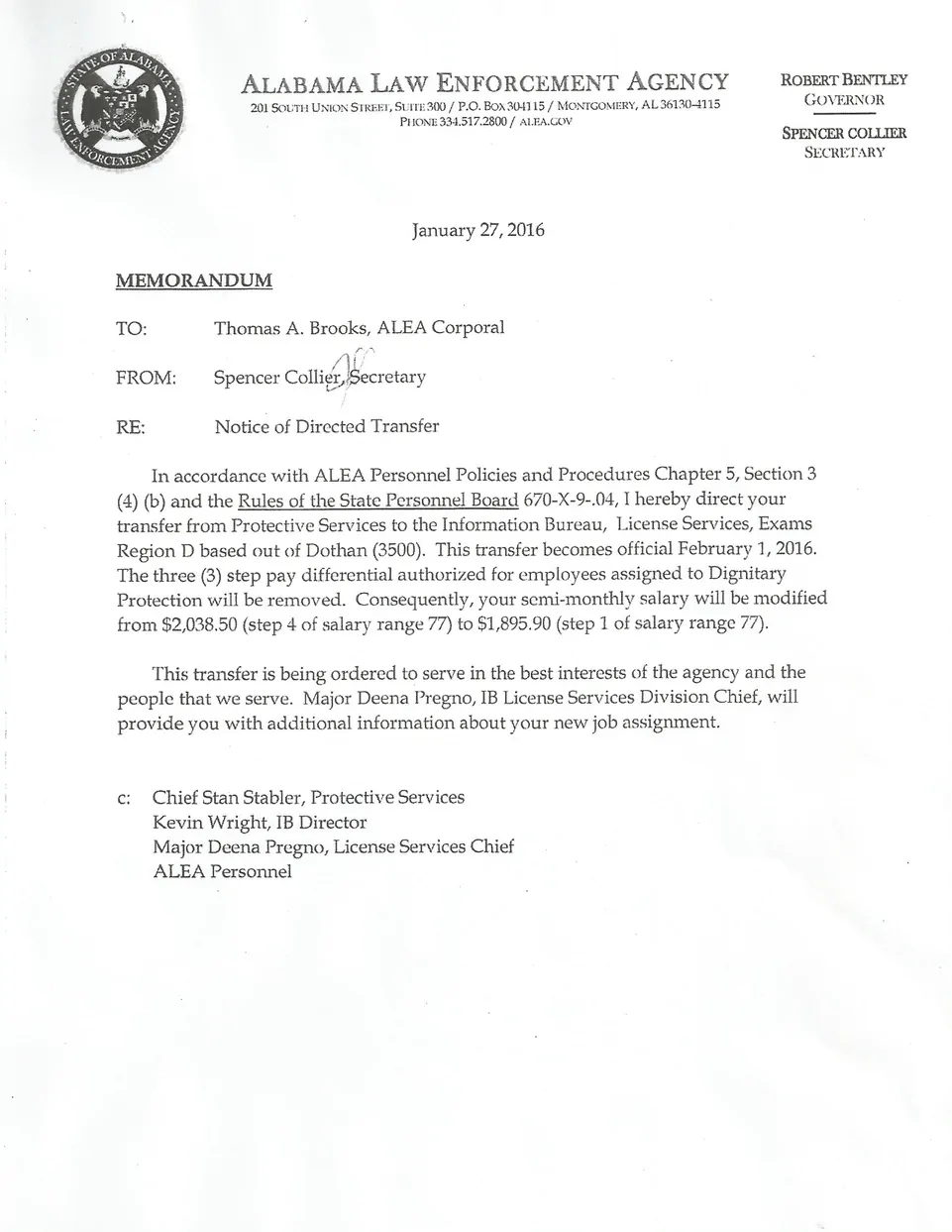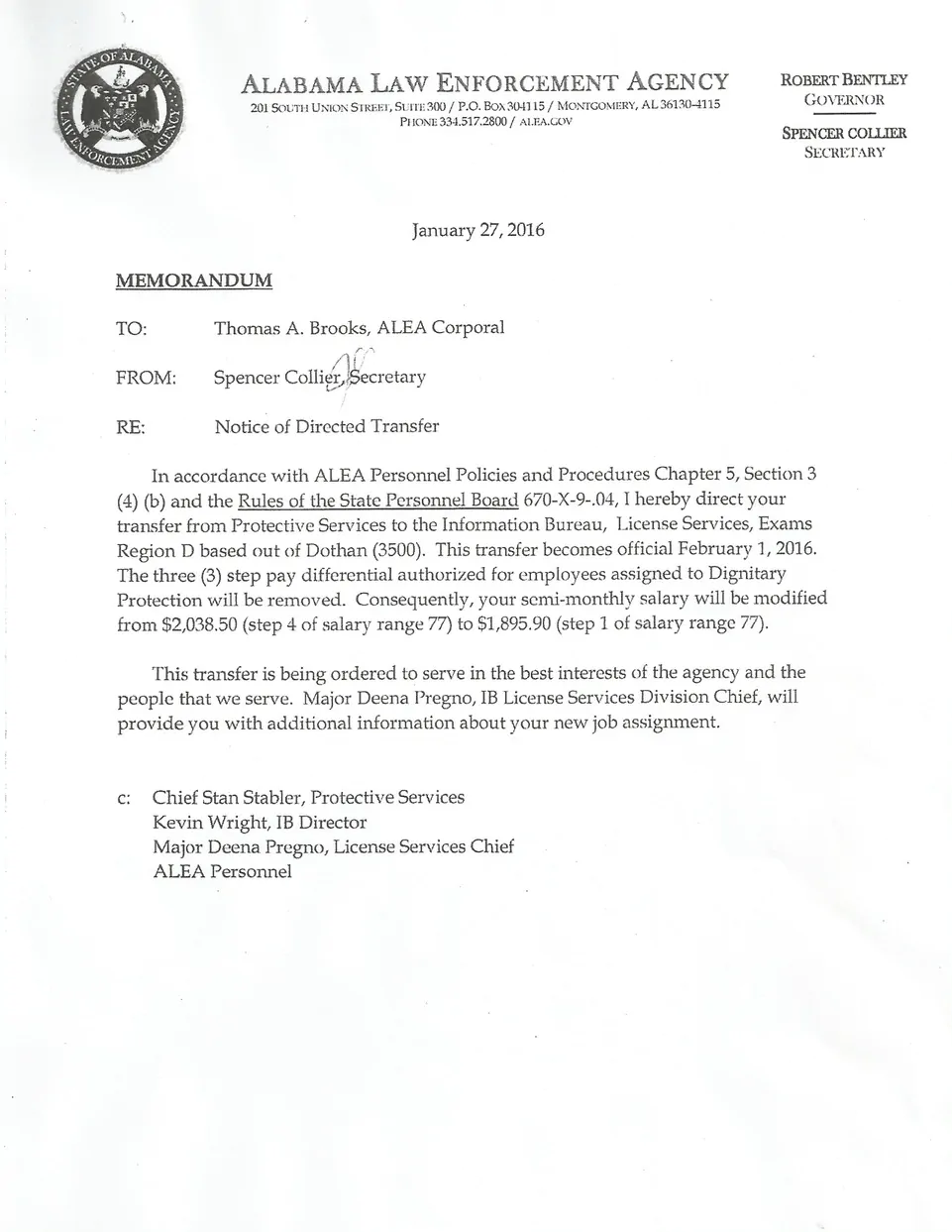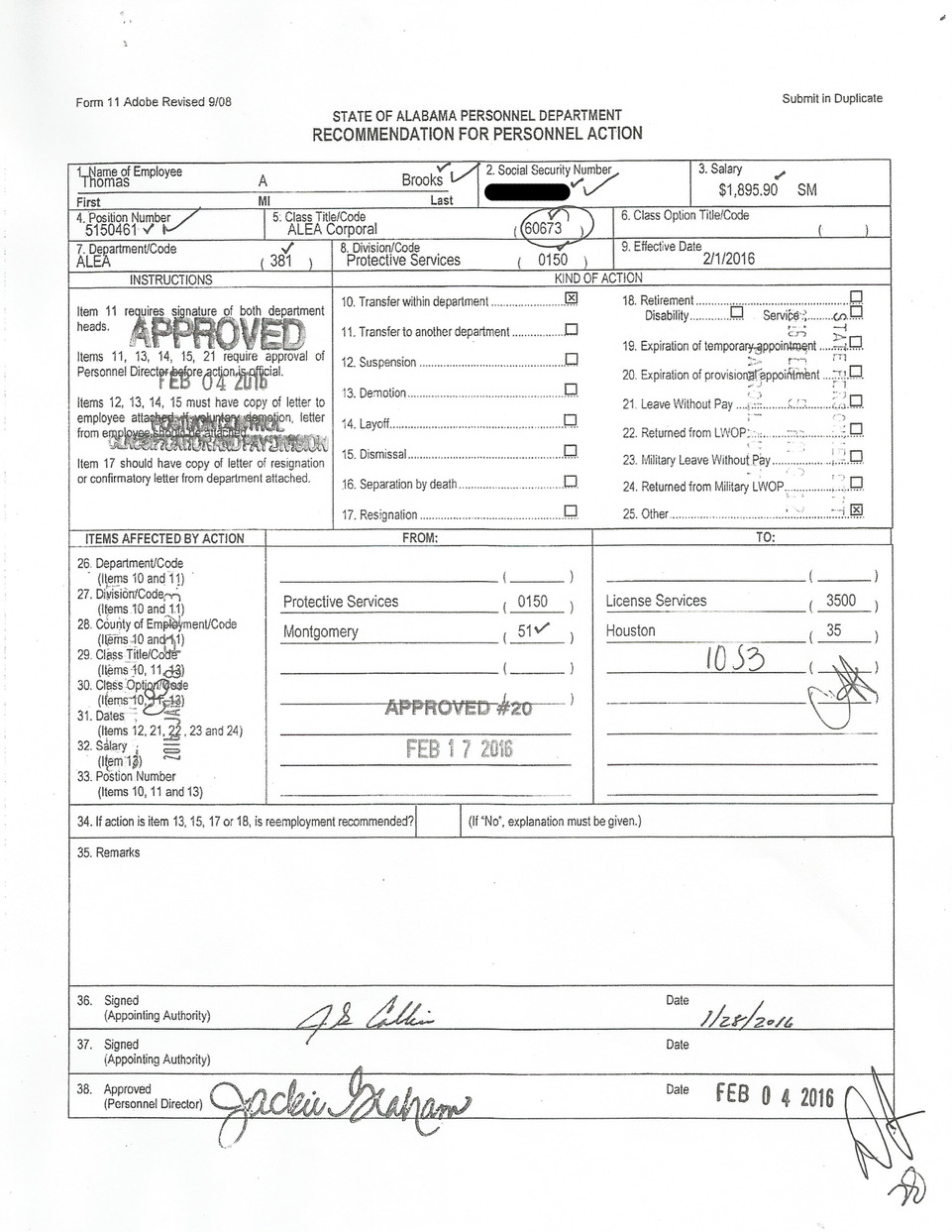 ---
Collier verifies that Jenkins was briefed during the incident in Colorado and that he handled the personnel records on Brooks' transfer.
Both men corroborate the facts as reported by APR and say that former Gov. Robert Bentley could also validate the points if he would go on the record.
Bentley has told several close confidants about Ivey's Colorado health scare but refuses to answer media requests for information.
Currently, Collier is suing Bentley for wrongful termination.
While serving as ALEA Chief, Collier was ordered by Bentley to lie to the state's attorney general's office in the lead-up to the criminal trial of Speaker of the House Mike Hubbard. Bentley fired Collier because he wouldn't lie.
"She [Ivey] instructed law enforcement to lie and then covered the issue up… sounds just like Bentley," said Collier.
The Ivey administration has paid over $300,000 to defend Bentley in his lawsuit with Collier.
"Bentley was briefed [about Colorado] and knows everything——sounds like a good reason to pay his legal bills," Collier said.
Opinion | Collier's allegations are not about Ivey's health — they're about retaliation
APR's reports have not questioned Ivey's current physical well-being. Ivey and her doctor have both said she is in good health. Ivey denies Collier's account of the Colorado hospitalization, cover-up and demotion of Trooper Brooks.
Prisoners quarantined at formerly closed prison kept in unconstitutional conditions, groups say
Conditions are so bad that inmates have been forced to urinate and defacate on themselves because restrooms are not accessible, the complaint alleges.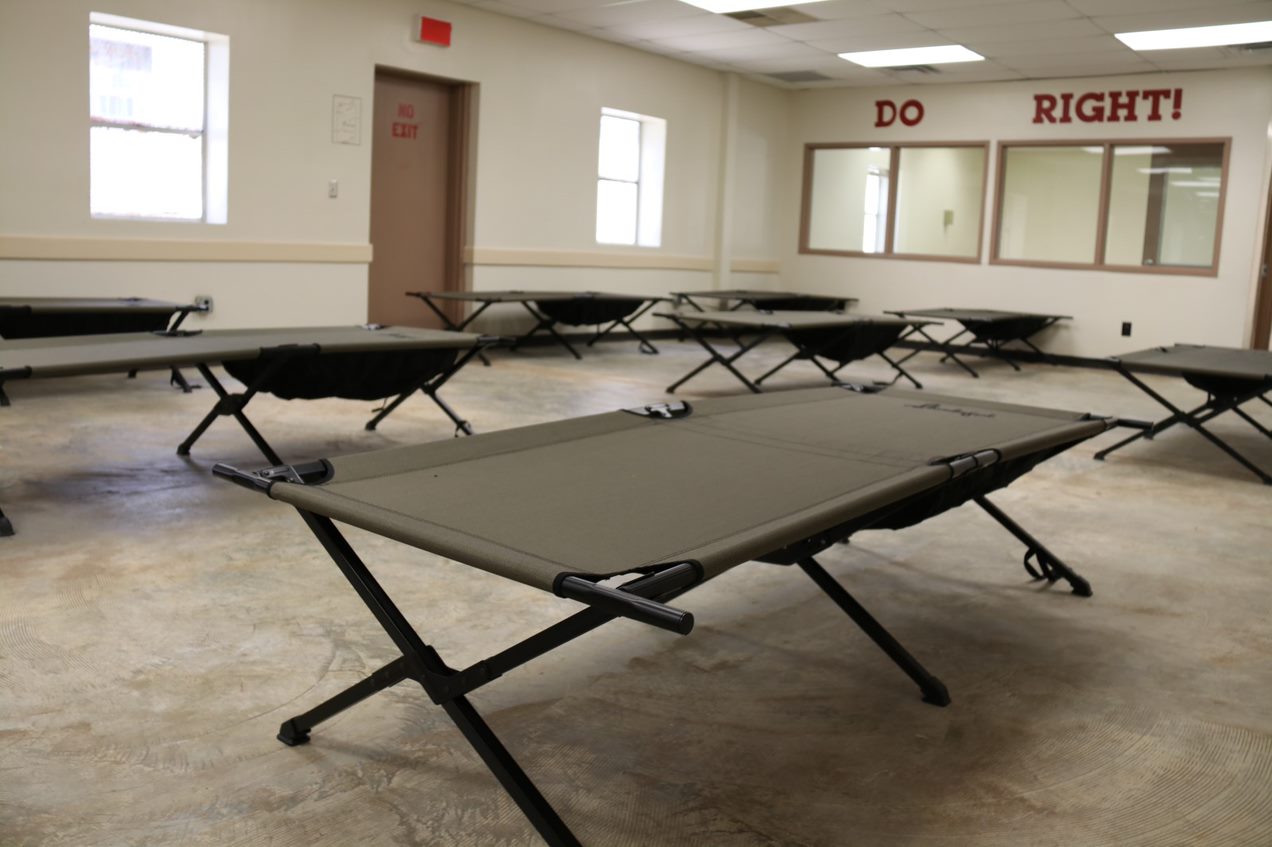 The Alabama Department of Corrections is violating the constitutional rights of inmates being quarantined in deplorable conditions in the previously decommissioned Draper prison, several civil rights groups wrote in a letter to the state's prison commissioner.
The ACLU of Alabama, the Southern Center for Human Rights, Alabama Appleseed and other groups in a letter to Alabama Department of Corrections Commissioner Jeff Dunn on Thursday detail those conditions, which include no indoor toilets or running water, repeated power outages, deprivation of regular showers and the requirement of incarcerated men to urinate in "styrofoam cups and plastic water" bottles.
"These conditions fail to meet the most basic constitutional standards and present a substantial risk of serious harm to people already suffering from a potentially fatal disease," the letter reads. "We therefore request that you immediately cease using Draper to house and/or quarantine COVID-19 patients, and instead house them in medically appropriate settings in accordance with Eighth Amendment standards."
The groups note that Draper was closed after the U.S. Department of Justice, during its investigation of violence in Alabama prisons, noted Draper as exceptionally "dangerous and unsanitary" with "open sewage" near the entrance, rat and maggot infestations and "standing sewage water on the floors."
In October 2017, the Justice Department informed ADOC of the department's shock at the state of the facility and a month later ADOC's engineer concluded that Draper was "no longer suitable to house inmates, or to be used as a correctional facility," the letter states.
ADOC reopened a portion of Draper earlier this year to house incoming inmates from county jails being quarantined amid the COVID-19 pandemic, but the civil rights groups note in the letter that ADOC failed to indicate plans to also use a classroom without bathrooms, running water or adequate medical care at Draper to house COVID-19 patients from other state prisons.
The groups allege in the letter that approximately 15 cots are located in the approximately 500 square feet former classroom, where at any given time between 5 and 15 inmates are being kept. The only restroom facilities the men can use are portable bathrooms outside, and the men have to "bang on the classroom windows to get officers' attention."
"Though officers sometimes escort the men when asked, they decline at other times and fail to maintain a schedule; thus, the men do not have access to bathroom facilities when needed," the letter reads, adding that the men aren't allowed to use the outdoor restrooms between 10 p.m. and 6 a.m.
"We have further reason to believe that one man was permitted to use the bathroom only three times during a 13-day quarantine. Another man was not taken to the bathroom until his third day at Draper, while another was forced to urinate on himself on multiple occasions after being denied bathroom access," according to the letter. "One man suffering from diarrhea was forced to wait hours to use the restroom to defecate. Many others could only relieve themselves into styrofoam cups, plastic bottles, portable urinal containers, or trash cans."
"They had to hold onto urine-filled bottles for hours at a time until they were allowed to leave the classroom to empty them. It is also our understanding that some men held in these conditions did not receive bottles at all; correctional officers simply told these men that they were 'out of luck,'" the letter continues.
The letter also details instances of alleged inadequate medical care, including a man who was sent to a local hospital with heart attack symptoms after not receiving his heart medication for several days.
The groups are also unaware of any Inmates leaving Draper who were tested for COVID-19 before being returned to Elmore and Staton prisons, the letter also states.
"We also have reason to believe that many of the symptomatic men at Staton and Elmore have not reported their symptoms to prison staff for fear of being held at Draper in the deplorable conditions described above," the letter continues.
APR has learned from several sources in recent weeks, who asked not to be identified because they have loved ones in Alabama prisons and are fearful of retributions for speaking out, that many inmates who have symptoms of COVID-19 aren't reporting those symptoms to prison staff for fear of being quarantined. Those family members are concerned that the disease is spreading much more broadly in Alabama prisons than is known as a result, putting their loved ones at greater risk of contracting the deadly disease.
Many of the concerns expressed in the letter were first reported by AL.com reported on Sept. 13, which found that access to medical care in Draper is limited and the conditions unsanitary.
In a response to AL.com's questions for that article, an ADOC spokeswoman wrote that inmates at Draper have access to "medical and mental health care, telephones, law library, mail services, and showers."
"Please remember — Inmates remanded to our custody have been convicted of a crime and handed a sentence to serve time as determined by a court. The unfortunate reality is that he or she, as a result of the crime committed and subsequent conviction, loses his or her freedoms," ADOC said in the responses.
"This response is unacceptable as a matter of principle, and inadequate as a matter of law," the letter from the civil rights group states.
"As ADOC knows, the fact of a criminal conviction does not strip incarcerated people of their rights under the Eighth Amendment, nor does it relieve ADOC of its constitutional obligations to the people in its custody, which are to provide them with 'humane conditions of confinement,' 'adequate food, clothing, shelter, and medical care,' and 'reasonable safety,'" the letter continues.
On Sept. 16, ADOC reported that there have been 403 confirmed COVID-19 cases among inmates, 21 deaths of inmates after testing positive for COVID-19, and 375 cases among prison staff. Two prison workers have died from COVID-19, ADOC previously said.
As of Sept. 14, there had been 1,954 inmate tests for coronavirus, out of the approximately 22,000 state inmates, according to ADOC.
ADOC on Sept. 16 said that on Thursday the department was to begin rolling out a plan to provide free COVID-19 tests to ADOC staff and contracted healthcare staff using fixed and mobile testing sites.
"In addition, we will test all inmates in facilities that house large numbers of inmates with high risk factors as an enhancement to our current testing protocols," ADOC said in a press release.