Ivey decisively defeats Maddox
Tuesday, Alabama Governor Kay Ivey (R) won a crushing victory over Democratic nominee Tuscaloosa Mayor Walt Maddox.
"We have done it," a jubilant Ivey told a throng of supporters. "The people have spoken."
"It is with immense gratitude that I stand before you tonight as the next Governor of Alabama," Ivey said. "Together we have made history."
Ivey is the first Republican woman elected governor in the history of the state of Alabama.
Ivey said that this was also, "The first time in our history when a lieutenant governor became governor and went forward and won election as governor of Alabama."
Ivey said that the odds were against her and that she had little chance of winning.
Throughout this campaign, Ivey has been dogged by claims that she was in poor health.
Acknowledging the attacks by her critics, Ivey said, "Others claimed I was on my last lap. Nothing could be farther from the truth and we are just getting started."
Ivey who is age 74 will be sworn into a four-year term starting in January.
"Alabama's great days are just beginning," Ivey proclaimed. "When I walk away, I want to leave things in far better shape than when I started."
Democrats had talked about a "blue wave" sweeping the state. On election day, the only wave anybody saw was a "red wave" as Republicans came out in force to consolidate all the gains that they have made in the past two election cycles.
Every Republican running statewide won their election and all six of Alabama's Republican congressional incumbents easily won re-election.   As of press time it appeared that the Republicans would hold on to their super majorities in both Houses of the legislature for another four years.
As of press time, Gov. Ivey had 1,014,821 votes to Maddox's 686,784. Governor Ivey finished with 60 percent of the vote to 40 percent for Mayor Maddox. 99 percent of the vote have been counted.  Kay Ivey is the first gubernatorial candidate to receive over a million votes since Guy Hunt (R) in 1986. Gov. Ivey carried 53 counties.  Maddox won just 13 counties.  Maddox and Ivey split Maddox's home Tuscaloosa County with 50 percent each.
Ivey is only the second woman elected Governor in the history of Alabama. The only previous woman governor was Lurleen Wallace (D) in 1966.
Ivey served two terms as Lieutenant Governor before being elevated to governor on April 2017 after then-Governor Robert Bentley (R) resigned over ethics and campaign finance violations.
Ivey grew up on a cattle farm in Camden in rural Wilcox County, went to Auburn University, is a former school teacher in California, has worked at a bank, served in Gov. Fob James cabinet, was law clerk in the Alabama House of Representatives from 1980 to 1982, ran unsuccessfully for state Auditor in 1982, was Assistant Director of the Alabama Development Office from 1982 to 1985, and was Director of Government Affairs and Communications for the Alabama Commission on Higher Education from 1985 until 1998. She ran for Treasurer in 1998. Ivey served as Treasurer from 2003 to 2011. She is 74 years old.
The decisive GOP win, which surprised no one, is the fifth in a row for Republican gubernatorial candidates in Alabama. This victory capped off an incredible 22-year run where Republicans have won
In 2014 Republican incumbent Gov. Robert Bentley received 750,231 votes (63.6 percent). Democratic nominee former Congressman Parker Griffith received only 427,787 votes (36.4 percent). Bentley carried 54 of the 67 counties.
In 2010 Republican nominee State Representative Robert Bentley received 860,472 votes (57.9 percent). Democratic nominee Commissioner of Agriculture and Industries Ron Sparks received only 625,710 votes (42.1 percent). Bentley carried 47 of the 67 counties.
In 2006 Republican incumbent Gov. Bob Riley received 718,327 votes (57.4 percent). Democratic Lieutenant Gov. Lucy Baxley received 519,827 votes (41,6 percent). Gov. Riley carried 45 of the 67 counties.
In 2002 Republican Congressman Bob Riley received 672,225 votes (49.9 percent). Incumbent Democratic Gov. Don Siegelman received 669,105 votes (49 percent). Representative Riley won 33 of the 67 counties.
The last time that a Democrat won was 1998. Democratic Lieutenant Gov. Don Siegelman received 752,087 votes (57.9 percent). Republican incumbent Governor Fob James received 546,504 votes (42.1 percent). Lt. Gov. Siegelman won 56 of the 67 counties.
In 1994 former Governor Fob James (R) received 604,926 votes (50.3 percent). Incumbent Democratic Gov. Jim Folsom Jr. received 594,169 votes (49.4 percent). Gov. James won 23 of the 67 counties. Folsom had been elevated from Lt. Gov.
In 1990 Republican incumbent Gov. Guy Hunt received 633,519 votes (52.1 percent). Democratic nominee Alabama Education Association (AEA) general secretary Paul Hubbert received 582,106 votes (47.9 percent). Hunt won 30 of the 67 counties.
The first time that a Republican won a governor's election in over a century was 1986. Republican nominee Cullman County Probate Judge Guy Hunt received 1,392.406 votes (56.4 percent). Lieutenant Governor Bill Baxley received 1,074,326 votes (43.6 percent). Hunt won 43 of the 67 counties.
In 1982 former Gov. George C. Wallace (D) received 650,438 votes (57.6 percent). Republican nominee Montgomery Mayor Emory Fulmer received 440,815 votes (39.1 percent). Gov. Wallace carried 62 of the 67 counties.
Print this piece
Sessions attacks Tuberville's views on China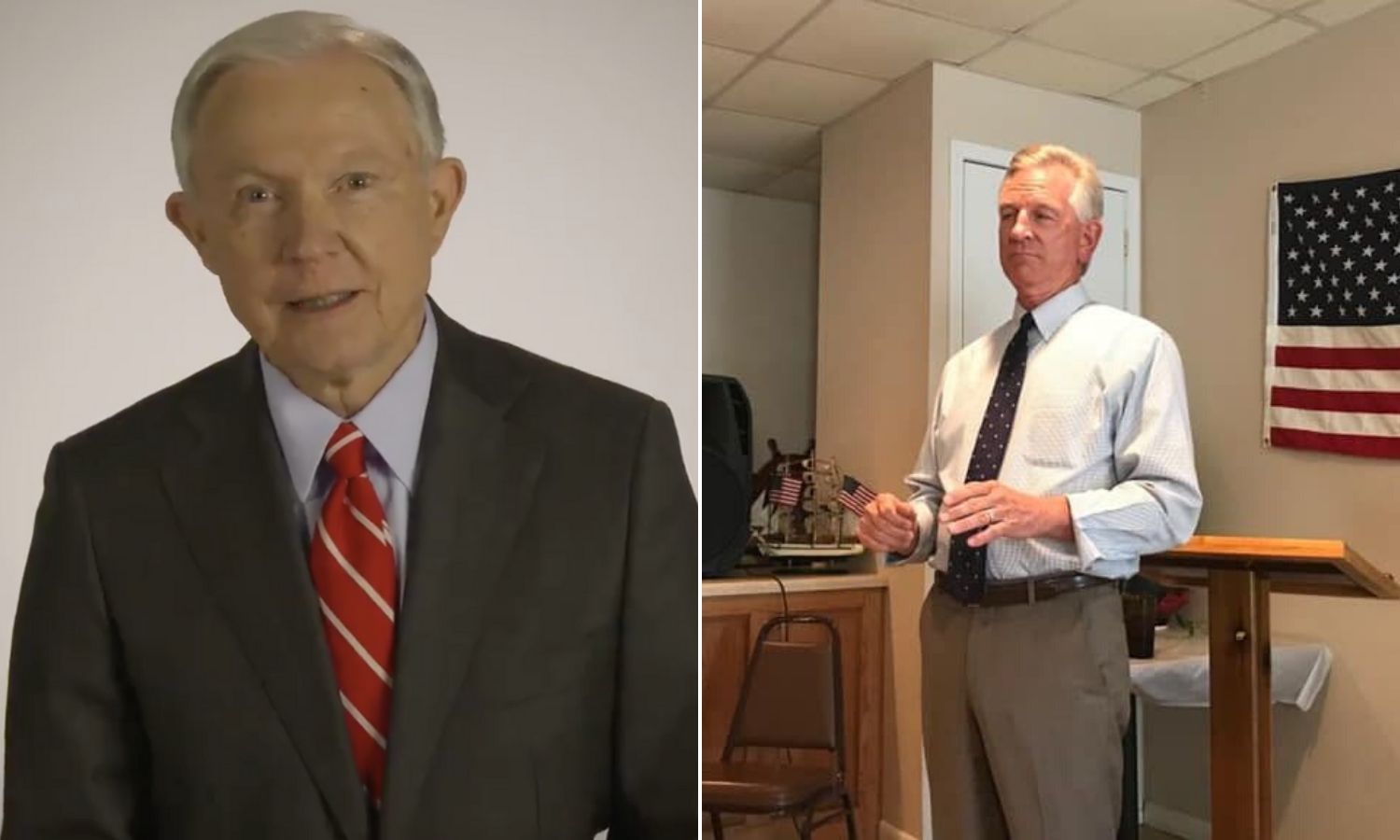 Former Sen. Jeff Sessions, R-Alabama, rolled out an ambitious, comprehensive plan to hold the Chinese government accountable for what Sessions called a cover-up of the coronavirus that has killed tens of thousands of people and devastated economies worldwide.
In an interview Thursday on the Matt & Aunie radio show on Talk 99.5 in Birmingham, for Auburn head football Coach and current GOP Senate candidate Tommy Tuberville expressed his views on China.
Matt Murphy asked: What do you see happening with China?
"Well, we can't worry about China right now…" Tuberville responded.
"You say you don't need to worry about China, but this came from China and our economy depends on China," Murphy asked on follow up. "Specifically how to overcome some of that dependence on Chinese goods and specifically in the pharmaceutical industry because right now we're dependent on the country that covered this up."
"Now we're seeing firsthand the results of letting everything go to China," Tuberville said. "The good thing about this is we'll have manufacturing come back and drugs and all those things….we're headed in that direction, just the simple fact that we can't control our own destiny. Everything's controlled by China. But that'll take care of itself."
During the show, Tuberville also characterized the Wuhan Virus, which has killed over 53,000 people and infected more than 1 million people across the globe, which then including over 1,300 people in Alabama, as "just a virus."
Jeff Sessions issued a statement critical of Tuberville on Friday in response.
"Amazingly, Tommy Tuberville said yesterday, 'We can't worry about China right now,"" Sessions quoted. "China is where the virus is from, and their deliberate lies hid the danger and resulted in a pandemic that never should have happened. We must take on China now and win, not run scared like Tommy Tuberville."
"There are over 1 million infected with the Wuhan Virus, and more than 1,300 in Alabama already," Sessions continued. "This is serious. But Tommy Tuberville said yesterday that 'this is just a virus.' What planet is he on? Tuberville is clueless. No wonder he's scared to debate me. We must stop relying on China for our critical medicines and equipment. I have a detailed plan to fix it. Amazingly, Tuberville also said yesterday, 'Everything's controlled by China, but that'll take care of itself.' Wrong! We must lead with action, this will not 'take care of itself.'"
On Thursday, a U.S. intelligence report claimed that China understated the damage that the coronavirus was doing in their country.
"Alabama's next Senator must be a leader who has the drive and determination to push a Congress that is too often unwilling to confront the critical issues of our time," Sessions continued. "I have proven my willingness and preparedness to lead from Day One. Tuberville is weak: all talk and no action."
Sessions is a former Senator, U.S. Attorney General, Alabama Attorney General, Chairman of the Alabama Republican Party, U.S. Attorney, asst. U.S. Attorney, and U.S. Army Captain.
The Republican primary runoff has been moved to July by Alabama Governor Kay Ivey (R) due to fears of the coronavirus. The virus is believed to have originated in Wuhan City, Hubei Province, China in late 2019.
As of press time, 10,943 Americans have died from COVID-19 including 53 Alabamians. 367,650 Americans have been diagnosed with COVID-19, including 2,006 Alabamians. At this point, only 240 Alabamians are confirmed hospitalized with COVID-19.
COVID-19 is the medical condition caused by a strain of coronavirus first identified late last year in Wuhan City, Hubei Province China, SARS-CoV-2. Since then it has spread across the globe infecting 1,346,566 persons that we are aware of killing 74,697 people.
The winner of the Republican primary runoff will then face Senator Doug Jones (D-Alabama) in the November election.
Print this piece