Ivey decisively defeats Maddox
Tuesday, Alabama Governor Kay Ivey (R) won a crushing victory over Democratic nominee Tuscaloosa Mayor Walt Maddox.
"We have done it," a jubilant Ivey told a throng of supporters. "The people have spoken."
"It is with immense gratitude that I stand before you tonight as the next Governor of Alabama," Ivey said. "Together we have made history."
Ivey is the first Republican woman elected governor in the history of the state of Alabama.
Ivey said that this was also, "The first time in our history when a lieutenant governor became governor and went forward and won election as governor of Alabama."
Ivey said that the odds were against her and that she had little chance of winning.
Throughout this campaign, Ivey has been dogged by claims that she was in poor health.
Acknowledging the attacks by her critics, Ivey said, "Others claimed I was on my last lap. Nothing could be farther from the truth and we are just getting started."
Ivey who is age 74 will be sworn into a four-year term starting in January.
"Alabama's great days are just beginning," Ivey proclaimed. "When I walk away, I want to leave things in far better shape than when I started."
Democrats had talked about a "blue wave" sweeping the state. On election day, the only wave anybody saw was a "red wave" as Republicans came out in force to consolidate all the gains that they have made in the past two election cycles.
Every Republican running statewide won their election and all six of Alabama's Republican congressional incumbents easily won re-election.   As of press time it appeared that the Republicans would hold on to their super majorities in both Houses of the legislature for another four years.
As of press time, Gov. Ivey had 1,014,821 votes to Maddox's 686,784. Governor Ivey finished with 60 percent of the vote to 40 percent for Mayor Maddox. 99 percent of the vote have been counted.  Kay Ivey is the first gubernatorial candidate to receive over a million votes since Guy Hunt (R) in 1986. Gov. Ivey carried 53 counties.  Maddox won just 13 counties.  Maddox and Ivey split Maddox's home Tuscaloosa County with 50 percent each.
Ivey is only the second woman elected Governor in the history of Alabama. The only previous woman governor was Lurleen Wallace (D) in 1966.
Ivey served two terms as Lieutenant Governor before being elevated to governor on April 2017 after then-Governor Robert Bentley (R) resigned over ethics and campaign finance violations.
Ivey grew up on a cattle farm in Camden in rural Wilcox County, went to Auburn University, is a former school teacher in California, has worked at a bank, served in Gov. Fob James cabinet, was law clerk in the Alabama House of Representatives from 1980 to 1982, ran unsuccessfully for state Auditor in 1982, was Assistant Director of the Alabama Development Office from 1982 to 1985, and was Director of Government Affairs and Communications for the Alabama Commission on Higher Education from 1985 until 1998. She ran for Treasurer in 1998. Ivey served as Treasurer from 2003 to 2011. She is 74 years old.
The decisive GOP win, which surprised no one, is the fifth in a row for Republican gubernatorial candidates in Alabama. This victory capped off an incredible 22-year run where Republicans have won
In 2014 Republican incumbent Gov. Robert Bentley received 750,231 votes (63.6 percent). Democratic nominee former Congressman Parker Griffith received only 427,787 votes (36.4 percent). Bentley carried 54 of the 67 counties.
In 2010 Republican nominee State Representative Robert Bentley received 860,472 votes (57.9 percent). Democratic nominee Commissioner of Agriculture and Industries Ron Sparks received only 625,710 votes (42.1 percent). Bentley carried 47 of the 67 counties.
In 2006 Republican incumbent Gov. Bob Riley received 718,327 votes (57.4 percent). Democratic Lieutenant Gov. Lucy Baxley received 519,827 votes (41,6 percent). Gov. Riley carried 45 of the 67 counties.
In 2002 Republican Congressman Bob Riley received 672,225 votes (49.9 percent). Incumbent Democratic Gov. Don Siegelman received 669,105 votes (49 percent). Representative Riley won 33 of the 67 counties.
The last time that a Democrat won was 1998. Democratic Lieutenant Gov. Don Siegelman received 752,087 votes (57.9 percent). Republican incumbent Governor Fob James received 546,504 votes (42.1 percent). Lt. Gov. Siegelman won 56 of the 67 counties.
In 1994 former Governor Fob James (R) received 604,926 votes (50.3 percent). Incumbent Democratic Gov. Jim Folsom Jr. received 594,169 votes (49.4 percent). Gov. James won 23 of the 67 counties. Folsom had been elevated from Lt. Gov.
In 1990 Republican incumbent Gov. Guy Hunt received 633,519 votes (52.1 percent). Democratic nominee Alabama Education Association (AEA) general secretary Paul Hubbert received 582,106 votes (47.9 percent). Hunt won 30 of the 67 counties.
The first time that a Republican won a governor's election in over a century was 1986. Republican nominee Cullman County Probate Judge Guy Hunt received 1,392.406 votes (56.4 percent). Lieutenant Governor Bill Baxley received 1,074,326 votes (43.6 percent). Hunt won 43 of the 67 counties.
In 1982 former Gov. George C. Wallace (D) received 650,438 votes (57.6 percent). Republican nominee Montgomery Mayor Emory Fulmer received 440,815 votes (39.1 percent). Gov. Wallace carried 62 of the 67 counties.
Print this piece
Buttigieg's campaign announces Dixon, Rice will lead on the ground efforts in Alabama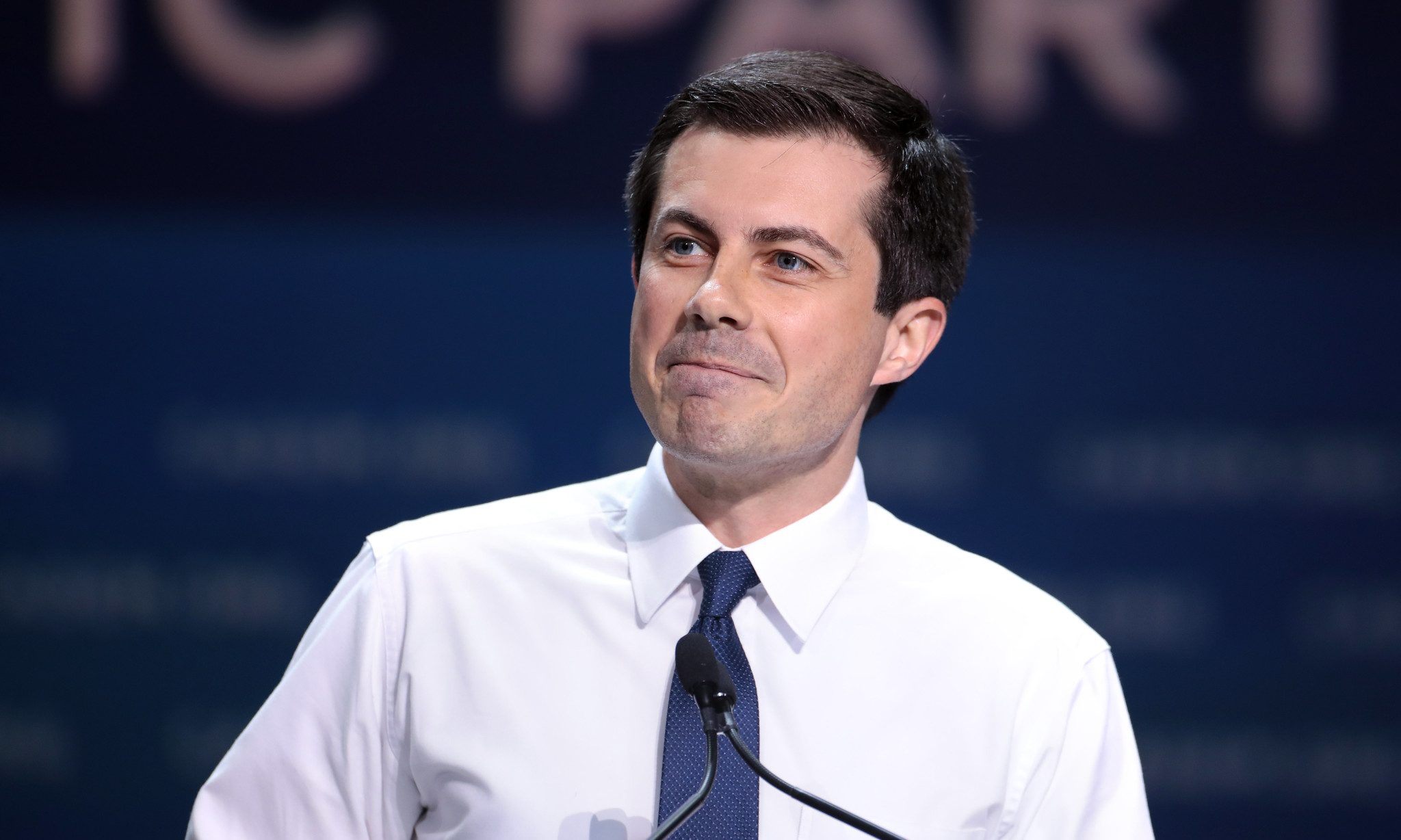 Pete Buttigieg's campaign announced that starting on Monday, Stephenie Dixon and Matthew Rice will lead the Buttigieg campaign's on-the-ground efforts in Alabama.
The Alabama presidential primary is less than three weeks away and the 38 year-old South Bend, Indiana Mayor is locked in a tight race with U.S. Senator Bernie Sanders (I-Vermont) after Iowa and New Hampshire. Sen. Amy Klobuchar (Minnesota) is in third. Former New York City and mega billionaire Michael Bloomberg skipped the early states and is pouring millions of his own money into the race. Former Vice President Joe Biden and Sen. Elizabeth Warren (Massachusetts) are struggling to resurrect their campaigns after disappointing finishes in the first two contest. Bloomberg and Sanders both been actively organizing in Alabama.
"We are building the campaign that will not only win this nomination but will defeat Donald Trump in November," said Samantha Steelman, Pete for America Organizing Director for Super Tuesday States. "To compete in all the states on Super Tuesday, you need a massive network of grassroots volunteers. For months, we have had a team that has been building that organization by harnessing the energy and grassroots momentum behind Pete and turning it into real organizing work. This ramp up will provide more staff and resources to train, resource, and guide our 25,000 volunteers in Super Tuesday states that will push our campaign across the finish line on March 3rd."
Dixon and Rice have been tasked with helping further resource and train grassroots volunteer networks in Alabama's seven congressional districts who have shared Pete's message across the state since last year.
Buttigieg has visited Alabama already but the Pete for America campaign has not announced another Alabama visit. Buttigieg will make five upcoming trips in the next two weeks that will take Mayor Buttigieg to Super Tuesday states: California, Colorado, North Carolina, Utah, and Virginia.
The campaign has also announced a six-figure digital buy in several Super Tuesday states.
Buttigieg's campaign claims that their message of belonging has inspired a grassroots campaign across the country. The campaign has built up volunteer leadership teams that are working in every single congressional district in all Super Tuesday states. Buttigieg's volunteer-led teams are already hosting events and recruiting more volunteers for door knocking, phone banks, and other volunteer action in Super Tuesday states.
In addition to staff on the ground, Pete for America is also activating and ramping up activity in coalition groups like Students for Pete and Veterans & Military Community for Pete. The campaign has over 80 Students for Pete chapters in Super Tuesday states including Troy University and Jefferson State Community College, to name a few. Chapter leaders have been trained on all aspects of the campaign, including digital organizing, field, and policy advocacy. As part of this ramp-up, Pete for America is engaging student groups to have organizing meetings to welcome new staff. Veterans & Military Community for Pete has more than 1,600 active members in Super Tuesday states that will ramp up organizing activities as well.
Pete for America is also organizing online in Alabama. The campaign has over 150 digital captains, with a presence in every Super Tuesday state who are engaging supporters and bringing them into its relational organizing program. The campaign's digital Welcome teams and Local teams will be finding and identifying new supporters online, welcoming them into the Pete community, and then connecting them to local resources both online and on the ground to get involved – translating online support to offline action.
Buttigieg is a veteran and if elected would be the youngest President in American history. He would also be the first openly gay president.
The Alabama presidential primary is March 3.
Whoever wins the Democratic nomination for President will face incumbent President Donald J. Trump (R) on November 3.
Print this piece