Opinion | Donald Watkins was indicted on Thursday; he'll never be convicted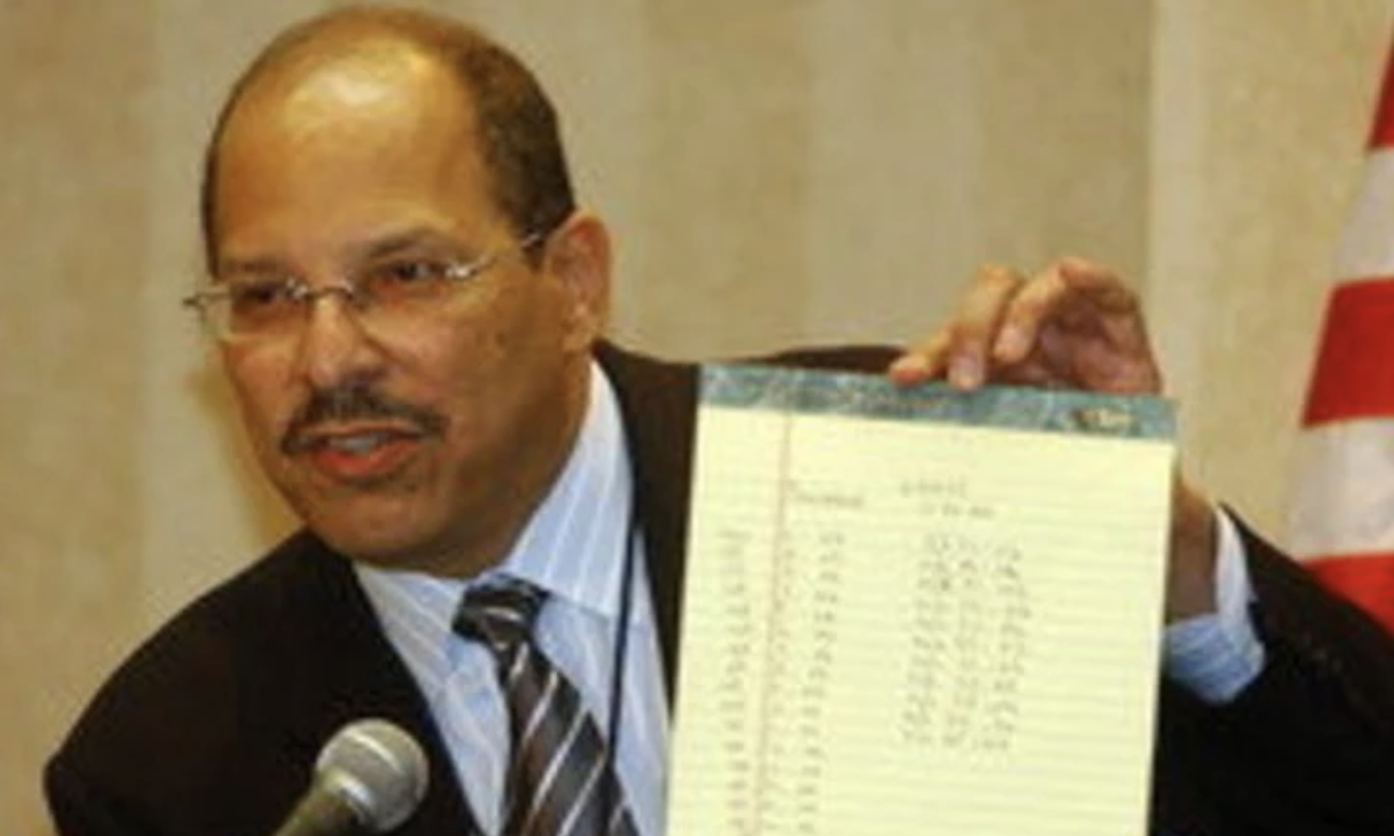 Let me tell you a story. A true story.
In the spring of 2014, as Alabama State University found itself mired in controversy stemming from an ongoing forensic audit and investigation, Birmingham attorney and former ASU trustee Donald Watkins stood at a university board meeting and told trustees of a fantastic opportunity to form a relationship with the Federal Bureau of Investigation.
That's right. Slap dab in the middle of a state and federal investigation in which university officials were alleged to have committed massive fraud, the FBI, Watkins said, wanted to form a partnership.
Watkins told the trustees that a meeting had been held between himself and other representatives of ASU and the director of the FBI's Montgomery field office. At that meeting, Watkins said, the director had proposed an "intragovernmental relationship."
Now, no one, of course, had any idea just what the hell an "intragovernmental relationship" actually was. And it has never been clear if any relationship between ASU and the FBI had ever been even discussed.
But the meeting had definitely taken place. And when news of Watkins' presentation hit the media, the feds and the state — who each had a hand in the ongoing fraud investigation at ASU — lost their minds.
Then-ASU president Gwendolyn Boyd issued a press release, at the encouragement of the governor's office, saying Watkins didn't speak for ASU. That was followed closely by a letter from then-U.S. Attorney George Beck basically calling Watkins a liar and chastising ASU for participating in his "charade."
Donald Watkins smiled.
Over the next couple of weeks, he used the statements from Boyd and Beck to launch a full-fledged media attack on the ASU investigation. He filed official complaints with any department that would accept the complaints … and then sent copies to the media. He gave interviews. He posted on Facebook. He sent out his own statements and press releases.
And in a matter of days, Watkins had turned what was likely an innocent meeting between university officials and an FBI field office director into a scorched-earth, doubt-inducing firebomb that left even the people conducting the investigation wondering if the whole thing was a setup.
Suddenly, an investigation that most people in the state supported was crippled with questions of bias, racism and retaliation.
Watching Watkins do his work was like watching Bob Dylan write a song.
He dropped the traps, watched the prey walk right into them, and then twisted them in every direction possible as he painted his narrative and sowed his doubt. And he seemed to do most of it by the seat of his pants, just winging it.
I tell you that story about Watkins so you'll understand why I believe the U.S. government, which indicted Watkins and his son, Donald Watkins Jr., on Thursday, will never successfully convict Watkins.
I don't think they could do it under any circumstances, much less gain convictions in a complicated financial indictment. Our government has so thoroughly allowed the lines between fraud and "shrewd business" to be blurred so badly at this point, even if Watkins and his son were guilty I don't know how the average person can say so beyond a reasonable doubt.
Watkins' case is more complicated than most. Essentially, he stands accused of taking investors' money and using it for personal expenses. Watkins, of course, denies the allegations and says that his money was also tied up in the businesses and that many of the "personal expenses" were acceptable business expenses.
He also launched his first attack at the feds and U.S. Attorney Jay Towns. And that first salvo should give Towns and his crew an idea of what they're up against.
Watkins, the man who has made his living as an attorney by using Alabama's racist history to his advantage, posted a commentary to his website in which he made an ally out of … Donald Trump.
Using Trump's allegations of bias and corruption within the U.S. Department of Justice, Watkins claimed his, too, was a political prosecution meant to silence a critic and a thorn in the side of the elite. The same man who represented HealthSouth CEO Richard Scrushy for a cool $5 million and who once claimed to be wealthy enough to buy a Major League Baseball franchise was on Thursday just another peon being chewed up by the corrupt machine.
Hey, this is a Trump state. And any jury pool will be filled with people from this state.
Watkins is already making moves in the game. And if I had to guess, he'll always be a few steps in front.
Speaking of which, that ASU investigation I mentioned earlier, Watkins was right about it. And by the end, when it fizzled and died without a single indictment, many saw it as biased, racist and retaliatory.
Just the way Watkins painted it.
Opinion | Tommy, can you hear me?
That Morning Consult poll of Alabama voters that showed Republican Tommy Tuberville with a 17-point lead over incumbent Democratic Sen. Doug Jones for the U.S. Senate was such a stunner, a Jones campaign aide rushed out an email fundraiser trying to quell any panic.
Until now, most polls have shown Jones to be competitive against an unnamed Republican and, specifically, Tuberville, the former Auburn football coach who defeated Jeff Sessions to win the Republican nomination.
"I would never respond to an outside poll, but a new poll is out there showing Doug Jones losing by … wait for it … 17 points," writes Joe Trippi, senior adviser for the Doug Jones for Senate campaign.
"Here is my comment," Trippi writes. "No way."
Unfortunately, in Alabama, there is a way.
Republicans in the state tend to vote straight ticket in overwhelming numbers. Alabama is one of a handful of states that even allows straight-ticket voting, but the reality is, it does. So voters who want to cast their ballot for, say, Donald Trump in November, but who also like Jones, will have to split their ticket.
The Morning Consult poll showed that a large number of independent voters are undecided, and that could swing the election toward Jones. But straight-party voting can be a hope killer.
Not yet, though. It's still early. The election is still nearly three months away. We've not seen Tuberville do much of anything but bow before Trump, who endorsed him over his former attorney general. But that's Trump loyalty for you.
Indeed, the country is going so poorly right now, one wonders other than the hard-core racists, who still supports Trump.
I know, I know: Alabama is different (plus, we still have more than our share of hard-core racists). But c'mon, folks, more than 157,300 Americans are dead from the COVID-19 pandemic, completely mismanaged by the Trump administration. There have been more than 4.7 million cases. In Alabama, there have been more than 90,000 cases and more than 1,600 deaths.
Meanwhile, the U.S. and Alabama economies are in shambles and getting worse, not better. Trump has sided with Confederate statues and flags over eliminating the systemic racism found in police departments and other government agencies. Plus, most recently, Trump sent his secret army of unidentified goons to sweep protesters off the streets in American cities.
Trump is nobody's friend but his own.
Then there's Tuberville. A decent if mediocre football coach, Tuberville certainly is no Nick Saban. Tuberville isn't even a Gus Malzahn.
Sessions tried to argue that Tuberville wasn't a resident of Alabama, either, but that's not fair. Where Sessions is concerned, unfair is a character trait.
While Tuberville does maintain properties in Florida, he and his wife have owned a home in Auburn for at least three years. Too, they both are registered voters in Alabama, though Sessions said Tuberville cast his ballot in Florida during the 2018 midterms.
What's more important is where Tuberville stands on the issues. And that, we don't know much about. We know Jones is a moderate who works with members of both parties. He clearly represents Alabama's best interests as well as any U.S. senator who has served from Alabama.
Though the loons try to paint Jones as a liberal-socialist-communist bogeyman, he's nowhere close. Certainly, he's different from Sessions, who held that Senate seat for two decades before becoming Trump's attorney general. He's different from Sessions in that he actually gets legislation through the Senate. Sessions mainly interfered with progress while a senator.
The first U.S. senator to support Trump's candidacy, Sessions identified with Trump most likely because they're both die-hard racists. Trump rewarded that loyalty by back-stabbing Sessions out of Washington.
At some point, though, Tuberville must make his positions clear, and not simply that he'll support anything Trump does. That would be a disaster for Alabama, as much as Trump is a disaster for the United States.
The former Auburn University football coach can't just continue being a sycophant for Trump, whose own poll numbers are tanking and who is likely not going to win re-election.
Should Alabama send a Republican to represent the state with a Democratic president, a likely Democratic Senate and a solidly Democratic House? That would be useless.
But Trippi, in his email, did show how Tuberville wins easily: "One bad poll turns all of us off … you write the race off, and Tuberville coasts to victory because no one is paying attention," says Trippi. "Everyone abandons Alabama except Mitch McConnell, who is ALL IN to beat Doug. The proof is in the money he (McConnell) is spending now."
It's true that McConnell is working hard to unseat Jones to protect Republicans' wobbly control of the U.S. Senate, and if they weren't concerned that Jones has a good shot at winning re-election, McConnell would spend that campaign money in another state.
Tuberville must do more than hide behind Trump. We need to hear Tuberville's plan, where he stands on the issues and what he'll bring to Alabama that Jones hasn't already.
Let's hear it, Coach Tommy. But you'll have to scoot back a bit first.