Ivey uses inaugural address to call for infrastructure, corrections funding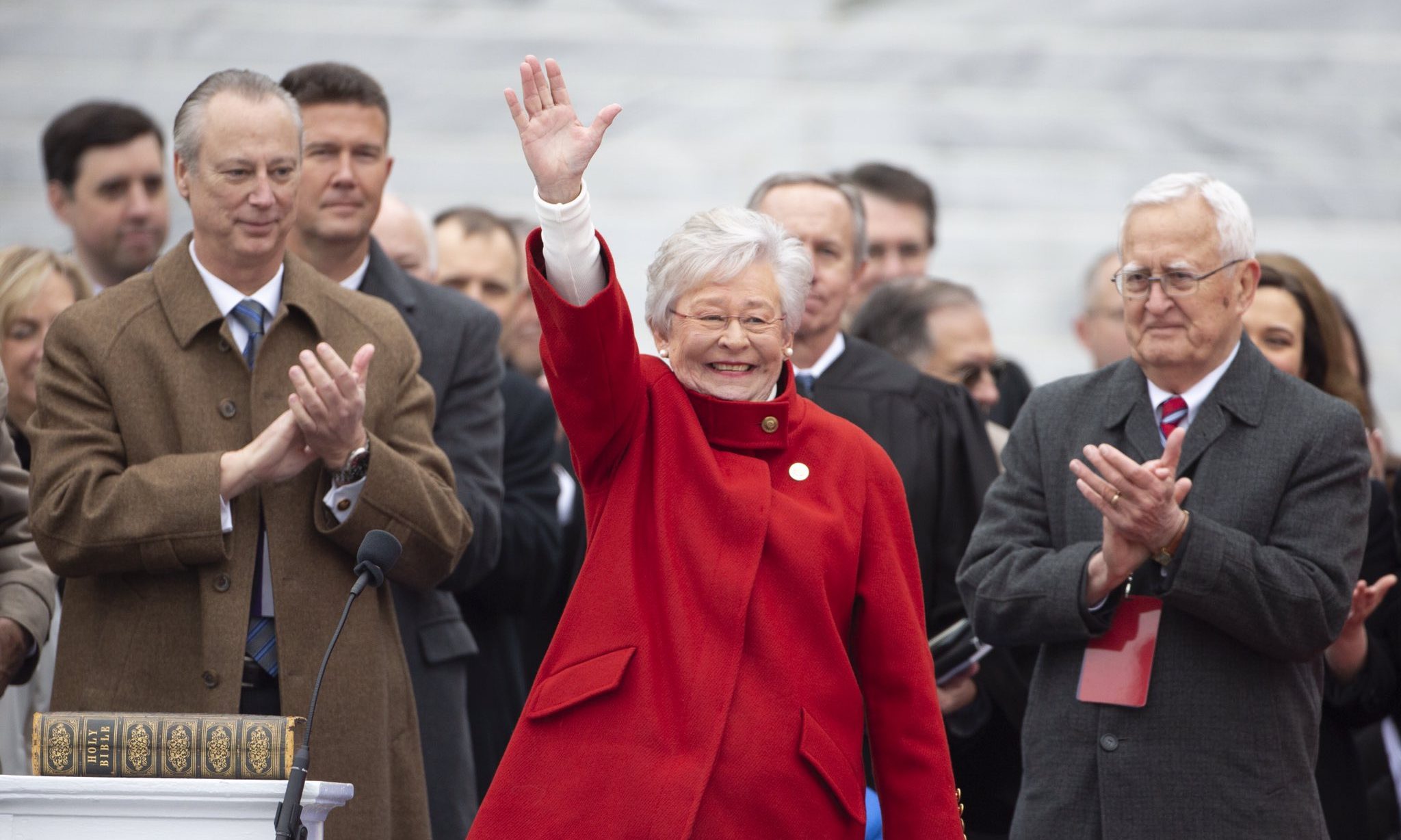 During her inaugural address Monday, Gov. Kay Ivey, who is beginning her first full term as Alabama's 54th governor, called on the Legislature to improve the state's infrastructure and replace aging prisons.
The governor was sworn into office Monday morning on the steps of the State Capitol. Ivey used the legacy of Gov. Lurleen Wallace, the state's first female governor, to call for investments in roads and bridges.
"In her inaugural address, Gov. Wallace called on the Alabama Legislature to, among other things, provide greater funding to build and improve our roads," Ivey said Monday. "Today, I follow in Gov. Lurleen Wallace's footsteps in many ways and make the same ask to the members of the Alabama Legislature."
Though Ivey has a number of allies in the Legislature, where Republicans hold supermajorities in both chambers, the fight for greater funding for infrastructure — in the form of a gas tax — could be a difficult one.
Republican leadership in both chambers have been in lockstep with Ivey on calling for an increase to the gasoline tax, which hasn't been adjusted since 1992. Alabama's Association of County Commissions and a number of business groups have thrown their support behind an increase in the gas tax.
Despite that, significant numbers in the conservative wing of the Republican caucus have been opposed to efforts to increase the gas tax in recent years. Some Democrats have also opposed the increase, saying it would fall disproportionately on the backs of working Alabamians.
In 2016, only South Carolina collected less in motor fuels taxes, but South Carolina will likely surpass Alabama in the next few years because it adopted a plan recently to gradually increase its gas tax, and its rate now exceeds Alabama's.
"After all, if we want to compete in a 21st-century global economy, we must improve our infrastructure by investing more in our roads, our bridges and our ports," Ivey said Monday.
Ivey never mentioned a gas tax specifically in her inaugural address, though. She stuck to general calls to increase road and bridge investment instead of speaking on a gas tax specifically. She has endorsed a modest increase in the gas tax.
---
READ IVEY'S INAUGURAL ADDRESS HERE.
---
"It has been nearly three decades since we last made any changes to our current funding, and the challenge has grown with the passing of time," Ivey said. "Now is the time to increase our investment in infrastructure – now is the time to solve this problem."
Ivey seemed to predict that Republican leadership will need some help from Democrats to pass a gas tax increase. She called on legislators to work in a bipartisan fashion to solve issues.
"Let's face it," Ivey said. "The challenges we confront today did not just arrive on our doorstep; likewise, they will not go away in weeks or even months. But if we work on them together – Democrats and Republicans, conservatives and liberals – then today's challenges can be looked upon as tomorrow's accomplishments."
Lawmakers have tried numerous times in recent legislative sessions to move on a gas tax, but all efforts eventually stalled. This year, the gas tax seems to be a priority for leadership. Second on their list is prison construction — another issue that has remained at an impasse in the legislature for several years.
Ivey called for an "Alabama solution" to problems with the state's corrections system.
"We are revitalizing our statewide corrections system by replacing costly, at-risk prison facilities," Ivey said. "This effort will ensure that Alabama stays committed to statewide prison reform, and we will be announcing more detailed plans in the coming days."
Though few details have been publicly announced, the Department of Corrections has hinted a plan to lease new prisons.
Less than two years ago, the Legislature rejected a plan by then-Gov. Robert Bentley to spend approximately $850 million on four mega-prisons. But prospects of securing funding for a smaller project with a higher price tag is sure to face push-back in the Legislature.
Dunn's appearance at this month's Contract Review hearing was to receive approval for an extension to a nearly $11.5 million contract with Birmingham-based Hoar Program Management, LLC, to complete a study that would result in a request for proposal to build the three facilities.
Two lawmakers who spoke with APR on background think that leasing prisons may not be the ideal solution, but it avoids much of the legislative in-fighting that doomed new prison construction in the past.
The Legislature is set to convene in March for the 2019 legislative session.
Democratic women condemn comments on Gov. Kay Ivey's appearance
"These comments are disrespectful, inappropriate in every way, and represent a broader culture of casual sexism," read a joint statement from four Democratic women.
A group of Democratic women on Wednesday issued a statement condemning comments made by a state school board member who was critical of Gov. Kay Ivey's weight. 
Wayne Reynolds, a Republican who represents portions of northwest Alabama on the board, wrote during a live stream event that Ivey, who is also a Republican, "is gaining weight." 
Afterward, in an interview with AL.com, Reynolds doubled — and then tripled — down on his comments as he critiqued Ivey's choice of clothing. 
"She looked heavy in that white suit," Reynolds said of Ivey, who held a press conference on Wednesday to update the state's "safer-at-home" order. "I don't know what she weighs. I just made an observation."
Later in the interview, Reynolds said the pantsuit Ivey wore was unflattering and that he had seen her wear other suits "that were more slimming on her."
The backlash to Reynold's comments was swift and bipartisan with women around the state rightfully taking issue. 
"These comments are disrespectful, inappropriate in every way, and represent a broader culture of casual sexism," read a joint statement from four Democratic women. "Women all over Alabama know what it is like to be subjected to unfair criticism on the basis of their appearance or weight. 
"We need to cultivate an environment where individuals are judged on the basis of their skill and proficiency. Alabama elected officials should be discussing policy, not the physical appearance of policymakers. Anything less is a disservice to Alabamians. We are disturbed by Mr. Reynold's remarks, and we hope other elected officials and candidates will likewise condemn his comments. Mr. Reynolds was wrong and we deserve better."

The statement was signed by Amy Wasyluka, president of Alabama Democratic Women, Phyliss Harvey Hall, a District 2 congressional candidate, Dr. Adia Winfrey, a District 3 congressional candidate and Laura Casey, a candidate for president of the Alabama Public Service Commission.