Gov. Ivey to move forward with $900 million prison plan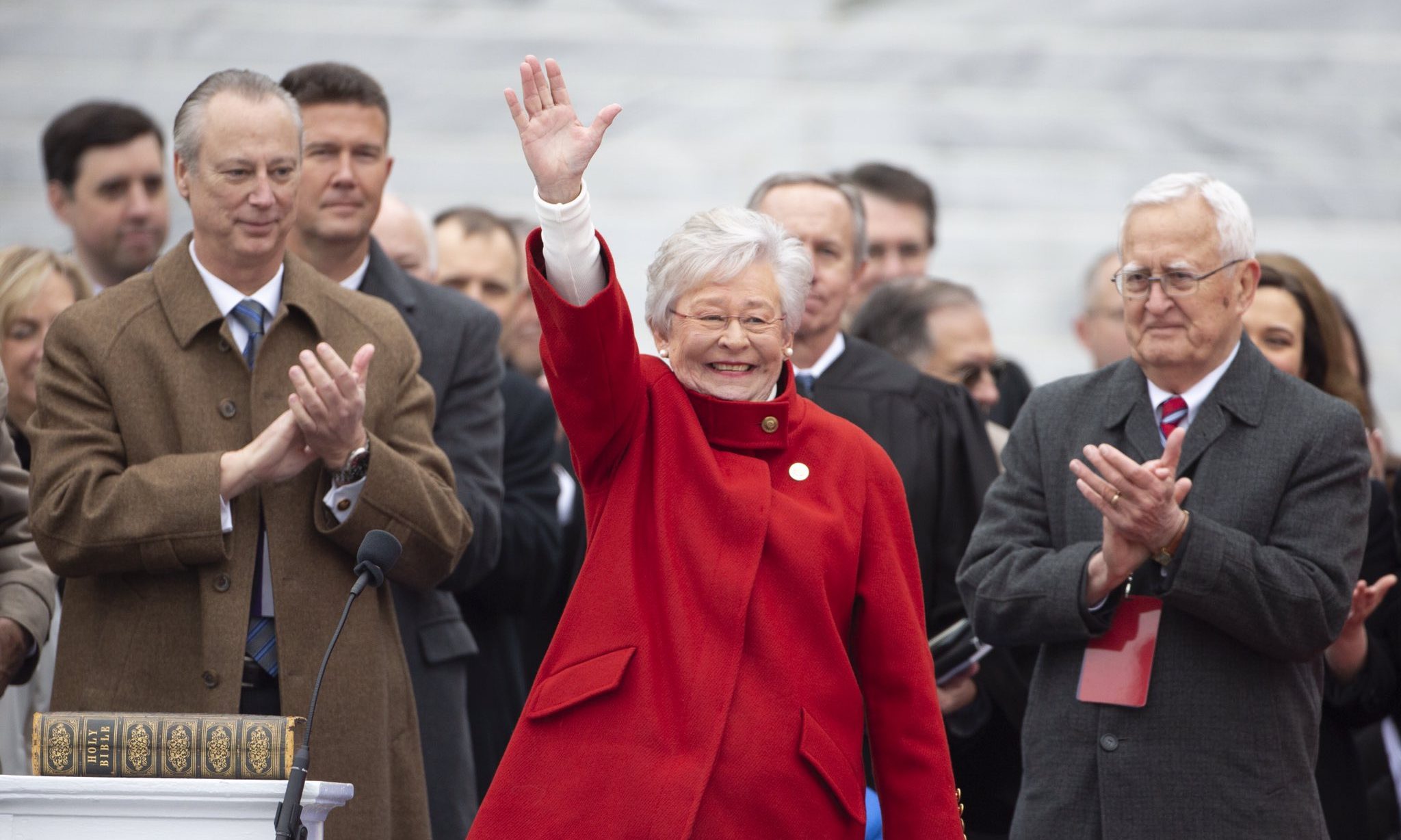 Alabama Gov. Kay Ivey is poised to move forward with a plan to build three new prisons and invest more in prison staff as the state's aging and overpopulated correctional system faces continued calls for reform from both activists and the federal courts.
Ivey announced a broad outline of her plan during a press conference Tuesday at the State Capitol in Montgomery, echoing her previous calls for an "Alabama solution" to an "Alabama problem." The estimated costs to build three new men's prisons, according the Department of Corrections Commissioner Jeff Dunn, is around $900 million.
Ivey's new plan also calls for three new regional facilities, one of which will have additional space for centralized health and mental health care facilities for special needs populations. Each new facility will also include space for educational and vocational training programs.
The Department of Corrections is preparing a request for proposals, and contractors will be asked for bids to build the three new regional men's prisons. The decision to build the new prisons comes after ADOC hired a project management team to assess the prison system's needs over the last two years.
By releasing a request for proposals, Ivey said Alabama will be able to see for the first time an accurate estimate of how much it will cost to build the facilities. Estimates in bills pushed in the Legislature in 2016 and 2017 ranged from $800 to $1.5 billion, depending on how long it took the state to repay revenue bonds used to finance the construction.
Ivey shifted from reports over the last few months that she was considering a build-and-lease plan to construct the new prisons. That plan would've allowed private entities to finance and build the prisons while the state leased them back. The plan could've been issued by Ivey alone, and it wouldn't have needed legislative approval.
The governor's plan will now seek some sort of legislative approval and input, though it's unclear whether she is still considering a build-and-lease plan.
"I make a promise to you that part of this next step is to publicly provide the real costs we receive from contractors and to work closely with the Legislature to determine the most cost-effective way of moving forward. Whatever we do will be the best and most fiscally responsible decision for the state of Alabama."
Ivey pushed back against assertions that special interests have had a hand in her corrections plan.
"That could not be further from the truth," Ivey wrote in an op-ed Tuesday.
At this point, it seems Ivey's plan is a toned-down and re-worked version of the Alabama Prison Transformation Initiative pushed by former Gov. Robert Bentley and Sen. Cam Ward, R-Alabaster. Bentley's plan called for three new, 4,000-bed regional men's prisons and a new 3,000-bed women's prison.
Republican and Democratic lawmakers who opposed that $800 million plan referred to the regional prisons as "mega prisons" and criticized a design-build component that would've meant bidding only one contractor to both design and build the prisons. Lawmakers said at the time that the design-build method skirted the state's bid laws, which typically require a bidding process for both the design and the construction phases of building projects.
Ward and Bentley's plan died two years in a row in the state Legislature. In 2017, the House stalled on the bill and it didn't make it to Ivey's desk in time to sign. She considered calling a special session that year to address prison construction, though she didn't end up doing it.
The plan still may not avoid criticism from legislators who worry that consolidating the state's 13 remaining major men's correctional facilities into three major regional facilities could harm local economies.
Ivey and Dunn have repeatedly argued that upgrading and renovating the 13 correctional facilities to meet minimum required standards would cost just as much, if not more, than building new facilities.
"Our existing facilities need $750 million in maintenance alone," Ivey wrote. "Last year, we closed the Draper Correctional Facility, a 79-year-old prison, because it was simply too costly to repair. Without costly maintenance, many other facilities may require closing as well. Repairing these facilities that do not meet the needs of today's criminal justice system would be wasteful and ineffective."
Ivey's announcement comes as the federal courts continue mulling conditions in Alabama's prisons. A lawsuit over mental health care in Alabama's prisons brought by the Southern Poverty Law Center ended with Federal Judge Myron Thompson ruling conditions to be "horrendously" and constitutionally "inadequate."
Thompson ordered the state to nearly double the number of correctional officers over the next two years.
Thompson ruled Monday in another part of that lawsuit that the treatment of inmates in segregated isolation is unconstitutional and violates the Eighth Amendment. U.S. District Judge Myron Thompson found the Alabama Department of Corrections to be "deliberately indifferent" to the treatment of the prisoners in isolation.
In 2014, conditions at Alabama's Tutwiler Prison for Women were so bad that a federal court ruled them unconstitutional and ordered improvements.
A second phase of the SPLC health care lawsuit is set to go to trial soon and could end with more federally-mandated improvements to the system.
Ivey said Tuesday that she plans to propose a budget that includes a $31 million funding increase for ADOC so the state can hire 500 new correctional officers to comply with the federal court order. The budget increase would also fund a pay increase for security personnel to make their salaries competitive.
"In December, we saw our first increase in the number of correctional officers in years," Ivey wrote. "With a rising retention rate, we can begin adding to our officer ranks, rather than simply maintaining our current staffing levels. This is a difficult task, but because of the commitment from members of the Legislature, we are now well on our way to addressing our staffing challenges."
The Legislature last year provided $86 million in additional funding to the department over two years to retain new staff for medical and mental health services and to reduce the rate of turnover among correctional staffing.
Lawmakers have taken other steps in recent years to reduce Alabama's notorious prison overcrowding. Since criminal sentencing reform passed in 2015, overcrowding has dropped significantly from 200 percent to about 160 percent. But Ivey said that overcrowding rate is still too high.
Ivey said she fears that the federal courts could do like they did in California and order thousands of prisoners released.
"Some estimate this order resulted in the release of more than 40,000 inmates," Ivey wrote. "Following the release of these inmates, one study into the impact of this mass release called the increases in crime rates 'alarming.' So, our public safety also demands this investment."
Print this piece
Opinion | Deception, subtlety and the wholesale destruction of current ethics laws mark proposed rewrite
Legislation proposed by Rep. Mike Ball, R-Madison, would radically alter the existing State Ethics Act rendering it useless as an effective tool to regulate the behavior of public officials, much less prosecute a rouge lawmaker.
Testifying at a pre-trial hearing in the criminal case against then-Speaker of the House Mike Hubbard in April 2015, Ball said the ethics laws needed amending to avoid prosecutions like Hubbard's in the future.
If HB179 becomes law, Ball will have fulfilled the words he spoke at the Lee County Court House, where Hubbard was tried and convicted.
As House Ethics Committee Chair, Ball has sought to change the State's Act since Hubbard was indicted.
Ball's bill is subtly written from an enforcement and trial perspective to neuter the law.
Words are added, deleted, and meanings changed in ways that might look harmless but actually open the door for the kind of corruption Republicans vowed to change in 2010, when they passed the toughness in the nation's ethics laws.
Beyond changes that would allow for general corruption to go unpunished, Ball's legislation would strip the Attorney General and district attorneys of their power to prosecute anyone who violates the ethics laws without first securing approval from the State Ethics Commission.
All prosecution of any public official would first have to be approved by the Ethics Commission, a group that has repeatedly shown that it bends its decisions according to the prevailing political winds.
HB179 reads in part, "This bill would prohibit the Attorney General or a district attorney from presenting a suspected ethics violation by an individual subject to the code of ethics, other than a member or employee of the commission, to a grand jury without a referral by the commission."
In other words, Ball would have a politically-appointed commission decide if law-enforcement agencies can seek indictments against wrongdoers.
Neither the Attorney General or a county district attorney can even impanel a grand jury in an ethics probe without the commission first finding probable cause.
Some of Ball's alterations come in the form of removing whole sections of the law under the guise of redefining words, like "a thing of value" or "widely attended event."
An example of how Ball's legislation plays with the law is under the section of code, which defines a family member of a public official. Currently, a family member is "[t]he spouse, a dependent, an adult child and his or her spouse, a parent, a spouse's parents, a sibling and his or her spouse, of the public official." Ball changes it so it only includes a spouse and a dependent. That means that a public official may act to enrich his adult children, a parent, an in-law a brother, or a sister. These small but destructive alterations to the law are at the heart of Ball's legislation.
Some loopholes are so extensive that a sitting legislator could be paid by a city or county governmental economic development entity and still seat in the Legislature voting on bills that might directly affect his consulting client.
Out-of-state junkets make a comeback as do several other goodies lawmakers have been desiring.
It seems Republicans want to cash in on the rewards of office like Democrats did once upon a time.
One thing is clear, Ball didn't write the bill, but whoever did knew precisely what they were doing and were probably paid handsomely for their efforts.
There are so many cunningly deceptive changes to the ethics laws in Ball's bill as to make it impossible to catch them all without days of intense study—and perhaps a team of lawyers.
Ball, one of Hubbard's most an ardent defenders has said Hubbard's indictment and conviction was a political witch hunt. He has said he wants to rewrite the ethics laws to save future Hubbards; it now looks as if he has.
Print this piece