Political leaders denounce newspaper editorial calling for Ku Klux Klan violence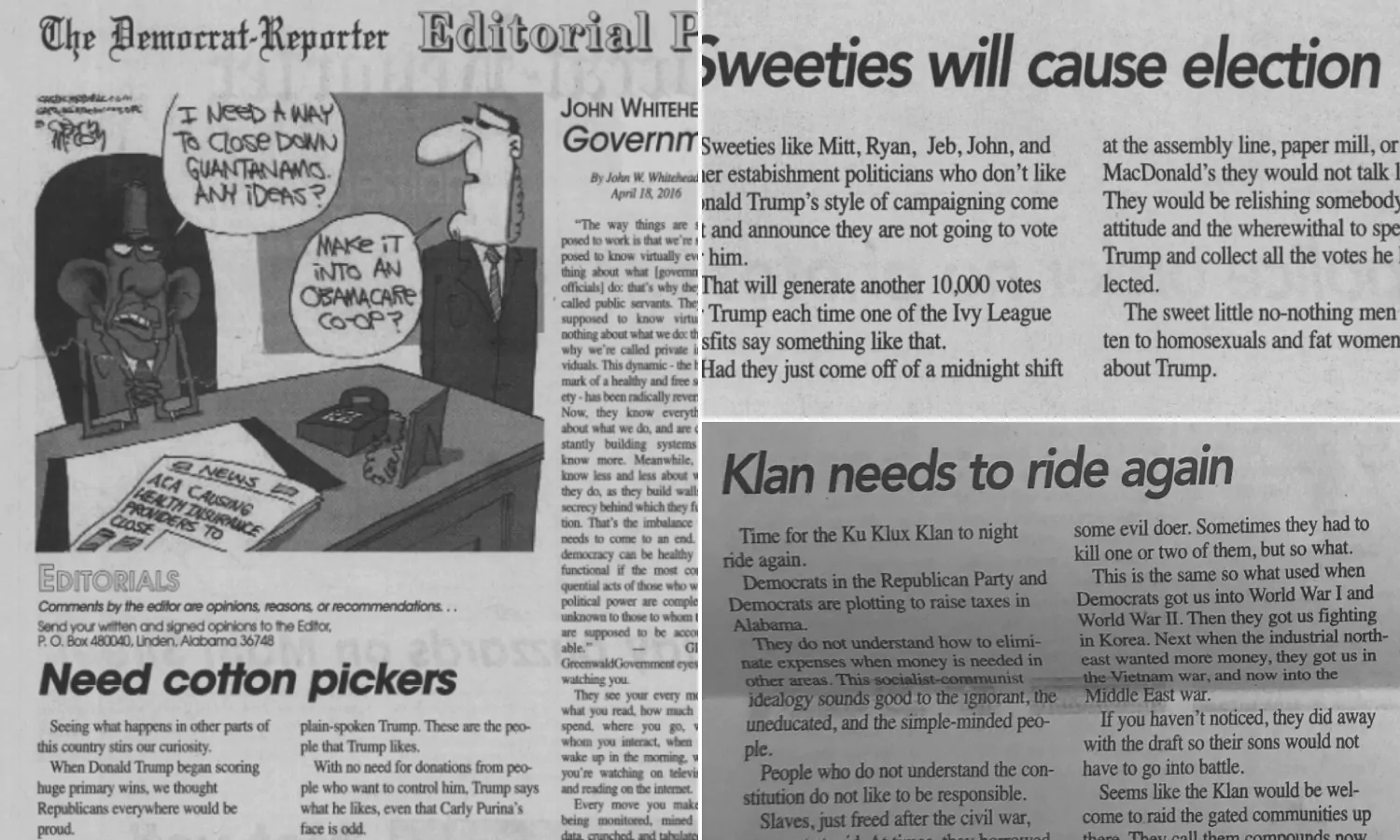 Several prominent Alabama leaders denounced a recent editorial written by Goodloe Sutton, editor of The Democrat-Reporter, urging the Ku Klux Klan to ride again and lynch members of Congress.
Editor who wrote Klan editorial has penned countless racist, sexist, xenophobic pieces
"Like everyone I know in Alabama, I was shocked and disappointed by the naked racism of the editorial lauding the Ku Klux Klan that appeared in Linden's Democrat-Reporter," said John Merrill, secretary of state. "Some people, I suppose, will never learn the lessons of history. Any student of Alabama history knows that there was a time when members of the Ku Klux Klan were active and effective political advocates who were fully engaged in all aspects of Alabama life. That day has long since passed and is not looked at favorably by any well-meaning citizen of our state."
Linden is in Marengo County and is part of the Seventh Congressional District represented by Congresswoman Terri Sewell, a Democrat from Selma. Sewell is the first African-American woman to represent Alabama in the Congress.
"For the millions of people of color, especially those in Alabama, who have historically been terrorized by white supremacy, this kind of editorializing about lynching is not a joke – it is a threat," Sewell wrote. "These comments are deeply offensive and inappropriate any day, but especially in 2019. Mr. Sutton should apologize and resign."
"The language used by The Democrat-Reporter is deeply disturbing & completely unacceptable," wrote Rep. Martha Roby, R-Alabama. "There is no place for this type of hateful rhetoric in our society. I encourage the newspaper to issue a public apology & urge Mr. Sutton to resign as publisher."
"OMG! What rock did this guy crawl out from under? This editorial is absolutely disgusting & he should resign -NOW!" said U.S. Sen. Doug Jones, D-Alabama. "I have seen what happens when we stand by while people — especially those with influence — publish racist, hateful views. Words matter. Actions matter. Resign now!"
The state of Alabama is still haunted nationally and internationally by historical images from decades of Jim Crow segregation and violent attacks by the KKK and state and local government on civil rights activists. Many civil rights leaders, including Fred Shuttlesworth, had their homes bombed by white supremacists. Four little girls were killed when the Sixteenth Street Baptist Church in Birmingham was bombed by Klansmen.
"The stigma associated with that history is difficult for well-intentioned members of our society to overcome whenever negative statements are made by well respected individuals that give credibility to hate groups like the Ku Klux Klan," Merrill said. "One thing that is certain is that the people of Alabama have been at their best when they have taken stands against groups whose only message is to promote fear and continued racial segregation of our society."
The Alabama Press Association voted to censure Sutton and has suspended the membership of The Democrat-Reporter.
"I applaud the Alabama Press Association's decision & all those who called out this hateful racism for what it is," Jones said on social media. "The editor needs to resign."
"Further, the editorial recently published in the Democrat-Reporter exemplifies some of the many negative issues created by this organization throughout our state's history," Merrill continued. "In fact, our state is still rebuilding relationships with those members of our community that were harmed physically, mentally and emotionally during the time that this hate mongering organization was at its peak in our state. It is very disappointing that people will take advantage of their platforms to initiate or engage in conversations that are obviously designed to disrupt the normal activities of the people of Alabama with disconcerting and inflammatory language that is regressive and unproductive to our people and our state."
"I think it needs to be looked into by the FBI because, in my opinion, he's making threats to legislators and telling them that the Klan essentially needs to take care of the Democrats," Alabama NAACP President Benard Simelton told the Alabama Media Group.
"Alabamians and Americans know that the most effective method of political activism is to participate in the electoral process to ensure that our elected representatives hold the same values that are held by the electors that put them into office," Merrill concluded. "This type behavior is not acceptable and whenever it is introduced, it should be identified and rejected."
Finance director: Alabama expects to spend nearly all of $1.8 billion in CARES Act funds
"I think we'll be down to less than $10 million, and hopefully less than that," the state finance director said.
Alabama has until Dec. 30 to spend the $818 million that remains of $1.8 billion in federal CARES Act money allocated to the state, or the remaining funds revert back to the federal government, but the state's finance director believes that's possible, for the most part. 
"I think we'll be down to less than $10 million, and hopefully less than that," said Alabama State Finance Director Kelly Butler, speaking to reporters Wednesday. 
With new daily COVID-19 cases continuing to break records in Alabama and coronavirus hospitalizations reaching record levels this week, many have expressed concern that Alabama could leave millions on the table at a time when the money could do the most good. 
It's not clear if lawmakers in Washington D.C. will agree in time to extend the deadline for states to spend the cash, and Butler said Wednesday that state officials had hoped the extension would come to pass but aren't banking on it. 
"The reality is, if we're going to be able to get the money out the door, we can't wait on that any longer," Butler said. "So we've got to put the pedal to the metal and assume that December 30 is a hard cutoff, and that's the way we're operating." 
Butler explained that almost all of the CARES Act money to various state programs and entities are reimbursement programs, meaning those entities must show they spent the money on coronavirus-related expenses, as required by the federal government, then ask the state for reimbursement. 
"This is particularly true for local governments, state government agencies, hospitals," Butler said. 
Butler also explained that despite the many needs, the federal money comes with substantial limitations. 
"There is a perception out there that this money can solve everybody's problem, and can be used for everything that people want it to be used for," Butler said. "And the reality is that the Treasury guidance, particularly the audit guidance issued by the Treasury, it just does not allow us to do everything that everybody wants us to do, and the penalty, if we use the money outside the bounds outside the law and the regulations, is that the state has to repay the money." 
Gov. Kay Ivey on Nov. 23 allocated $3.6 million in CARES Act funds to food banks statewide, Butler noted, and another $2 million to a program that provides counseling for veterans with PTSD. 
"We have money out there for hospitals, nursing homes. We are in constant communication with them," Butler said. "We have done before this latest grant program, we've done one small business grant program, a faith-based organization grant program, a nonprofit organization grant program, a medical provider grant program, an agricultural producer grant program, so we haven't stopped since May." 
Asked whether any of the federal aid has gone to the Alabama Department of Public Health to help set up the administration of COVID-19 vaccines, Butler said the state has allocated more than $30 million to the Department of Public Health, but most of that was done before it was clear Alabama could get a vaccine this month. 
Butler said until recently it wasn't thought a vaccine would be available before the end of the year, and that "up until recently, it was not something that we were allowed to spend money on." 
"We have allocated a small amount to a company in Huntsville called Aclinnate Genetics for vaccine education, particularly in the African American community throughout the state," Butler said. 
There remains the possibility of reallocating unspent money to other programs, Butler said, as has been done twice before. That requires conversations between Butler, Gov. Kay Ivey and legislative leadership Butler said, adding that he anticipates at least one more reallocation before the deadline. 
"Our plans are to, as I've said daily, evaluate the programs and somewhere around the middle of this month, sort of do a final tally and go back to the Legislature and ask for reallocations so that we can allocate money to things that and programs that might need it," Butler said. 
One possibility would be to allocate additional money to the state's unemployment trust fund, Butler said. As much as $287 million could be reallocated to the fund, he said. 
"Health care, with the virus continuing, is also another definite possibility," Butler said. 
Asked about concerns some local governments and other groups have had that the entities don't have the money to spend, to then ask for reimbursement, Butler said that he has heard those concerns but that federal guidelines connected to the CARES Act funding are strict. 
"The reality is the Treasury guidance and the CARES act, we believe, prohibit us from sending the money out upfront," Butler said. "And it's just not something we believe we can do." 
Butler said the state has worked closely with local municipalities and groups, including the Black Belt Foundation, to help them apply for reimbursements and get the money returned quickly. 
A reporter asked about as-of-yet unpaid reimbursement requests of more than $850,000 from the Madison County Commission from August, and Butler said the state does have a backlog of requests, and that while the program was established on May 28, many local governments waited until August to submit applications.
Butler then said that he's been told the Madison County Commission's requests were being processed Wednesday and the commission should see that money soon. 
Butler said the state has received word from the U.S. Treasury that as long as those reimbursement requests are turned in before the Dec. 30 deadline "we will have a two to three month period to work out those prior bills as long as they were expenses incurred before December."