Political leaders denounce newspaper editorial calling for Ku Klux Klan violence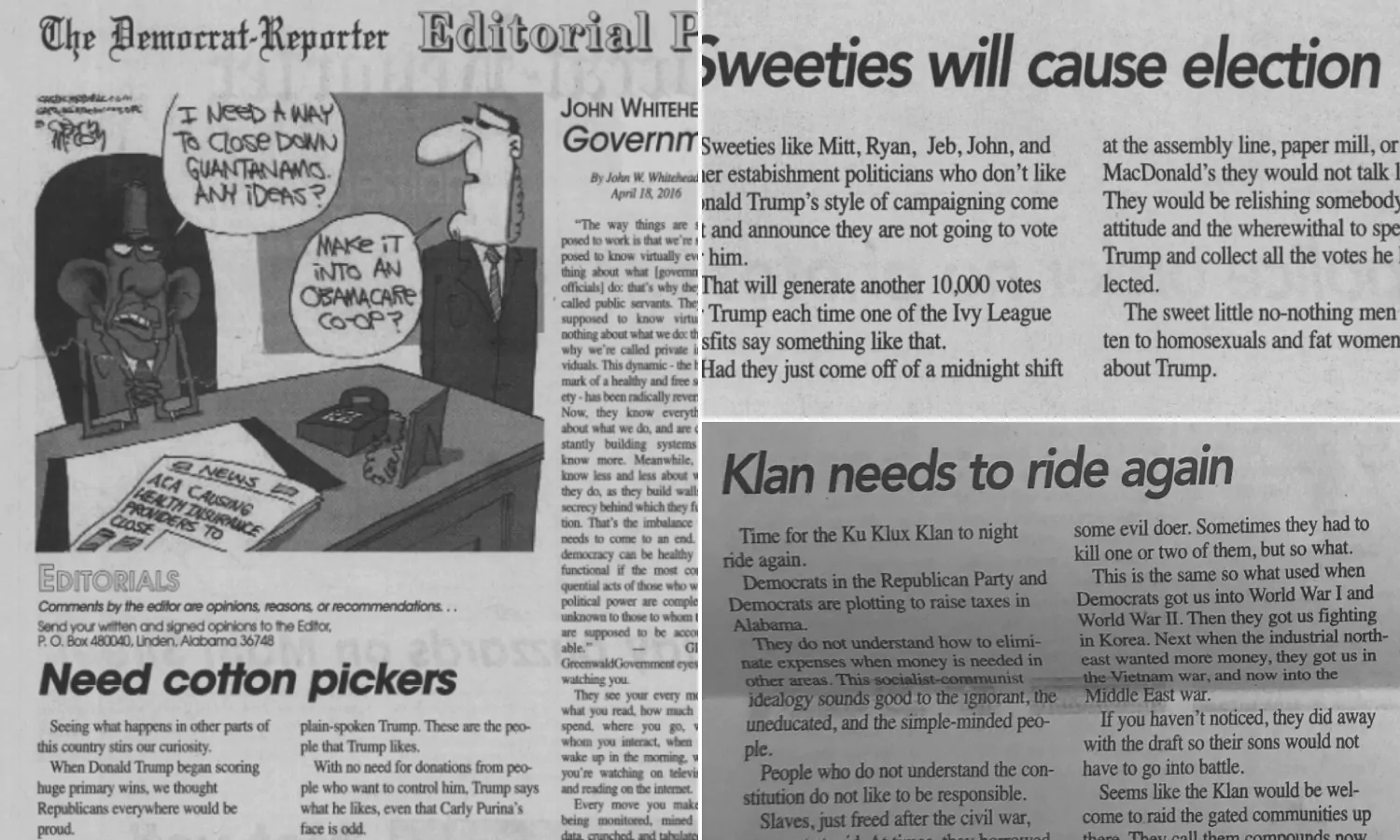 Several prominent Alabama leaders denounced a recent editorial written by Goodloe Sutton, editor of The Democrat-Reporter, urging the Ku Klux Klan to ride again and lynch members of Congress.
Editor who wrote Klan editorial has penned countless racist, sexist, xenophobic pieces
"Like everyone I know in Alabama, I was shocked and disappointed by the naked racism of the editorial lauding the Ku Klux Klan that appeared in Linden's Democrat-Reporter," said John Merrill, secretary of state. "Some people, I suppose, will never learn the lessons of history. Any student of Alabama history knows that there was a time when members of the Ku Klux Klan were active and effective political advocates who were fully engaged in all aspects of Alabama life. That day has long since passed and is not looked at favorably by any well-meaning citizen of our state."
Linden is in Marengo County and is part of the Seventh Congressional District represented by Congresswoman Terri Sewell, a Democrat from Selma. Sewell is the first African-American woman to represent Alabama in the Congress.
"For the millions of people of color, especially those in Alabama, who have historically been terrorized by white supremacy, this kind of editorializing about lynching is not a joke – it is a threat," Sewell wrote. "These comments are deeply offensive and inappropriate any day, but especially in 2019. Mr. Sutton should apologize and resign."
"The language used by The Democrat-Reporter is deeply disturbing & completely unacceptable," wrote Rep. Martha Roby, R-Alabama. "There is no place for this type of hateful rhetoric in our society. I encourage the newspaper to issue a public apology & urge Mr. Sutton to resign as publisher."
"OMG! What rock did this guy crawl out from under? This editorial is absolutely disgusting & he should resign -NOW!" said U.S. Sen. Doug Jones, D-Alabama. "I have seen what happens when we stand by while people — especially those with influence — publish racist, hateful views. Words matter. Actions matter. Resign now!"
The state of Alabama is still haunted nationally and internationally by historical images from decades of Jim Crow segregation and violent attacks by the KKK and state and local government on civil rights activists. Many civil rights leaders, including Fred Shuttlesworth, had their homes bombed by white supremacists. Four little girls were killed when the Sixteenth Street Baptist Church in Birmingham was bombed by Klansmen.
"The stigma associated with that history is difficult for well-intentioned members of our society to overcome whenever negative statements are made by well respected individuals that give credibility to hate groups like the Ku Klux Klan," Merrill said. "One thing that is certain is that the people of Alabama have been at their best when they have taken stands against groups whose only message is to promote fear and continued racial segregation of our society."
The Alabama Press Association voted to censure Sutton and has suspended the membership of The Democrat-Reporter.
"I applaud the Alabama Press Association's decision & all those who called out this hateful racism for what it is," Jones said on social media. "The editor needs to resign."
"Further, the editorial recently published in the Democrat-Reporter exemplifies some of the many negative issues created by this organization throughout our state's history," Merrill continued. "In fact, our state is still rebuilding relationships with those members of our community that were harmed physically, mentally and emotionally during the time that this hate mongering organization was at its peak in our state. It is very disappointing that people will take advantage of their platforms to initiate or engage in conversations that are obviously designed to disrupt the normal activities of the people of Alabama with disconcerting and inflammatory language that is regressive and unproductive to our people and our state."
"I think it needs to be looked into by the FBI because, in my opinion, he's making threats to legislators and telling them that the Klan essentially needs to take care of the Democrats," Alabama NAACP President Benard Simelton told the Alabama Media Group.
"Alabamians and Americans know that the most effective method of political activism is to participate in the electoral process to ensure that our elected representatives hold the same values that are held by the electors that put them into office," Merrill concluded. "This type behavior is not acceptable and whenever it is introduced, it should be identified and rejected."
Mobile approves face mask ordinance amid rising COVID-19 cases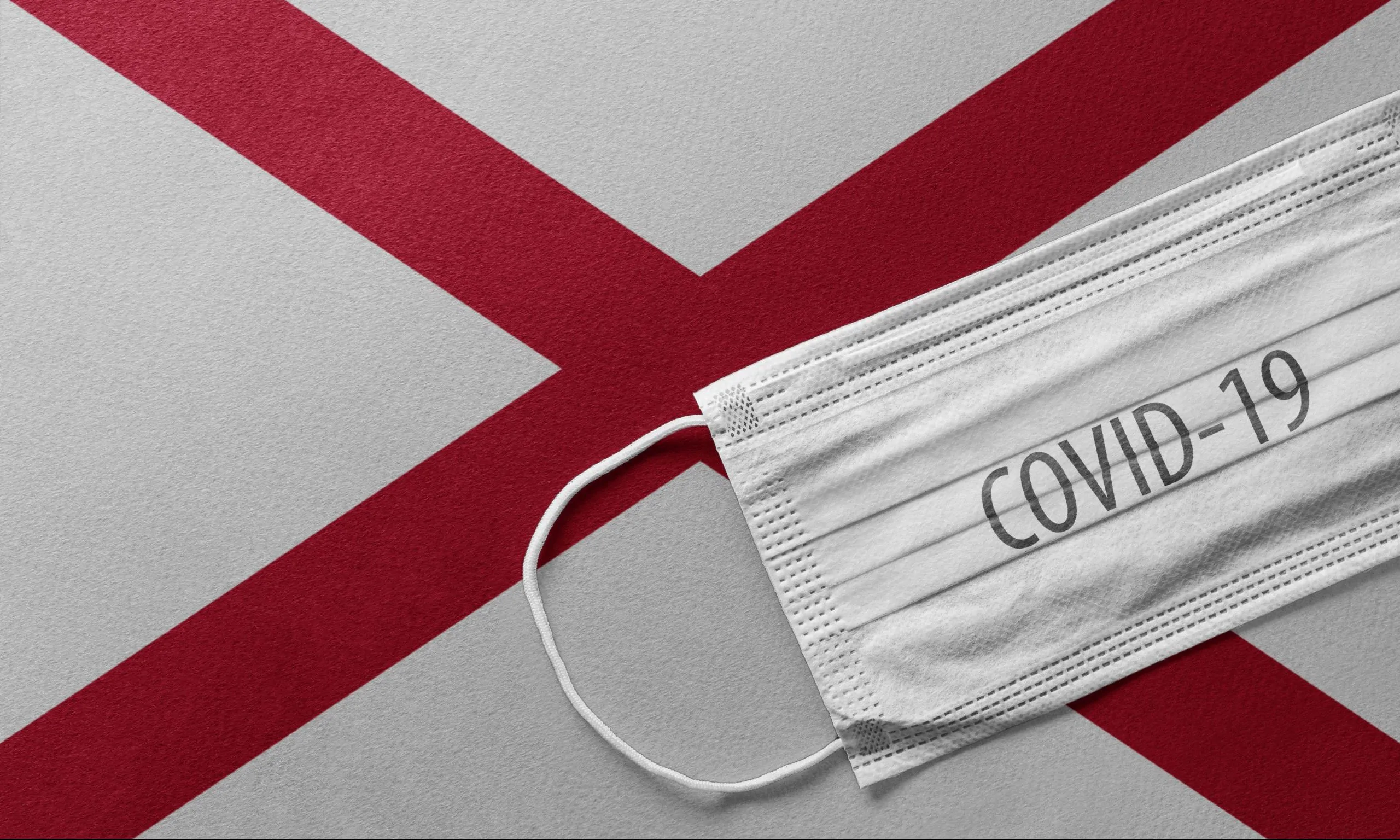 Mobile City Council members on Wednesday voted to require the public to wear masks as the number of COVID-19 cases and hospitalizations in Mobile County continue to rise. 
The ordinance, which passed in a 6-1 vote, requires individuals — ages 10 and older — to wear masks when in public, including inside of businesses open to the public for a period of 30 days. The ordinance makes an exception for outdoor activities, as long as social distancing is maintained.
That exception does not include parking lots or crowded sidewalks.  
The ordinance is to take effect after its publication in the Press-Register newspaper, according to public notice requirements, which could happen as early as Friday, according to WKRG.
Persons who have trouble breathing because of physical or mental health difficulties, including anxiety, or because they are unconscious, are not required to wear masks, according to the ordinance, read aloud by the city clerk. 
Failing to follow the mask order can result in a $50 fine for a first offense and $100 fines for all subsequent offenses. 
Mobile now joins Montgomery, Selma, Jefferson County and Tuscaloosa, all of which have approved similar mask requirements for the public.   
Mobile Mayor Sandy Stimpson told Council members before the vote that COVID-19 threatens the city's health care system and hinders the ability of businesses to reopen. 
"I'd rather see our officers hand out face masks and encourage social distancing rather than issue citations," Stimpson said. 
Mobile County has added 533 new COVID-19 cases within the last week and 63 on Wednesday. There have been 3,697 confirmed coronavirus cases in Mobile County as of Wednesday.
Councilman John Williams spoke of his concerns over what he identified as vague language in the ordinance, including that masks be made of "suitable fabric," and he said it's unfair for police officers to have to decide what fabric is suitable.
Williams was the sole no vote on passage of the ordinance. 
"The doctors have written the prescription. We need to take the prescription," said Councilman Joel Daves before the vote, speaking in favor of the ordinance. If the city waits until the hospitals are filled with COVID-19 patients it will be too late, he said. 
Councilwoman Bess Rich said it's a matter of the health and wellbeing of the citizens of Mobile. 
"We can't afford to shut down, and if this helps to limit the exposure and the stress on our hospitals, and on our health care officials, then it is the least we can do," said Councilwoman Bess Rich.
Councilwoman Gina Gregory said that while she hates the idea of forcing the people to wear masks, she believes it's needed to slow the spread of the virus. 
"We got the numbers in from the health department. More cases were diagnosed this week. More people are in the hospital. It is not a hoax," Gregory said. 
Councilman C.J. Small, who is also president and funeral director at Small's Mortuary Service, said he's not a first-responder, but he is a "last responder" and that "the horror stories that I hear when I have different families coming to my office is very, very sad." 
Heather Hardesty, a resident of Saraland in Mobile County, spoke against the measure and falsely claimed to council members prior to the vote that COVID-19 is a "hoax" and began "the very day the unsubstantiated claims of impeachment against our president ended."

Hardesty was one of several who spoke out against a mask order, some calling it "tyranny," while several members of the public spoke in support of the mask ordinance as well. 
One man from the public who declined to give his name and address told Council members he didn't want to identify himself because of concern over "the pinko commies that let Antifa in here." The council declined to let him speak without identifying himself, as is required of all speakers. 
"I can assure you that our effort is going to be to help our citizens comply with this order," Stimpson said after the vote. 
Earlier this week, the city bought 4,000 masks, which police officers will be able to hand out to the public, Stimpson  said. Another 10,000 masks have been ordered and are to be delivered soon, he said. 
"We look forward to working with everybody in the community to make this work, and I really believe that we can make it work," Stimpson said. 
After the council meeting was closed, a woman in attendance, apparently seated in the public seating area, could be heard to yell "Heil Hitler," drawing disbelief from some council members, who could be heard on a video of the meeting.