Political leaders denounce newspaper editorial calling for Ku Klux Klan violence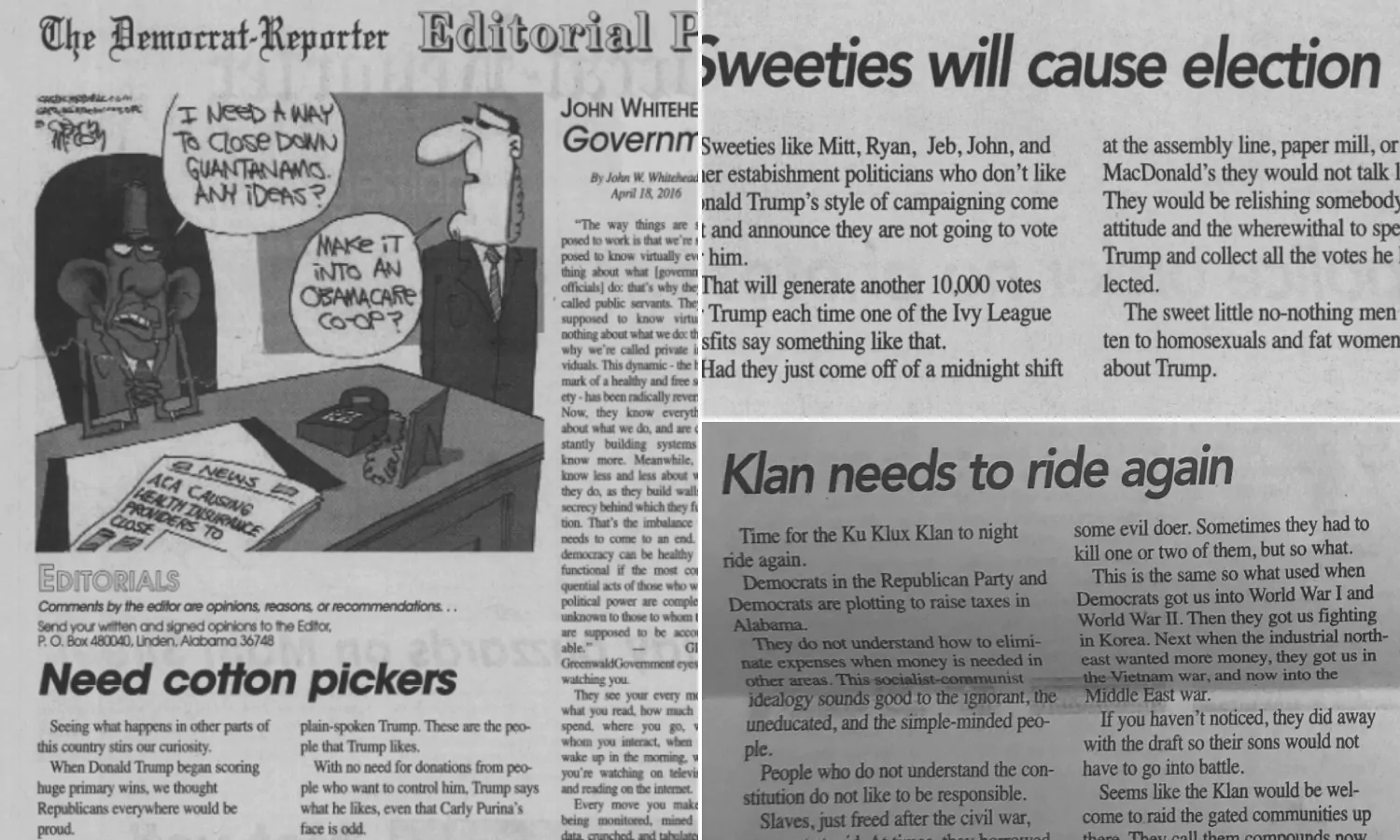 Several prominent Alabama leaders denounced a recent editorial written by Goodloe Sutton, editor of The Democrat-Reporter, urging the Ku Klux Klan to ride again and lynch members of Congress.
Editor who wrote Klan editorial has penned countless racist, sexist, xenophobic pieces
"Like everyone I know in Alabama, I was shocked and disappointed by the naked racism of the editorial lauding the Ku Klux Klan that appeared in Linden's Democrat-Reporter," said John Merrill, secretary of state. "Some people, I suppose, will never learn the lessons of history. Any student of Alabama history knows that there was a time when members of the Ku Klux Klan were active and effective political advocates who were fully engaged in all aspects of Alabama life. That day has long since passed and is not looked at favorably by any well-meaning citizen of our state."
Linden is in Marengo County and is part of the Seventh Congressional District represented by Congresswoman Terri Sewell, a Democrat from Selma. Sewell is the first African-American woman to represent Alabama in the Congress.
"For the millions of people of color, especially those in Alabama, who have historically been terrorized by white supremacy, this kind of editorializing about lynching is not a joke – it is a threat," Sewell wrote. "These comments are deeply offensive and inappropriate any day, but especially in 2019. Mr. Sutton should apologize and resign."
"The language used by The Democrat-Reporter is deeply disturbing & completely unacceptable," wrote Rep. Martha Roby, R-Alabama. "There is no place for this type of hateful rhetoric in our society. I encourage the newspaper to issue a public apology & urge Mr. Sutton to resign as publisher."
"OMG! What rock did this guy crawl out from under? This editorial is absolutely disgusting & he should resign -NOW!" said U.S. Sen. Doug Jones, D-Alabama. "I have seen what happens when we stand by while people — especially those with influence — publish racist, hateful views. Words matter. Actions matter. Resign now!"
The state of Alabama is still haunted nationally and internationally by historical images from decades of Jim Crow segregation and violent attacks by the KKK and state and local government on civil rights activists. Many civil rights leaders, including Fred Shuttlesworth, had their homes bombed by white supremacists. Four little girls were killed when the Sixteenth Street Baptist Church in Birmingham was bombed by Klansmen.
"The stigma associated with that history is difficult for well-intentioned members of our society to overcome whenever negative statements are made by well respected individuals that give credibility to hate groups like the Ku Klux Klan," Merrill said. "One thing that is certain is that the people of Alabama have been at their best when they have taken stands against groups whose only message is to promote fear and continued racial segregation of our society."
The Alabama Press Association voted to censure Sutton and has suspended the membership of The Democrat-Reporter.
"I applaud the Alabama Press Association's decision & all those who called out this hateful racism for what it is," Jones said on social media. "The editor needs to resign."
"Further, the editorial recently published in the Democrat-Reporter exemplifies some of the many negative issues created by this organization throughout our state's history," Merrill continued. "In fact, our state is still rebuilding relationships with those members of our community that were harmed physically, mentally and emotionally during the time that this hate mongering organization was at its peak in our state. It is very disappointing that people will take advantage of their platforms to initiate or engage in conversations that are obviously designed to disrupt the normal activities of the people of Alabama with disconcerting and inflammatory language that is regressive and unproductive to our people and our state."
"I think it needs to be looked into by the FBI because, in my opinion, he's making threats to legislators and telling them that the Klan essentially needs to take care of the Democrats," Alabama NAACP President Benard Simelton told the Alabama Media Group.
"Alabamians and Americans know that the most effective method of political activism is to participate in the electoral process to ensure that our elected representatives hold the same values that are held by the electors that put them into office," Merrill concluded. "This type behavior is not acceptable and whenever it is introduced, it should be identified and rejected."
Trump Truck and boat parades this weekend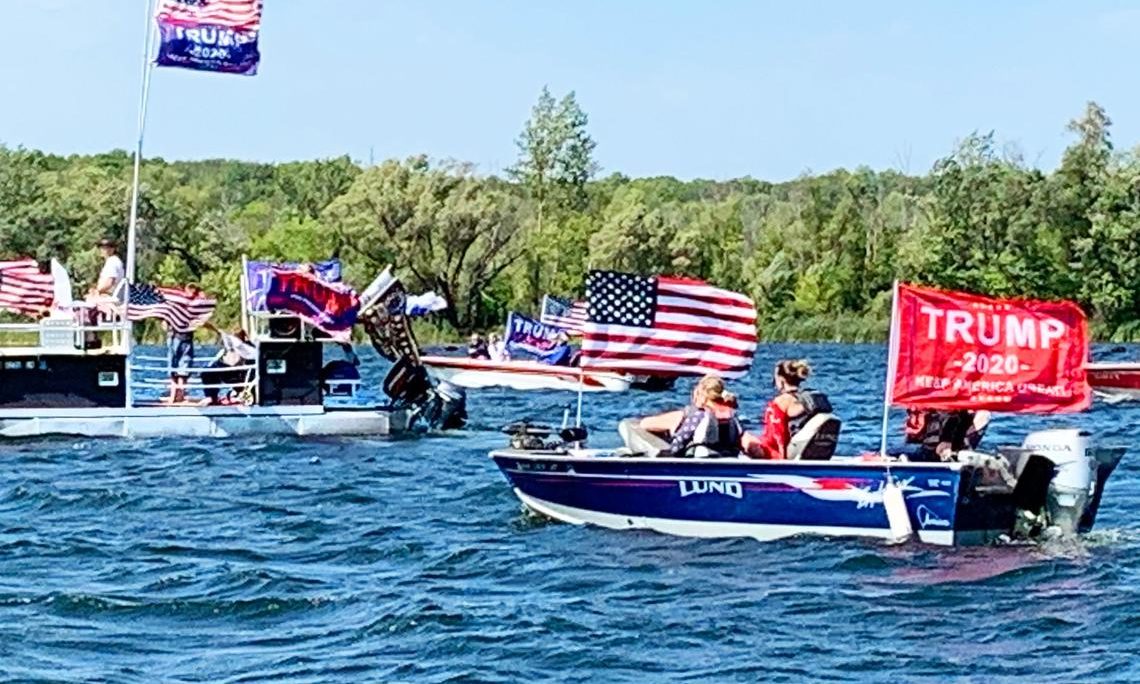 As Election Day draws near, Alabama Republicans are excited about promoting the re-election of Donald J. Trump as President and the election of Tommy Tuberville for U.S. Senate. This weekend two pro-President Trump events are happening in the state. There will be a truck parade from Ashland to Phenix City on Saturday sponsored by the Clay County Republican Party, while there will also be a boat parade on Wilson Lake in the Shoals sponsored by the Colbert County Republican Party on Sunday.
The pickup trucks will assemble at the Ashland Industrial Park in Clay County, 8240 Hwy 9, Ashland. There is a pre-departure rally at 10:00 a.m. central standard time. The trucks will depart at 11:00 a.m. and then proceed on a parade route that will take them into the bitterly contested swing state of Georgia. The Trump Pickup Parade will wind through east Alabama and West Georgia traveling through LaGrange and Columbus before concluding near the Alabama/Georgia line in Phenix City, 332 Woodland Drive, Phenix City at approximately 2:00 p.m. central time. Speakers will begin at 3:00. Trump flags will be on sale at the event.
The Phenix Motorsports Park will be hosting what sponsor hope could possibly the world's largest Pickup Tuck parade in U.S. history that is routing over 50 mile through Georgia in effort to "pickup" President Trump's numbers in GA.
A number dignitaries have been invited to address the Phenix City rally, including Coach Tuberville. Former State Sen. Shadrack McGill, Trump Victory Finance Committee member former State Rep. Perry O. Hooper Jr., and Paul Wellborn, the President and CEO of the largest Family owned Kitchen Cabinet manufacture in the USA are among the featured speakers who have committed to speak at the event.
Entertainment will be provided by: Charity Bowden, an up and coming country music singer who was the runner up on "The Voice". Charity will sing 'I am Proud to be an American' as well as songs from her Voice performances. The McGill Girls will also perform. The three beautiful and talented sisters will be singing patriotic songs in three part harmony. Geoff Carlisle, a professional DJ will be keeping the crowd pumped with music and entertainment.
Following the speakers and the entertainment there will Trump truck-vs- Joe Bidden truck races down the drag strip for the finale.
The Northwest Alabama boat parade will be on Sunday. The boats will gather at 2:00 p.m. near Turtle Point and then the flotilla will parade around the open waters of Wilson Lake til 3_00 p.m.. There will be a contest for best decorated Trump boats.
Trump supporters have held a number of large boat parades across the state to show their support for the re-election of Pres. Trump.
Boat parade sponsors say that this parade will be: pro-American, pro-law enforcement, pro-military.