Marshall announces top consumer complaints in 2018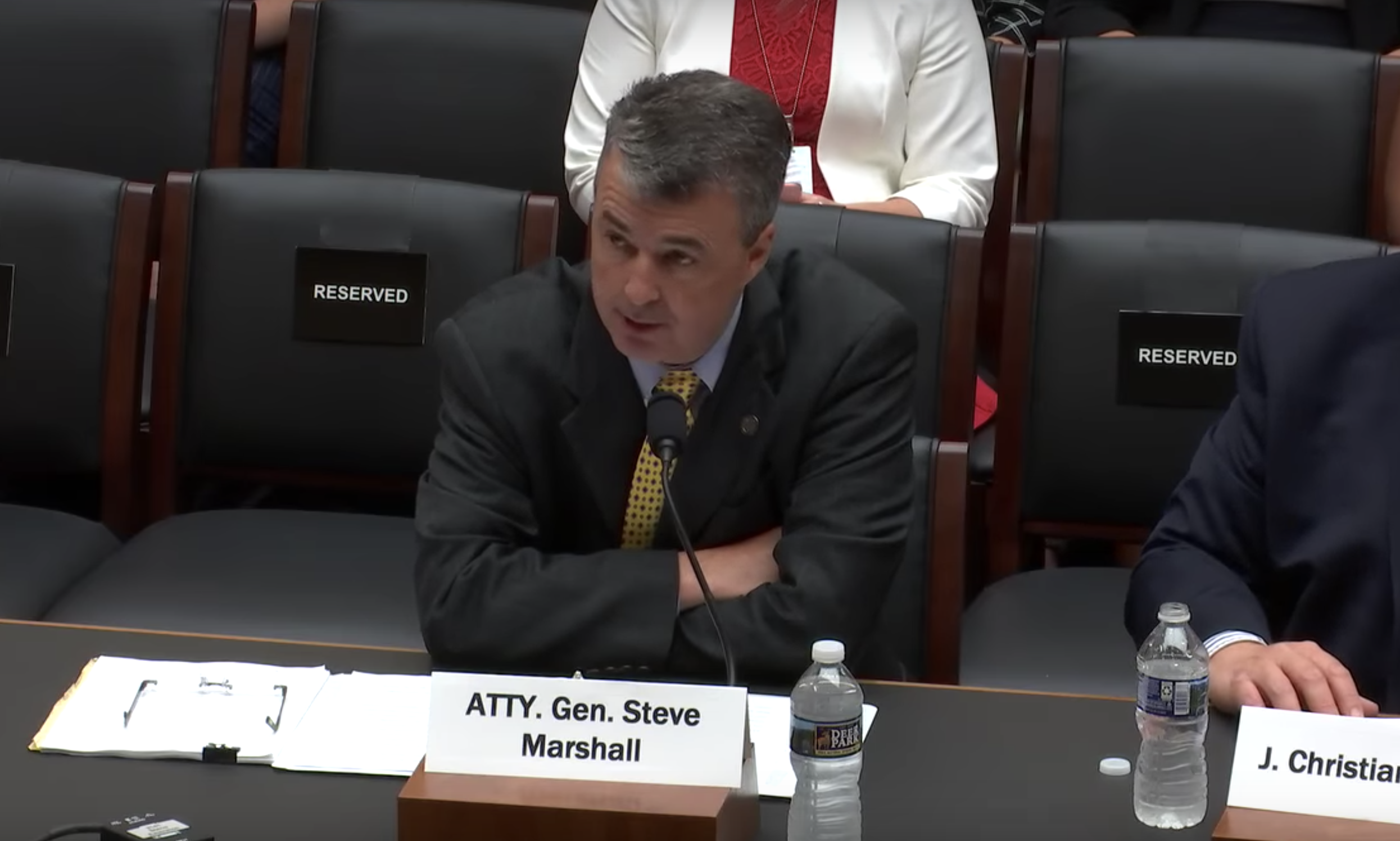 March 3 through 9 is National Consumer Protection Week and Alabama Attorney General Steve Marshall announced the top five categories of complaints from Alabama consumers received by his office's Consumer Interest Division over the last year.
They are complaints involving: 1. Automobiles, 2. Online Purchases, 3. Debt Collection, 4. Cable and Satellite Services, and 5. Landlord/Tenant Issues. The total number of consumer complaints received in 2018 was 2,710.
"While National Consumer Protection Week is a time to remind everyone to be on guard against scams and fraud, my office is focused on consumer protection year-round," said Attorney General Marshall. "My Consumer Interest Division staff works hard to help consumers resolve disputes with businesses as well as investigate incidences of fraud. Not every case necessarily involves illegal activity, however, my office is always available to assist consumers with questions about potential scams and unscrupulous business practices."
The Attorney General's office maintains a consumer protection hotline at 1-800-392-5658 to take reports of fraudulent activity and to provide information and tools to equip consumers to protect themselves. Alabamians may also file a complaint online at:
http://ago.alabama.gov/ConsumerComplaint.
The Attorney General's Consumer Interest Division cannot serve as an individual's private attorney or provide consumers with legal advice. However, in many instances, the Attorney General's Office has been successful in mediating complaints to the mutual satisfaction and benefit of the consumer and the business. If circumstances warrant, the Attorney General may initiate legal action, either civil or criminal, to represent the interests of the State of Alabama and to enforce the various laws designed to protect consumers from con artists and unscrupulous practices by businesses.
Steve Marshall was elected in 2018 after finishing the remainder of AG Luther Strange's term.
GDP fell by an unprecedented 9.5 percent in second quarter
The Bureau of Economic Analysis released its advance estimate of U.S. GDP for the second quarter of 2020 reflecting the months of April, May and June dropped 9.5 percent in the second quarter, According to the BEA report, real GDP contracted at an unprecedented annualized rate of 32.9 percent. This is the largest quarterly decline since the series began in 1947, though market expectations were so low the actual number was slightly better than what the market and official estimates had expected.
President Donald Trump's Council of Economic Advisors said that despite this massive contraction, the resiliency of the U.S. economy and the swift fiscal response of the Federal Government can aid in a strong recovery.
The Council of Economic Advisors said that the U.S. economy entered this contraction on a healthier and more resilient footing than it did both prior to the Financial Crisis of 2008 to 09 and relative to other advanced economies. This was due in part, to the longest expansion in U.S. history. American households also had a smaller overall debt burden prior to this pandemic than prior to the Financial Crisis. Household liabilities as a percent of personal disposable income were 136 percent leading into the Financial Crisis but were below 100 percent prior to this pandemic.
The United States had the highest growth rate among the G7 countries prior to the pandemic, with growth roughly double the non-U.S. G7 average.
The second-quarter decline in GDP was widespread, touching nearly every facet of the economy. Consumer spending, which accounts for roughly 70 percent of the U.S. economy, contributed to most of the decline, accounting for 25.05 percentage points of the 32.9 percent decline. The report also showed sharp contractions in business fixed investment, residential investment, inventory investment, and state & local government spending which contributed to the decline.
A massive but uneven decline in consumer spending (-34.6 percent at an annualized rate) revealed how quarantines have driven spending patterns. Individuals increased consumption of recreational goods & vehicles and housing & utilities, but lessened consumption of gasoline & other energy goods, health care, transportation services, recreational services, and food services & accommodation. The decline in business fixed investment was also widely spread, though it was particularly sharp in transportation equipment investment and mining structures investment, the latter reflecting subdued oil and gas production activity responding to extraordinarily low prices.
The pandemic and the forced economic shutdowns caused a sharp drop in real personal income as many workers faced lower wages, fewer hours or loss of their jobs completely. The University of Pennsylvania estimates that the CARES Act reduced the GDP contraction in the second quarter by 7 percentage points.
The Council of Economic Advisors are predicting strong real GDP growth in the third quarter. The current Blue Chip consensus forecast of 17.7 percent annualized growth in the third quarter would be the largest recorded quarterly growth rate and a 36 percent recovery of the second quarter contraction.
The Council of Economic Advisors claim that the pace of the recovery so far has exceeded expectations, providing a source of optimism as we look ahead. In fact, the majority of major economic data releases over the past month—reflecting May and June data—have surpassed market outlooks. Most notably, the record-breaking number of jobs added in both May and June beat market expectations by a combined 11.7 million. Furthermore, high-frequency data indicate that 80 percent of America's small businesses are now open, up from a low in April of just 52 percent. Consumer credit & debit card spending has recovered roughly 80 percent from the pandemic low, with spending in low-income zip codes rebounding the furthest, now just 2 percent below pre-pandemic spending levels.
Another 1.43 million Americans filed initial unemployment claims last week, the nineteenth week the total has surpassed one million new claims.
The recovery could be threatened by surging coronavirus cases, which could force a second shutdown in some states. Governors in Texas, Florida, and California have had to implement some social distancing restrictions and Alabama Gov. Kay Ivey has had to impose a mask requirement on all citizens and even on school children.
The uncertainty with the virus and the economy has put pressure on Congress to approve another coronavirus relief package.
"Our nation is going through a time of testing," Vice President Mike Pence said. "And let me say from my heart that our prayers and our sympathies are with all of the more than 150,000 families that have lost loved ones in the midst of this pandemic. As we continue to contend with the coronavirus in various places across our country, President Trump and our team, and the task force will continue to marshal the full resources of the federal government and the full power of the American economy to meet this moment and put the health of America first."
"It's amazing to think, at the lowest point in this pandemic, our economy lost 22 million jobs," VP Pence said. "But thanks to that solid foundation that President Trump laid in our first three years, we've already gained back 8 million jobs just in May and June alone."