Why Gov. Kay Ivey called a special session over the gas tax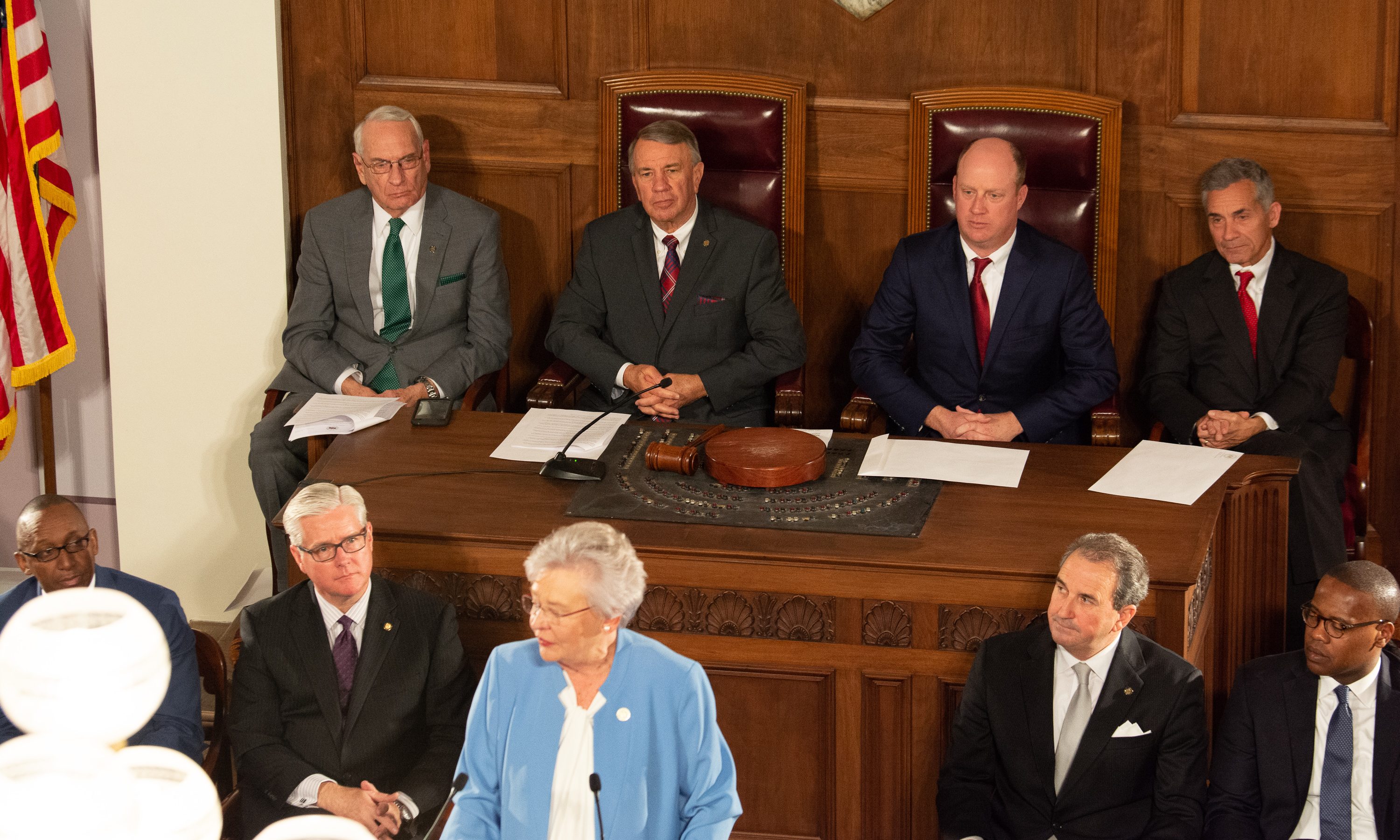 Gov. Kay Ivey called a special session of the Alabama Legislature on Tuesday, just an hour after finishing her State of the State address and less than a full day into the Legislature's 2019 regular session.
Calling a special session within a regular session isn't new, but special session are more commonly called during the parts of the year when the Legislature is not normally in session in the spring.
Two special sessions were called in the summer of 2015 and another in the summer of 2016. Before that, the most recent special session was in 2012, when lawmakers met in May after the Legislature adjourned sine die from their regular session.
Those special sessions had to do with budget shortfalls, redistricting, revisions to a controversial immigration law and lotteries.
This one is over Ivey's proposed gas tax to fund infrastructure investment.
The main reason Ivey called a special session is because such a move forces the Legislature to focus on infrastructure — both politically and practically. It puts eyes on the Legislature and puts a number of roadblocks in their path should they try to veer into other territories.
Alabama's Constitution allows the governor to list purposes in their call for a special session, and anything "outside the call" is unlikely to be addressed by lawmakers.
"In a special session, the governor puts in the call only the legislation that she would choose, and therefore, she can focus in on just certain bills," said House Speaker Mac McCutcheon, R-Monrovia.
Ivey's special session will be focused on a motor fuels tax increase, legislation about a Joint Transportation Committee to provide for effective legislative oversight of ALDOT's use of the gas tax revenue and legislation that would give the Alabama Highway Finance Corporation authority to borrow money and issue bonds for the purpose of improving the Alabama State Docks and the Mobile Bay ship channel.
Anything not in the call requires a 2/3 vote of each house to be enacted. That's a hoop that lawmakers are unlikely to try to jump through during the special session, which is set to last two weeks.
"The way the legislative process works [in a regular session], you have many bills being introduced and committee meetings, so there's always that opportunity for politics to get in the way and for things to get clouded," McCutcheon said. "This would be a clear, direct path of what we needed to do."
The regular session will reconvene on March 19, when lawmakers will be able to vote on anything with normal majority rules in place.
Ivey is hoping to pass a gas tax increase of 10 cents, which would take effect over the course of three years. Her plan would also implement registration fees for electric and hybrid vehicles and appropriate funds for improvements to the Port of Mobile.
The governor says the increase to the state's motor fuels tax is essential to improve Alabama's sub-par roads, highways and bridges.
"It's time to make our crumbling infrastructure a problem of the past," Ivey said Tuesday night. "As governor, I say enough is enough."
McCutcheon said Ivey's call for a special session is another hint at how much of a priority the motor fuels tax is this year.
"It just supports her leadership style. She has not backed away from any of the serious issues," McCutcheon said. "The fact that she's willing to call a special session means she's ready to go to work. She's ready to fix some of these problems."
The gas tax bill would still need to go through the typical three-day legislative process before it could be voted on, but the special session also disposes of some procedural loopholes normally present in a regular session.
One is the budget isolation resolution, essentially a preliminary vote on a bill. Because Alabama's constitution requires the Legislature to pass balanced budgets as their main constitutional duty, lawmakers have to vote on a resolution that essentially acknowledges they haven't gotten to that yet.
To pass legislation before budgets are submitted to the governor, a chamber must first approve a Budget Isolation Resolution — or BIR — by a 3/5 vote of the quorum. BIRs can sometimes be a snag for the majority party early on. In a special session, no BIR is required.
Depending on how fast the two chambers move on the gas tax bill, there could be votes by Friday if lawmakers choose to come back that day. McCutcheon said the bill would have its first read tomorrow. It would need a second read on Thursday before it could be voted on the next legislative day.
"I think we need to address it just as soon as possible," McCutcheon said. "This is an important issue for our state. My goodness, it's been 27 years since we've done anything on it. That's sad. That's really sad — especially when you look at our crumbling infrastructure. It's a tough decision to make. I think that's one of the reasons this took so long."
While Republicans are largely behind the bill, some conservatives have opposed the gas tax increase on the grounds that no taxes should be increased. There is no clear consensus in the Democratic caucus, their leadership said, but Ivey will likely need Democratic votes for her infrastructure plan.
Ivey's infrastructure bill would raise gas tax by 10 cents, place fees on electric and hybrid vehicles
Print this piece
Governor authorizes use of National Guard after violent protests in Birmingham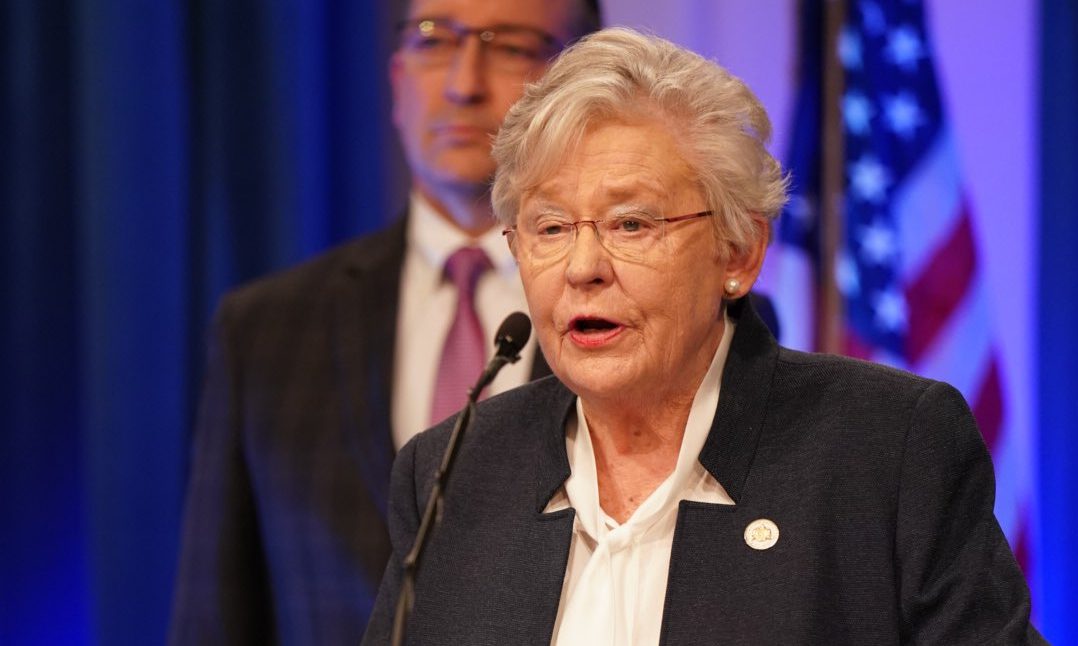 Gov. Kay Ivey on Monday said she supports the right for people to protest peacefully in the wake of the death of a Minneapolis man at the hands of police, but cautioned against the sort of violent protest and looting that occurred in Birmingham early Monday morning. 
Ivey also authorized the Alabama National Guard to active up to 1,000 guardsmen as a "preparedness measure" but said there was no immediate need to deploy them. 
In her statement, Ivey hints at outsiders from other states who seek to ratchet up the violence, but she doesn't outright say that's what happened in Birmingham early Monday morning, when some burned businesses, attempted to tear down one Confederate monument, tore down another and attacked several reporters. There has been no publicized evidence that the violence was caused by people from outside Alabama, however. 
"Like so many others throughout the country and around the world, I, too, was shocked and angered by the tragic actions that led to the senseless death of George Floyd last week in Minneapolis. It is a death that should have never happened, and it is a tragedy for which that too many people, especially African Americans, are all too familiar," Ivey said in a statement. "Regretfully, the natural anger and frustration of Mr. Floyd's death has now spread to our state and what started out as peaceful protests in some of our cities yesterday afternoon turned ugly last night." 
"While no state has a richer history than Alabama in terms of using peaceful protests to lead the country – and the world – to positive change, I agree with Alabama native, Congressman John Lewis, who this weekend said 'rioting, looting and burning is not the way,'" Ivey continued. "Congressman Lewis marched alongside other Alabamians who would go on to become heroes of the movement.  They were young, brave and determined.  Many were beaten, arrested and jailed.  But they all — Rosa Parks, Dr. Martin Luther King, Jr., Dr. Ralph David Abernathy, Rev. Fred Shuttlesworth, attorney and civil rights activist Fred Gray and others – led the fight for change in a peaceful way." 
"I will always support the right of the people of Alabama to peacefully lift your voices in anger and frustration. After all, our great country was born out of the desire to be free and the desire for freedom has repeatedly led to making positive change for the betterment of society," Ivey said. "However, we will not allow our cities to become a target for those, especially from other states, who choose to use violence and destruction to make their point. What I saw happen last night in Birmingham was unbecoming of all those who have worked to make Birmingham the great city it is.  Going forward, this cannot be tolerated. State assets are available to any local government that makes the request. We will show respect to ourselves and to each other through this process."
A separate press release from Ivey's office states that the authorization to activate Alabama National Guardsmen "serves as a preparedness measure, should local and state law enforcement need additional support." 
"While there is no immediate need for us to deploy our Guard, I have given authorization to Adjutant General Sheryl Gordon to be on standby, should our local and state law enforcement need additional support," Ivey said in a statement. 
"The Alabama National Guard stands ready to assist when peaceful protests become violent and dangerous to our public safety," Ivey continues. "I will always support the right of the people of Alabama to peacefully lift your voices in anger and frustration. However, we will not allow our cities to become a target for those, especially from other states, who choose to use violence and destruction to make their point."
Birmingham Mayor Randall Woodfin on Monday declared a state of emergency and announced a citywide curfew in response to the violence hours before. He said Birmingham police will be enforcing the curfew beginning Monday, but said there was no immediate need for additional assistance from the Alabama National Guard. 
"I've been in constant contact with the governor's chief of staff. As of now, there will be no activating the National Guard," Woodfin told reporters during a press conference Monday.
Print this piece